I may receive commission if you purchase through links in this post.
Page 8
Sourdough Hydration Explained
Sourdough hydration refers to the moisture content (by weight) of the starter or dough.
A 100% hydration starter is equal weights of flour and water.
A dough that is 75% hydration is very easy to handle and the basic ratio would look like this:
400 grams flour (100%), 300 grams water (75%).
Converting Your Pre-Existing Sourdough Starter To 100% Hydration for Ease of Use
A 100% hydration sourdough starter is quickly becoming my standard measurement. Once your starter is the exact hydration percentage you can feel very confident in the recipes provided here.
To convert your starter mix 100 grams of flour and 100 grams of water together into a thick paste. Add 20 grams of your sourdough starter and let it ferment. For future feedings always use equal weights of flour and water and you will keep your starter at 100% hydration.
Feeding Your Sourdough for Successful Baking
Learning how to feed your sourdough starter and understanding the optimal time to use it will ultimately make you a better baker. I wrote a post all about feeding sourdough starter. Find it here – How To Feed Your Sourdough Starter for Successful Baking
Helpful Conversions
I definitely recommend you use a scale for the accuracy of weighing ingredients. But if you don't have access to a scale here are a few beginning conversions that can help get you started.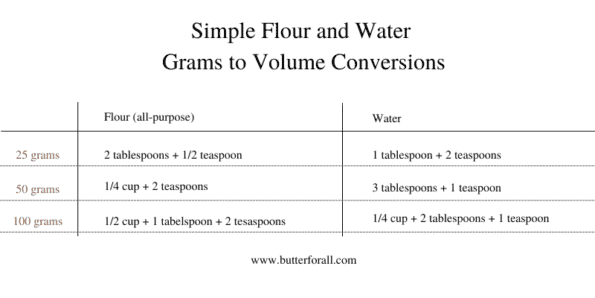 Page Guide