I may receive commission if you purchase through links in this post.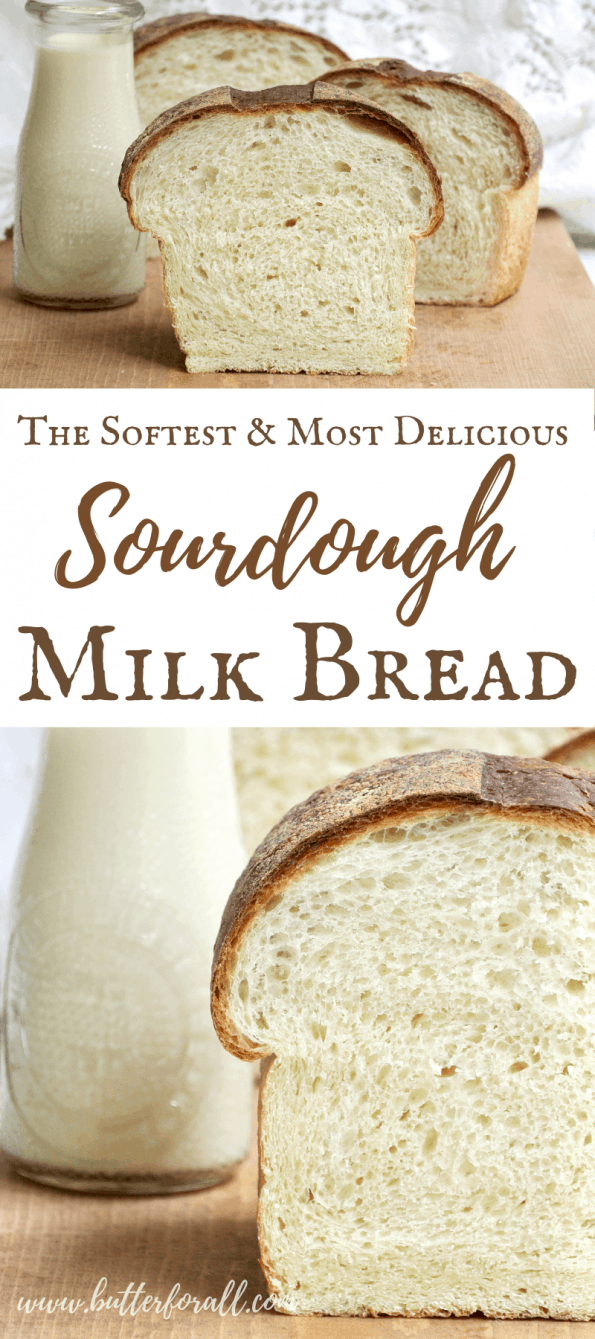 Let me introduce you to the softest, most pillowy, and most delicious Sourdough Milk Bread I've ever had.
This super soft and light bread is made with fresh milk and honey for the perfect tender sweet crumb. It makes excellent sandwich bread, French toast, and croutons…if it lasts that long.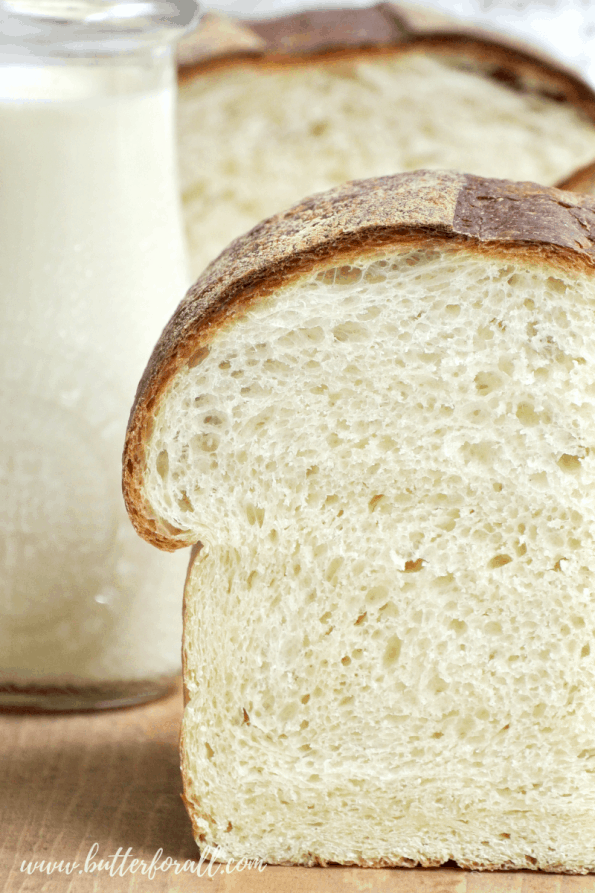 Just like all my other sourdough recipes this special sourdough milk bread goes through a long, slow fermentation that helps to break down hard to digest gluten and activate tummy friendly enzymes. I would go so far as to say, this is as close to "no guilt" white bread as you can get!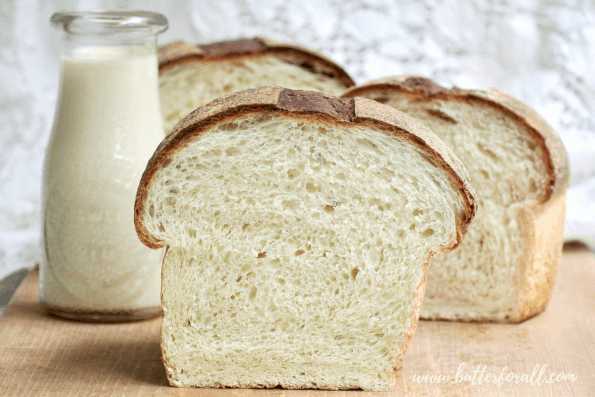 The recipe makes two sandwich size loaves, perfect for everyday eating, gifting, or freezing for convenience.
Everybody who has tried this bread has fallen in love with it's soft texture and sweet but full bodied flavor!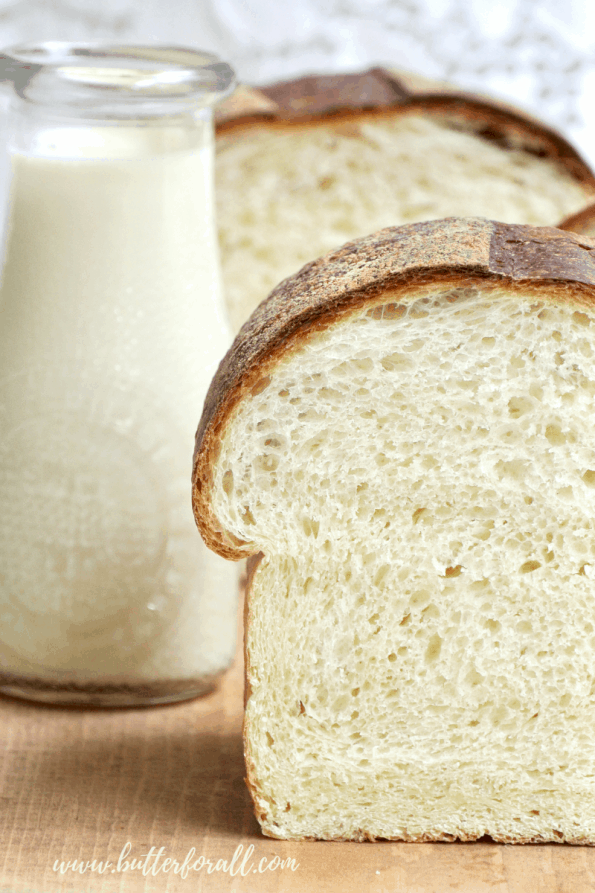 Try this bread in my favorite sandwich, the Monte Cristo! Or my second favorite, a simple grilled cheese with homemade Healthy Probiotic Mayonnaise!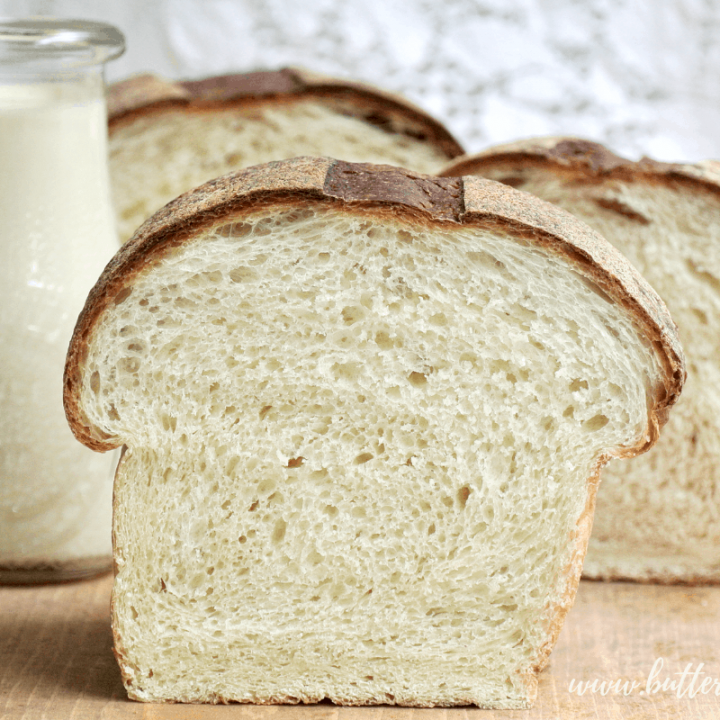 Sourdough Milk Bread
This soft sourodugh milk bread is lightly sweetened with honey for the perfect balance of flavors!
Ingredients
300 Grams Organic All Purpose Flour, (2 1/4 Cups)
300 Grams Organic Bread Flour, (2 1/4 Cups)
420 Grams Milk, (1 2/3 Cups) (I use raw milk)
Instructions
The Night Before
In a large bowl gently mix all ingredients, just until incorporated. Let the dough rest for 10 minutes.
Using slightly wet hands do several rounds of Stretch and Fold in the bowl letting the dough rest for 5 minutes in-between each round.
Once the dough is soft and smooth with long strand gluten development, gently shape it into a ball in the bowl, Cover and proof overnight at room temp (65℉). I let mine go for 10-12 hours.
The Next Morning
Do one round of Stretch and Fold in the bowl to deflate the dough. Let the dough rest 10 minutes.
Butter two loaf pans and set them aside. (I use cast iron or glass loaf pans)
Lightly flour your work surface and turn the dough out. Divide in half and gently shape each half into a loaf by first patting the dough into a rectangle. Next, bring the top third toward the center and the bottom third over it. Let the dough rest for a few minutes and then do the same patting out and folding over in the opposite direction. Let the dough rest seam side down for 5 minutes before transferring it into the loaf pan for the final rise.
Let the dough rise at room temperature until doubled.
Preheat your oven to 400℉.
Score the loaves straight down the middle with a lame or razor blade. Spray each loaf lightly with filtered water.
Bake both loaves side-by-side in the center of the oven for 30 minutes. Rotate the loaves once at the 15 minute mark.
Remove the loaves from the oven and let them cool for 5 minutes before turning the loaves out of the pans and cooling them completely on wire racks.
Want To Learn Everything About Sourdough?
Start with this free guide,
Demystifying Sourdough – Everything You've Ever Wanted To Know About Sourdough Starter – Why It's Better For You – And How To Start One