I may receive commission if you purchase through links in this post.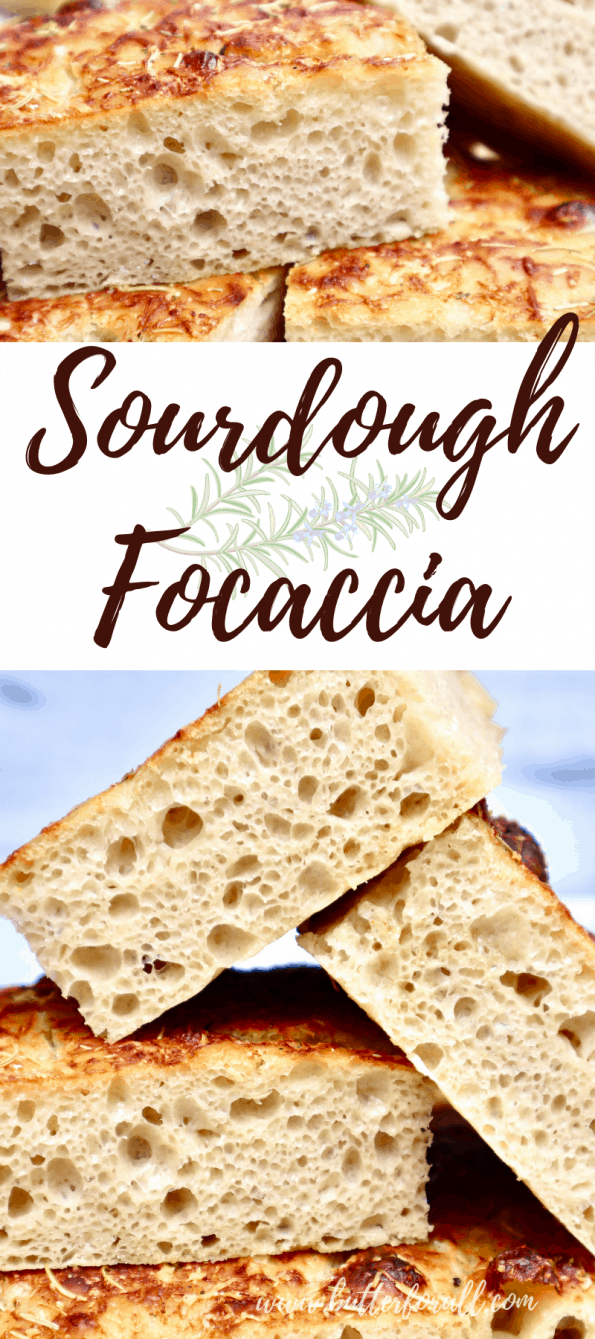 This recipe for real, soft and chewy, sourdough focaccia is sure to inspire many delicious creations.
The recipe has been adapted from a traditional focaccia recipe I used back in my culinary school days. It is a large recipe, making an 18 by 13-inch half sheet pan or two 8 by 10-inch skillets of thick, pillowy focaccia bread.
The recipe is very versatile. It can be cut in half if needed, topped with pretty much anything, and even adapted to include flavorings into the dough itself.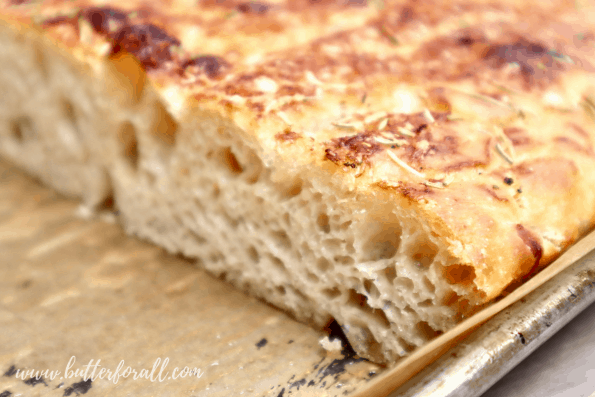 Once cooked, the focaccia can be served with high-quality olive oil and balsamic for dipping, used to make panini-style sandwiches, used for open-faced hot or cold sandwiches, topped with pizza toppings for a quick fast dinner, or pretty much anything else you could imagine!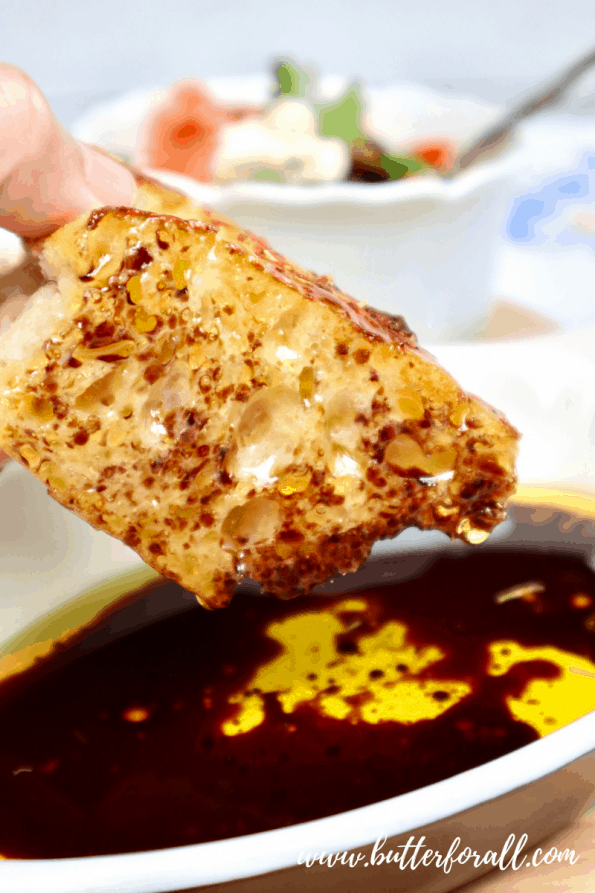 Sourdough Focaccia Is an Italian Flatbread!
According to Harold McGee in his book On Food and Cooking, The Science And Lore Of The Kitchen, focaccia falls into the category of a traditional Italian leavened flatbread of moderate thickness.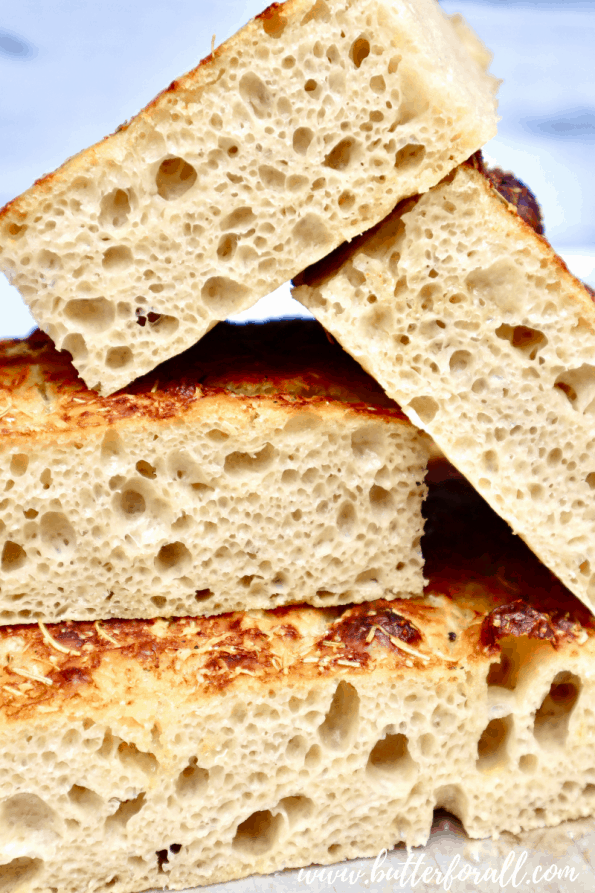 There is really nothing that different about focaccia dough from other bread doughs, except that way it is shaped and dimpled. The dimpling with oiled fingers just before baking acts as a sort of large scale docking to prevent giant bubbles puffing up and out of control during baking.
At 84% my focaccia dough is a relatively high hydration. This allows for an even open crumb structure, perfect for soaking up olive oil! And like all my sourdough recipes, the dough ferments overnight at room temperature, increasing flavor, digestibility, and nutrition.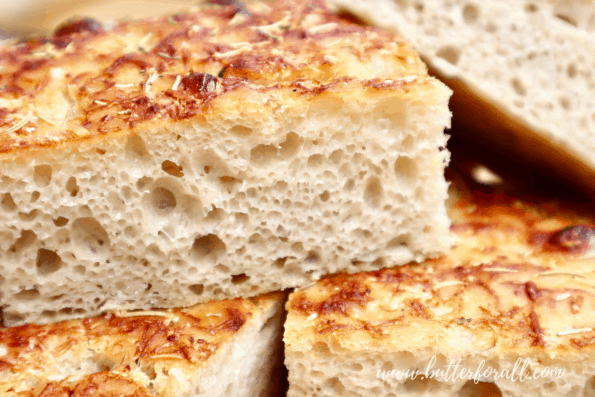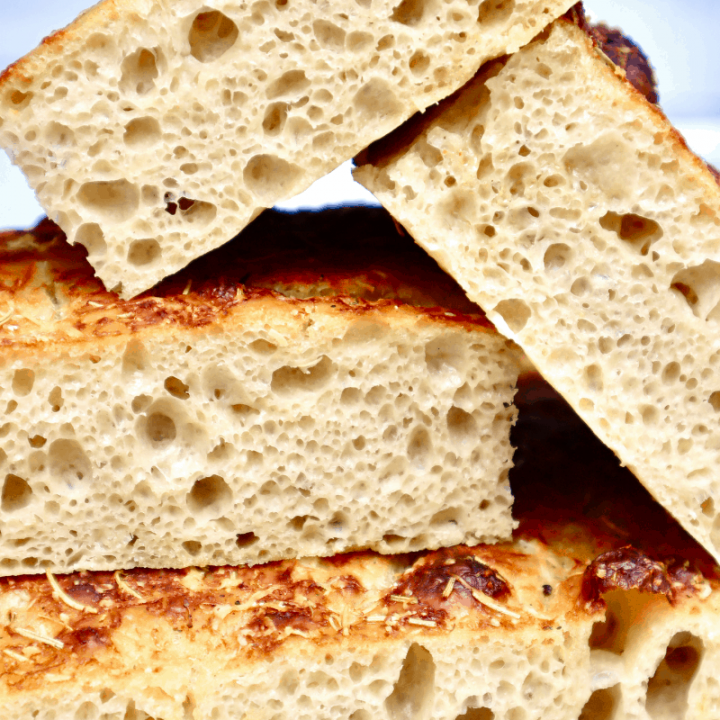 Soft Sourdough Focaccia
Additional Time:
16 hours
This traditionally leavened sourdough focaccia is super soft and pillowy, perfect for dipping in oil and vinegar, making sandwiches, or baking with toppings or add-ins!
Ingredients
685g Water (3 Cups)
250g Active Sourdough Starter (1 Cup at 100% hydration)
18g Salt (3 Teaspoons)
25g Olive Oil (2 Tablespoons)
50g Honey (2 Tablespoons)
840g Organic Bread Flour (6 Cups)
Oil and Toppings
50g Olive Oil (1/4 Cup)
4-8g Dried Rosemary (1-2 Tablespoons) To Taste
Sprinkling of Grated Parmesan (Optional)
Sprinkling of Chili Flakes (Optional)
5-10g Flaky Salt (1-2 Teaspoons) (Optional)
Instructions
The Night Before
In a large bowl with a dough whisk (a wooden spoon will work also) or stand mixer with the dough hook attachment, mix the water, starter, salt, olive oil, and honey.
Add the flour to the mixture and stir slowly until incorporated.
Let the dough rest for 10 minutes.
Stir the dough again. If you are stirring by hand, use a dough whisk or spoon to do a modified stretch and fold technique by lifting the dough from one side and folding the dough over itself before rotating the bowl. Stretch and fold the dough until it feels tight and needs to rest. In a stand mixer, mix gently for one minute.
Let the dough rest again for 10 minutes.
Do one final round of stretch and fold with a spoon or whisk, or run the stand mixer for one more minute.
Cover the dough and allow it to ferment at room temperature overnight.
The Next Morning
Prepare your 18 by 13-inch half sheet pan or two 8 by 10-inch oven-safe skillets by adding the additional olive oil and coating all surfaces well. When I use an aluminum sheet pan I use a sheet of parchment paper as a base layer. The parchment is not necessary if using cast-iron.
Oil your hands lightly and gently lift the risen dough out of the bowl, sliding it into the half sheet pan. Turn the dough over so the top is now oiled and push, flatten, and pull the dough gently to form an even layer to the edges of the pan. If you are using skillets, divide the oil and dough in half between both pans before shaping to the edges.
Let the dough rise for 1-3 hours until doubled.
Preheat your oven to 425℉.
Sprinkle the dough with any seasoning you like and drizzle with a little additional oil if needed. Use an oiled finger to poke straight down to the bottom of the pan, making deep dimples in the dough.
Bake the focaccia for 25-30 minutes until golden brown and poofed!
Let the focaccia cool before slicing.
Notes
Can I use different flour?
Yes! You can substitute any heirloom or whole-grain up to 50%.
Can I incorporate ingredients into the dough?
Yes! You can add additional ingredients like cheese chunks or olives into the dough during the last mixing before fermentation.
Can I add additional toppings?
Yes! You can add any toppings you like, just note that the focaccia might require 5-10 minutes of extra baking time if the toppings are thick or heavy.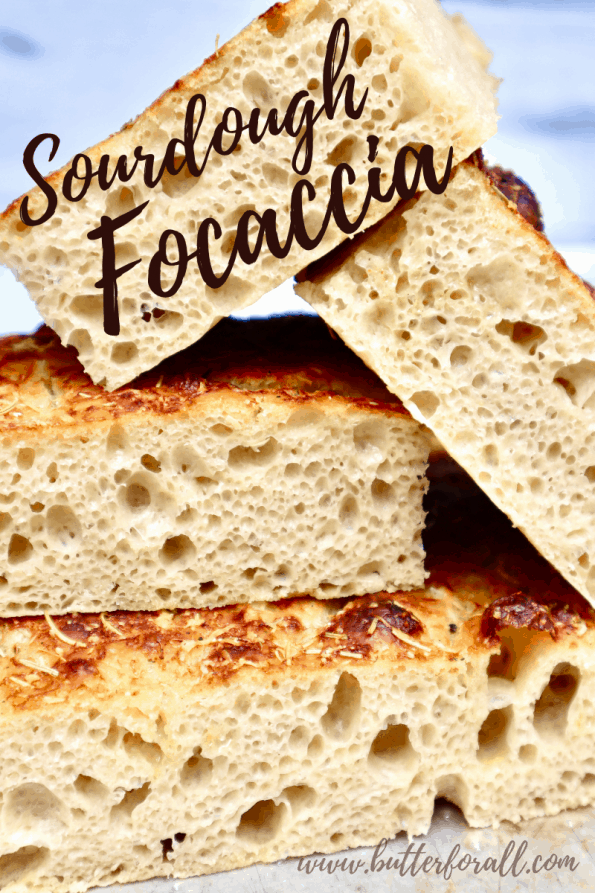 Want To Learn Everything About Sourdough?
Start with this free guide,