I may receive commission if you purchase through links in this post.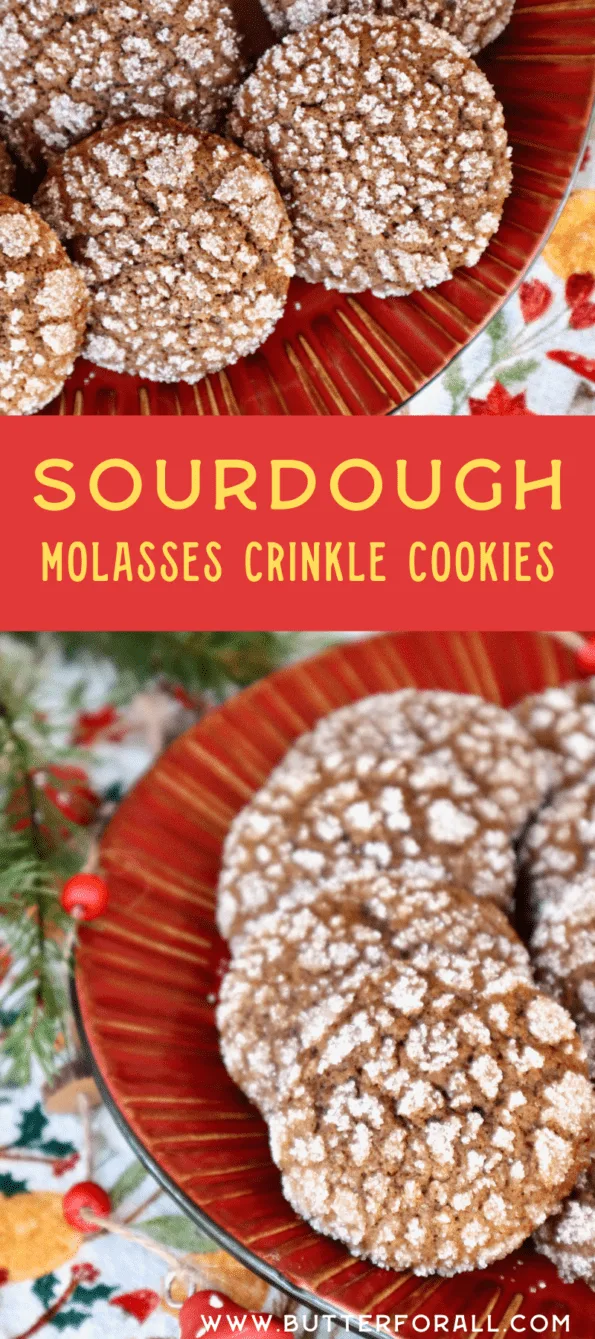 These sweet and spicy sourdough molasses crinkle cookies are glittery, festive, and so much fun.
The presentation is guaranteed to wow!
Everyone from Santa to grandma will be begging you for the recipe (and a little sourdough starter) so they can make them too.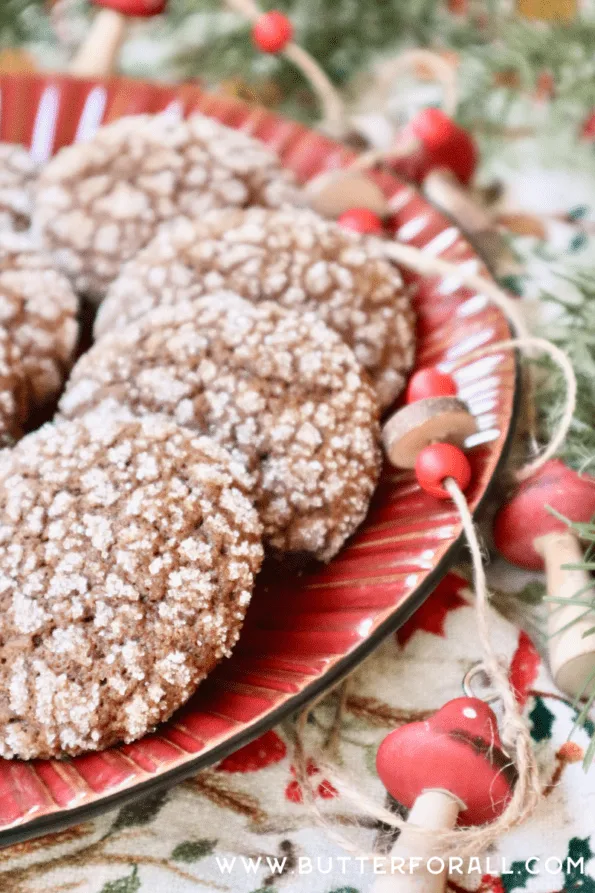 This recipe was inspired by the sourdough chocolate chip cookies from The Boy Who Bakes. Probably one of the best sourdough recipes on the internet!
It starts with browned butter and that's really all we need to know because that's the best place to start!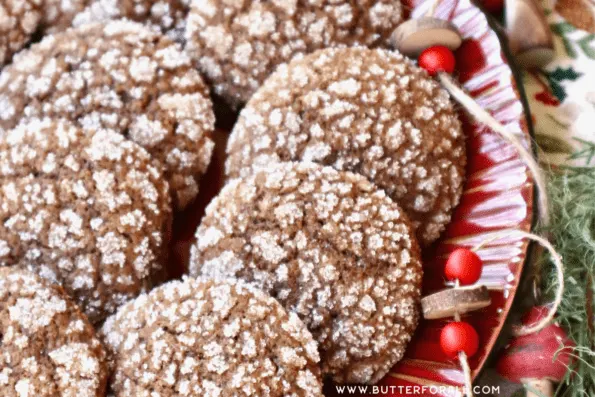 Crinkle-top cookies are really beautiful with their sparkling glittery sugary crust. They look like an icy frosted landscape or like the festive Amanita mushrooms that have become such a fun holiday collectible.
We have been collecting mushroom tree ornaments for close to 15 years, so these cookies really fit the holiday theme around here!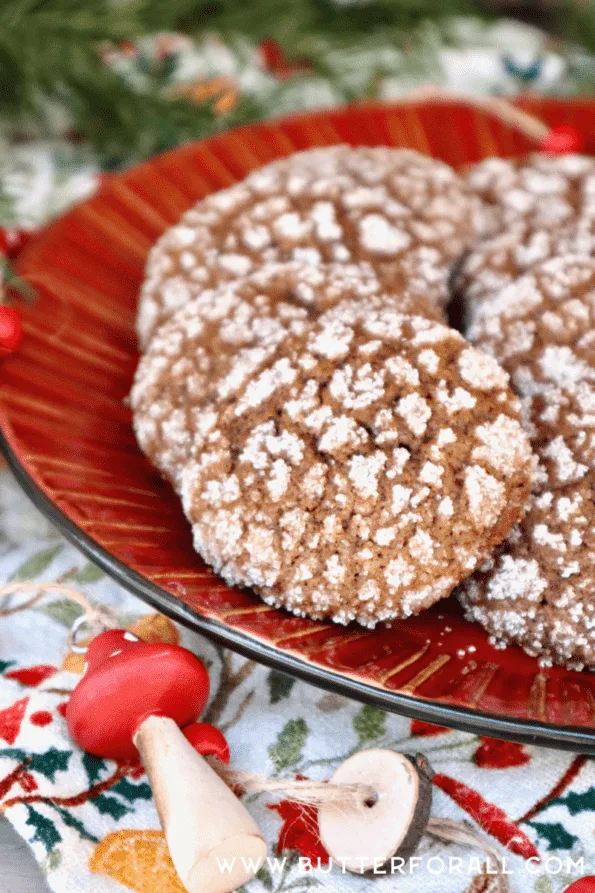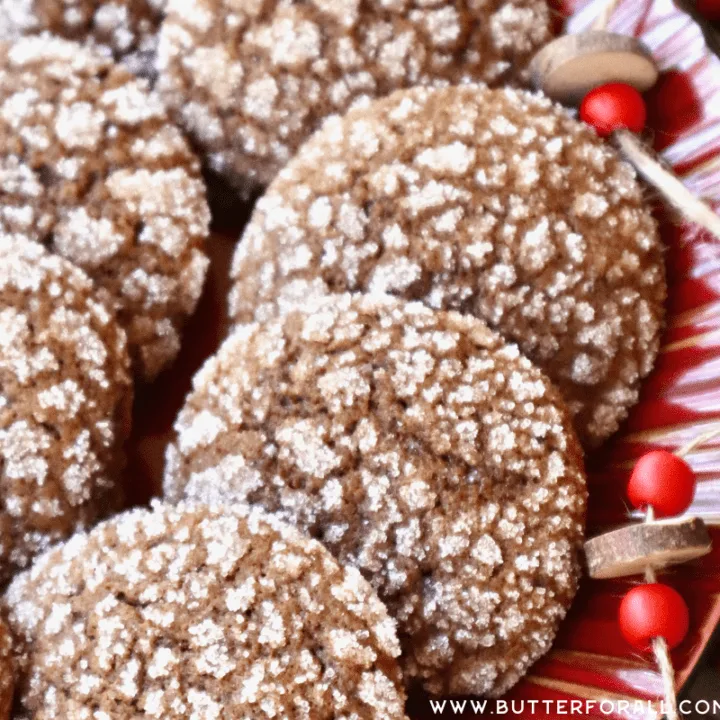 Sourdough Molasses Crinkle Cookies
Yield: 60 1-ounce cookies

A soft, spiced molasses cookie with a crunchy sugary top.
Ingredients
226 grams butter (2 sticks)
220 grams organic granulated cane sugar
220 grams molasses
3 egg yolks
240 grams sourdough starter at 100% hydration
2 teaspoons vanilla
430 grams all-purpose flour
1 teaspoon baking powder
1 teaspoon baking soda
1 teaspoon salt
1 tablespoon ground ginger
2 teaspoons ground cinnamon
1/2 teaspoon ground cloves
100 grams organic granulated cane sugar, for coating cookies
Instructions
Add the butter to a small pot and melt over medium heat. Stir occasionally. Let the butter cook until it develops a golden-brown color and a toasted smell. Set the butter aside to cool completely.
In a large bowl cream the browned butter, sugar, and molasses with an electric or stand mixer. Scrape down the sides of the bowl occasionally. I use my stand mixer with the paddle attachment.
Once the butter mixture is light and fluffy, you can beat in the egg yolks one at a time. Scrape down the sides of the bowl between each addition. Make sure each egg is fully incorporated and the mixture stays light and fluffy.
Add the sourdough starter and vanilla and beat the mixture again until everything is well combined. Let this mixture rest while proceeding with the next step.
Measure all the dry ingredients, including the spices, into a large bowl and whisk them together well.
Add the dry ingredients to the wet ingredients and stir them gently with the paddle or dough whisk until just combined.
Cover the bowl and refrigerate this mixture for at least 2 hours or up to 24 hours.
Baking the Cookies
Preheat your oven to 350℉. Line a baking sheet with parchment paper.
Pour the coating sugar into a small bowl.
Using a 1-ounce scoop or spoon, scoop the dough and roll it into a ball. Flatten each ball slightly and dip one side in the sugar. Press the cookie dough down into the sugar so you get a nice even coating.
Place the cookies sugar side up on a baking sheet leaving plenty of space around each cookie.
Just before baking dip each cookie in sugar again, ensuring a nice thick coating that will crinkle when baking.
Bake the sheets one at a time in the center of the oven for 8 to 10 minutes.
Let the cookies cool on the sheet pans for several minutes before transferring them to wire racks to cool completely.
Freezing the Dough
This recipe makes a lot of cookies so you might want to freeze some or all of the dough unbaked. Roll and coat the cookies with sugar and place them close together on a parchment-lined cookie sheet. You can make many layers on one sheet if you use parchment to separate them. Cover the sheet loosely with plastic wrap and place them in the freezer. Once completely frozen you can move them to a freezer bag for storage. These cookies bake wonderfully from frozen. Just follow the same time, temperature, and baking instructions starting at step 5 above.
Recommended Products
As an Amazon Associate and member of other affiliate programs, I earn from qualifying purchases.