I may receive commission if you purchase through links in this post.
Sourdough waffles are a special breakfast any day of the week!

I make a big batch of batter and then we all sit around the table eating waffles fresh off the iron. It's a fun way to have a communal breakfast where we all get to participate in the cooking.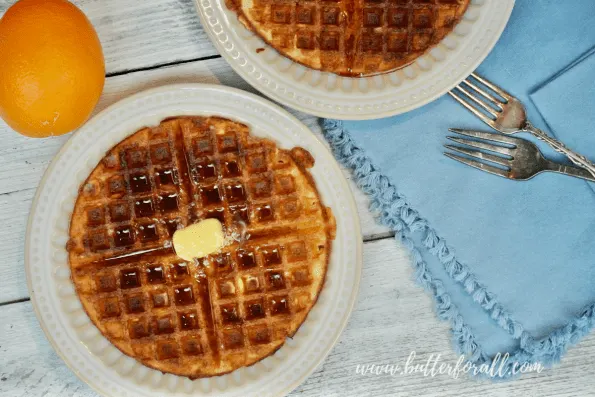 These overnight sourdough waffles have a delicious buttery crisp exterior, chewy soft interior, and all the traditional sourdough flavor. They are best eaten fresh and hot right out of the waffle iron. When they cool they release steam and will get soft and chewy, losing their crisp outer layer.
Have Leftovers?
These chewy waffles even make a great portable snack that packs a lot of flavor. Use them in place of bread for sandwiches!
Reheat the waffles in the toaster to crisp them up again in no time. This trick works well with frozen waffles too!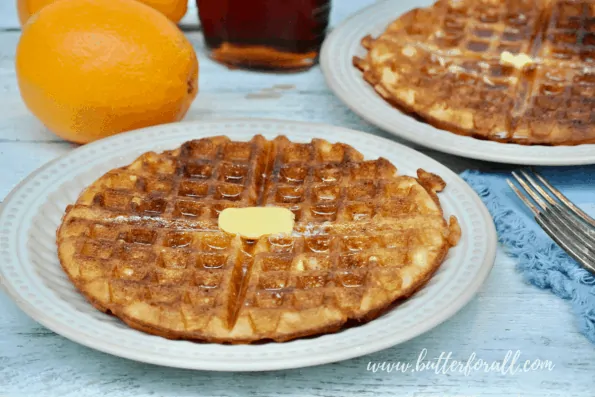 What Makes These Sourdough Waffles So Crispy?
I bet you can guess…
Yep, extra butter! Butter is the secret to the crispiest waffles you will ever have! Try them slathered with Real Raw Cultured Butter for some extra nourishment!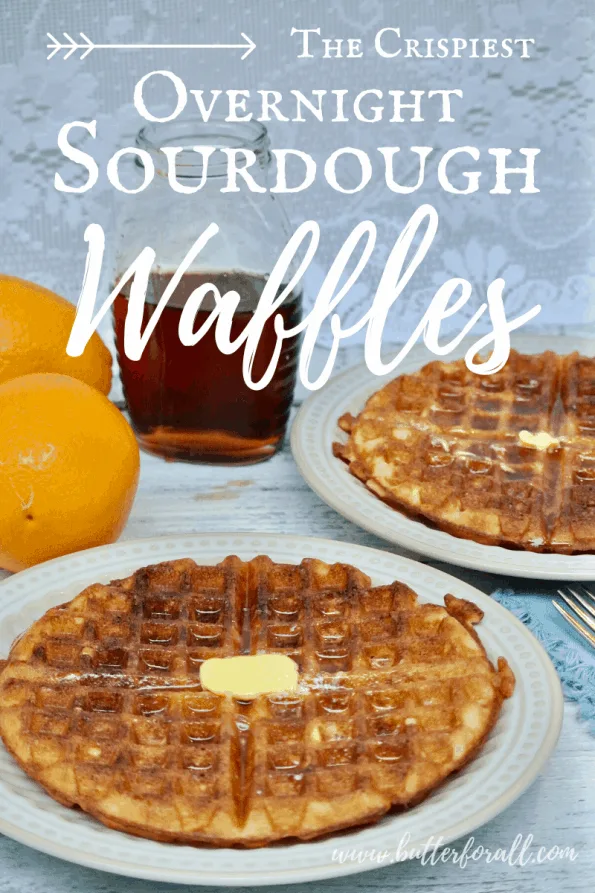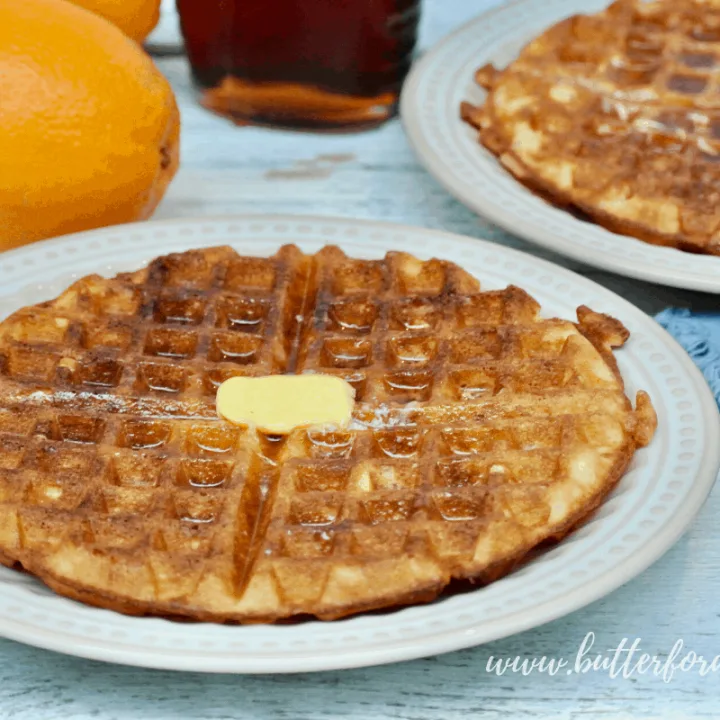 Overnight Sourdough Waffles
Yield: 9 Waffles

Prep Time: 20 minutes

Cook Time: 45 minutes

Total Time: 1 hour 5 minutes

These long-fermented sourdough waffles have a delicious buttery crisp exterior and chewy traditional sourdough flavor.
Ingredients
225 grams (1 3/4 cups) organic all-purpose flour
250 grams (1 cup plus 1 tablespoon) filtered water
125 grams (1/2 cup) active sourdough starter, 100% hydration
113 grams (1/2 cup) butter
60 grams (1/4 cup) milk
20 grams (2 tablespoons) coconut sugar
2 large eggs (60 grams)
6 grams (1 teaspoon) salt
Instructions
The Night Before
In a big ceramic or glass bowl mix the flour, water, and starter into a sticky, thick batter. Depending on the consistency of your starter you may need to adjust the flour or water measurements. Think almost as thick as a muffin batter. Cover the bowl and let this mixture ferment overnight on your counter, or in the oven with the light on if your house is kept on the cooler side.
The Next Morning
First thing in the morning check on your batter. Hopefully it will have lots of bubbles and a pleasant sour odor. If this is the case proceed with the next steps. If not, you may need some help troubleshooting your starter and I am here to help with that! Just reach out to me.
Melt the butter and whisk it with the milk, sugar, eggs, and salt. I like to use a glass measuring cup for this step. Slowly incorporate the butter mixture into the fermented flour mixture. Whisk until the mixture is smooth and evenly distributed.
Just Before Cooking
Plug in or heat your waffle iron. Add a careful amount of batter to the hot iron leaving room for expansion. Cook one waffle at a time until they are golden brown and puffy. Serve the waffles straight away with butter, maple syrup, and a sprinkling of fruit and nuts. Draw straws to see who gets the first one!
Notes
Pro Tip: When cooking waffles on the table use a cookie sheet turned upside down as a wide base for the waffle iron to sit on. I always have a few spill-overs and this makes it a breeze to clean up while also protecting your table from heat damage.

Recipe can easily be doubled.
Recommended Products
As an Amazon Associate and member of other affiliate programs, I earn from qualifying purchases.
Want To Learn Everything About Sourdough?
Start with this free guide:
Demystifying Sourdough – Everything You've Ever Wanted To Know About Sourdough Starter – Why It's Better For You – And How To Start One