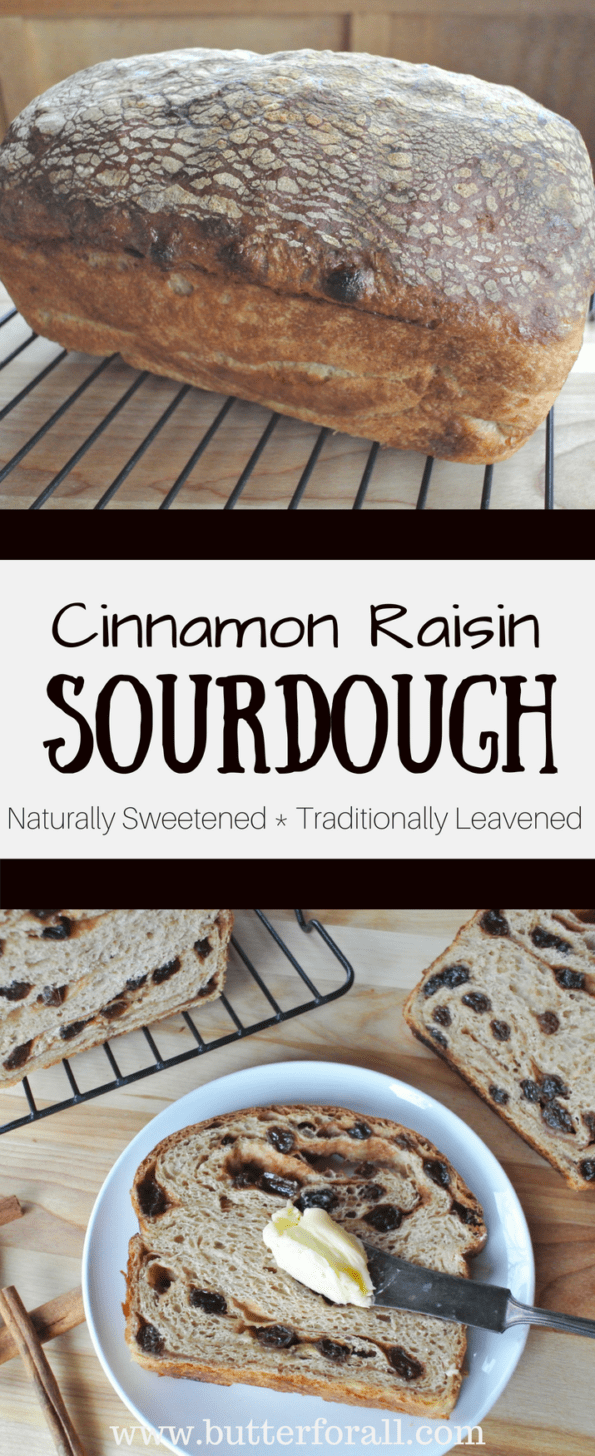 Is there anything better than a toasty loaf of sourdough bread baked in your own home?
Um, yes, there is. When that toasty loaf is studded with sweet sticky maple syrup, plump juicy raisins and enough cinnamon to liven up a party! Meet my Cinnamon Raisin Sourdough Bread aka your new best friend. This bread is amazing toasted in the morning and it's sure to please the whole family. So get out those sourdough starters and get them rockin' again because you will not be let down by this recipe. It took me over a year to perfect the techniques for making a great loaf of this bread and I'm about to share everything I've learned with you.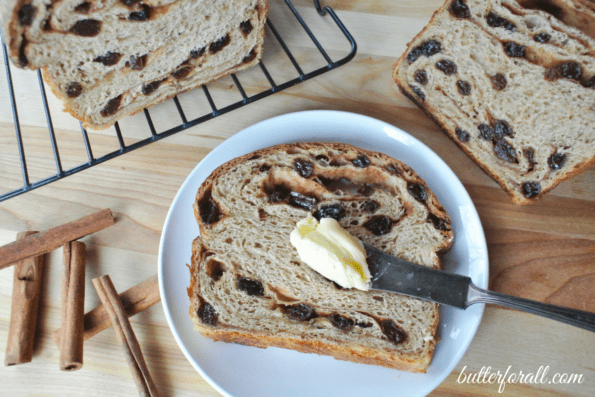 First and foremost you will need a great Sourdough Starter.
I've had my sourdough starter since 2003 and I feel extremely lucky that it's survived all that time with me. I wasn't the best mama to it for the first few years of its life. I would use it sporadically and leave it unattended (sometimes for months) in the back of my fridge. But this little starter is a beast and will always bounce back after several feedings. Now I bake at least one loaf of bread a week and I don't even bother feeding it before baking. I use some and replace what I used, that's it. And now my little starter is a serious part of my family and my livelihood. I actually feel love for it. Awwwww!
Learn how to make to make your own sourdough starter from flour and water!
Demystifying Sourdough – Everything You've Ever Wanted To Know About Sourdough Starter – Why It's Better For You – And How To Start One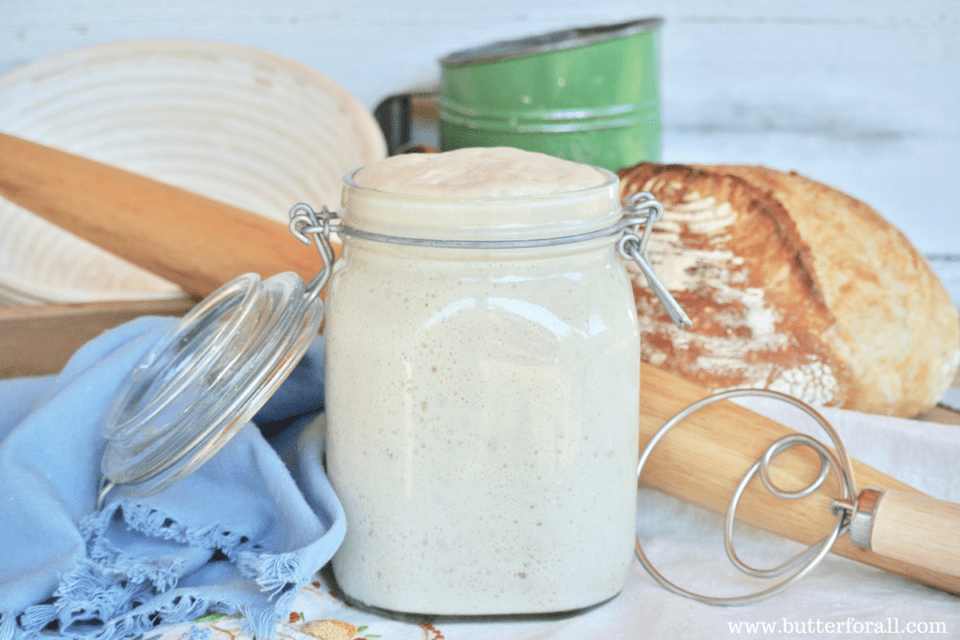 If you don't have a trusty starter you are already working with or a friend who will gift you a little bit to start with you can always purchase a dehydrated starter and get it going in no time. I recommend the sourdough starters from Cultures Of Health.
And now on to the good stuff!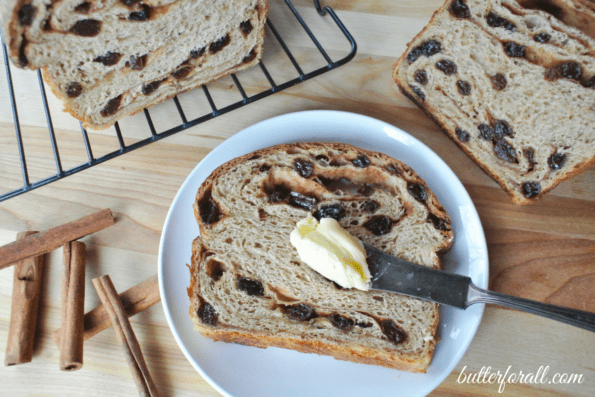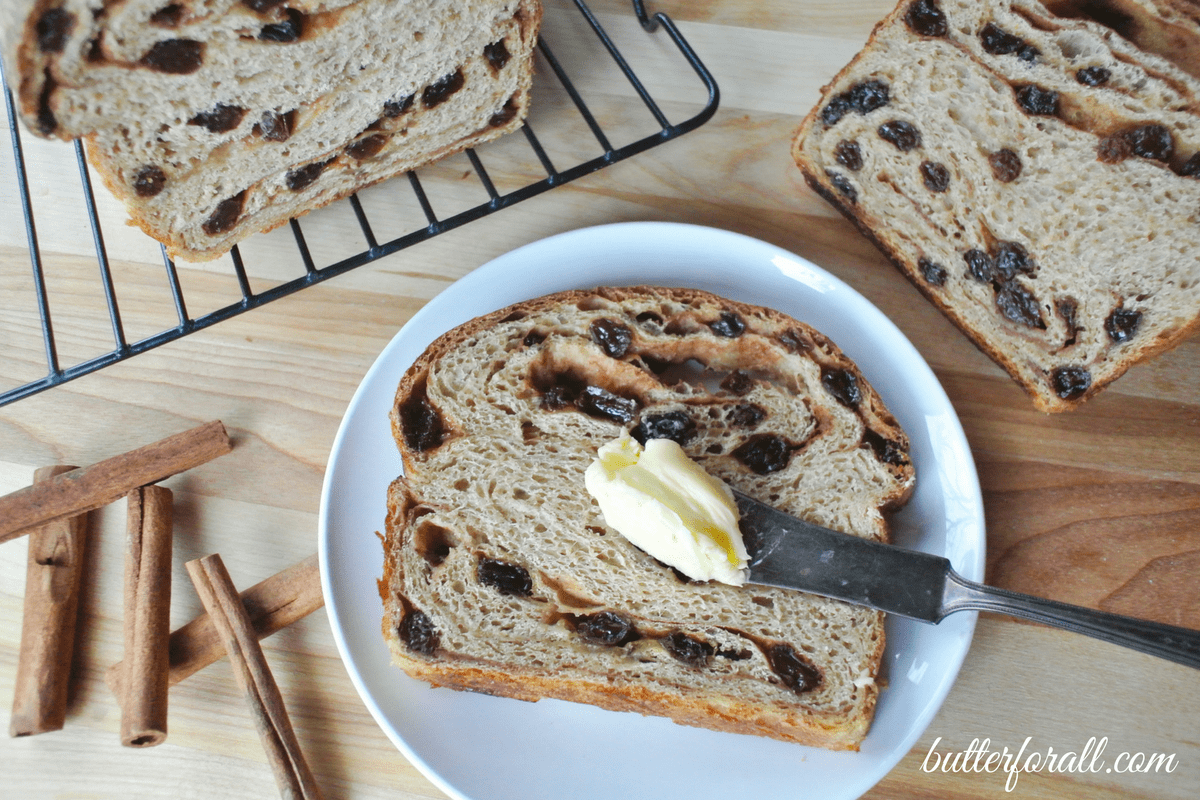 Cinnamon Raisin Sourdough Bread With A Maple Syrup Swirl
Recipe yields 1 large loaf.
Course:
Breakfast, Dessert, Snack, Treat
Cuisine:
American, Traditional
Keyword:
Bread, Cinnamon, Sourdough, Sweet, Swirl
Instructions
Make The Sourdough The Night Before
I always let my bread go through a long, slow ferment. That's the point of sourdough right?! A long ferment means more lactic acid to help break down starches and sugars improving the digestibility and nutrition of the bread. And of course that's how sourdough gets its tell-tale sour flavor. So, why rush it?!

Before going to bed, mix the two flours, starter, salt, coconut sugar and water into a nice smooth dough. Knead the dough until it's elastic and pulls away clean. I'm not going to lie. I use a KitchenAid Stand Mixer and I have for years. It can be done by hand if that's what you prefer. But if you love baking and you plan on making bread fairly regularly then you should invest in a sturdy stand mixer.

Cover the dough and let it rise overnight.
The Next Morning
Flour your work surface. Pull the dough out of the bowl it was in and gently shape it into a rectangle on the floured surface. Turn the dough over and make sure both sides have just enough flour so they don't stick to your work surface. If you use too much flour here your bread will not roll up nicely so be careful not to go overboard. Using a rolling pin roll the dough out into a large flat sheet about 1/2" thick. Evenly spread the cinnamon and raisins over the dough, right up to the edge. Drizzle the maple syrup over the dough but don't go all the way to the edge, leave about 2" of space for the syrup to expand while forming the loaf.  Start at the top of the dough and roll toward yourself gently patting the dough down as you go. Once the dough is in a tight log fold both ends over to the middle 3rd. Roll the loaf gently to help it seal.

Melt 1 Tablespoon of butter in your loaf pan and put the loaf in upside down. Flip the loaf over so now the top is buttery too. Cover the loaf and let it rise until at least doubled in size. I let mine rise for about 4 hours before baking.

Bake the bread at 400° for 30 minutes. Remove the bread from the pan and let it cool completely on a rack before slicing. I know it's tempting to eat it warm but if you resist the loaf will be more moist and will take longer to go stale.

Enjoy the bread soft, toasted or as (our favorite) FRENCH TOAST!