I may receive commission if you purchase through links in this post.
Growing up in the Monterey Bay region of California means I had never ever eaten chicken and dumplings!
I'm not ashamed of this fact as the recipe is regional to the South, and California cuisine rarely takes its cues from traditional North American cooking. But now that I've tried it, I do know what I was missing out on all this time.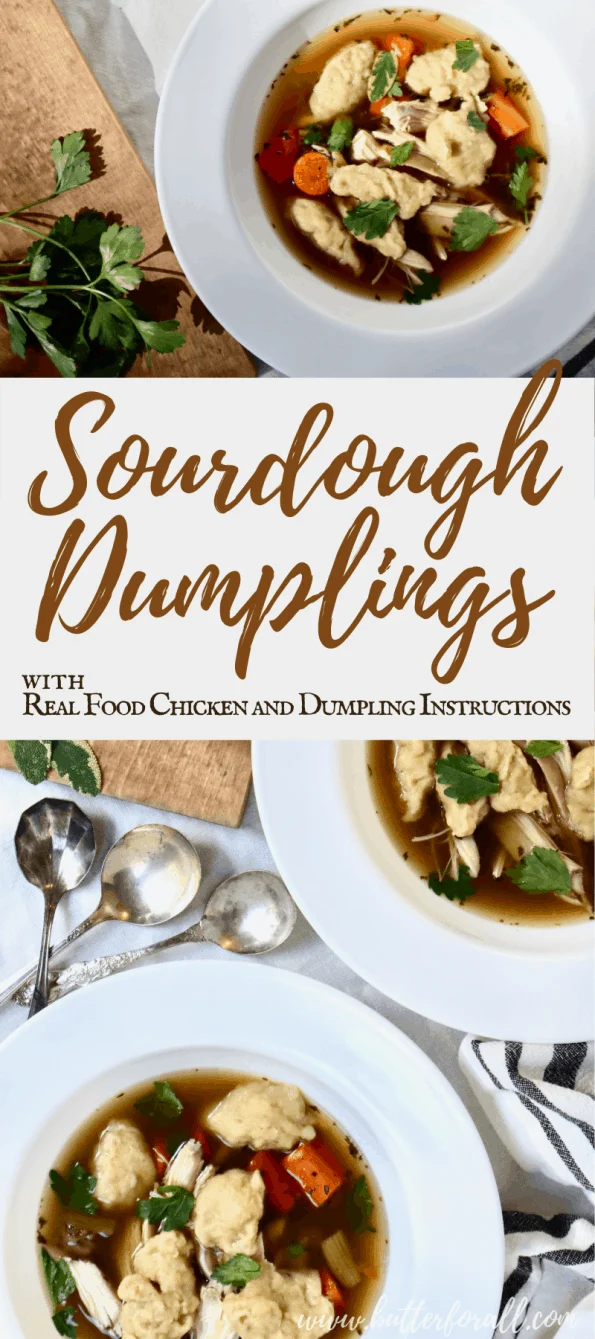 Check out this article that explains the origins of chicken and dumplings in detail.
Dumplings themselves have been around for centuries and came to America in extraordinary variations with the many settlers from European countries. I like to think that somewhere in the history of dumplings, there was another cook mixing soured flour and eggs into a thick batter to cook in rich broth!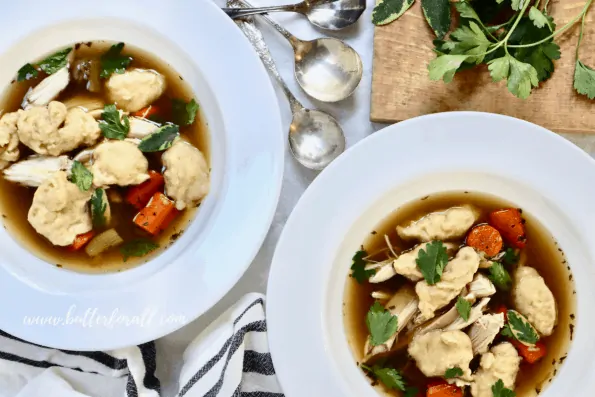 Since I'd never had the dish, I was free to envision it without bias. My version is probably very different than anything you've tried before. I opted for a clear chicken broth, reminiscent of consommé, instead of a thickened gravy-style broth. My dumplings are less like biscuit dough and more like soft sourdough egg pasta or Spätzle with the classic chewiness you would expect of traditional sourdough.
I will definitely be adding this dish to my rotation. It's wonderfully hearty, fairly simple, and feeds a crowd! I hope you'll enjoy my version of this classic!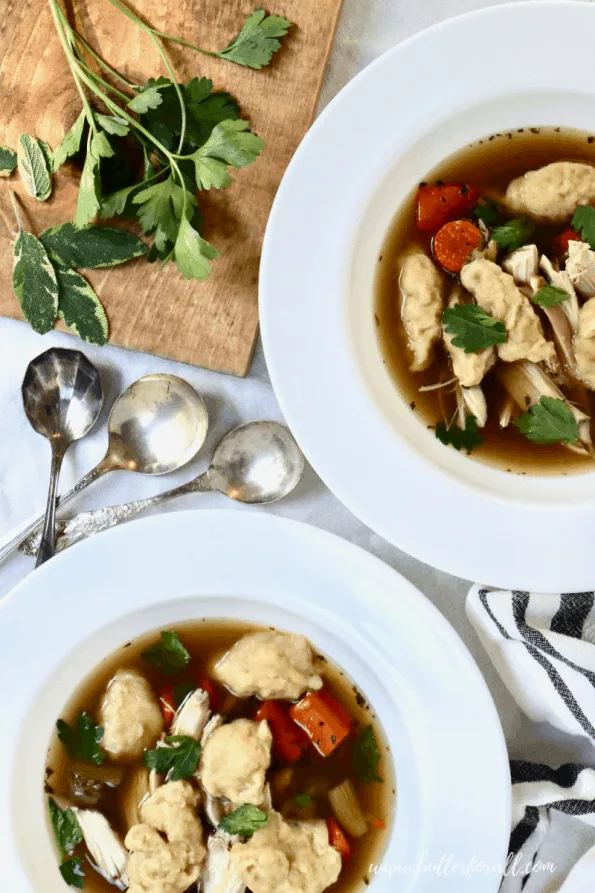 Sourdough Dumpling Batter
One of the really lovely things about this recipe is that the dough is actually a thick, four-ingredient batter. It gets mixed in the morning, left to ferment all day, and is ready to use by the time your chicken is ready.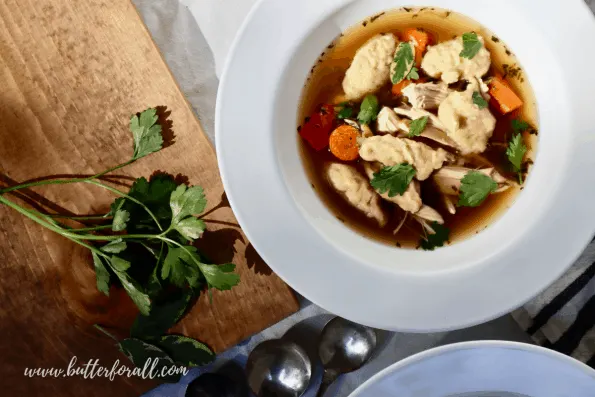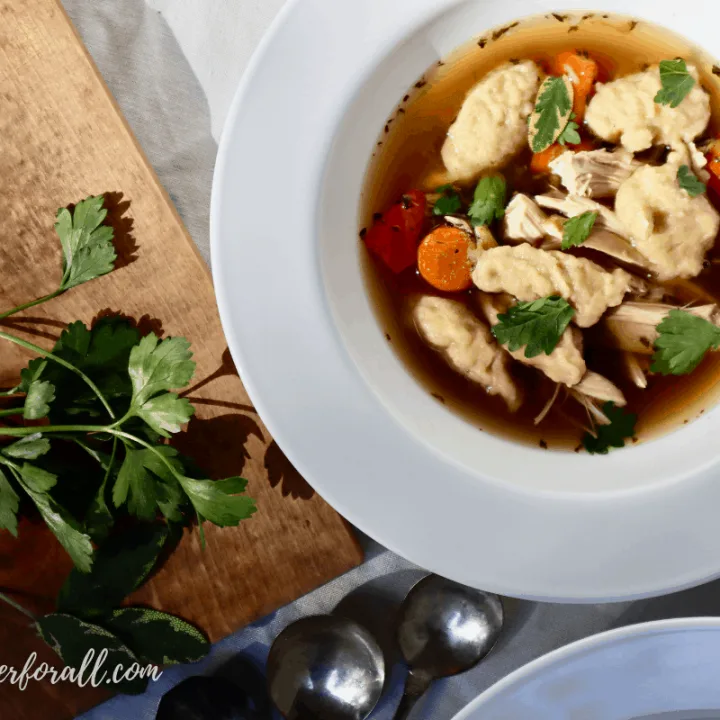 Chicken and Sourdough Dumplings
Yield: Serves 8

Prep Time: 15 minutes

Cook Time: 5 minutes

Additional Time: 8 hours

Total Time: 8 hours 20 minutes

Sourdough dumplings are extremely easy to make with fresh sourdough starter or sourdough starter discard. They have a great chewy texture and pleasant, slightly sour flavor. When boiled in broth or liquid, they become light and fluffy, perfect for a refined chicken and dumpling soup!
Ingredients
Sourdough Dumplings
250 grams (1 cup after stirring down) sourdough starter, 100% hydration
140 grams (1 cup) flour
6 grams (1 teaspoon) salt
2 whole eggs
Chicken Soup Portion
1 whole pastured chicken (4 to 6 pounds)
18 grams (1 tablespoon) salt
7 grams (1 tablespoon) fresh ground pepper
56 grams (4 tablespoons) butter
5 large carrots
1 bunch celery
2 shallots or 1 medium onion
2 to 3 grams (1 tablespoon) dried thyme
12 cups water
Instructions
In The Morning
Mix the dumpling ingredients in a medium-sized bowl until well incorporated. Cover the bowl and let the batter ferment at room temperature for 8 hours.
At One O'clock in the Afternoon
Preheat your oven to 250℉.
Rinse and pat dry your chicken if necessary.
Salt and pepper the whole bird, spreading all seasonings evenly.
Heat an 8-quart oven-safe stainless steel, enameled, or cast-iron pot over medium heat. Add the butter. Once it is melted and bubbling add the whole chicken, breast side down.
Brown the chicken on each side for 5 to 7 minutes (or until golden brown). If the butter is burning, turn your heat down a bit.
While the chicken is browning, wash and peel the carrots, wash the celery stalks, and peel the shallots.
Cut the shallots into slices and add them around the browning chicken. Stir them occasionally.
Chop the carrots and celery into 1-inch chunks.
Once the chicken has browned on all four sides, set it breast side up in the pan and add the other vegetables around it.
Sprinkle it with the dried thyme and add the water.
Bring the pot to a simmer before covering it and transferring it to your oven for a slow 4-hour cooking.
Preparing To Cook and Serve the Dumplings
Remove the chicken from the oven, uncover the pot, and let it cool for 10 minutes.
Using a fine mesh strainer, pour most of the broth off the chicken into a large mixing bowl.
Using two large spoons, gently lift the chicken from the pot onto a large dish. It is normal for the chicken to fall apart — just try to be gentle and lift out all pieces. Gently scoop out the vegetables and place them alongside the chicken or in a separate dish.
Strain the rest of the broth through the strainer into the bowl.
Add the strained broth back to the pot and bring it to a simmer over medium heat. Taste the broth and season with more herbs, salt, and pepper if needed.
Using a soup spoon, drop dollops of sourdough dumpling batter into the simmering broth.
Cook the dumplings for 7 to 10 minutes, turning them over once during cooking.
While the dumplings cook in the broth, arrange your serving dishes. Large shallow bowls work well.
Place some vegetables in each bowl, and then pick some dark and light chicken meat and shred it into each bowl.
Once the dumplings are cooked, divide them equally into each bowl.
Ladle hot broth over the bowls and garnish them with fresh herbs (parsley, sage, or thyme) if desired.
Notes
1. I like to use an active starter for my dumplings, but discard that isn't too old will work as well. Active starter will have a more mild flavor while discard will give you a more pronounced sour flavor.

2. You can use all-purpose flour, whole wheat, or heirloom grains in these dumplings.
Recommended Products
As an Amazon Associate and member of other affiliate programs, I earn from qualifying purchases.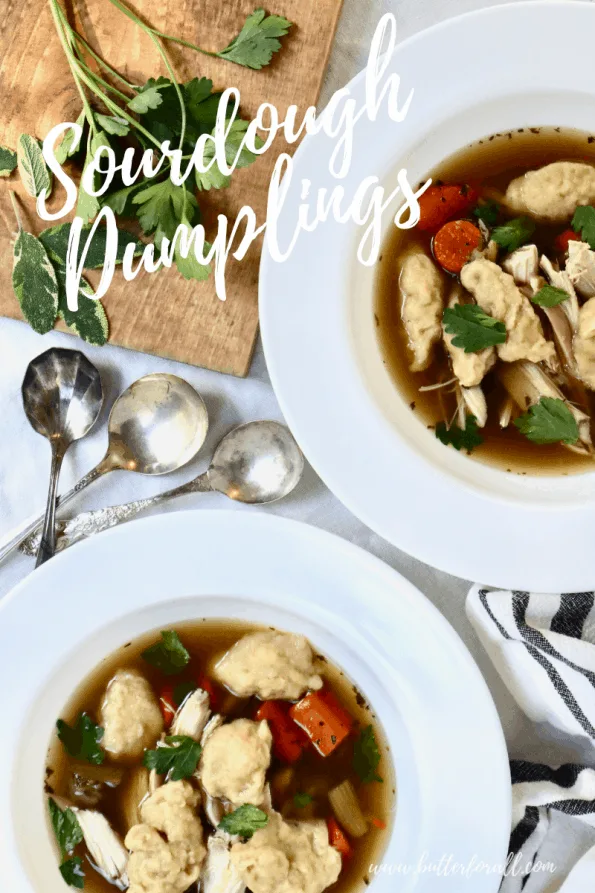 Want To Learn Everything About Sourdough?
Start with this free guide:
Demystifying Sourdough – Everything You've Ever Wanted To Know About Sourdough Starter – Why It's Better For You – And How To Start One