courtney@butterforall.com
I'm always happy to help!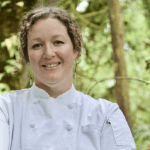 Hi, I'm Courtney
I'm devoted to nourishing my family with traditional foods and to building a sustainable homestead. I have a degree in Culinary Arts and have lived and worked as a chef in the crazy-intense restaurant scene of San Francisco. Now, I reside in the calm, lush, and fertile McKenzie River Corridor in Oregon.
Butter For ALL is Committed to Nutritional Excellence
My recommendation is to buy sustainable pastured meats and raw dairy ingredients.
Grains, nuts, seeds, and legumes should be organically grown and either soaked, sprouted, or fermented for ease in digestion and boosted nutrition.
Please shop locally for organic seasonal produce and support small family farms whenever possible.
Food is Love!