I may receive commission if you purchase through links in this post.
Potato pancakes, aka latkes, are one of my favorite comfort foods.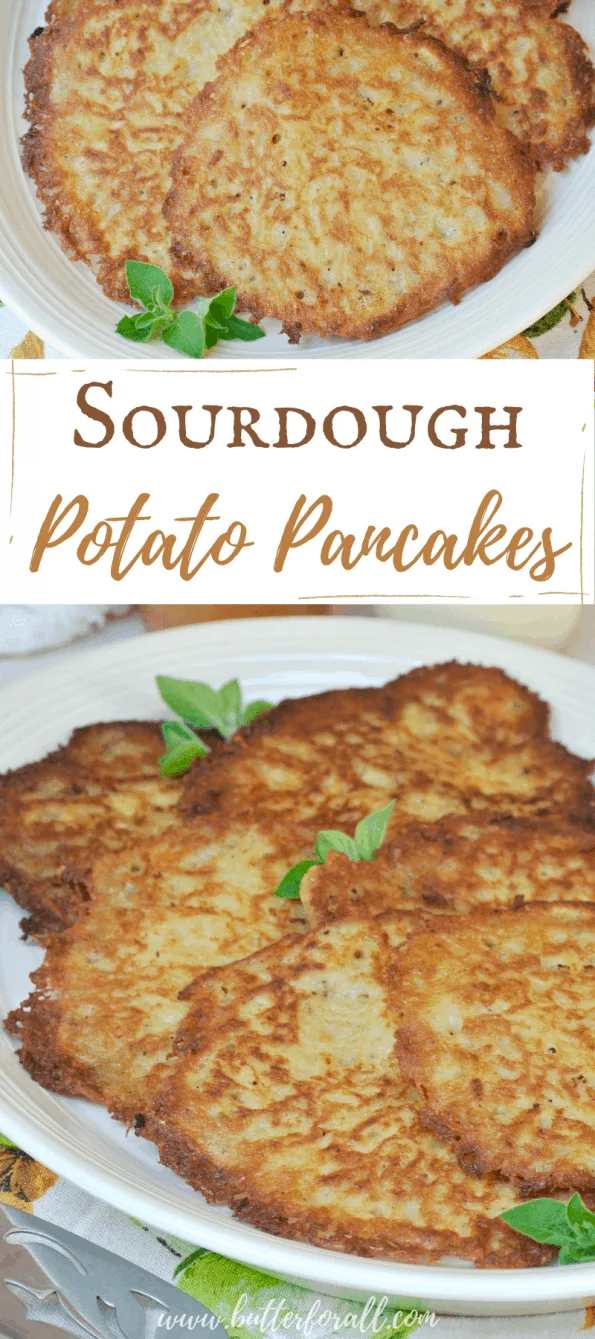 When I was young my mother served up the gluey, chewy, potato pancakes from a box mix. They are delicious in their own right, but honestly they have nothing on my sourdough potato pancakes.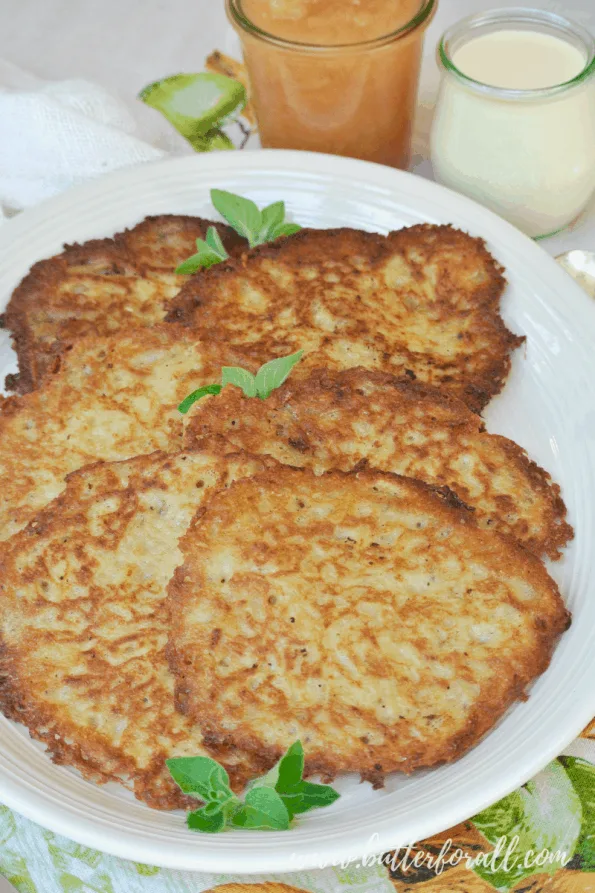 Make The Simple Sourdough Batter
My sourdough version uses an easy overnight leaven (thick batter) that is then mixed with shredded potato, eggs, and spices the next morning. The result is a thin crispy pancake with a perfect potato texture and a chewy sourdough center.
A Great Use For Sourdough Discard
For extra sour pancakes or if you have a lot of starter to use up, replace the overnight leaven with 400 grams of 100% hydration sourdough starter discard!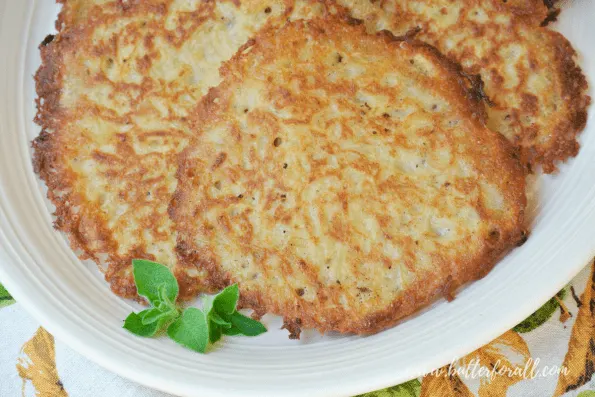 These Easy Sourdough Potato Pancakes Make a Great Breakfast or Brunch.
Serve them with Homemade Apple Sauce and Cultured Raw Sour Cream!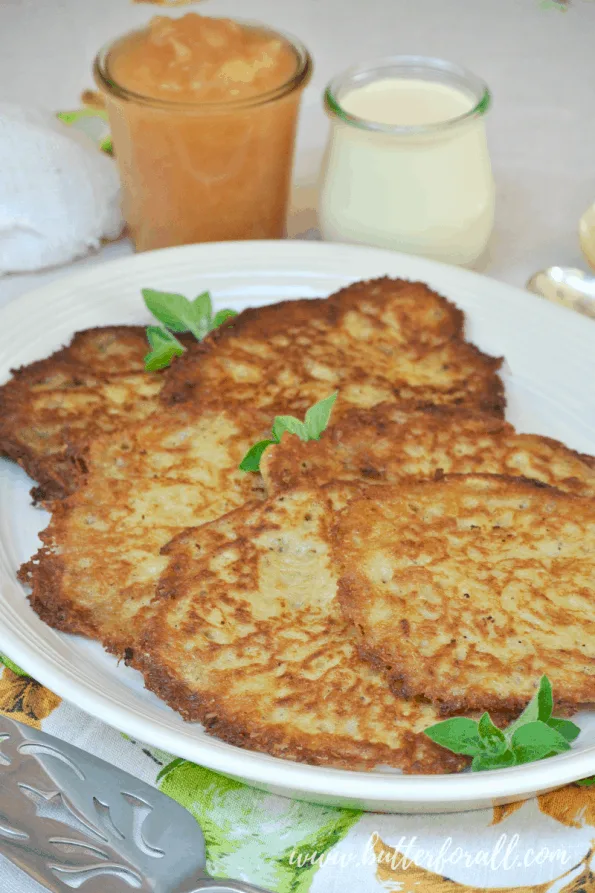 They also make a great side dish to many meals. My daughter enjoys them served like hash browns with ketchup.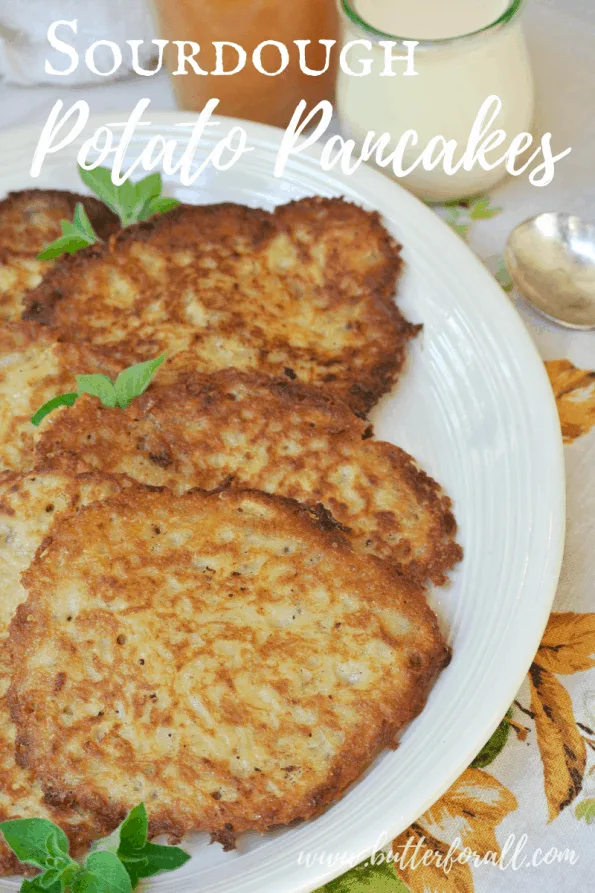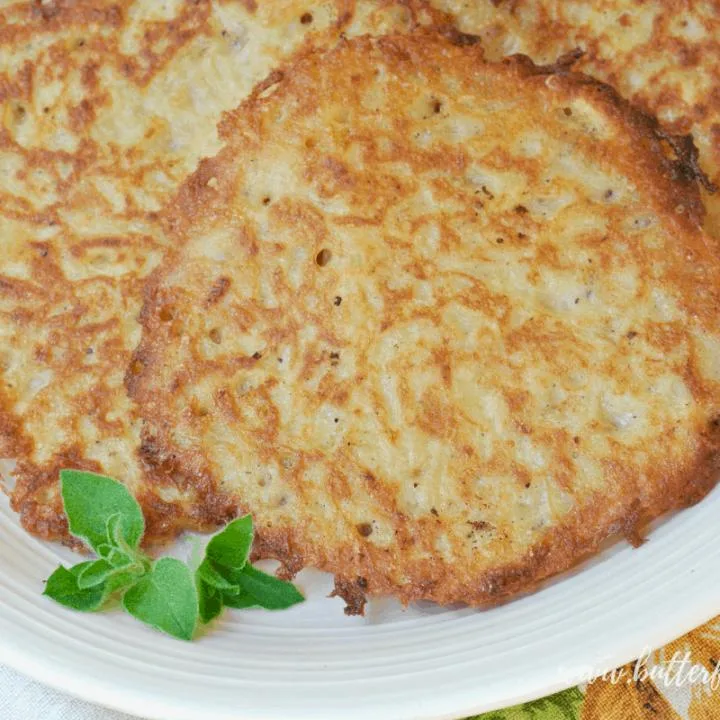 Sourdough Potato Pancakes
Total Time:
12 hours
50 minutes
An easy overnight batter that is then mixed with fresh shredded potatoes and spices for a perfect fermented potato pancake!
Ingredients
For the Overnight Leaven
150 grams (1 heaping cup) organic all-purpose flour
For the Batter
2 eggs (100 grams)
56 grams (1/4 cup) melted butter
700 grams (4 cups) grated yellow potato (about 5 large)
2 grams (1 teaspoon) freshly ground black pepper
For Frying
215 grams (1 cup) tallow, lard, ghee, or avocado oil
Instructions
The Night Before
Mix the flour, water, and starter into a thick batter and let it ferment overnight at room temperature.
The Next Morning
Melt the butter in a small pan.
Grate the potatoes into a small bowl.
Add the eggs, salt, onion granules, and pepper to the overnight leaven batter. Whisk well.
Stir in the cooled melted butter and whisk until fully incorporated.
Check on the grated potato. If it has released a lot of water, drain most of the liquid away and gently squeeze the potato.
Add the grated potato to the batter and stir well until fully distributed.
Cover the batter and let it ferment at room temperature for at least 1 hour.
For Cooking
Preheat a cast-iron pan or griddle over medium/low heat until evenly heated.
Add about 1 tablespoon of cooking oil. Using a large spoon, scoop enough batter into the oil to form a thin pancake 4 to 6 inches in diameter. Use the spoon to spread the batter out thinly and evenly.
Cook the potato pancake slowly until golden brown on both sides. Lower the temperature slightly if the pancake browns too quickly. It should take around 3 minutes per side for the potato to cook through.
Serve the potato pancakes hot from the pan with apple sauce and sour cream!
Notes
Using Discard
400 grams of 100% hydration sourdough starter discard can be used in place of the overnight leaven.
Expect potato pancakes made with discard to be more tangy.
If you batter is too thin, add a bit of flour to ticken.
Want To Learn Everything About Sourdough?
Start with this free guide:
Demystifying Sourdough – Everything You've Ever Wanted To Know About Sourdough Starter – Why It's Better For You – And How To Start One