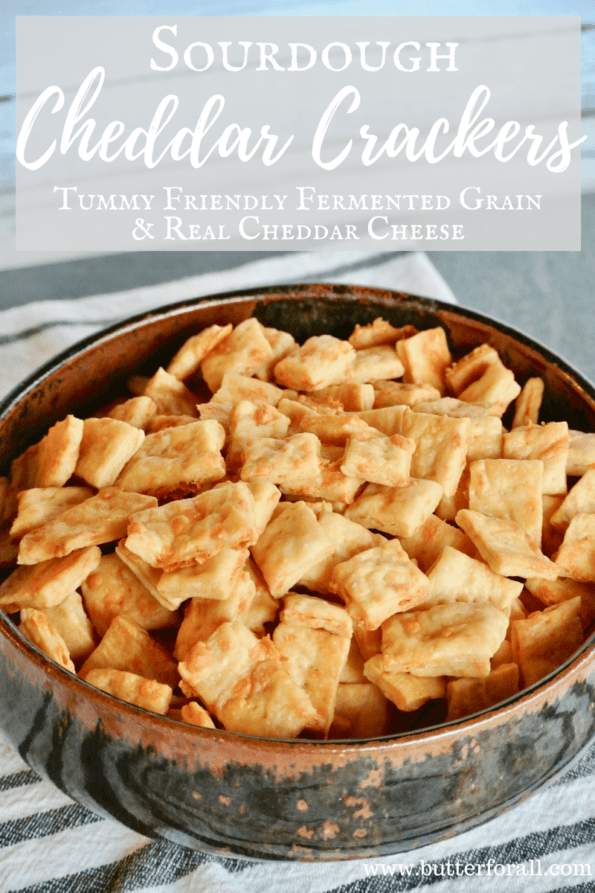 Seriously, who doesn't love cheddar cheese crackers?
I know they are a big hit in my family. But one thing I can't do is bring myself to buy (unnaturally orange) crackers made with GMO wheat, artificial colors, and questionable ingredients. These Sourdough Cheddar Crackers don't need to be shaped like perfect squares or little fish to make a big splash.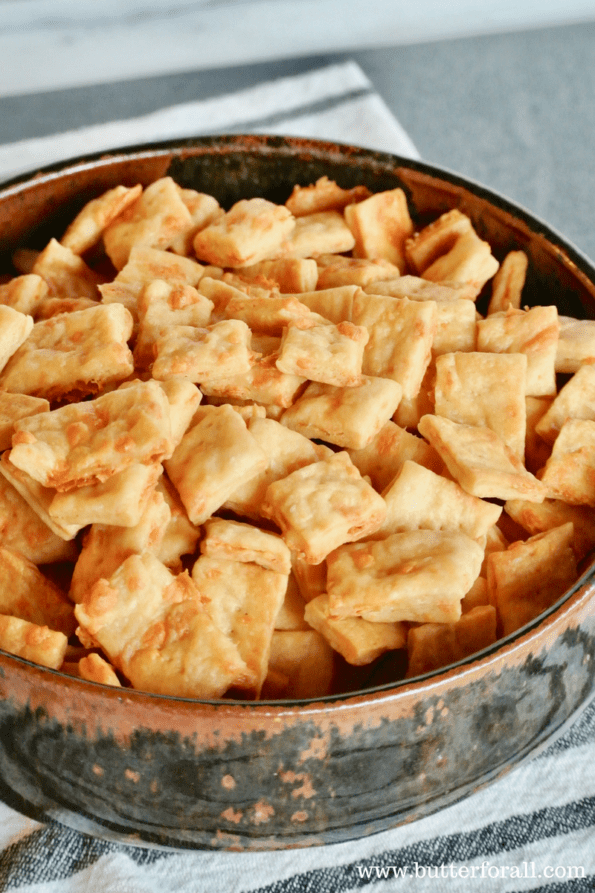 Wholesome snacking at its best.
I've taken my original Sourdough Butter Cracker recipe and added real cheddar cheese. That's all. Simple, wholesome ingredients that are traditionally fermented to create an easily digestible, crunchy, super cheesy snack cracker.
Sourdough Cheddar Crackers make the perfect snack for little hands.
We all want the best for our kiddos! Limiting the amount of processed foods our children eat can make a big impact on their health. So pack some of these sourdough cheddar snack crackers along on your next playdate or adventure.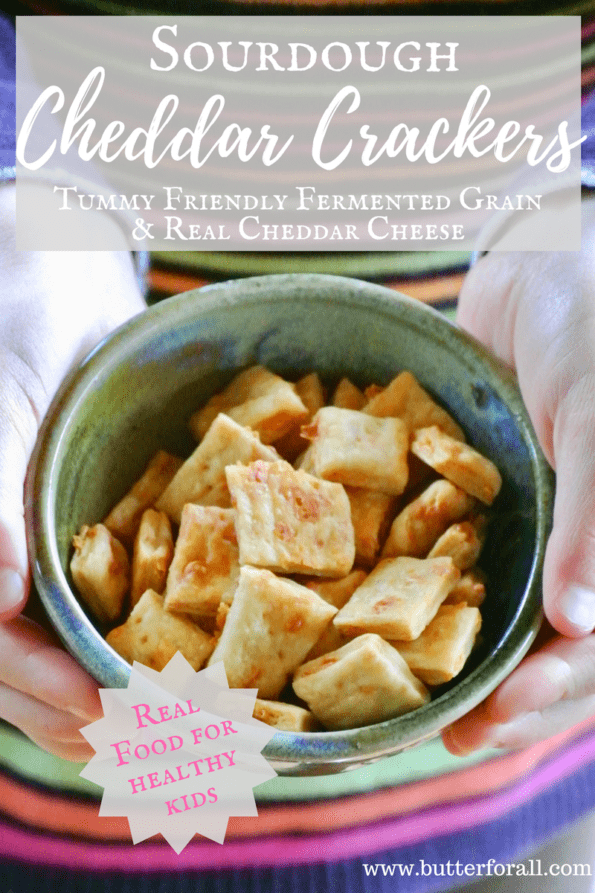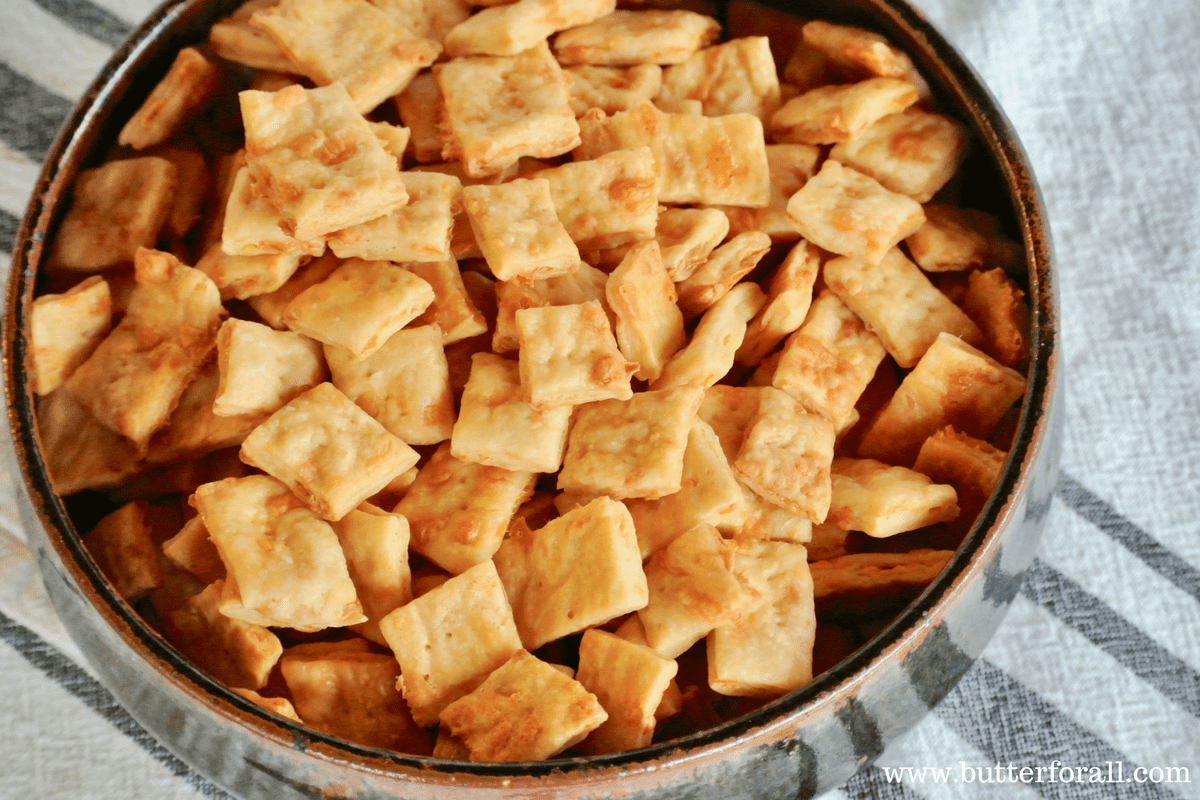 Sourdough Cheddar Crackers
A crunchy, tummy friendly, fermented grain, snack cracker.
Ingredients
For the dough:
228

Grams

Sourdough Starter or Discard

(just shy 1 cup at 100% hydration, stirred down)

285

Grams

Organic All Purpose Flour

(about 2 cups)

8

Grams

Sea Salt

(3/4 teaspoon)

64

Grams

Melted Butter

(1/4 cup)

105

Grams

Filtered Water

(just shy 1/2 cup)

8

Ounces

Cheddar Cheese

Grated
Instructions
The night before baking:
Weigh or measure all the dough ingredients into a ceramic or glass mixing bowl.

Mix the dough just until it comes together. There will be plenty of structure without developing extra gluten.

Let the dough rest and rise, covered for 12-16 hours.
The next day:
Preheat your oven to 350°.

Transfer the dough to a floured surface and pat it into a rectangle. Cut the rectangle in half.

Cut 3 sheets of parchment paper that will fit a large baking sheet.

Place one piece of the dough in the center of a piece of parchment and cover with the other sheet.

Use your hand to flatten the dough into a large rectangle. Then use a rolling pin to roll it to a thickness of about 1/8th of an inch. Remove the top sheet of parchment paper.

Using a pizza cutter or knife cut the dough into cracker size squares. Prick (dock) each square twice with a fork to keep the dough from bubbling up in the oven.

Slide the parchment paper onto the baking sheet and set the crackers aside.

Repeat these steps with the remaining dough.

Bake the crackers for 30 minutes at 350°. Then turn the oven off and jar the door. I use a baking mitt between the door and frame to just barely keep the oven door open. Let the crackers cool completely in the oven.

Once cool, store the crackers in an air tight container.
Recipe Notes
You may need to rotate the crackers once during baking or switch shelves to make sure they brown evenly.
Want to learn everything about sourdough? Well, I have the free guide for you!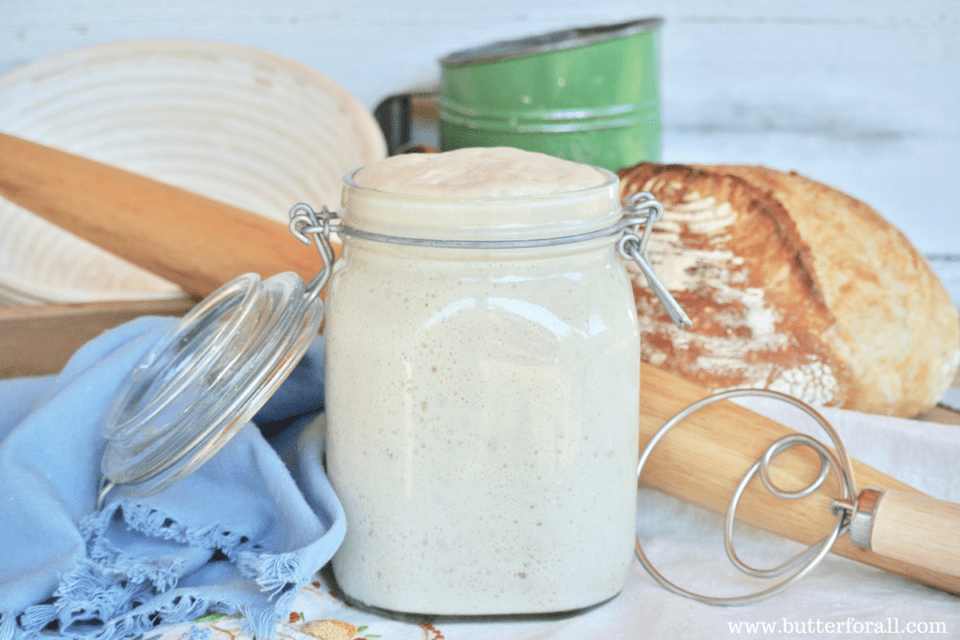 Demystifying Sourdough – Everything You've Ever Wanted To Know About Sourdough Starter – Why It's Better For You – And How To Start One