I may receive commission if you purchase through links in this post.
I bet you can guess why I love English muffins!
Yep, all those nooks and crannies, little empty pools, perfect for catching all the melted butter!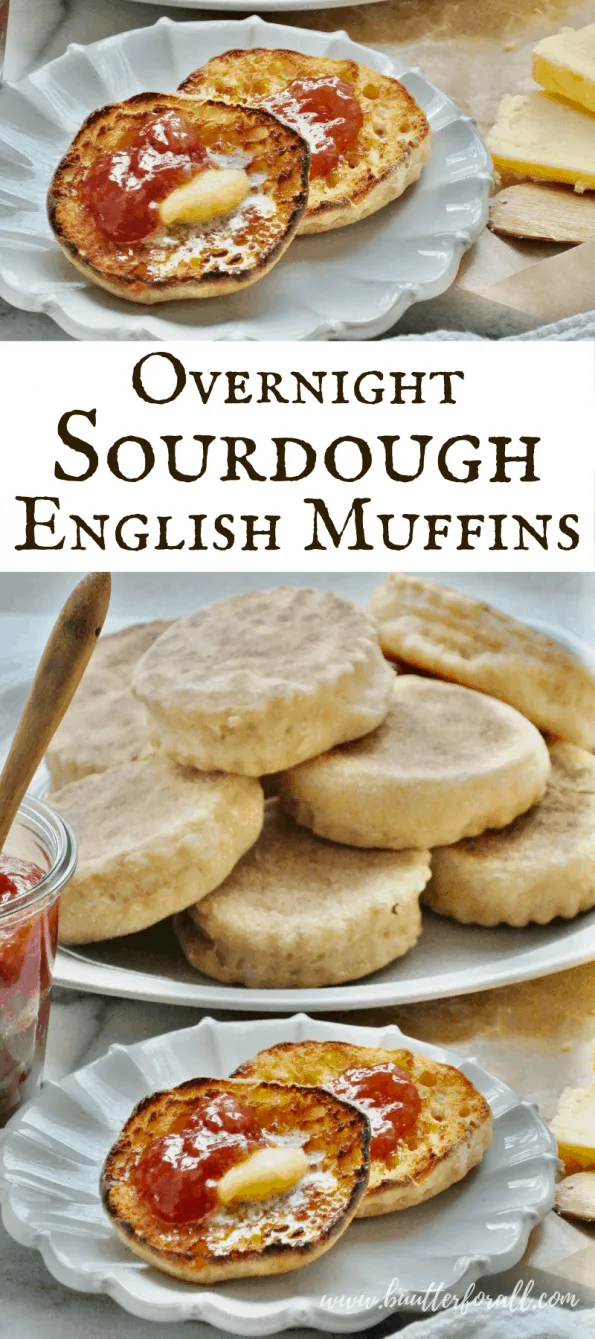 This easy recipe ferments and rises overnight at room temperature so you awaken to a soft, manageable dough.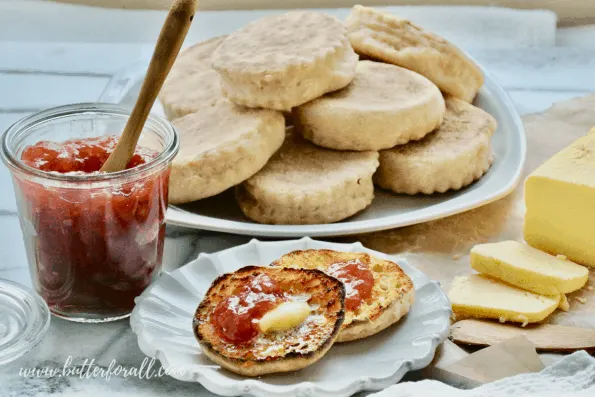 In the morning roll out the dough, cut out the muffins, preheat the griddle, cook these little sourdough puffers low and slow, and voilà, a beautiful butter-holding breakfast!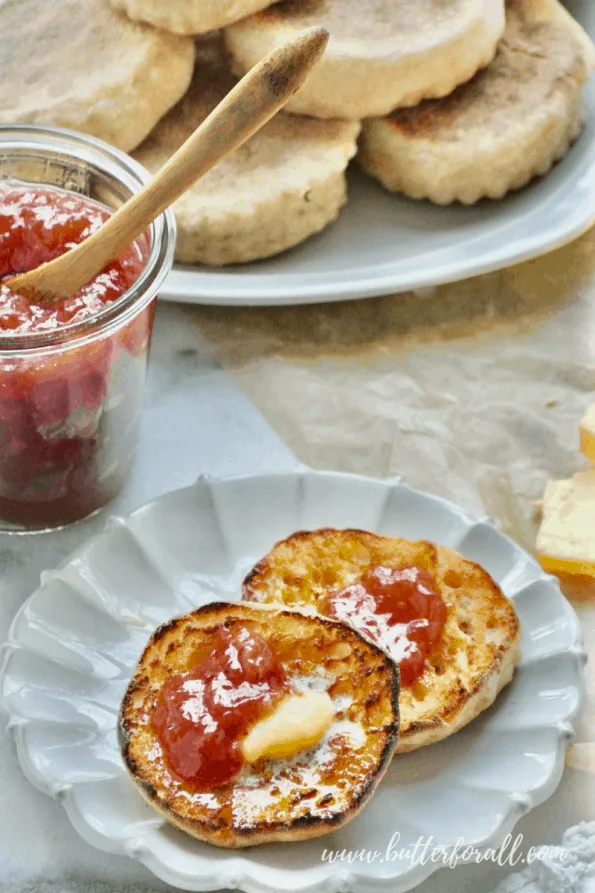 What Should You Eat on These Sourdough English Muffins?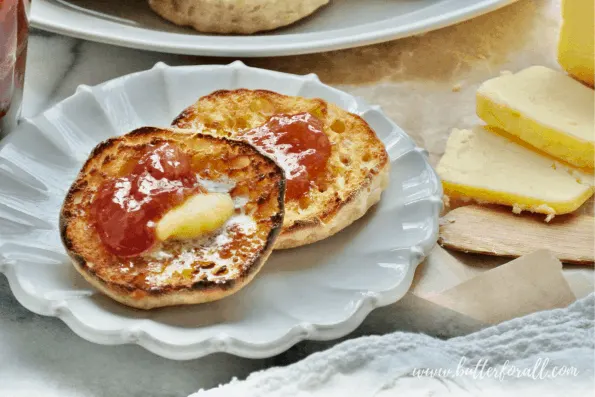 If you are passionate about real food and love to make your own, try making my real Cultured Raw Butter.
For a special treat add a foraged jam or jelly like this immune-boosting Elderberry Jelly from Practical Self Reliance.
Or maybe you have some wildflowers in your yard? Try a very unique Wildflower Jam from Nitty Gritty Life.
Love the simple things in life? Me too. Nothing beats a buttery sourdough English muffin with Honey Sweetened Strawberry Jam like the one found at Texanerin Baking!
Try these muffins as the bread for an egg sandy with this delicious Pastured Pork Breakfast Sausage.
Or try them as the base for every kid's favorite "Engamuff pizza!" Just spread each half with tomato sauce, mozzarella, and a few favorite toppings and bake at 375ºF until the cheese is golden and bubbly.
Whatever You Top Them With, These Overnight Sourdough English Muffins Are Sure to Become a Family Favorite!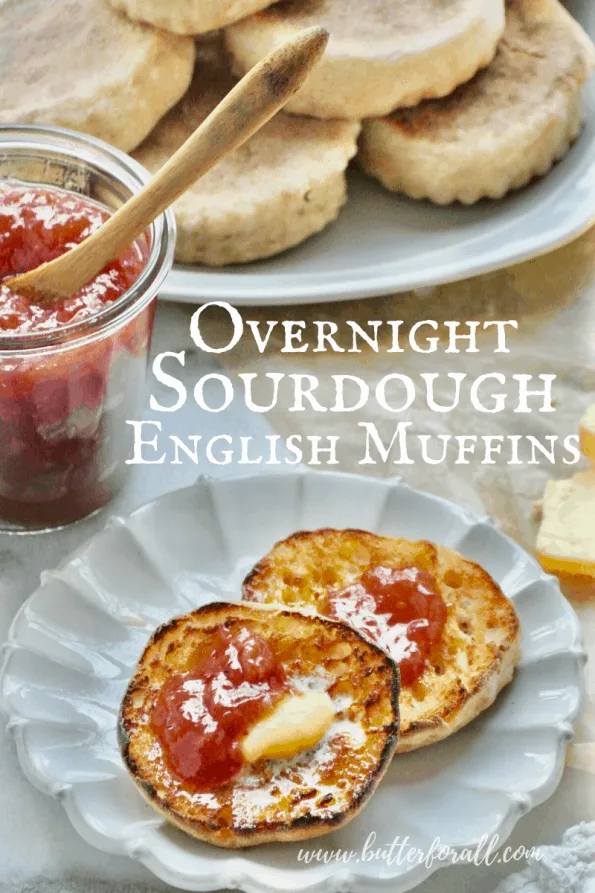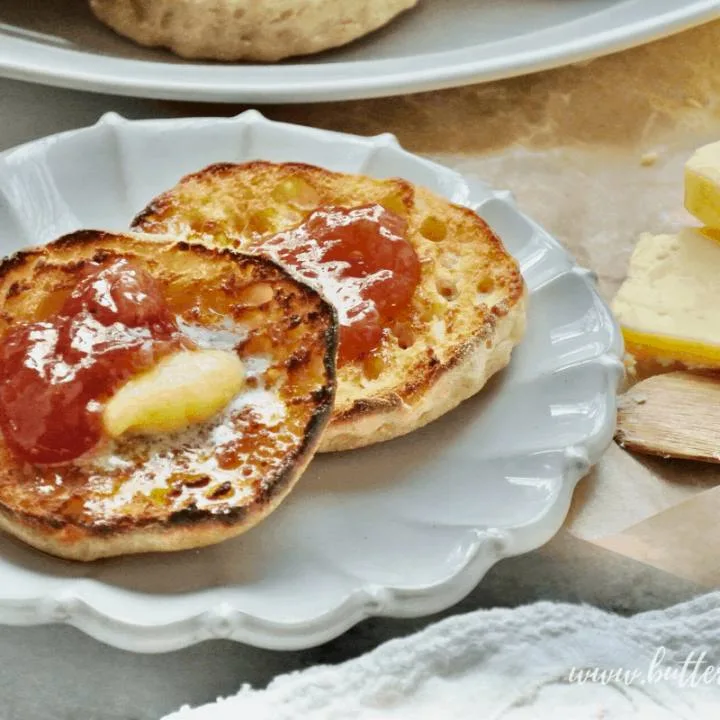 Overnight Sourdough English Muffins
An easy to work with, traditional sourdough English muffin, perfect for holding a variety of toppings (like butter!)
Ingredients
510 grams (2 cups) milk
600 grams (4 cups) organic bread flour
20 grams (2 tablespoons) coconut sugar, or honey
Instructions
The Night Before
In a large bowl with plenty of room for proofing, gently mix all ingredients either by hand or in a stand mixer until a smooth sticky dough is achieved.
Cover the bowl and let it proof at room temperature overnight, 8 to 12 hours.
The Next Morning
With wet hands, do one series of stretch and folds around the dough in the bowl, deflating the dough, and loosely preshaping it into a ball. Wait 5 to 10 minutes before continuing.
Generously flour your work surface.
Turn the dough out on the floured surface and pat flour onto both sides.
Pat or roll the dough into a 3/4-inch-thick sheet. Add more flour if you notice sticking.
Use a large biscuit cutter to cut out as many muffins as possible. Make sure they are floured on the bottom and move them off to the side of your work surface to rest.
Gather the remaining dough and brush off any loose flour. Shape the dough into a ball and re-roll it to 3/4-inch thickness. Cut out the muffins and set them aside. Repeat this step one more time if necessary.
Let all the muffins rest for 30 minutes.
Preheat a large cast-iron griddle to medium-low. Make sure it is thoroughly heated through.
Add the muffins to the griddle with an inch of space around each. Cook them for 5 to 7 minutes per side. They should be golden to dark brown and fully puffed when done. Cool them on a wire rack before slicing.
Notes
These muffins freeze really well and defrost quickly!
For a longer fermentation, the dough can be refrigerated after the initial proofing for up to 72 hours.
Want To Learn Everything About Sourdough?
Start with this free guide:
Demystifying Sourdough – Everything You've Ever Wanted To Know About Sourdough Starter – Why It's Better For You – And How To Start One