I may receive commission if you purchase through links in this post.
This fall you will find me in my kitchen making these magical sourdough toaster tarts by the dozen!
While they take a little extra effort to prepare, the real fermented dough, perfectly sweetened filling, and touch of garden magic make these worth the time.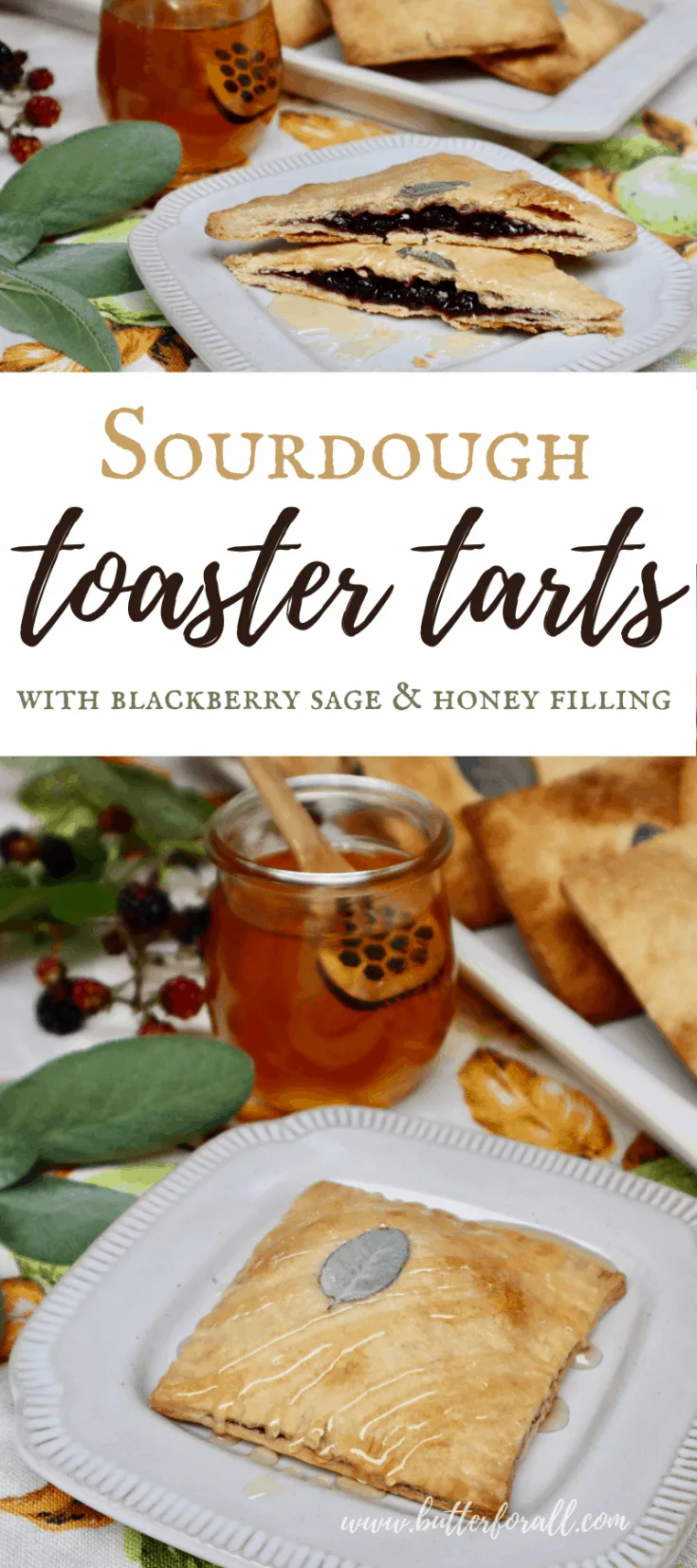 Toaster Tarts Anytime!
You can serve these little beauties golden brown from the oven, drizzled in raw local honey, a la mode with my Vanilla Bean Ice Cream, or you can easily freeze them individually for quick and tasty reheating in your toaster, anytime!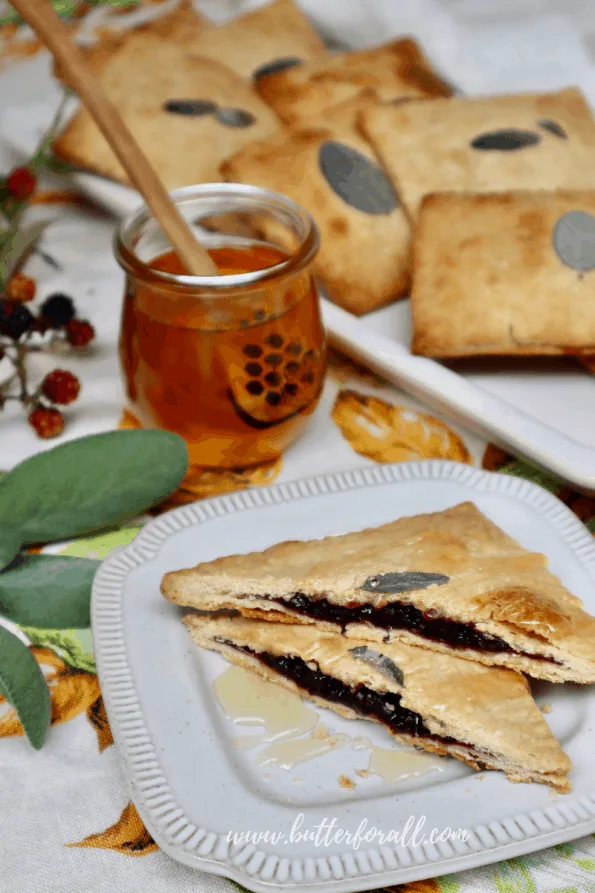 The Magic Ingredients
Sweet and Buttery REAL sourdough pastry crust surrounds a simple filling of cooked blackberries, local honey, and savory, lemony, herbaceous sage.
Sage has long been associated with mental clarity, longevity, and even immortality. Have you heard the saying "sage advice?" When something or someone is "sage" they are wise and intelligent. The Latin genus name Salvia is associated with the word salvation and shows just how much the ancients prized this beautiful culinary, medicinal, and spiritual herb.
I can't think of a better way to start or end my day than with a flaky pastry filled with this enchanting combination!
To Sage or Not To Sage?
This is such a versatile recipe. If you want to try some herbal variations, substitute lavender, thyme, lemon verbena, or rosemary.
Or leave it out completely if you prefer.
Don't Have Time To Make Your Own Filling?
No problem! Use your favorite jam! The flavor options are endless.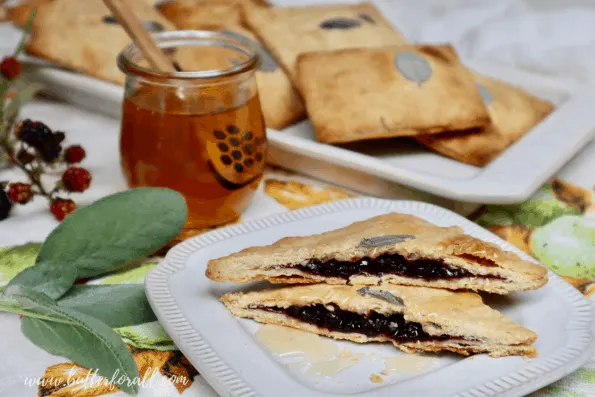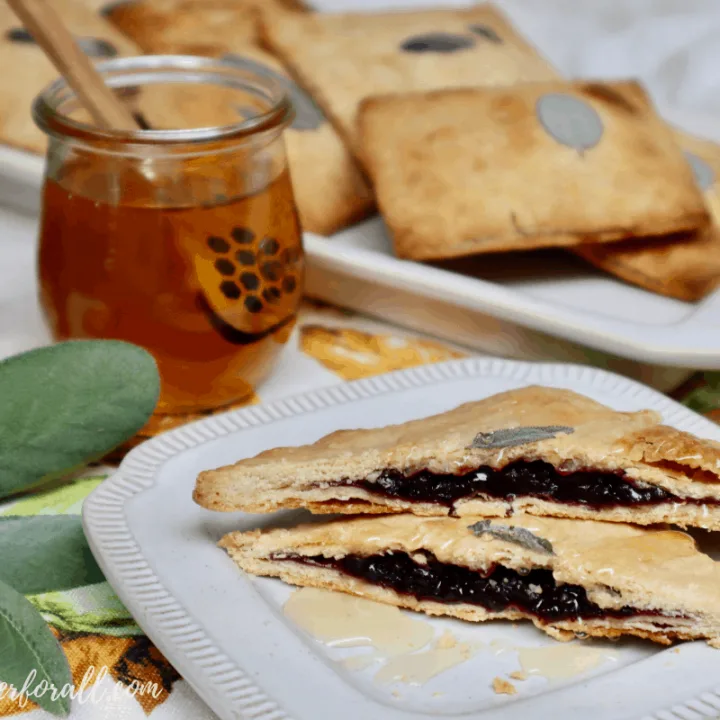 Sourdough Toaster Tarts With Blackberry, Sage, and Honey Filling
Yield: 12 Tarts

Prep Time: 1 hour

Cook Time: 15 minutes

Additional Time: 1 day

Total Time: 1 day 1 hour 15 minutes

This grown-up, magical toaster pastry is made with real fermented sourdough pastry crust and a thick honey-sweetened blackberry filling scented with fresh sage. Serve them for a delightful brunch, dessert, or quick snack on the run! These versatile hand-held pastries can be frozen easily and then reheated in a jiffy. Kids will love these toaster tarts too!
Ingredients
For the Pastry
375 grams (3 cups) organic all-purpose flour
227 grams (1 cup) butter, melted
166 grams (2/3 cup) active sourdough starter, stirred down, 100% hydration
40 grams (1/4 cup) coconut sugar, or unrefined sweetener of choice
6 grams (1 teaspoon) salt
1/2 cup organic all-purpose flour, for dusting
For the Filling
1 pound (4 cups) fresh or frozen blackberries
1/4 cup water
1/4 to 1/2 cup honey, to taste
2 tablespoons fresh chopped sage
Instructions
The Day Before
The Pastry
Mix the flour, sugar, and salt together in a ceramic or glass bowl.
Add the sourdough starter and melted butter. Mix everything until just combined.
Cover the bowl and let the dough ferment at room temperature for 4 to 5 hours.
Divide the dough in half and shape each half into a round disk. Wrap each disk and refrigerate for at least 12 or up to 48 hours. Note that the dough will get more sour the longer it ferments.

The Filling

Place the blackberries and water in a small saucepan. Cook over medium heat, stirring often, until thickened and jammy.
Add the fresh sage and honey and cook a little longer.
Remove the filling to a glass container to cool. Cover and refrigerate the filling overnight.

The Next Morning

Remove the dough from the refrigerator and let it soften slightly at room temperature, about 30 minutes to an hour.
Preheat your oven to 375°F.
Cut three large sheets of parchment paper.
On a large open work surface lightly dust one sheet of parchment paper with flour.
Roll the dough into a loose rectangle.
To make a really tight rectangle use the parchment to fold the edges of the dough up and over.
Continue to roll the dough gently, forming a nearly perfect rectangle about 1/8 inch thick.
Using the parchment as a sling move the rolled dough aside and repeat steps 4 to 7 with the second dough ball.

Optional Decorative Steps

Place 12 evenly spaced sage leaves on the dough. Cover the dough with the third piece of parchment and roll the leaves into the dough.
Flip the dough over so the leaves are on the bottom and remove the parchment paper from the upward-facing side.
Set the sage pastry aside.


Filling The Pastries

Working with the original pastry rectangle, envision 12 equal pastry spaces. Place one heaping tablespoon of jam in the middle of each pastry space.
Carefully, and using the parchment as a sling, line up the edges and flip the second pastry over the first. This should reveal the sage leaves on top. Gently but firmly press down around each filling bubble to squeeze out any air.
With a knife or pizza cutter, trim the edges of the pastry to make a smooth outer edge.
Cut the pastries between each bubble of filling, making 12 even squares.
Working with one square at a time, crimp the edges with a fork.
Place the tarts on a parchment-lined (use the paper you already cut) baking sheet with plenty of room around each tart.
Bake the tarts for 15 minutes or until golden brown.
Remove the tarts from the oven and cool them on wire racks.
The tarts can be served warm with drizzled honey, ice cream, or whipped cream.
Cool completely on wire racks before freezing.
Notes
Freeze tarts individually on baking sheets before moving them to an airtight container for longer storage. To reheat the toaster tarts remove them from the freezer and reheat them in the toaster until hot throughout.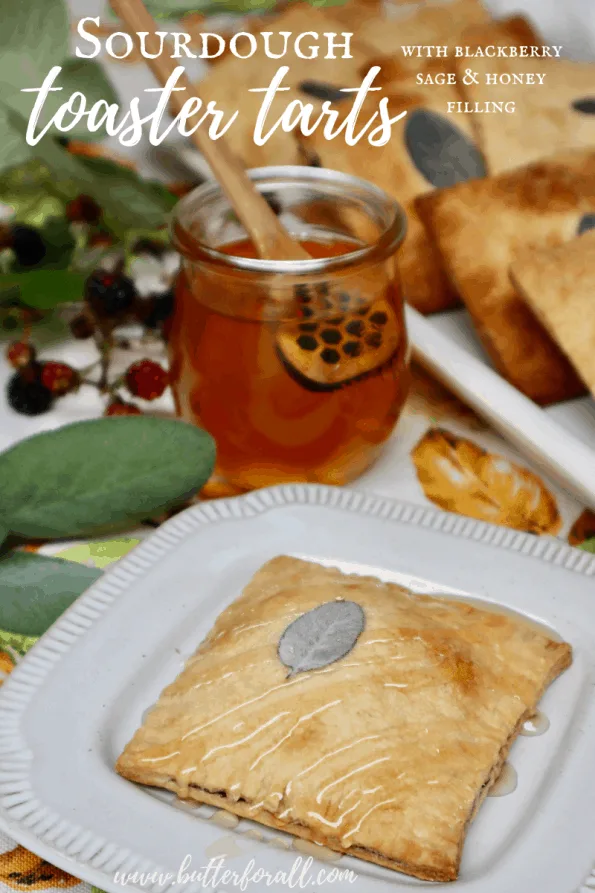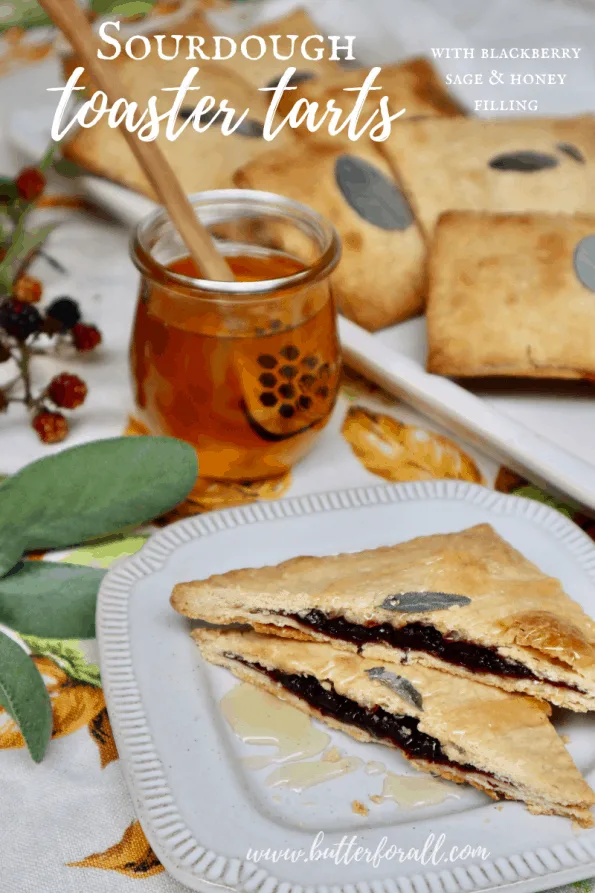 Want To Learn Everything About Sourdough?
Start with this free guide:
Demystifying Sourdough – Everything You've Ever Wanted To Know About Sourdough Starter – Why It's Better For You – And How To Start One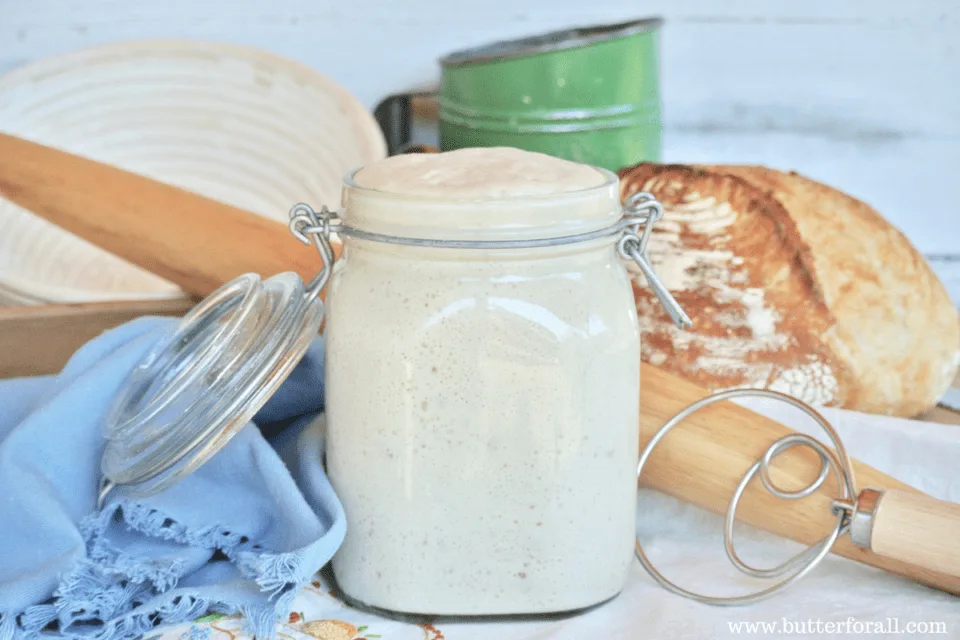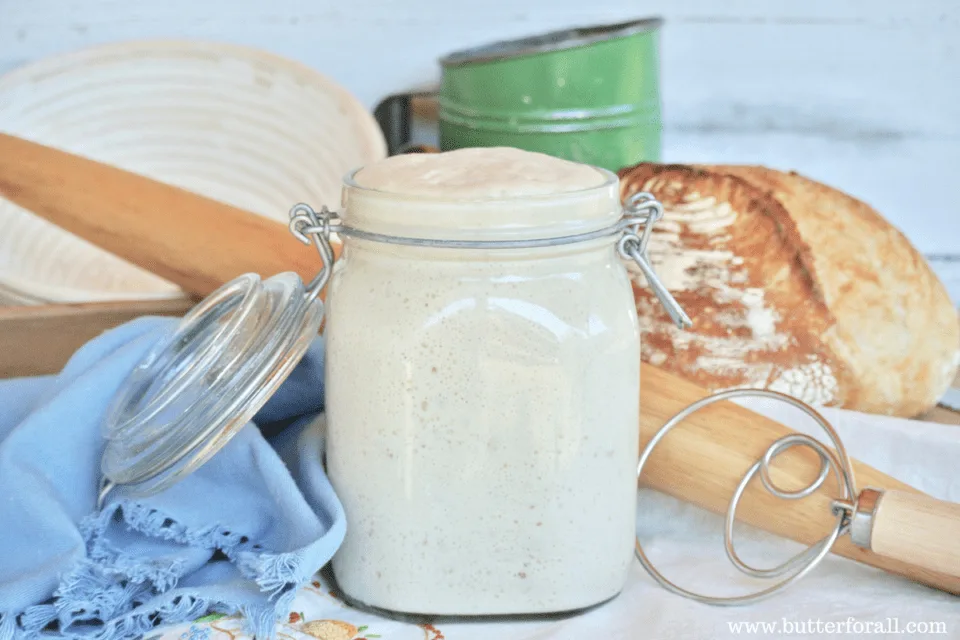 References:
Carr, A., et al. (1987). Rodale's Illustrated Encyclopedia of Herbs. Emmaus, Pennsylvania: Rodale Press.