I may receive commission if you purchase through links in this post.
Are you ready to shake up your sourdough bread game?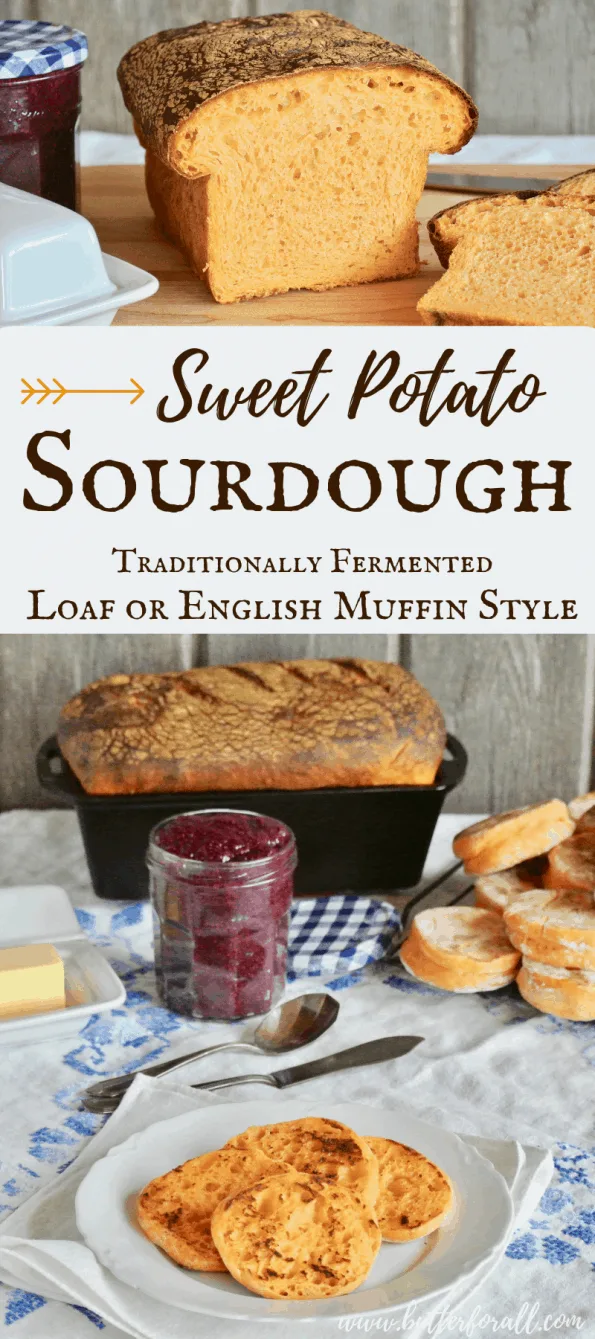 This recipe for slightly sweet and earthy sweet potato sourdough will blow you away. I originally set out to make a soft and chewy sweet potato sourdough English muffin but quickly realized that this same formula makes a wonderful soft sandwich loaf bread as well. The loaf bread makes incredible French toast and toasts up perfectly in a toaster too! If you can't decide which one to try first, have no fear. This recipe makes enough dough to try both!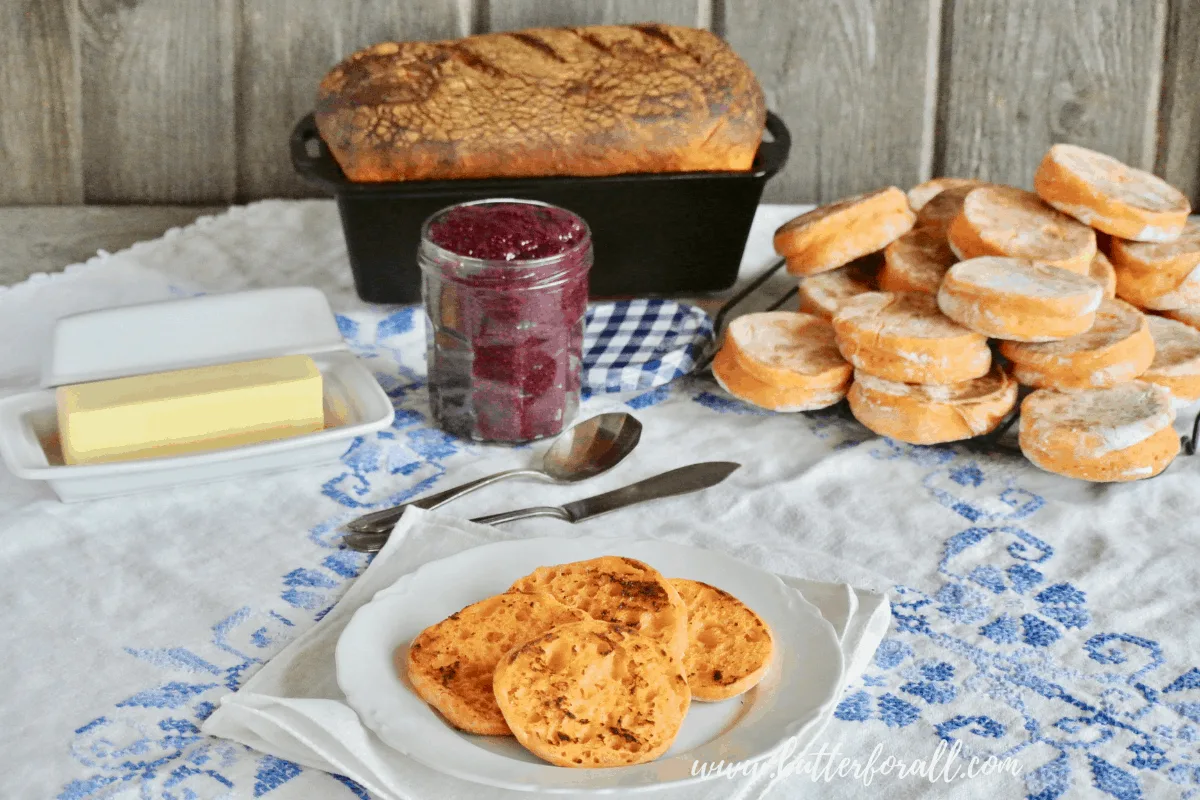 Soft and Chewy Sweet Potato Sourdough English Muffins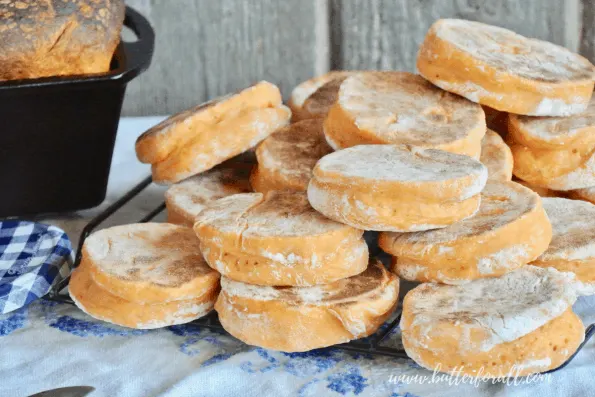 If you like nooks and crannies for holding butter then you are in luck.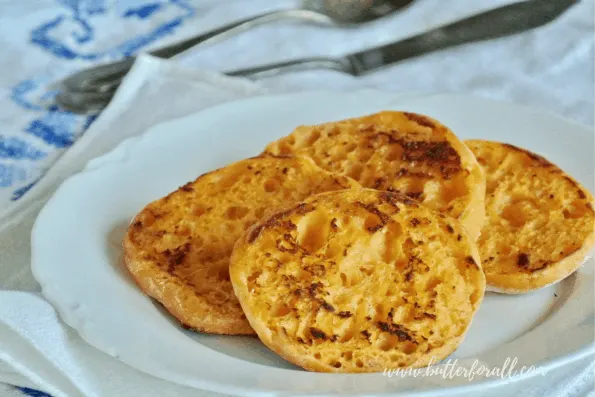 After the fermentation process you will have a soft and sticky dough that can easily be made into delicious English muffins. This high hydration dough will be harder to work with but will give you those delicious nooks and crannies that we all love so much!
Turn the dough out onto a well-floured surface.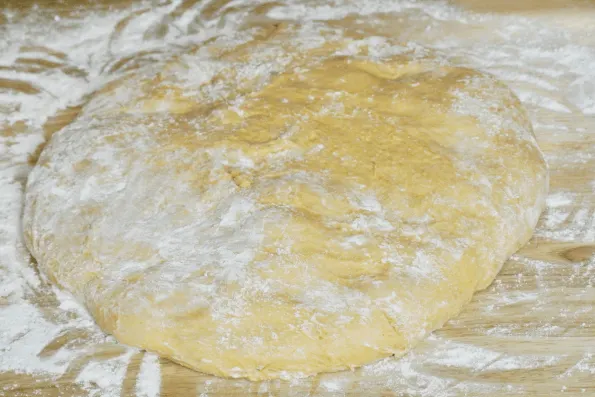 Pat the dough into a large rectangle, adding more flour if needed.
Cut out your English muffins using a biscuit cutter or thin-rimmed glass.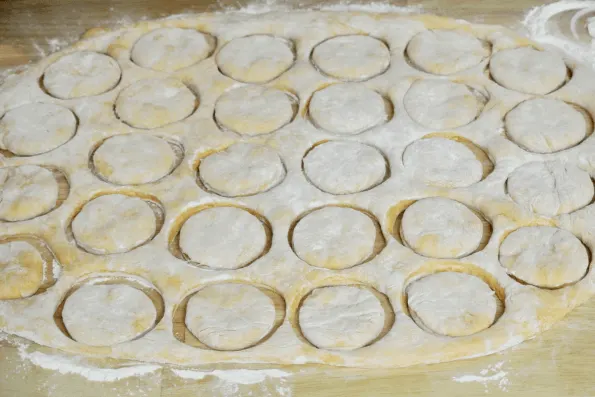 Gather the scraps from around the cut-outs. Shape them gently into a ball and let the ball rest for 5 minutes. Either roll the extra dough out and continue cutting muffins or shape the dough into a loaf for baking.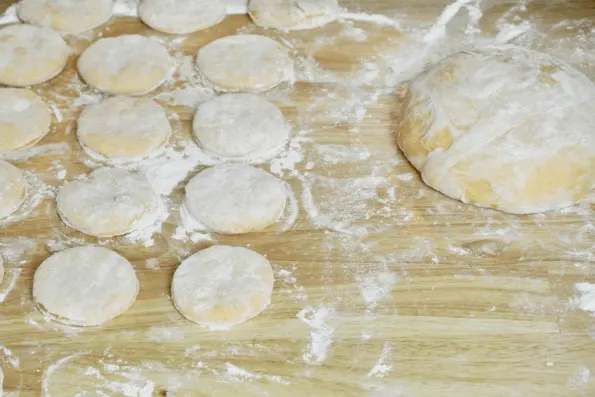 Cover the English muffins and let them rise for about 1 hour before cooking.
Preheat your griddle over medium-high heat. Once it is fully hot turn the heat down to medium-low.
Place the proofed English muffins on the hot griddle and cook on the first side for about 2 minutes.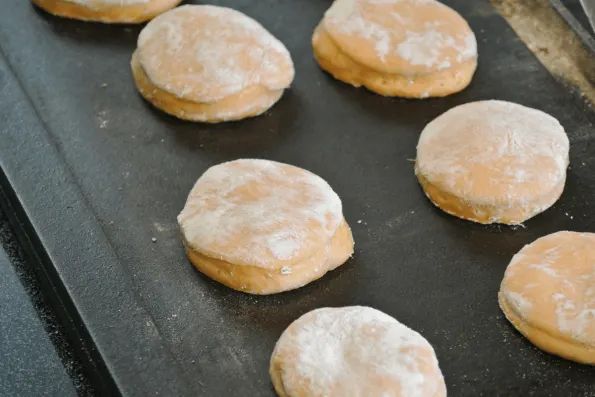 Flip the muffins and cook them on the second side for 2 more minutes or until golden brown and no longer doughy.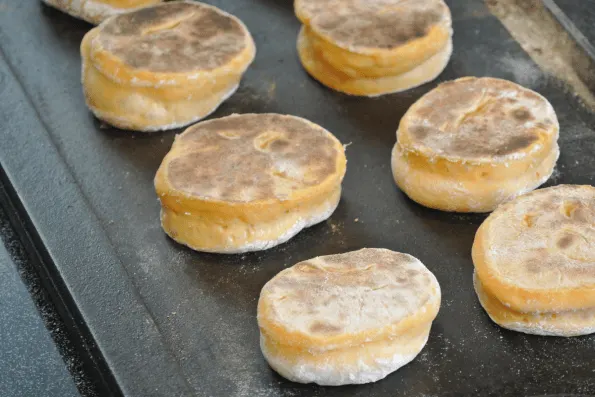 Let the muffins cool completely before cutting (if you can)!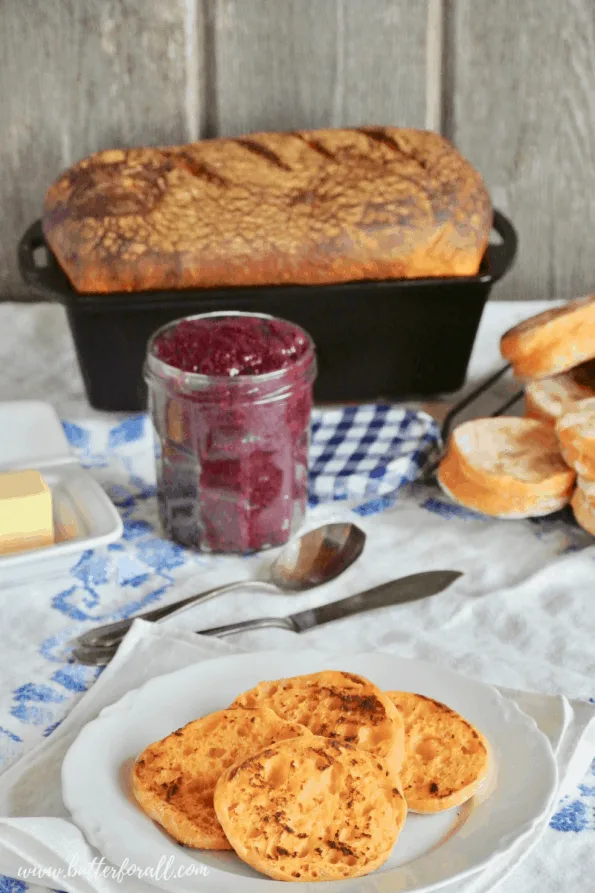 Soft and Fluffy Sweet Potato Sourdough Loaf Bread
This recipe is really special because you can make English muffins, soft sandwich loaves, or both!
I was really surprised when I used the leftover English muffin dough to make a small loaf of bread and ended up with some of the best loaf bread I've ever tasted.
You will go crazy for this sweet and soft bread sliced, toasted, or made into French toast!
Not to mention the color!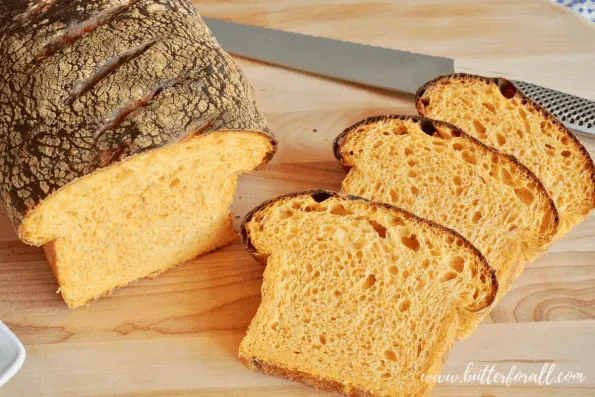 I used the scraps from the first batch of English muffins to form a dough ball.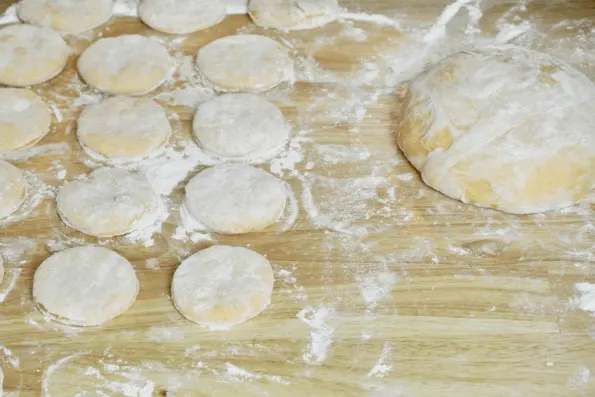 I then shaped that dough into a loaf and put it into a buttered loaf pan using the same technique I use in my recipe for Butter Top Sourdough Sandwich Bread.
Let the loaf rise until doubled and then bake it at 400°F for 30 minutes.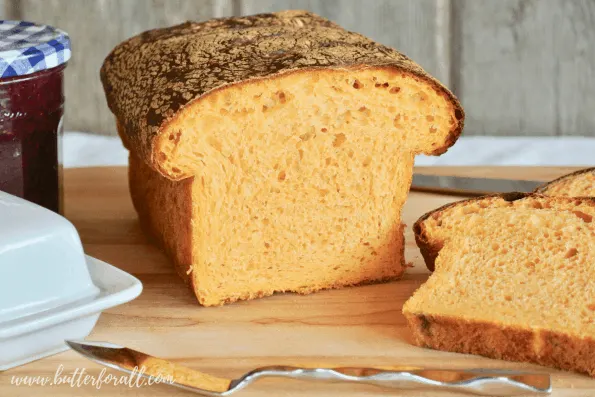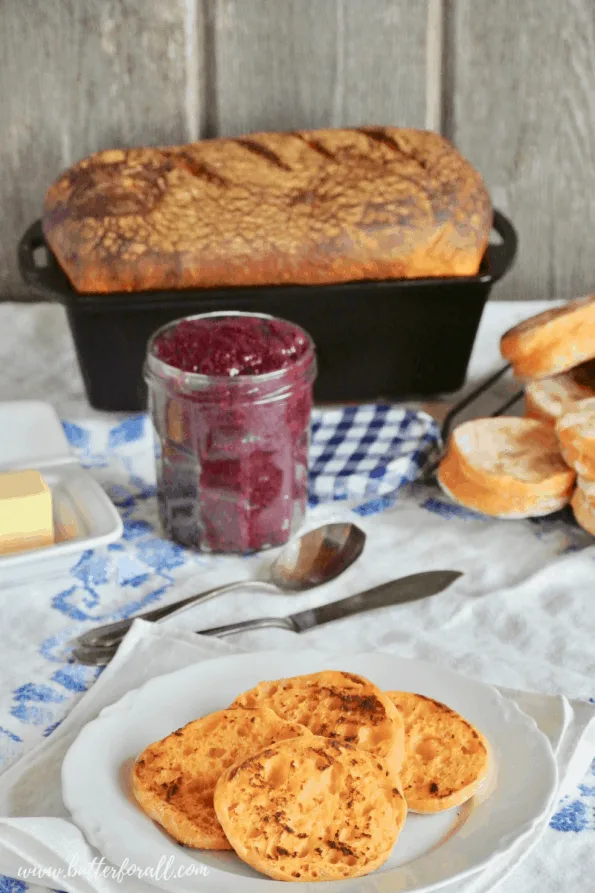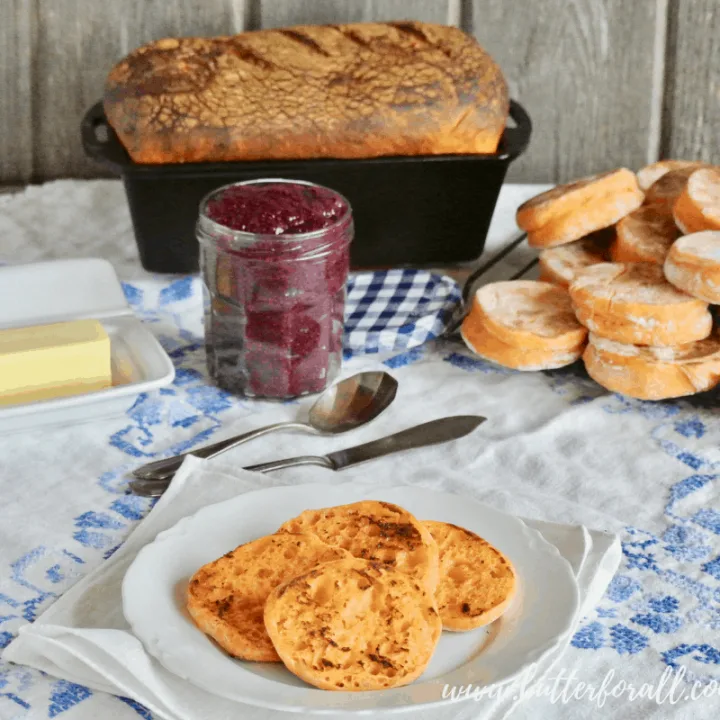 Sweet Potato Sourdough — Soft Sandwich Loaf, English Muffins, or BOTH!
Yield:
2 Loaves or 50 Muffins
Proofing Time:
16 hours
40 minutes
Total Time:
17 hours
25 minutes
Super soft, sweet, and earthy sweet potato sourdough bread.
Ingredients
520 grams (2 cups) cooked sweet potato, peeled and puréed
258 grams (1 cup) whole milk
3 (180 grams) eggs
635 grams (5 cups) organic bread flour
Instructions
The Night Before
Using a dough whisk or wooden spoon mix all ingredients into a soft and sticky dough. Let the dough rest for 5 minutes.
Using the dough whisk or spoon fold the dough over itself in at least four directions, similar to the stretch and fold method. Repeat this process until the dough is smooth with good gluten development.
Cover the bowl and let the dough ferment overnight. If you are in a warm climate you may not need to ferment as long. Proceed to the next step when the dough has at least doubled.
The Next Morning (Making English Muffins)
Generously flour your work surface. Turn the soft dough out onto the flour. Flour the top of the dough and use your hands to pat the dough into a large even circle about 1/2 inch thick. Make sure to check that there is plenty of flour under your dough so it doesn't stick. Add more flour as necessary.
Use a round biscuit cutter or thin-rimmed glass to cut out as many muffins as possible. Remove the scrap dough from around the muffins and form it into a ball. Let the dough ball rest for 5 minutes.
Either roll the dough out and cut more muffins or shape it into a loaf.
Once all the dough has been cut or shaped, cover it lightly and allow it to double in size. English muffins take about 1 hour to double, while bread loaves can take 2 to 5 hours to double.
Preheat a cast-iron griddle over medium-high heat. Once the griddle is evenly heated turn the heat down to medium-low.
Working in batches, place the muffins on the hot griddle leaving space around each one and cook for 2 to 3 minutes per side.
They should brown and poof up when cooked. Remove the cooked muffins to cooling racks and allow them to cool completely.
English muffins can be frozen in freezer bags and removed just minutes before toasting, making a very convenient breakfast!
Using This Dough To Make Loaf Style Bread (2 Loaves)
Because this dough is very soft and sticky you will need to shape it carefully on a generously floured surface.
Divide the dough in half and shape each half into loaves using flour as needed.
Melt 1 tablespoon of butter in each loaf pan and rotate the pans to coat the sides.
Place the shaped loaves upside down in the butter. Flip them over so butter has coated all sides of the loaf. Cover the pans and let them rise to double.
Preheat your oven to 400°F. Place the loaf pans side by side on the center rack of the oven and bake them for 30 minutes.
Remove the loaf pans from the oven and let the bread carry over for 5 minutes before removing the bread to a cooling rack to cool completely.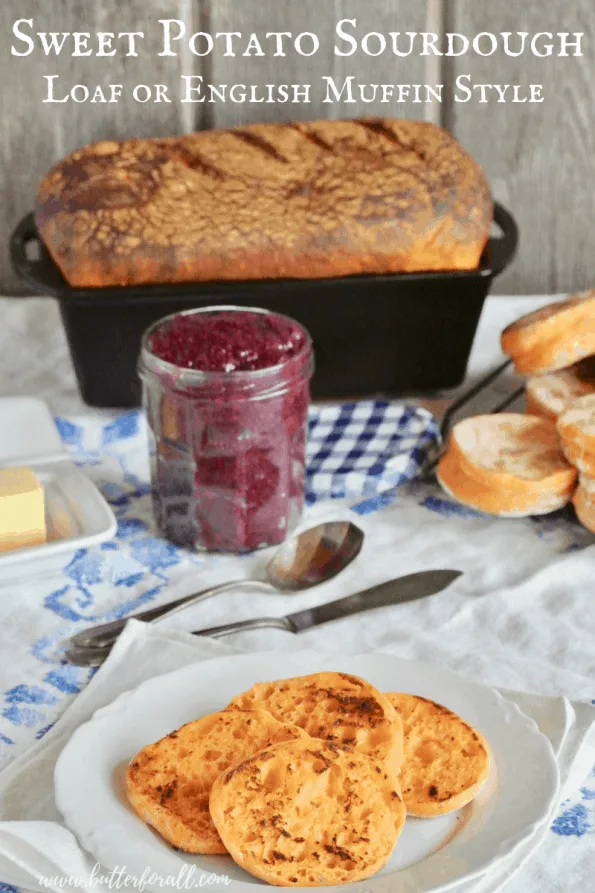 Want To Learn Everything About Sourdough?
Start with this free guide:
Demystifying Sourdough – Everything You've Ever Wanted To Know About Sourdough Starter – Why It's Better For You – And How To Start One