I may receive commission if you purchase through links in this post.
If you are looking for a traditionally leavened, super soft, lightly sweet, rich dough recipe then this is your lucky day!
I've been messing around with this recipe for a few months and even before it was perfect it was sooooo good. The dough is easy to handle, ferments beautifully, and tastes incredible.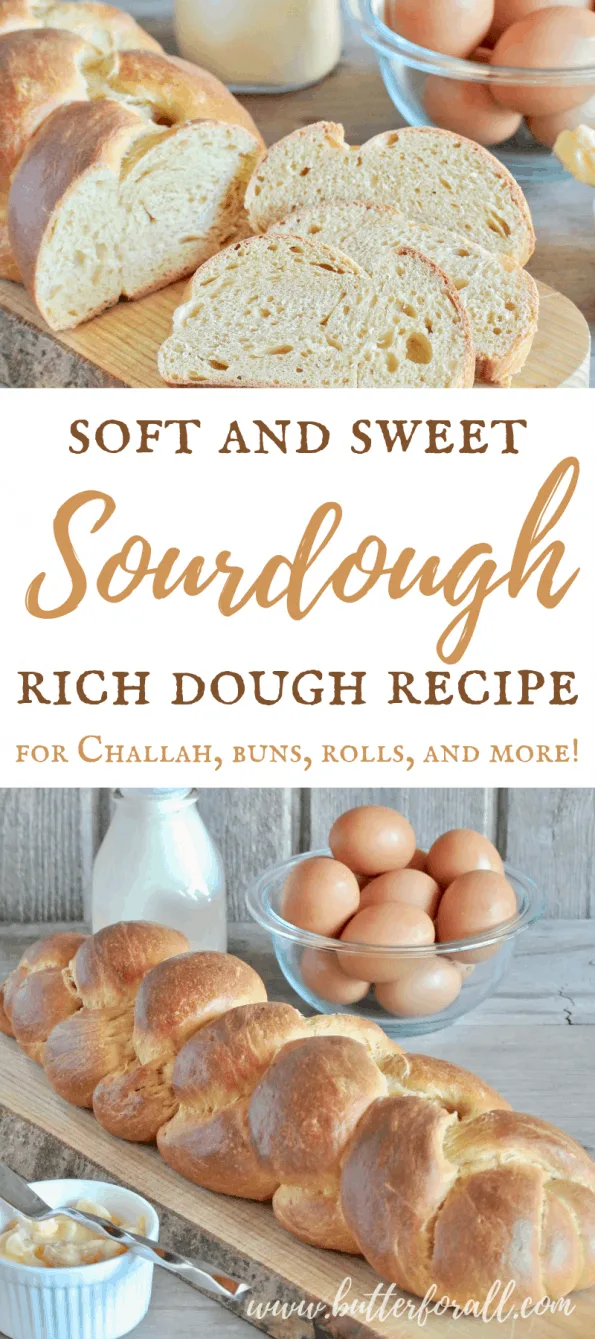 I chose the classic braided presentation for my photos but any shape will work well. This rich dough makes wonderful dinner rolls, sweet buns, filled pastries, and brioche.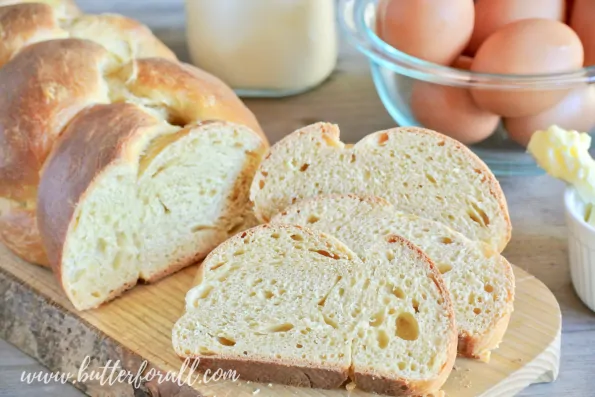 What Is a Rich Dough?
Rich dough is short for a dough that has been enriched. Enrichment is typically done by adding fats and sweeteners. Most often enriched dough or rich dough has whole eggs or egg yolks, butter, milk, and sugar added into the dough to make it soft and sweet. The addition of fats in rich dough also shortens gluten strands, making the crumb more tender. Rich doughs are delicious and in this case made even better with healthy real-food fats and unrefined sugar.
Try this bread sliced thin, brushed with butter, and baked for the most delectable toast points you've ever had. Serve your toast points with a classic Chicken Liver Pâté or my famous Cranberry Apple Duck Liver Pâté.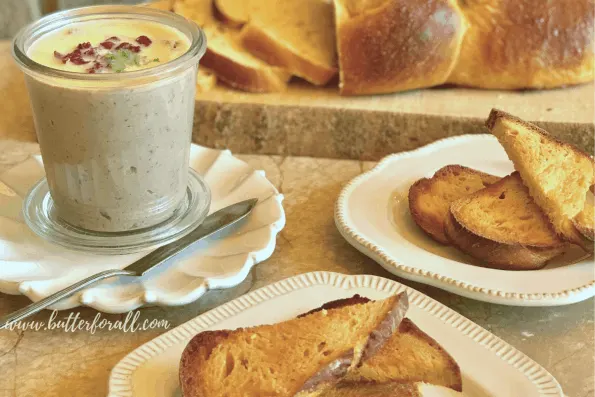 Of course my favorite way to eat this bread is sliced and slathered with pastured butter!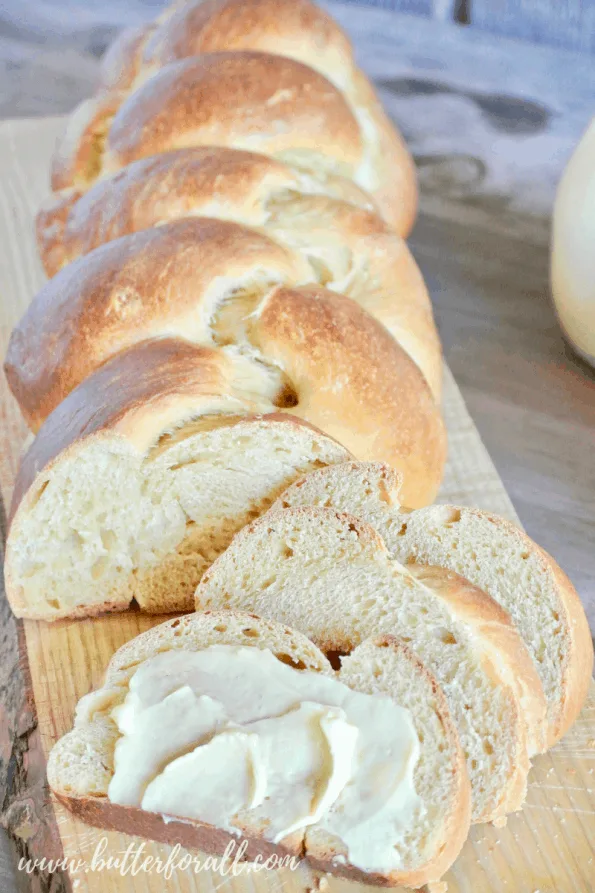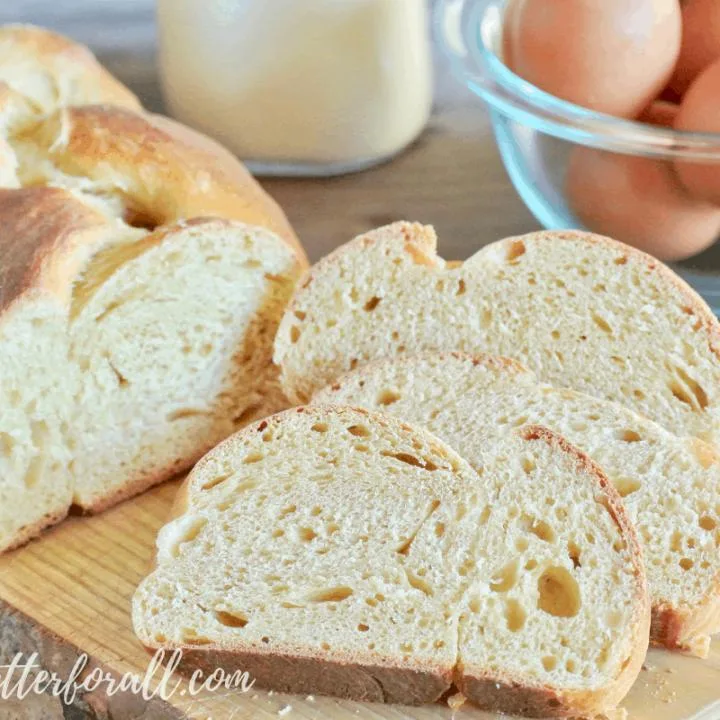 Soft and Sweet Sourdough Rich Dough
Yield: 12 Servings

Prep Time: 1 day

Cook Time: 40 minutes

Total Time: 1 day 40 minutes

The perfect multipurpose rich dough for challah, rolls, buns, pastry, brioche, and more!
Ingredients
5 egg yolks
255 grams (1 cup) whole milk
300 grams (2 cups) organic all-purpose flour
280 grams (2 cups) organic bread flour
Egg Wash
Instructions
The Night Before
Whisk the starter, cooled melted butter, egg yolks, sugar, and salt together in a large bowl. Whisk until thoroughly combined.
Add the milk and whisk again.
Using a dough whisk, stir the flour into the liquid in two additions until fully combined.
Let the dough rest for 5 minutes before doing a series of three to five stretch and folds with wet hands or a dough whisk.
Repeat the resting and stretch and fold process up to five more times.
Cover the bowl and leave it in a cool place overnight. If your house is very warm, let it double before refrigerating it for the remainder of the time.
The Next Morning
Do a stretch and fold of the dough in the bowl to deflate it.
Lightly flour your work surface and turn the dough out on it.
Divide the dough and shape it into your desired shape.
Move your dough to a baking sheet lined with parchment paper.
Let the dough double.
Preheat your oven to 350°F.
Mix the egg yolk and water to make an egg wash. Brush it lightly over the dough covering all exposed areas.
Bake for 25 to 35 minutes depending on the loaf size.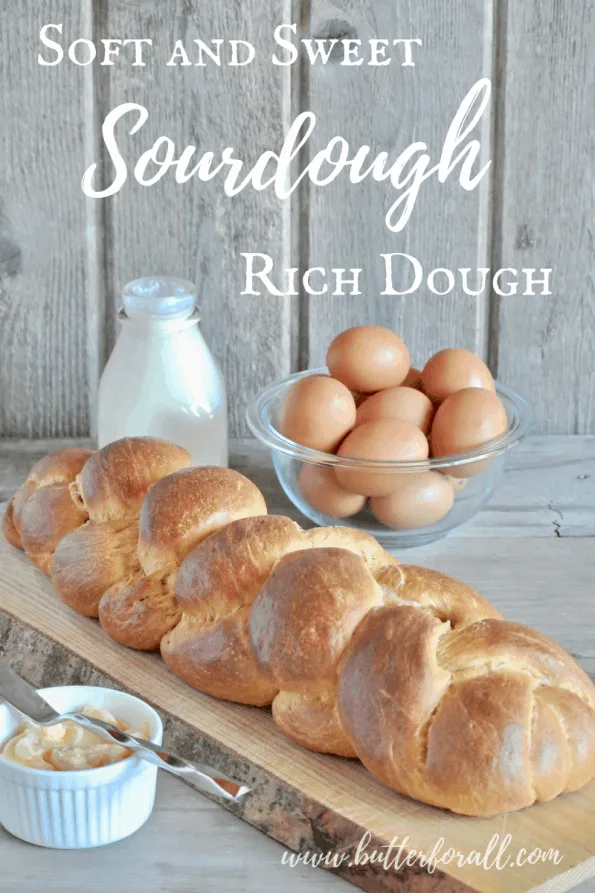 Want To Learn Everything About Sourdough?
Start with this free guide:
Demystifying Sourdough – Everything You've Ever Wanted To Know About Sourdough Starter – Why It's Better For You – And How To Start One