I may receive commission if you purchase through links in this post.
The wild and wistful blackberries are in full swing this month and this year's crop are some of the plumpest I've ever seen.
There is no better time than right now to pick these bountiful freebies and transform them into a traditional treat like humble, yet seductive, bread pudding.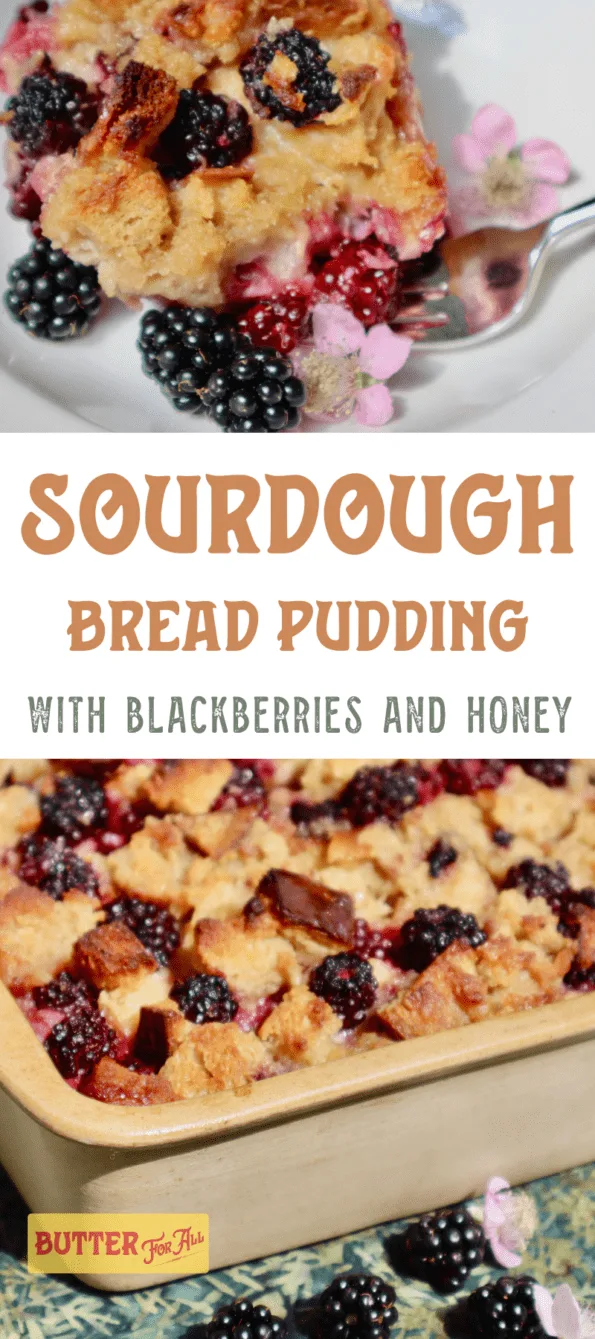 There is something so incredibly satisfying to going out into the wild spaces and picking a basket of berries. No supermarket lines. No currency to exchange. Just that soul currency between you and Mother Earth!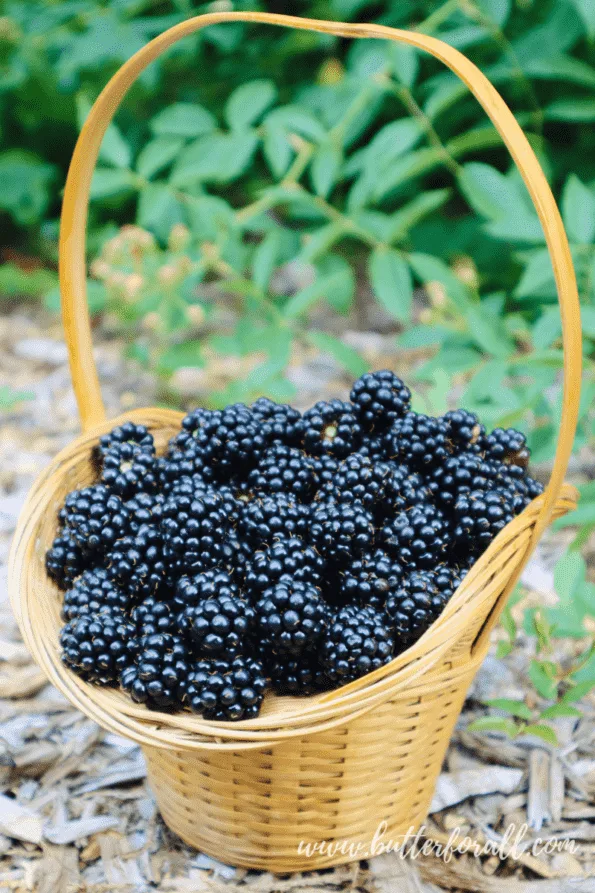 Ripe blackberries lend a tart sweetness and juicy moistness to any dessert. They happen to bake into bread pudding in an extraordinary way. Exposed blackberries get jammy and caramelized along the tops and sides of the pan where a drizzle of honey coats them.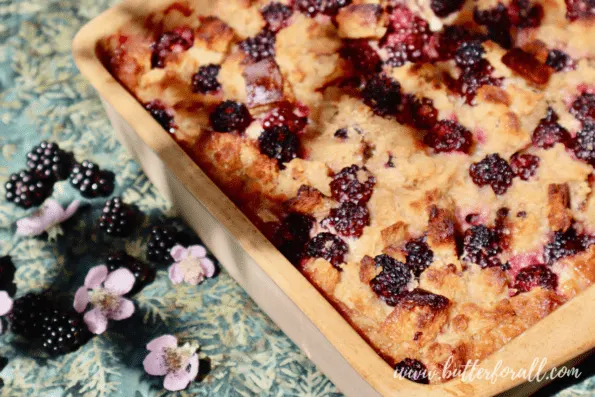 They stay plump and juicy within the layers of bread and creamy egg pudding.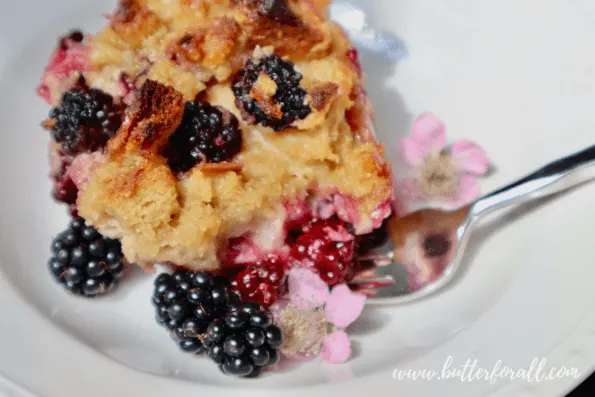 Blackberries and honey are just a really good match. No wonder the bees love the flowers and why I always pair these two flavors. You can see another example of this beautiful joining in my Sourdough Toaster Tarts With Blackberry, Sage, and Honey Filling.
Bread pudding is a delightful treat; it has a magic to it. You take stale bread and transform it into something sweet and luscious.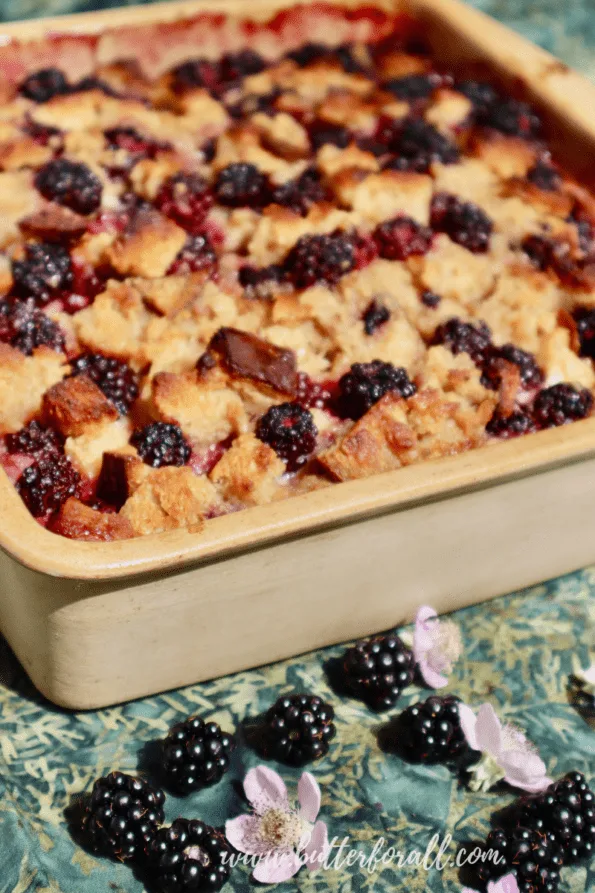 To make this summery bread pudding follow my easy recipe below. Feel free to customize this recipe with any bountiful summer fruit!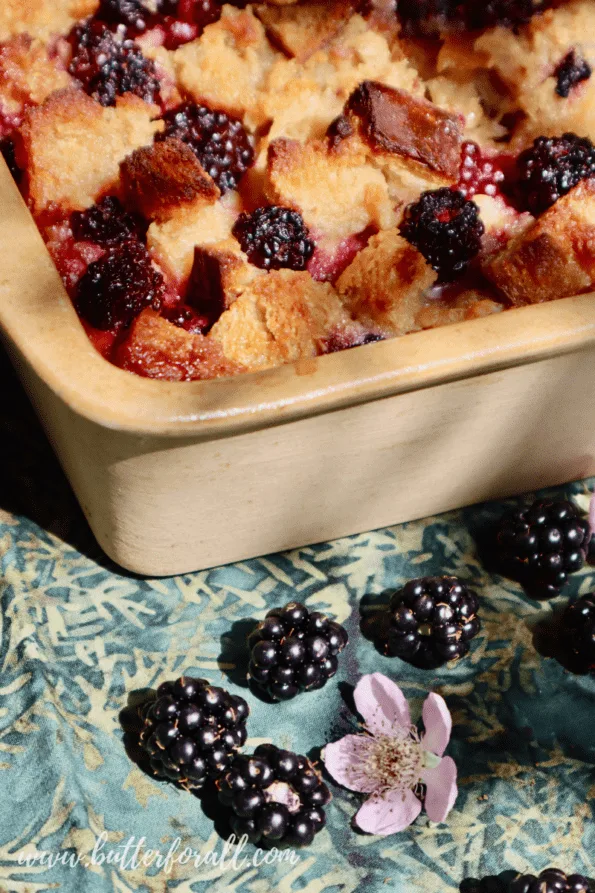 There is only one thing that could make this blackberry bread pudding any better. Ice cream!
Use my Raw Vanilla Bean Ice Cream to level up!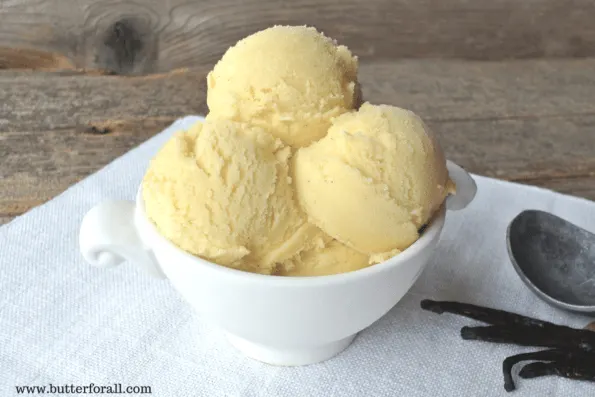 Love all bread puddings? Try my savory cheese-studded version too!
Savory Sourdough Bread Pudding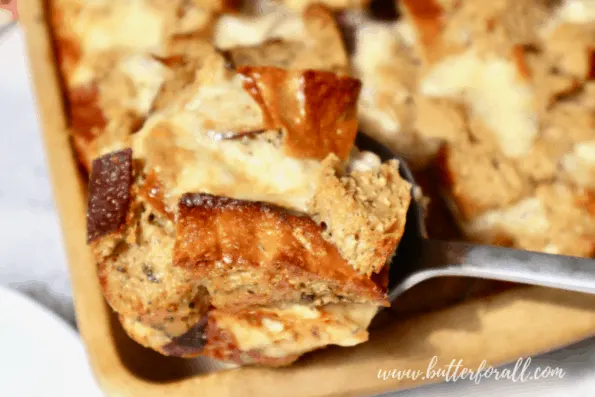 Which Sourdough Bread Should You Use for Bread Pudding?
While nearly any basic unflavored sourdough bread will work, I'll list a few of my favorites below.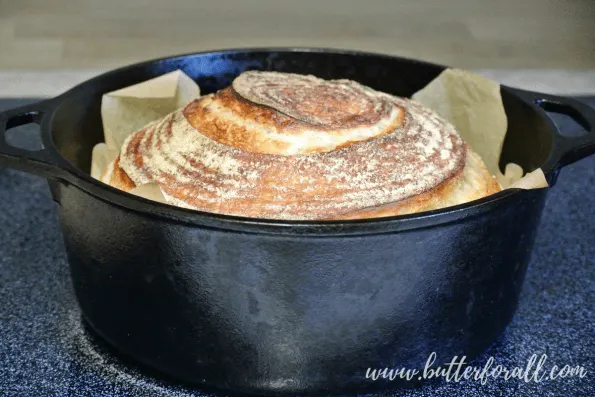 Kamut Sourdough Sandwich Bread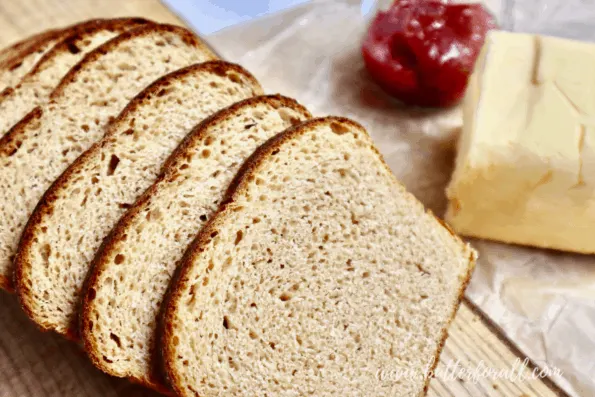 Soft and Sweet Sourdough Milk Bread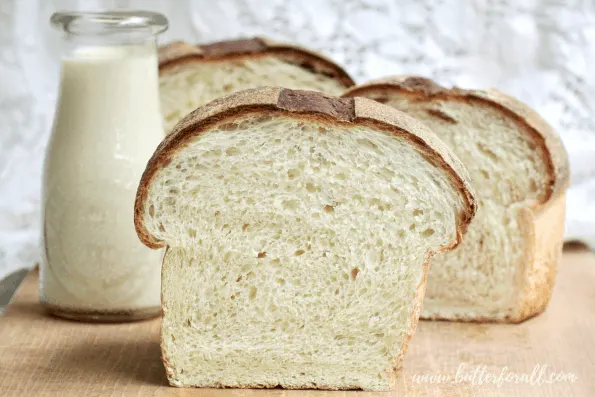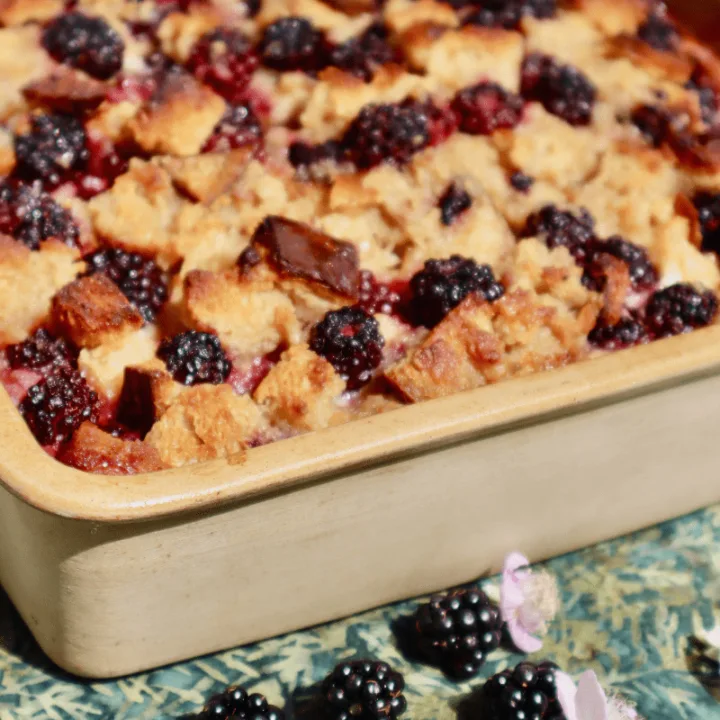 Sourdough Bread Pudding With Blackberries and Honey
Yield: 16 servings

Prep Time: 15 minutes

Cook Time: 55 minutes

Total Time: 1 hour 10 minutes

This decadent honey-sweetened bread pudding is made with leftover sourdough bread and plump wild-foraged blackberries. Dress it up as a fancy dessert with raw milk vanilla ice cream, or take your breakfast and brunch game to the next level by serving it warm with a cuppa.
Ingredients
8 cups stale sourdough bread cubes
5 eggs
1/4 cup butter, melted
1/2 cup plus 2 tablespoons honey, divided
2 cups whole milk
1/2 teaspoon vanilla extract
1/4 teaspoon salt
4 cups fresh blackberries
Instructions
Cut your stale bread into bite-sized cubes and add them to a large mixing bowl. Set them aside.
In a second bowl, combine the eggs, melted butter, 1/2 cup honey, and milk. Whisk this mixture well.
Whisk in the vanilla and salt.
Pour this batter over the cubed bread and toss lightly to coat. Let the bread soak for 10 minutes.
Meanwhile preheat your oven to 350℉.
Grease an 8 by 11.5-inch or a 9 by 9-inch baking pan.
When the oven has preheated, add the berries to the bread cubes and toss to distribute.
Spoon the bread pudding into your greased pan and spread it evenly. Drizzle the top of the pudding with 2 tablespoons of honey.
Bake on the center rack of your oven for 45 to 55 minutes or until the pudding is golden brown and completely set.
Notes
Baking pan size can be approximate. If you are using a larger more shallow dish, the bread pudding will cook faster. Make sure to adjust the baking time accordingly.
Recommended Products
As an Amazon Associate and member of other affiliate programs, I earn from qualifying purchases.