I may receive commission if you purchase through links in this post.
I'm not going to lie. These sourdough discard crackers are too good and too easy.
Way, way, way too easy. If you have an hour, some sourdough starter discard, olive oil, and salt you can whip up a batch of the crispiest crunchiest crackers with incredibly big sourdough flavor. I apologize in advance if you get addicted to these crackers. But at least we can be addicted together.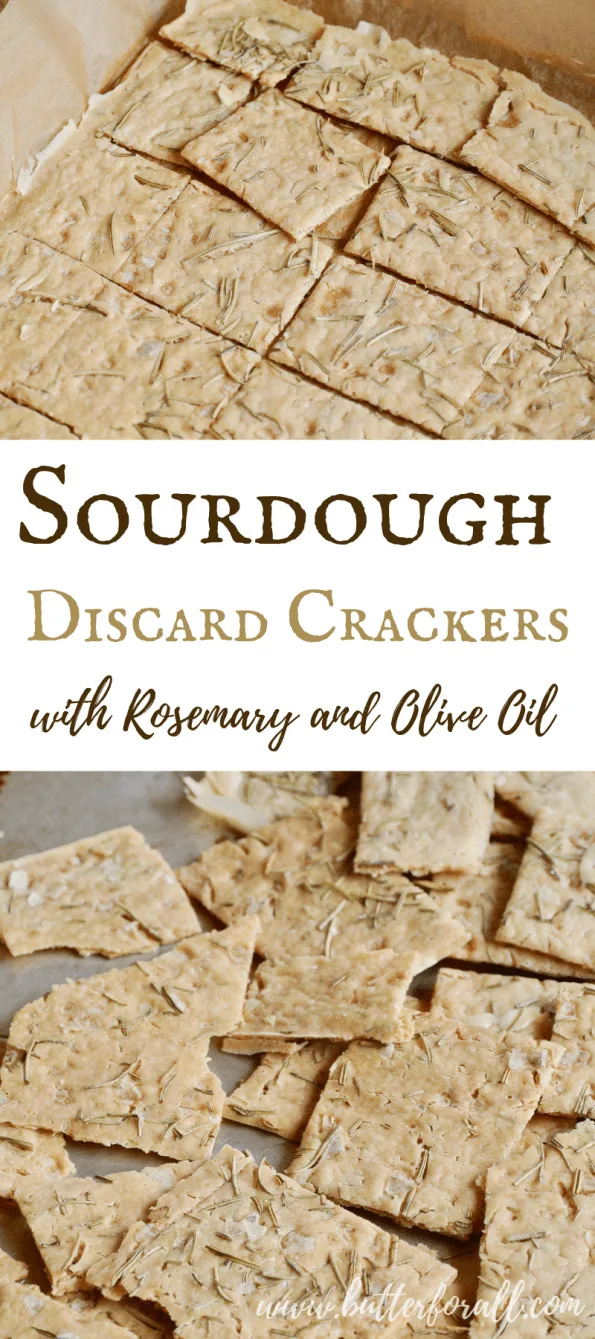 100% Hydration Sourdough Starter
This recipe calls for a sourdough starter discard that is 100% hydration. For those of you not familiar with this term it means that the flour and water weight are equal. I keep my starter at 100% hydration so I can have a consistent starter for writing recipes. All my recipes now call for 100% hydration starter. While it's not critical to the success of sourdough baking it keeps things much more organized and makes following my recipes a lot easier.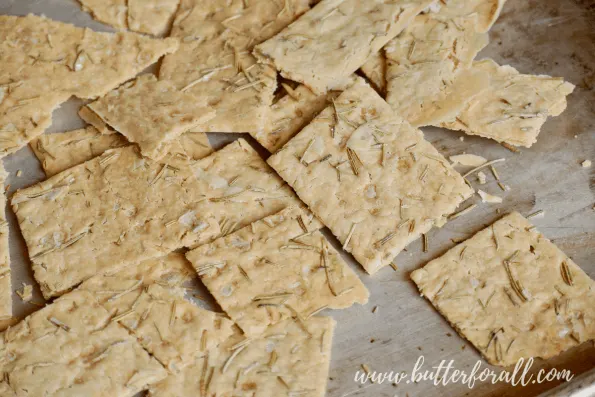 If you are new to sourdough or want to refresh your memory on some of the most used terms, health benefits, and instructions you can visit my free sourdough guide, Demystifying Sourdough – Everything You've Ever Wanted To Know About Sourdough Starter – Why It's Better for You – And How To Start One.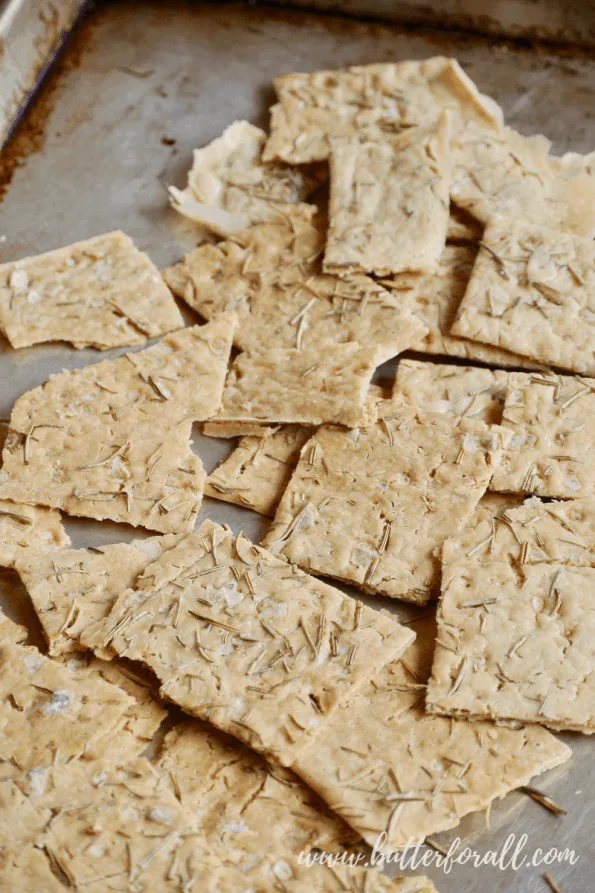 What Makes These Crackers So Easy?
No Extra Fermenting
One of the most exciting things about these delicious crackers is the fact that you don't need to take the time to further ferment the dough. You will be using fully fermented sourdough discard, most likely the portion that you remove from your sourdough jar prior to feeding in the preparation for baking. Fully fermented = easy to digest and more nutritious!
No Rolling Needed
I've written other sourdough cracker recipes like my Rustic Sourdough Butter Crackers and my Sourdough Cheddar Crackers. They both start with a stiff dough that ferments overnight and then needs to be rolled really thin the next day. I love those recipes but the ease of this no-roll batter is astounding.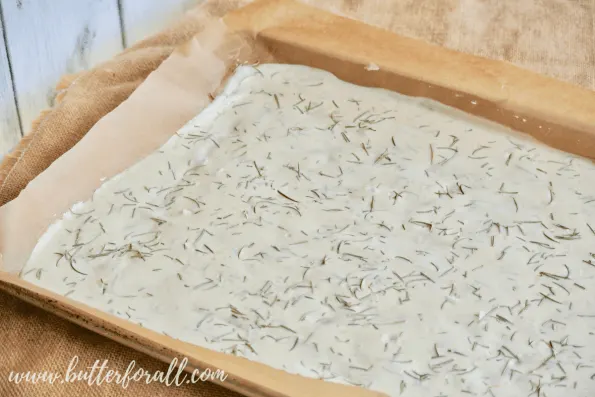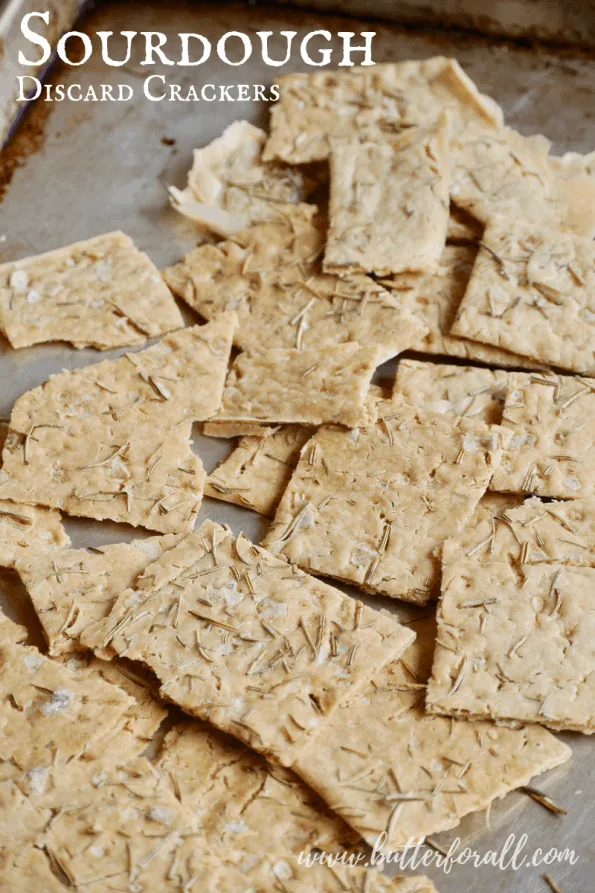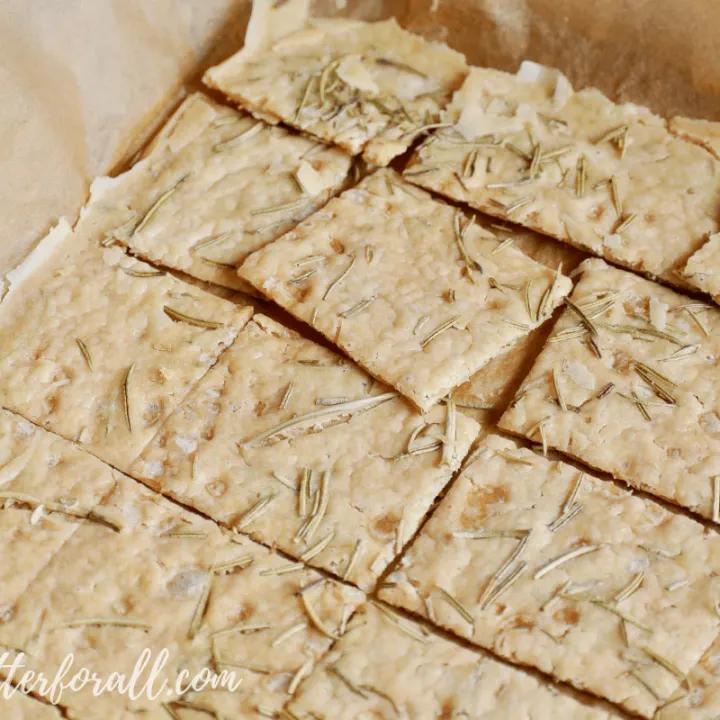 Sourdough Discard Crackers With Rosemary and Olive Oil
Yield: 6

Prep Time: 5 minutes

Cook Time: 1 hour

Total Time: 1 hour 5 minutes

The lightest and crispiest sourdough discard crackers with the best flavor.
Ingredients
340 grams (1 1/3 cup) discard from sourdough starter at 100% hydration, stirred down
4 grams (2 tablespoons) dried rosemary, divided
Instructions
Preheat oven to 325°F.
In a large bowl combine the discard, olive oil, salt, and half the rosemary. Whisk well to combine. The batter should be smooth without any visible oiliness.
Line a half sheet pan (18 by 13 inches) with parchment paper. Spread the batter out to the edges of the pan in a smooth even layer.
Sprinkle the top of the batter with the remaining rosemary and some (2 grams) flaky salt if desired.
Place the sheet pan in the middle of the preheated oven and bake for 30 minutes.
After 30 minutes remove the pan and use a pizza cutter to score the batter into cracker-sized squares. Or you can skip this step and break the crackers when fully cooked.
Return the pan to the oven and continue baking for 30 more minutes.
Remove the baked crackers from the oven and allow them to cool completely before breaking them along the scored lines. Store them in an air tight container.
Recommended Products
As an Amazon Associate and member of other affiliate programs, I earn from qualifying purchases.