I may receive commission if you purchase through links in this post.
Banana and Walnut, meet your new friend Sourdough!
I was inspired to make these, so I'm leaving them here for you to be inspired too. They are a very easy adaptation of my original Perfectly Chewy, Traditional Sourdough Pancakes.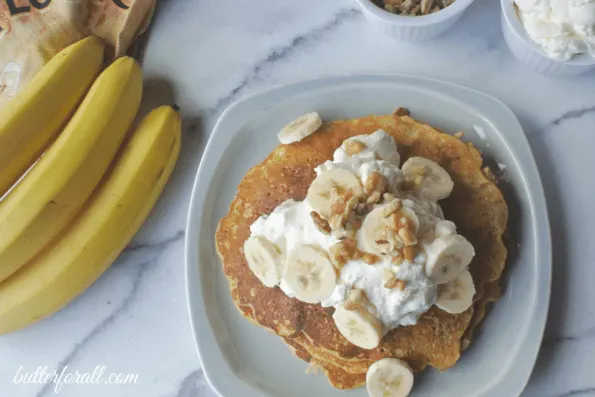 They also made a great take-along snack the next day. I spread them with honey-butter and fold them over for portability. Basically like a honey-butter banana pancake taco. Hmmmm, maybe I'm on to something!
Preparing Banana Nut Sourdough Pancakes
Ingredients:
4 large bananas
3/4 cup walnuts
1 1/2 teaspoon vanilla
1 cup heavy cream
1 tablespoon maple syrup
Follow all the directions for my Traditional Sourdough Pancakes. Just before cooking the pancakes, mash three bananas and add them to the batter. Add almost all the walnuts, saving a tablespoon or two for topping the pancakes. Add the vanilla and mix the batter well.
Cook the pancakes over medium heat. I use a Lodge Cast Iron Griddle. These pancakes need a little extra cooking time because of the banana. Be careful not to have the temperature too high or they will burn before they cook through.
Whip the cream and maple syrup together. Cut the last banana into coins. When the pancakes are done top them with the whipped cream, banana slices, and reserved walnuts. Drizzle with maple syrup if desired.
Want To Learn Everything About Sourdough?
Start with this free guide:
Demystifying Sourdough – Everything You've Ever Wanted To Know About Sourdough Starter – Why It's Better For You – And How To Start One