I may receive commission if you purchase through links in this post.
A sourdough burger bun so satisfying you won't ever go back to store-bought!
I'm really excited to share this recipe with you! I've been working on burger buns for years now and I think I've finally nailed it.

This bun is soft and chewy, making it perfect for holding lots of toppings. It won't break or crack under the weight of a hefty, loaded burger like the dry store-bought buns do.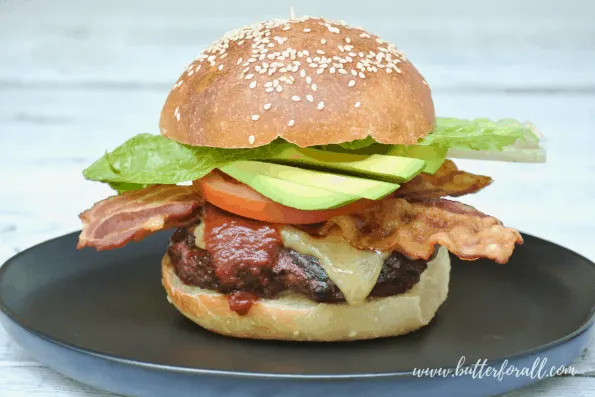 Sourdough is classically stretchy and this bun recipe is no exception. And like all my sourdough, it is traditionally leavened during two long, slow ferments. Two long ferments means better digestibility, more unlocked nutrition, and great "real sourdough" flavor.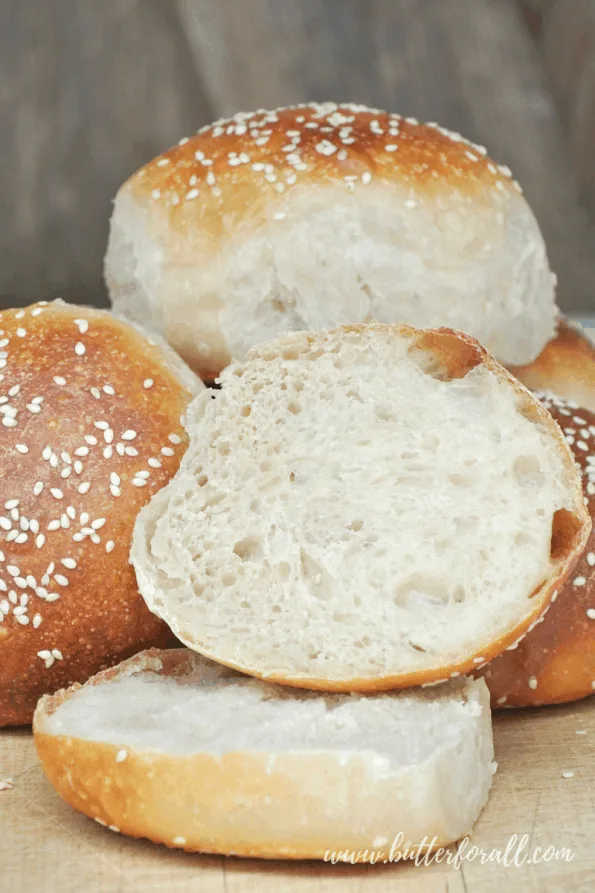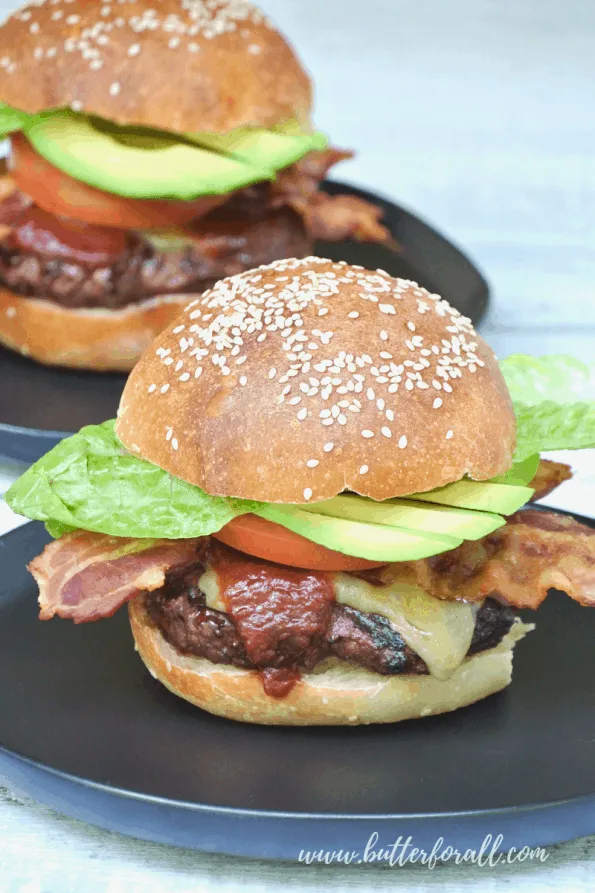 If You're Like Me You're Always Looking for a Place To Get a Really Good Burger.
But the truth is a really good burger starts at home with grass-fed meat from a sustainable farm, organic produce, and a real sourdough bun. So ditch the restaurant and make yourself the burger of your dreams!
Watch Me Shape and Bake This Recipe on YouTube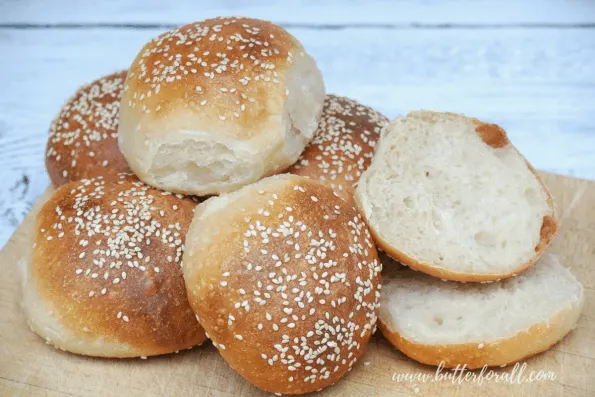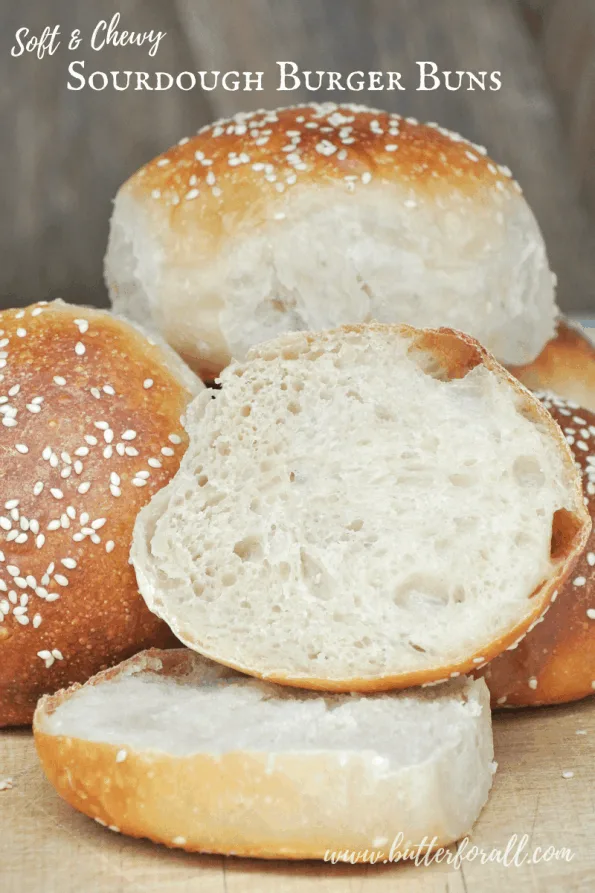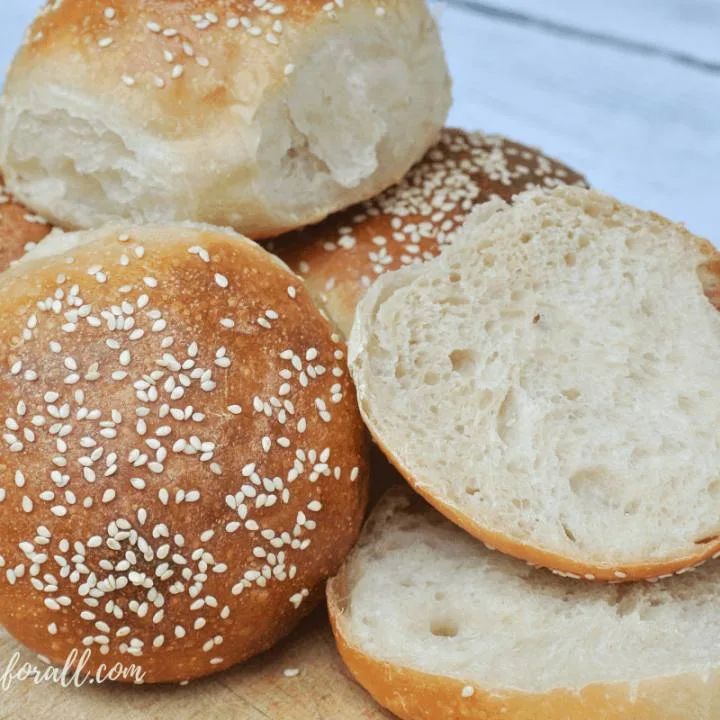 Soft and Chewy Sourdough Burger Buns
Yield: 8

Prep Time: 20 minutes

Cook Time: 30 minutes

Proofing: 12 hours

Total Time: 12 hours 50 minutes

Recipe yields 6 big buns (perfect for 1/3-pound burgers) or 8 medium-size buns (perfect for 1/4-pound burgers).
Ingredients
For the dough
For the egg wash
1 egg yolk
2 teaspoons milk
2 teaspoons sesame seeds
Instructions
Start the dough the night before
In a stand mixer or a large bowl, mix the flour, salt, coconut sugar, starter, and water into a thick sticky dough. In a stand mixer, use a dough hook and knead the dough gently for 2 minutes. Stop the mixer and let the dough rest for 5 minutes. Do this for four to six rounds, just until the dough is well developed. If mixing by hand, stir the ingredients together with a dough whisk until incorporated. Let the dough rest for several minutes. With lightly wet hands, stretch and fold the dough four to five turns every 5 minutes for four to six rounds until it's smooth and stretchy. It should be fairly sticky. Cover the dough and let the dough proof overnight at room temperature (65 to 70℉).
The next morning
Deflate the dough by doing a round of stretch and fold in the bowl. Let the dough rest for 5 minutes.
Turn the dough out onto a floured surface.
Gently roll and pat the dough into a log. Cut the dough into six or eight equal portions. Working with one piece at a time, form nice tight balls of dough. Start by folding the top down to the center. Working clockwise with your right hand fold all the sides into the center and push them down firmly while turning the dough counterclockwise with your left hand.
After eight or so turns, the dough should feel tight and rounded. Pinch the bottom of the bun and roll it gently in your hands to further shape it. Place the buns on a sheet of parchment paper atop a baking sheet to help you transfer the buns to a preheated baking stone once proofed.
If baking on a baking sheet, proof the buns on parchment on the baking sheet — no need to preheat the baking sheet, in fact it might be wise to double the baking sheet to protect the bottoms from getting too dark.
Once all the buns have been shaped, cover them and let them proof again for 3 to 6 hours (the proofing time will totally depend on the climate, activity of the starter, and so many other factors). You want the dough to rise to at least double if not triple its original size.
Preheat your oven to 375°F. If using a baking stone preheat the oven with the baking stone inside.
Mix the egg yolk and milk together in a small bowl. Using a pastry brush, lightly coat the top of each bun with egg wash. Sprinkle the buns with sesame seeds.
Slide the parchment with buns on top onto the preheated baking stone. Bake the buns for 30 minutes. Remove them from the oven and from the parchment paper to a wire rack to cool. Let them cool completely before pulling them apart if they are touching.
Slice and top the soft and chewy buns with all your favorites! Enjoy your well-deserved burger!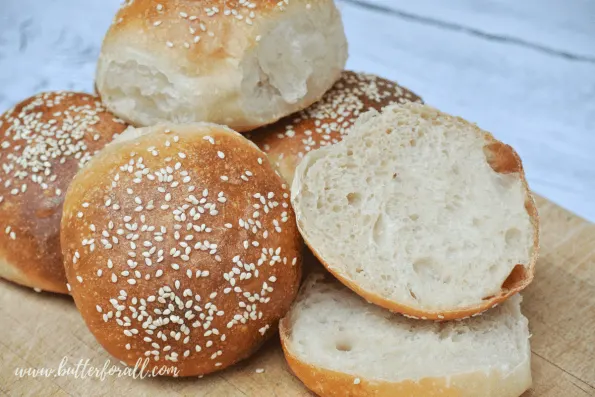 Want To Learn Everything About Sourdough?
Start with this free guide:
Demystifying Sourdough – Everything You've Ever Wanted To Know About Sourdough Starter – Why It's Better For You – And How To Start One