I may receive commission if you purchase through links in this post.
It's been a while since I published a new sourdough recipe, and that's because I've been messing around with an amazing low-gluten ancient grain called Kamut (also known as Khorasan wheat).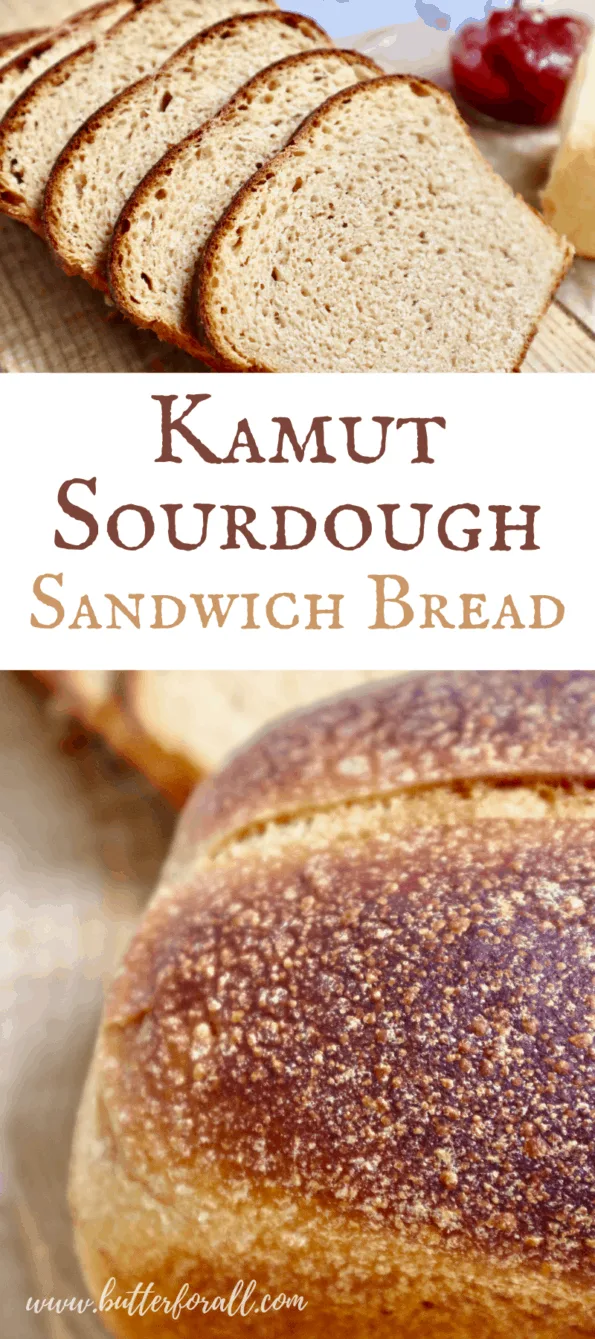 Kamut is actually a trademarked name for Khorasan wheat. The trademark ensures that wheat sold as Kamut is organically grown and free from hybridization. Khorasan is an ancient relative of durum wheat that has not been changed by selective breeding for many generations.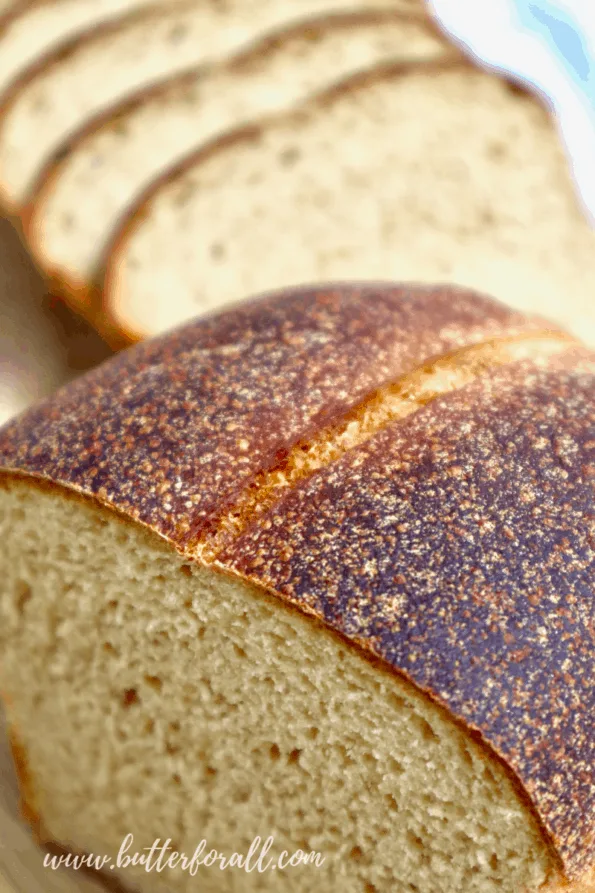 Kamut is grown primarily in Montana, where the grassland is arid enough for this drought-tolerant variety.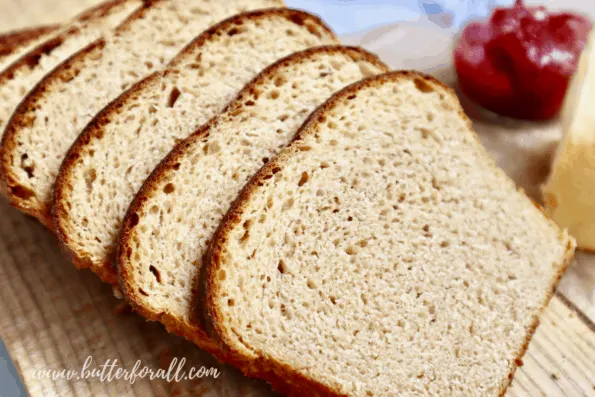 Kamut's flavor is that of a golden-toasted grain, with hints of brown butter and a pleasingly sweet wheaty aroma. It has great elasticity and absorption despite being very low in gluten.
While a 100% Kamut dough is not suitable for an open airy crumb, it can be added in smaller quantities (up to 25%) to boule-style bread recipes for increased flavor.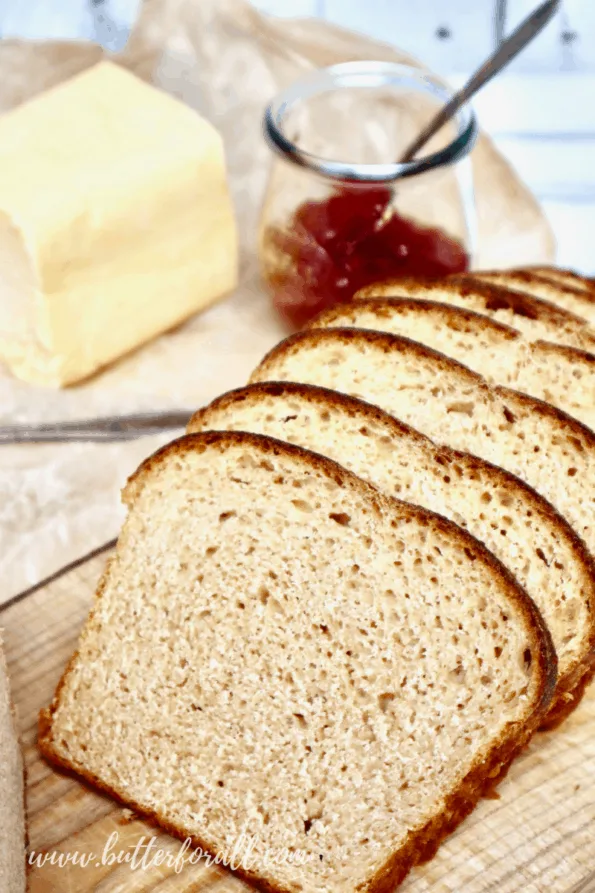 Because of Kamut's extremely low gluten content (about 97% less than conventional wheat), it is a great choice for people with food intolerances and can be eaten by many people with gluten sensitivity (not celiacs). Sourdough fermentation further breaks down gluten, making Kamut sourdough bread an excellent and easily digestible choice.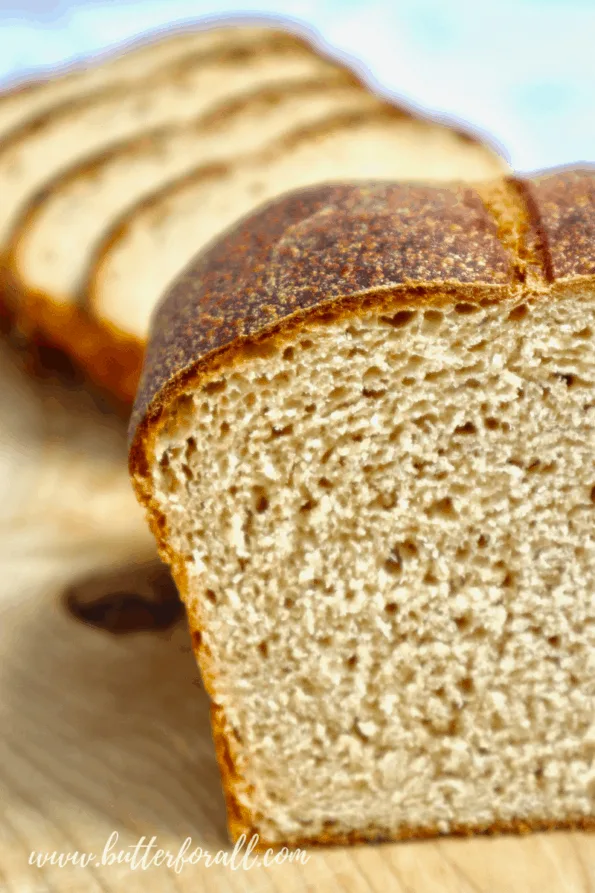 For more information about Kamut and its history please listen to episode 210 of the Wise Traditions Podcast, Wheat You Can Eat.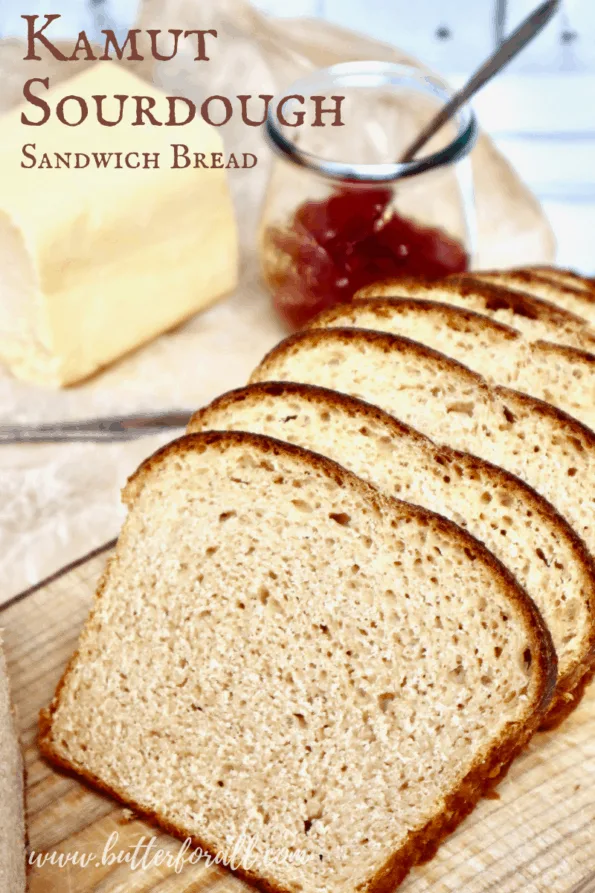 In this recipe, Kamut flour is blended with sifted whole wheat flour, milk, and a touch of honey to create a sturdy-yet-soft sandwich bread perfect for any occasion.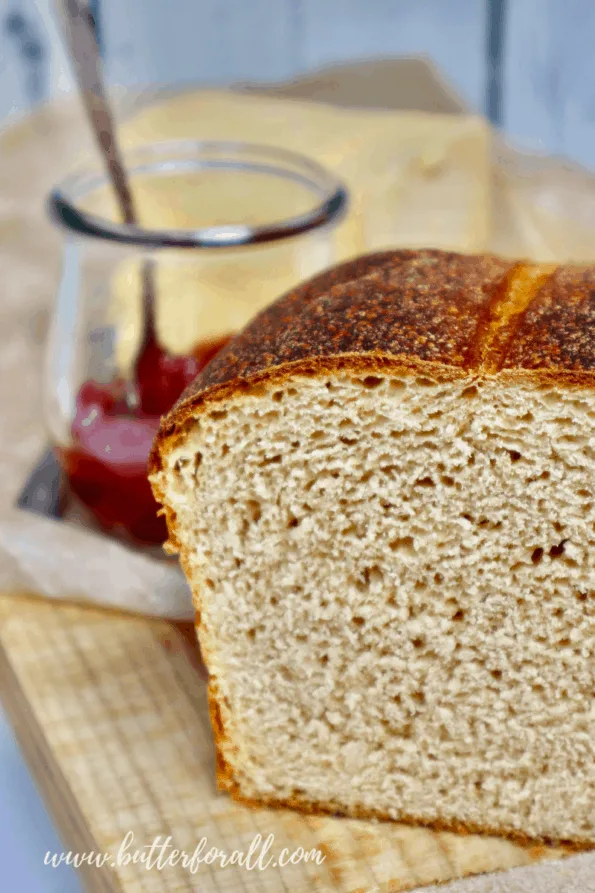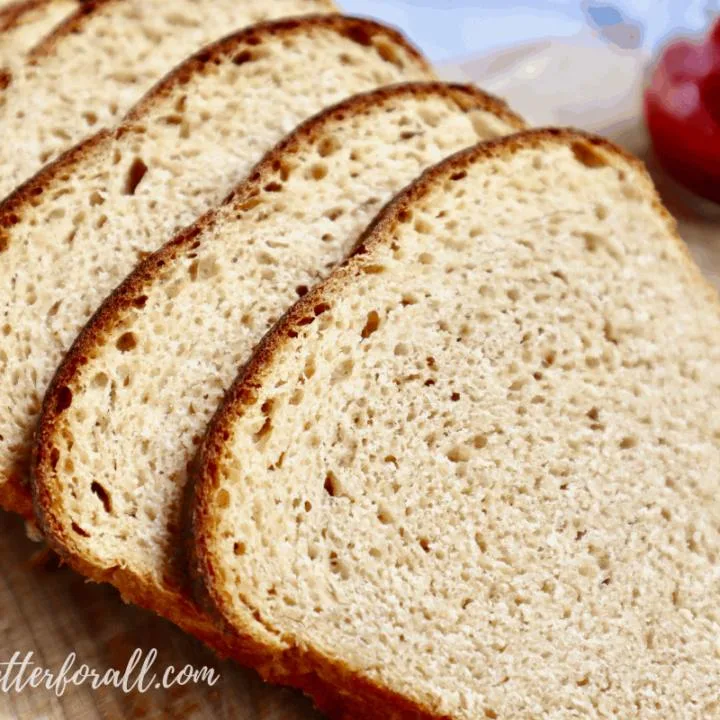 Kamut Sourdough Sandwich Bread
Fermentation Time:
16 hours
A generous percentage of low-gluten Kamut flour gives this sourdough sandwich loaf a distinctive golden-brown-and-buttery flavor. The addition of milk and honey keeps the bread soft and even, perfect for slicing for sandwiches, toast, or French toast!
Ingredients
245 grams (1 cup) whole milk
60 grams (3 tablespoons) raw honey
125 grams (1/2 cup) active sourdough starter
28 grams (2 tablespoons) melted butter
270 grams (2 cups) Kamut flour
135 grams (1 cup) sifted whole wheat flour
12 grams (1 1/2 teaspoons) salt
Instructions
The Night Before
In a large bowl or stand mixer with dough hook attachment, mix the milk, honey, starter, and melted butter until well combined.
Add the Kamut flour, whole wheat flour, and salt. Stir until a smooth dough forms. If the dough is too dry to come together, add water 1 tablespoon at a time until the flour looks fully hydrated and the dough becomes soft and smooth.
Rest the dough for 5 minutes.
Turn the dough out onto your work surface and knead the dough by hand until it's elastic. Kamut bread dough, when properly hydrated, is extremely easy to handle and doesn't need any additional flour on the work surface.
Rest the dough for 5 minutes.
Gently knead the dough again several times, being extra careful not to rip the outer skin. Gather the dough into a tight ball and place it seam side down in the mixing bowl.
Cover the bowl with plastic wrap or tight-fitting lid and let the dough bulk ferment at room temperature (65 to 70℉) overnight.
The Next Morning
Grease an 8 to 11-inch loaf pan with a little melted or soft butter.
Turn the risen dough out onto your work surface and gently knead it to remove any gas. Again, do this carefully to not rip the outer skin of the dough.
Gather the dough into a ball and let it rest seam side down on the work surface for 5 minutes.
Turn the dough over so the smooth outer skin is against the work surface and pat the dough into a small rectangle. Fold the top third of the rectangle over the center of the dough and use your fingertips to press it into the center to secure it.
Roll the doubled portion of the dough over the last third, so the seam ends up on the bottom. Pinch the open ends and tuck them under slightly.
Rest the dough seam side down on the work surface for 5 minutes.
Transfer the rested dough to the buttered loaf pan and cover with plastic wrap or a fully dampened flour sack towel.
Let the dough double at room temperature.
Preheat your oven to 400℉.
Uncover your bread and score the top down the middle.
Spray the top of the loaf with water if desired.
Bake in a preheated oven for 30 minutes.
Remove the bread from the oven and let it rest for 5 minutes in the pan before transferring to a cooling rack to cool completely.
Notes
Substitutions for Sifted Whole Wheat
In this recipe I call for sifted whole wheat, which is my personal preference. If you are looking for a great sifted whole wheat product or want to know more about it check out my favorite mill.
Regular organic whole wheat, organic all-purpose, or organic bread flour can be substituted.
Loaf Pan Sizing
There are all sizes of loaf pans available. They typically range from 8 to 11 inches in length. The shorter the pan the taller this loaf will be. But the size of pan, if between those ranges, shouldn't affect baking times.
Want To Learn Everything About Sourdough?
Start with this free guide:
Demystifying Sourdough – Everything You've Ever Wanted To Know About Sourdough Starter – Why It's Better For You – And How To Start One