I may receive commission if you purchase through links in this post.
In an effort to bring you everything sourdough, I now present you with sourdough clafoutis.
I just couldn't resist the challenge of making clafoutis with sourdough. The part of my job I love the most is recipe development. And developing this one was tasty!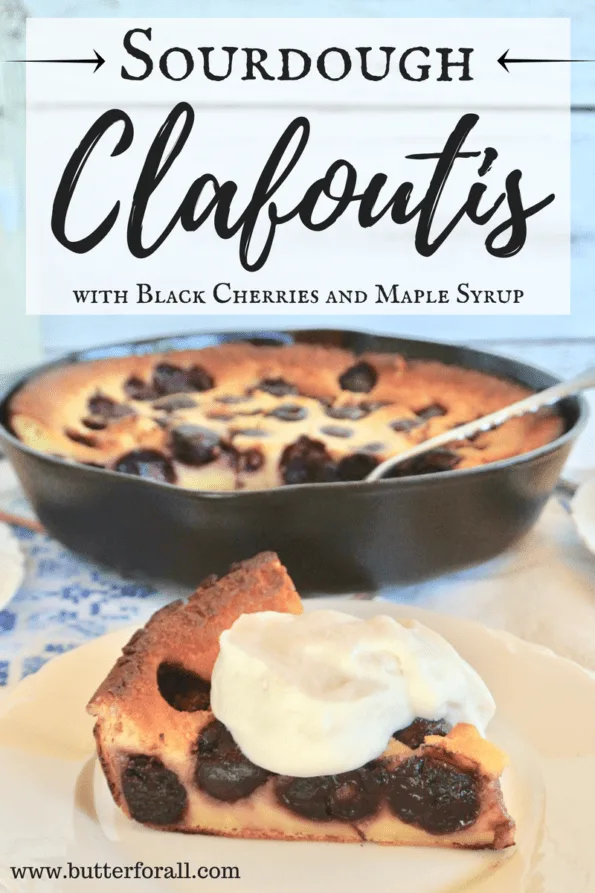 I used fully fermented sourdough starter, pastured eggs and butter, organic maple syrup, raw milk, a little salt, a little vanilla, and a full pound of organic black cherries. This is the line where health food meets pure indulgence.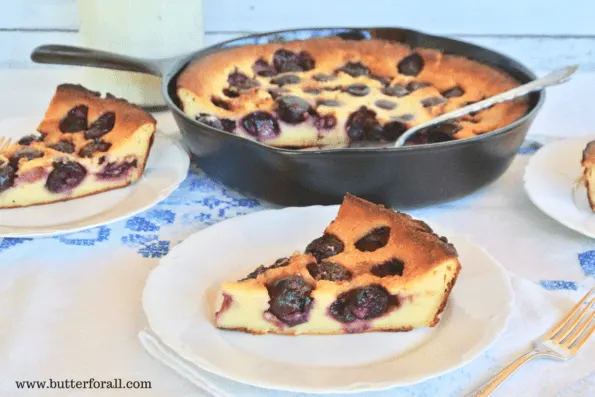 What Is Clafoutis?
Clafoutis is a form of French cobbler. It starts as a thick flan or pancake-like batter that is poured into a hot pan and studded with fresh fruit. The batter envelopes the fruit as it cooks and puffs around the edges. It is similar to a Dutch Baby but a bit denser with a more cake-like texture.
Why Sourdough?
You all know by now that I've made a commitment to eat only traditionally prepared grains and I do that because my body responds better to soaked, fermented, or sprouted grains. Somewhere along the way, we lost our methods for making grains healthy and body-friendly. But not anymore — I'm rewriting all the recipes and your body will thank you for using them!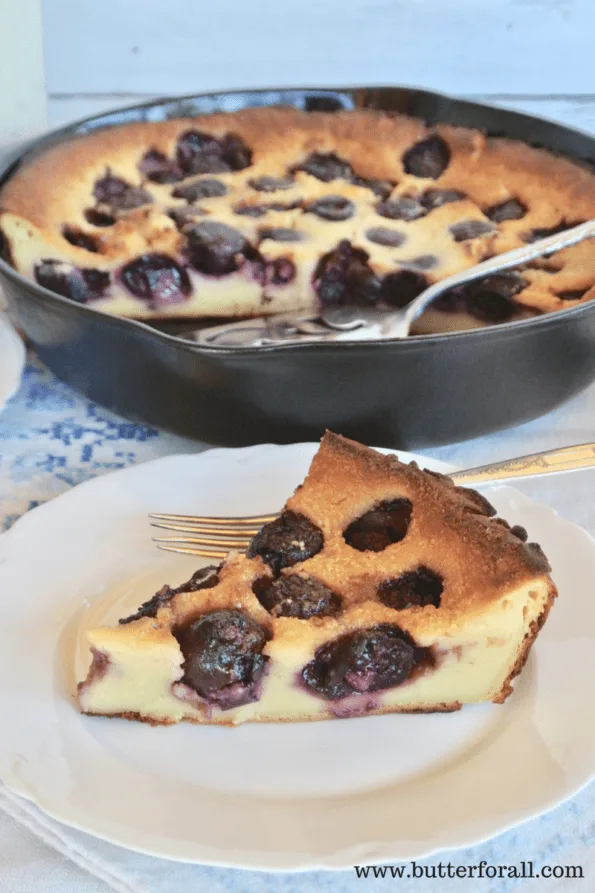 Fermented grains are easier to digest, they have reduced phytic acid (an anti-nutrient), and their important vitamins and minerals have been unlocked. Almost all early humans had some sort of grain in their diet but they prepared them in totally different ways than we do now. Where did we go wrong?
To learn more about how our ancestors really ate,
please read Sally Fallon-Morell's new book Nourishing Diets: How Paleo, Ancestral and Traditional Peoples Really Ate. This book will blow your mind!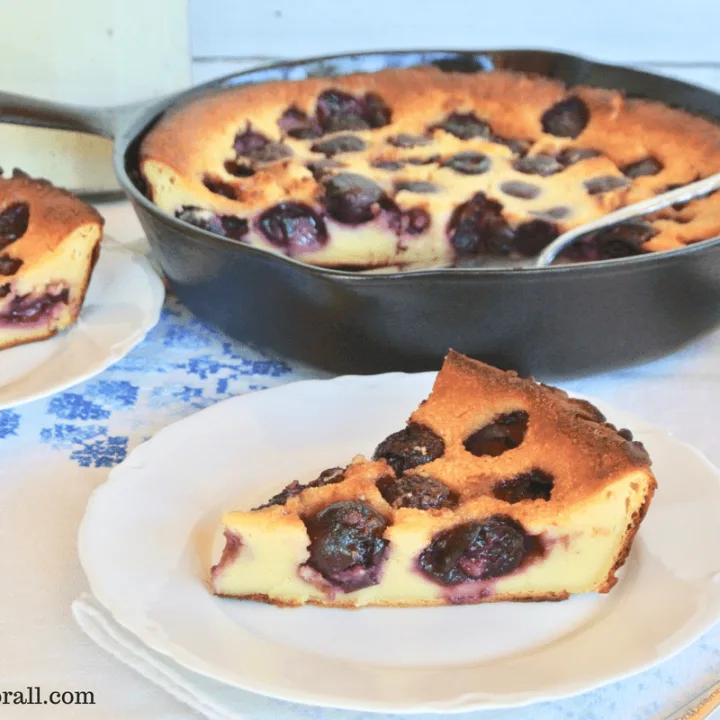 Sourdough Clafoutis
A classic black cherry clafoutis, but made with whole-body-friendly fermented grain.
Ingredients
Batter Ingredients
375 grams (1 1/2 cups) sourdough starter at 100% hydration, stirred down
118 grams (1/2 cup) whole milk
3 whole eggs
Other Ingredients
2 1/2 cups pitted cherries (about 1 pound before pitting)
Maple Whipped Cream
Instructions
The Night Before — Feed Your Sourdough
If you keep your sourdough at 100% hydration, feed it with 200 grams of flour and 200 grams of water. If you need to convert your sourdough to 100% hydration, mix 250 grams of flour with 250 grams of water and add 1 tablespoon of your active sourdough starter. Ferment the starter at room temperature overnight.
The Next Morning
Pit the cherries and set them aside. If you don't have a pitter you can cut them in half or use a metal straw and beer bottle (place the cherry on top of the beer bottle and push the metal straw through it, pushing the pit into the bottle).
Melt 4 tablespoons of butter. Reserve the other 4 tablespoons for greasing the pan.
Measure and add the batter ingredients to your blender, food processor, or mixer. This can be done by hand or with a whisk as well. Blend until combined. Set the batter aside.
Preheat your oven to 450°F and place a cast-iron skillet inside the oven to preheat.
Once the oven has heated, remove the skillet and drop in the other 4 tablespoons of butter. Roll the pan to coat it evenly. Add the batter to the hot pan and then drop in the cherries in a nice even layer.
Bake the clafoutis for 15 minutes. Lower the temperature of the oven to 350°F and continue to bake the another 15 minutes or until the clafoutis is puffed, golden brown, and set in the middle.
Whip the cream, maple syrup, and vanilla together and refrigerate the whipped cream.
Let the clafoutis cool slightly before serving. Add whipped cream!
Want To Learn Everything About Sourdough?
Start with this free guide:
Demystifying Sourdough – Everything You've Ever Wanted To Know About Sourdough Starter – Why It's Better For You – And How To Start One