I may receive commission if you purchase through links in this post.
My honey oat sourdough bread has a lot going for it.
If you like crusty, thick, chewy, slightly sweet bread made with whole grains, then this is your recipe!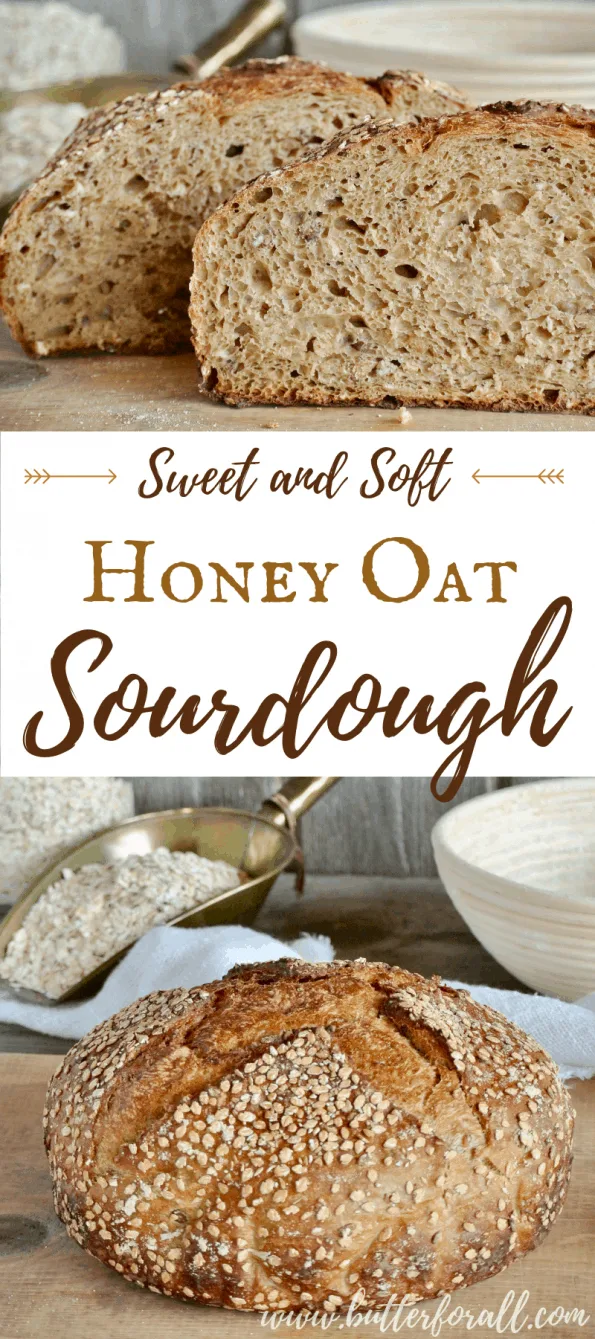 The crumb on this bread is surprisingly airy considering the amount of rolled oats incorporated into it. You don't have to use only rolled oats, other rolled heirloom grains work really well. I use a combination of rolled oats, rolled barley, rolled rye, and rolled einkorn.
The addition of rolled grains gives this bread a toothy chewiness and a sweet earthy smell. You will not be disappointed!
Finding the Right Grains
I'm extremely partial to my local mill; they grow lots of heirloom organic grains and sell them whole, rolled, or ground into cereals and flours. The good news is, their wonderful selection can be ordered online by visiting Camas Country Mill.
My absolute favorite is the Triple 200 series. I call for this finely sieved whole grain flour in many recipes. It's similar to whole wheat pastry flour but with a very airy texture and wonderful full-bodied sweet flavor.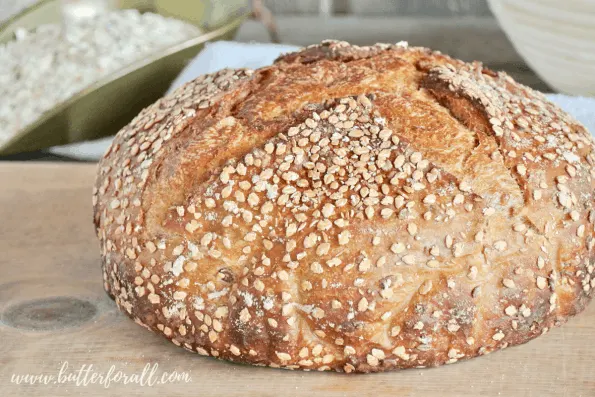 Process:
This bread is a high hydration dough. It has extra water and rolled grains added at the time of mixing. It is then left to ferment overnight at room temperature before being shaped and baked in the morning.
I like this long fermentation process because the bread has a chance to fully ferment. This allows the rolled grains to soak up extra water. It gives the lactic acid plenty of time to develop. The high lactic acid development neutralizes phytic acid in the whole grain making nutrients more bioavailable, and it breaks down hard to digest proteins.
Homemade sourdough is the healthiest bread available!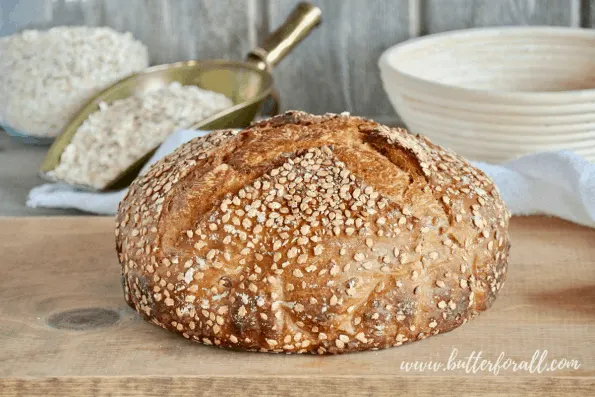 Start Here
If you are a sourdough beginner you might want to start out by reading my free sourdough guide, Demystifying Sourdough – Everything You Ever Wanted To Know About Sourdough Starter – Why It's Better for You – And How To Start One. This guide will give you so much valuable information on my sourdough process and what I've learned by trial and error over the years.
I also have articles about How To Feed Your Starter for Successful Baking and How To Bake the Perfect Sourdough Boule in Your Dutch Oven with videos that will show you how to mix and shape a perfect boule!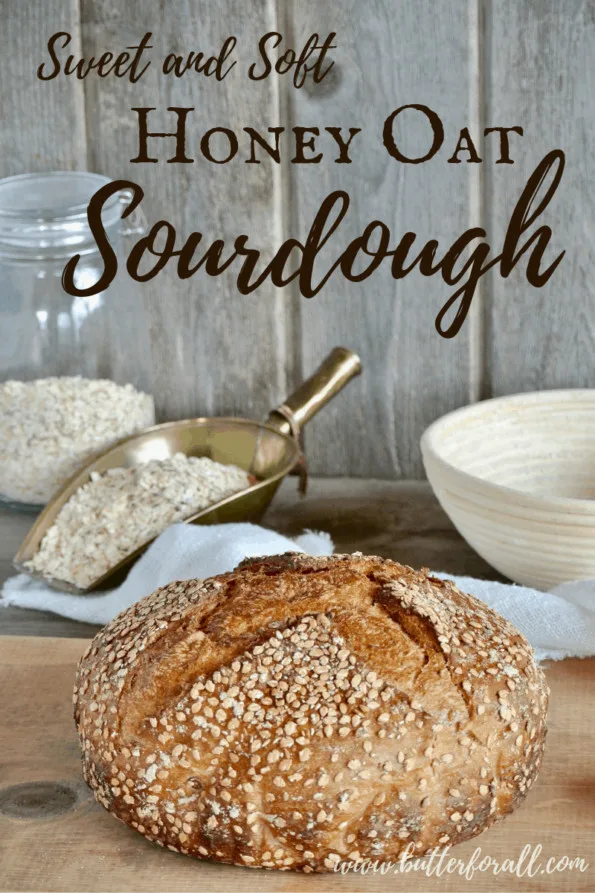 Tools of the Trade
This Dutch oven has changed my whole baking game!
A dough whisk keeps hands clean and is great for stretch and fold mixing.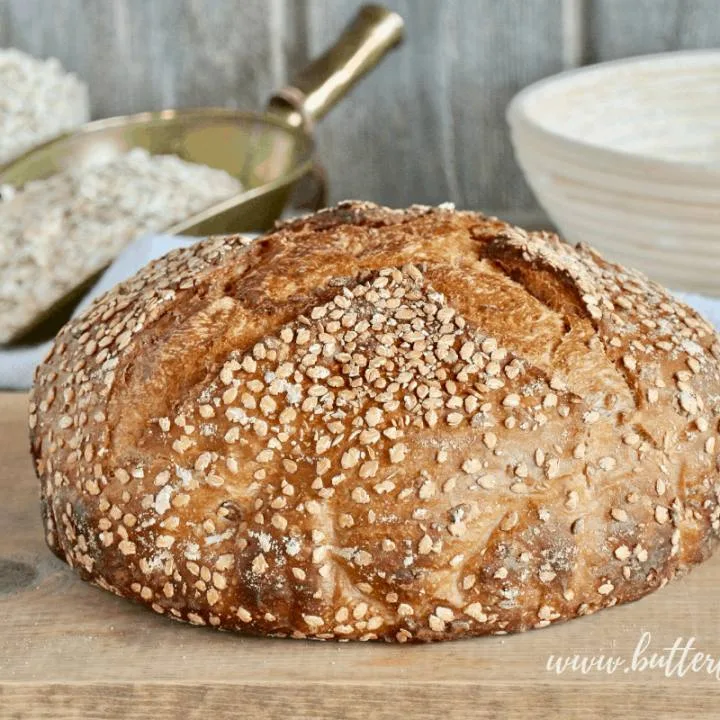 Honey Oat Sourdough
Total Time:
13 hours
10 minutes
A sweet and soft sourdough bread with rolled grains and honey. This bread makes wonderful toast and incredible French toast!
Ingredients
120 grams (3/4 cup) rolled grains
250 grams (1 cup) starter at 100% hydration, stirred down
Instructions
The Night Before
In a large glass bowl mix all ingredients into a wet and sticky dough. I use my dough whisk for this step because the dough will stick to your hands. Let the dough rest for 5 minutes.
Using the dough whisk do a round of stretch and fold. Let the dough rest for 5 minutes. Repeat this stretch and fold process up to five more times.
Cover the dough and place it in a warm area of your kitchen. Ferment the dough overnight.
The Next Morning
Uncover the dough and wet your hands. Do a stretch and fold in the bowl to deflate the dough and start the shaping process. Let the dough rest for 5 minutes.
Spread a handful of oats out on your work surface. Small rolled grains work well – rolled einkorn is pictured. Turn the dough out onto the oats. Make sure the dough lands seam side up on the oats. Quickly shape the dough into a round so that the oats are covering the dough. Place the dough seam side down and shape it further using your hands and the tension of the surface. Leave the dough seam side down on the work surface for a few minutes.
Prepare your banneton with a light dusting of flour. I use sprouted flour, oat flour, or rice flour as it's less sticky than wheat flour. Place the dough ball seam side up in the banneton and cover it lightly. Let the dough double at room temperature.
Preheat your oven to 450°F with your Dutch oven inside.
Cut a square of parchment paper and turn the dough out onto it so the seam side is now down.
Score the dough with a sharp razor blade. The oats can make it a little tricky to score so I use a nice wide cross pattern instead of something more elaborate.
Remove the hot Dutch oven from your oven and take the lid off. Carefully pick up the dough using the corners of the parchment paper. Lower the dough into the Dutch oven and replace the lid. Place the Dutch oven back into the oven and bake covered for 25 minutes.
After 25 minutes remove the lid and continue baking for 15 more minutes. This bread should bake for 40 minutes total.
Remove the bread from the Dutch oven and parchment paper. Place the boule on a cooling rack and let it cool completely before slicing.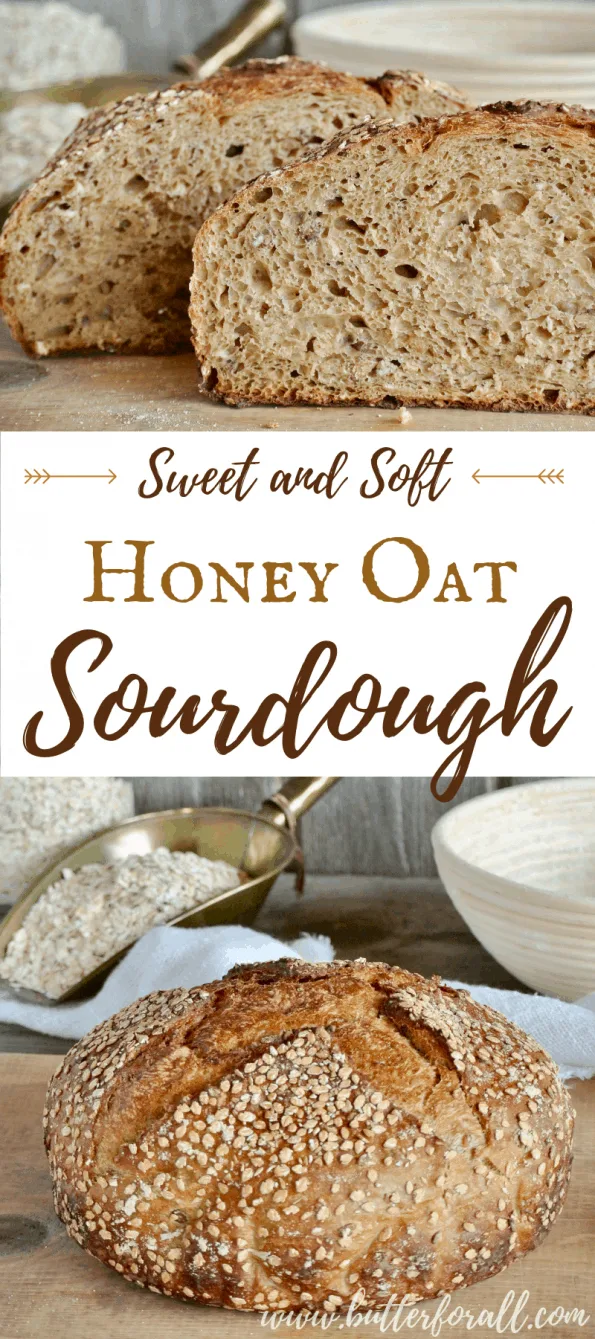 Want To Learn Everything About Sourdough?
Start with this free guide: