I may receive commission if you purchase through links in this post.
Real Boiled and Baked Sourdough Bagels!
It took me a good many years to work up the nerve to try my hand a bagels.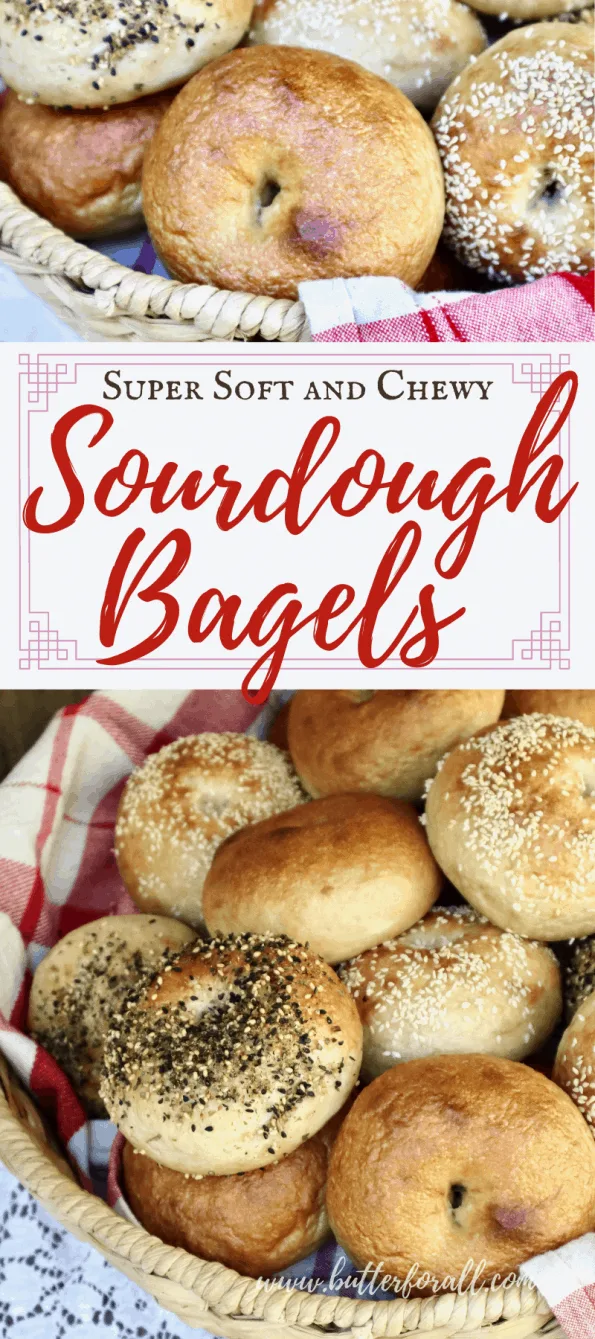 I'll be the first to admit I was always a little intimidated, knowing that the bagels needed special shaping, boiling, and baking. My intimidation was unfounded. The process is so much easier than I expected, and once I started playing around with developing this recipe I realized just exactly what I had been missing out on all these years!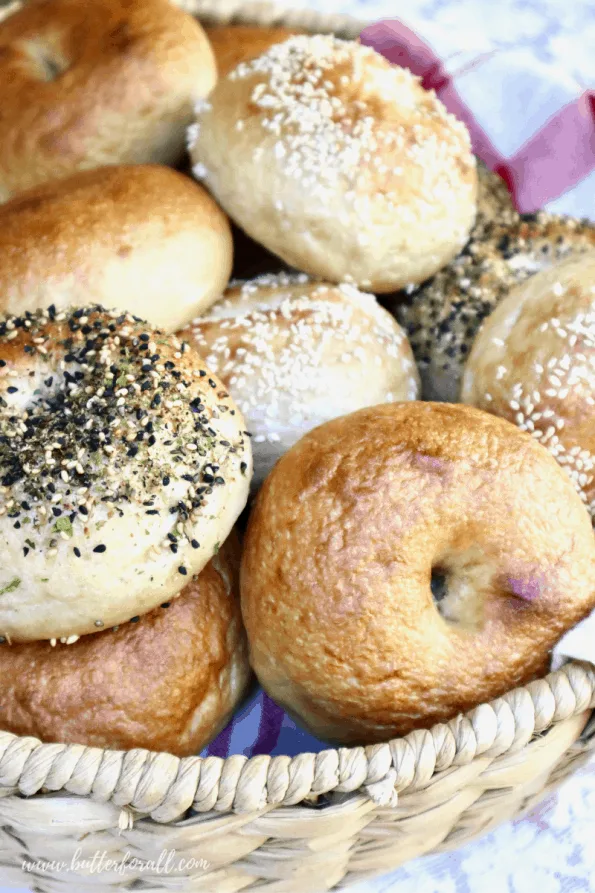 Soft and Chewy Sourdough Bagels
I want to start this post by making it clear that my intention was not to develop a dense and doughy bagel, but instead a soft, light, and fluffy bagel, with the classic chewy texture of sourdough.
If you are looking for a dense and doughy bagel this might not be the recipe for you. Yes, I know that many people prefer a dense bagel, I'm just not one of them. I like the versatility of a softer bagel that can be sliced, toasted, cream cheesed, buttered, used as a bun, as a sandwich, with toppings, without … not to mention I just can't keep my sourdough starter down. The puff and rise on this recipe is exceptional!
These sourdough bagels come out as soft and lofty as pillowy clouds with a shiny chewy exterior that becomes delightfully crisp when toasted.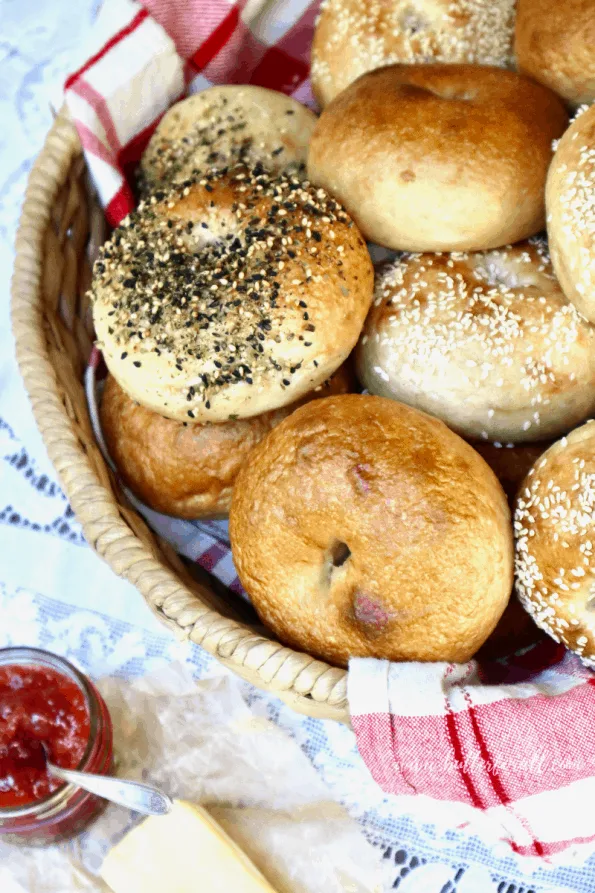 Topping Your Sourdough Bagels
My personal favorite is probably the toasty sesame seeds, but I've also made onion, plain, yuzu, everything, salt, cheese-stuffed, and even bagel dogs! Some of the more technical recipes like cheese-stuffed, bagel dogs, blueberry, and cinnamon raisin I hope to publish in the future!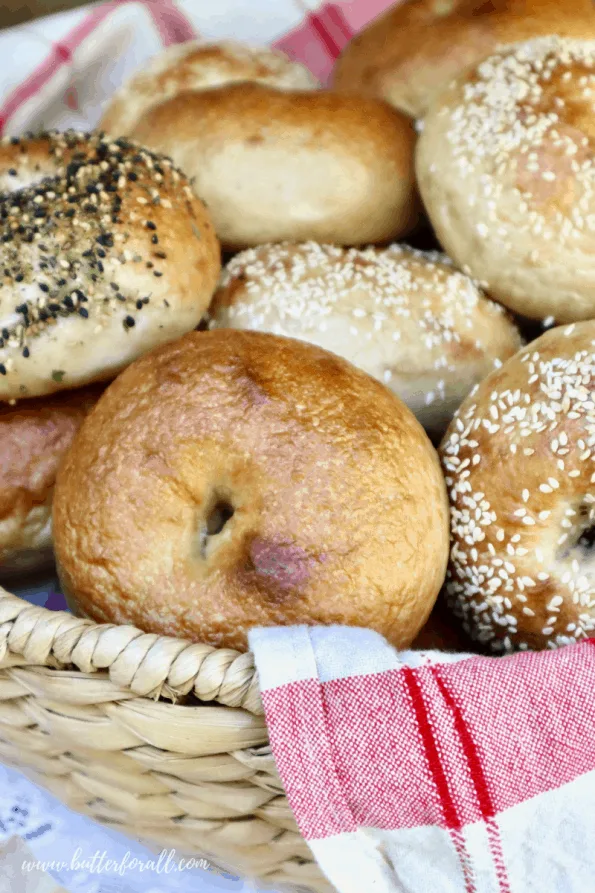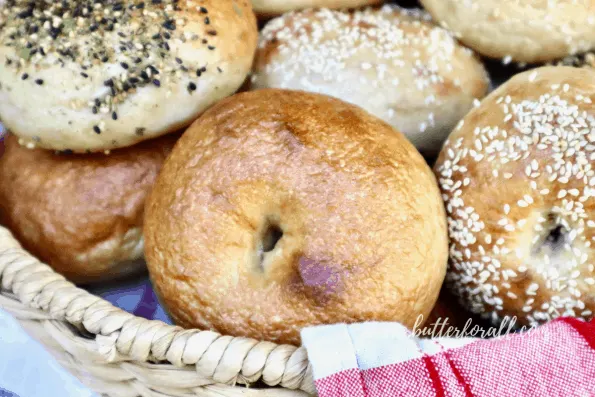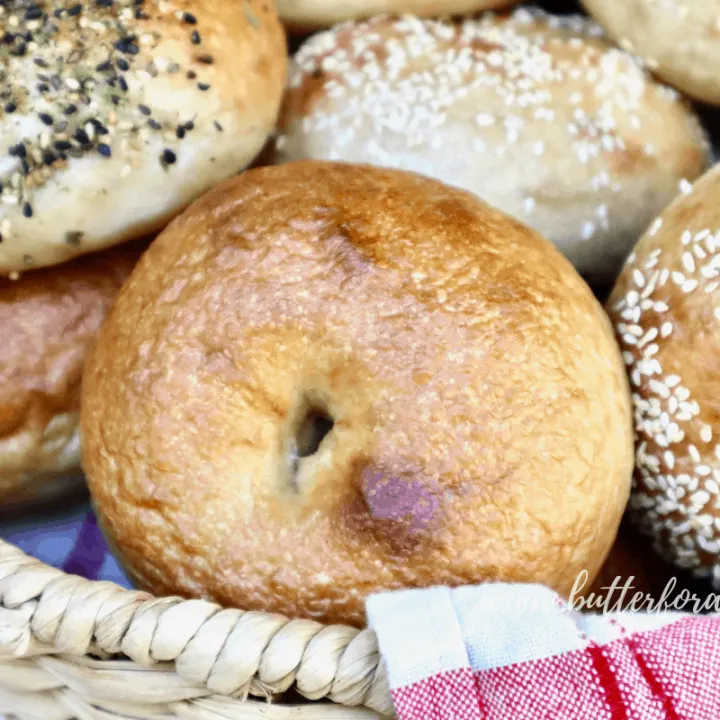 Super Soft and Chewy Sourdough Bagels
Yield: 16 Bagels

Prep Time: 30 minutes

Cook Time: 1 hour

Additional Time: 1 day

Total Time: 1 day 1 hour 30 minutes

A fluffy, super soft, and chewy sourdough bagel. These fully fermented bagels are boiled and baked for the best crust, taste, and texture possible.
Ingredients
1000 grams bread flour
600 grams water
250 grams sourdough starter
60 grams avocado oil or light olive oil
40 grams honey or coconut sugar
20 grams salt
Boiling Water
2 quarts water
20 grams (1 tablespoon) honey
20 grams (1 heaping tablespoon) baking soda
7 grams (1 teaspoon) salt
Instructions
The Night Before
Using a dough whisk, wooden spoon, or silicone spatula, mix all the bagel ingredients in a large bowl. Once the dough comes together let it rest for 5 minutes.
Do a few rounds of stretch and fold in the bowl, resting the dough for 5 minutes between each round. Once the dough is smooth and stretchy cover the bowl with a lid or plastic wrap and let it ferment overnight.
The Next Morning
Turn the dough out onto a lightly floured surface. Cut and weigh the dough into 16 equal pieces, about 120 grams each.
Lay a large sheet of parchment paper off to the side of the work area.
Preshape each piece of dough into a tight ball the same way you would for buns. Set them seam side down on the parchment.
Once all the dough is formed into balls, cover them with a damp flour sack towel and let them rest for 1 hour.
Boiling and Baking the Bagels
Preheat your oven to 400°F with two baking racks evenly spaced in the center.
Line two large baking sheets with parchment paper. I use the half sheet pan size (18 by 13-inch).
Have your desired toppings ready.
In a large pot bring the water and other boiling ingredients to a strong boil. I use my 8-quart stockpot.
Uncover the dough and drop a large pinch of dry flour on the top and center of each dough ball.
Working one at a time, push the thumb of your dominant hand down through the center of the flour and dough until it reaches the paper underneath.
With your thumb against the paper, gently swirl your hand, spinning the dough around your thumb until the hole is fully coated with flour.
Lift the bagel from the paper, and without deflating it, use your other hand to gently stretch the hole to about 2 inches wide. Rotate the dough during stretching to get an even circle.
Gently drop the dough into the boiling water with the top side down first. Cook on the first side for 1 minute. If you can work fast enough, add two to three more bagels to the water. This is also dependent on the size of the pot; the bagels should not be touching.
Use a slotted spoon to flip the bagels starting with the first one in the pot. Cook the bagels on the second side for 1 more minute.
Remove the bagels from the pot, letting excess water drip off them. Slip them onto the parchment-lined baking sheet with a little room around each one.
Once all the bagels from that batch have been removed, top the wet bagels with your favorite toppings, or leave them plain.
Start boiling the next batch of bagels and continue this process until they have all been boiled with toppings added.
Place the bagels in the oven and set the timer for 10 minutes.
When the timer goes off, rotate the pans and switch their positions in the oven, allowing for even baking.
Bake the bagels for 10 more minutes or until golden brown.
Remove the bagels from the oven and place them on wire racks to cool.
Notes
You can substitute up to 50% whole wheat or heirloom flour in this recipe without a very noticeable change in texture. 100% whole grain will result in a denser bagel and may require 5% (30 grams) more water in the dough.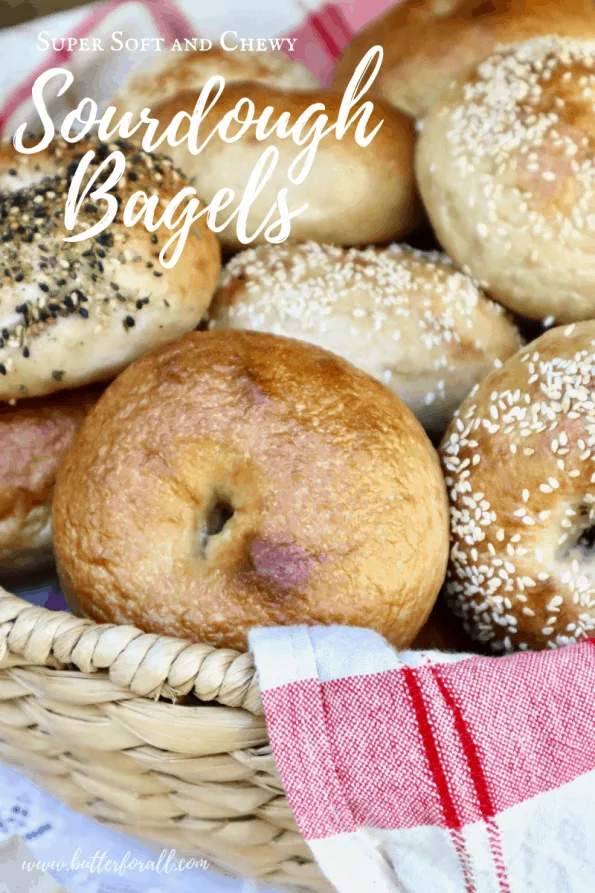 Want To Learn Everything About Sourdough?
Start with this free guide:
Demystifying Sourdough – Everything You've Ever Wanted To Know About Sourdough Starter – Why It's Better For You – And How To Start One