I may receive commission if you purchase through links in this post.
Sourdough pie crust has been on my back burner for some time now!
I finally had the time and opportunity to play around with my recipe and develop the perfect sweet and buttery sourdough pie crust. Even though I wish I'd done it long ago, now I can give you a real traditionally fermented pie crust for all your sweet or fruity pies.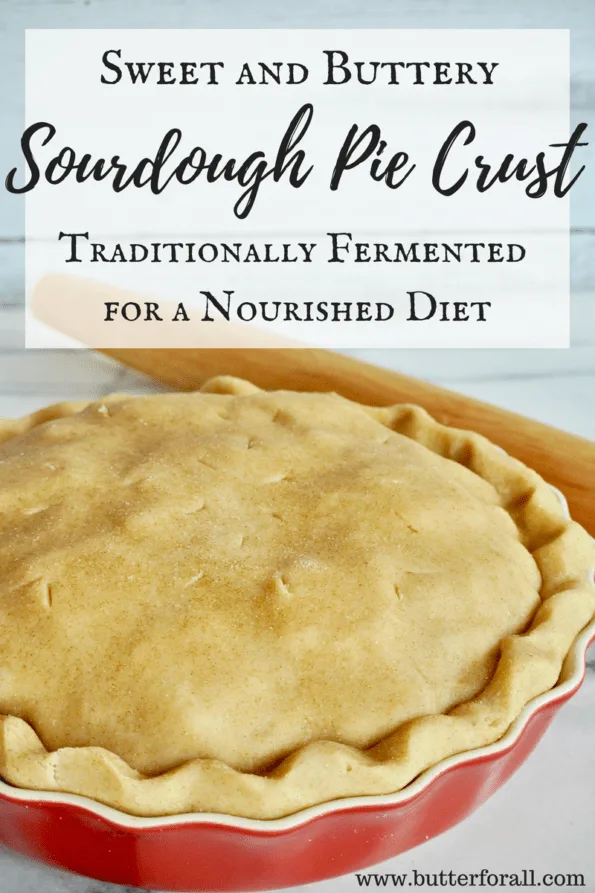 The Dough Is Awesome to Work With.
The way this pie dough is made is pretty unique. Melted butter is mixed with flour, sugar, and sourdough starter. During mixing there is definitely a little bit of gluten development so the dough is extremely easy to roll out and shape. It is not as flaky as my Ultimate Lard Pie Crust but the flavor is all butter, with the added health benefit of traditionally fermenting the grains.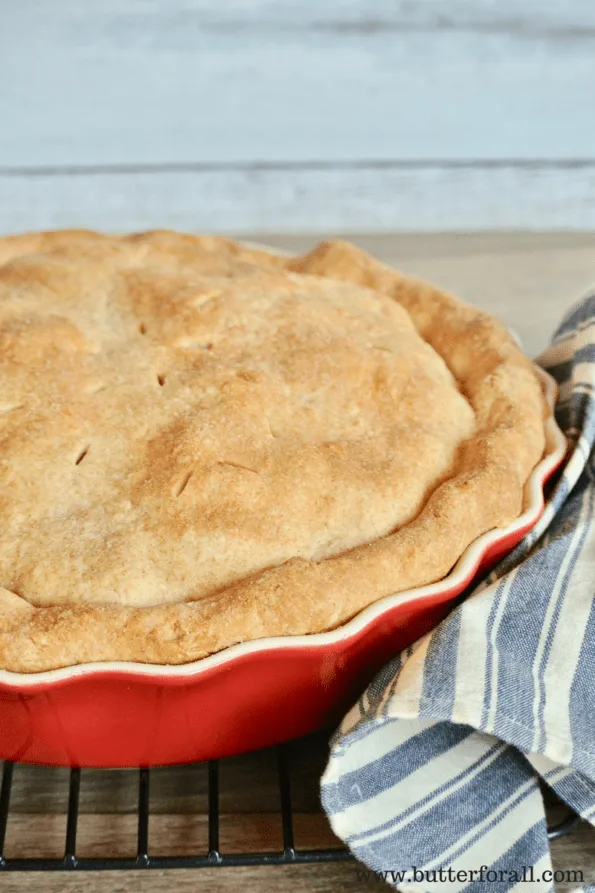 For tips on how to roll out a pie crust and make a perfect pie, please see How To Make the Perfect Covered Fruit Pie, Every Time!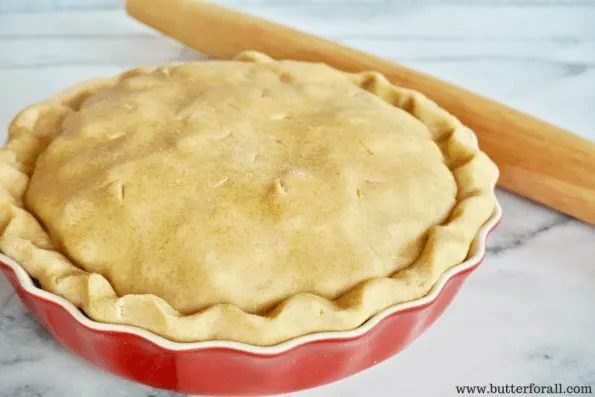 Fermentation: The Key to Healthy Grains!
You know by now that I ferment, soak or sprout all my grains. This is the way humans had been consuming grains for countless centuries before modern times. Come to find out, it's the way we still should be preparing our grains. The soaking/souring/sprouting process reduces phytic acid and makes the nutrients in grains more bio-available. If you are going to eat wheat, make sure it is soaked, soured, or sprouted!
Add these important books to your library to learn more about how traditional people ate and why it's important to revive these ancient food-ways.
This Recipe Makes Two Pie Crusts, or a Top and Bottom for a Covered Pie.
If you only need one crust, consider making these tart and jammy Cranberry and Sourdough Pastry Pinwheels with the other half recipe. This has become our new holiday tradition!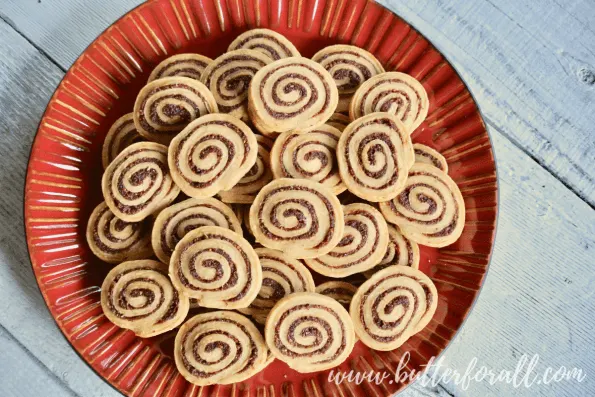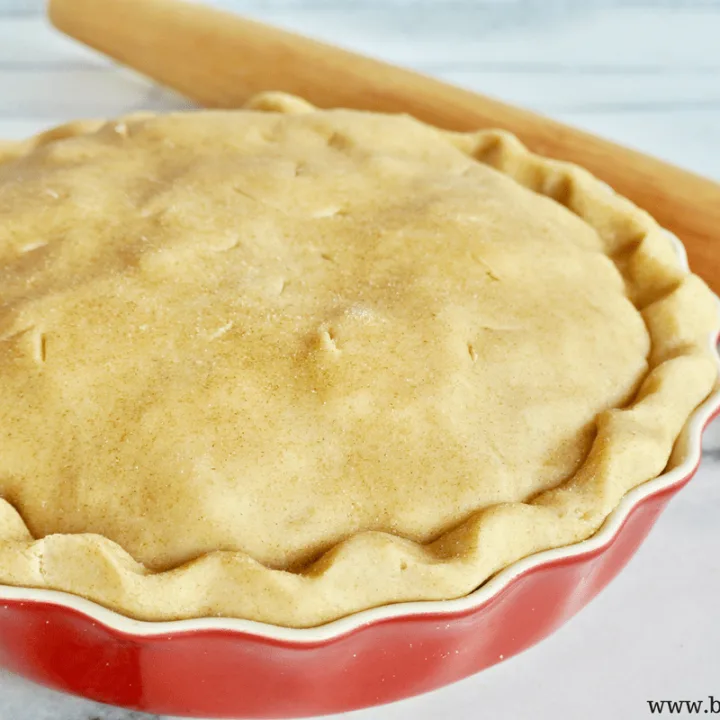 Sweet and Buttery Sourdough Pie Crust – Traditionally Fermented for a Nourished Diet
Total Time:
1 day
2 hours
Ingredients
375 grams (3 cups) organic all-purpose flour
166 grams (2/3 cup) active sourdough starter at 100% hydration, stirred down
1/2 cup organic all-purpose flour, for dusting
Water as needed
Instructions
The Day Before
The Pastry
Mix the flour, sugar, and salt together in a ceramic or glass bowl.
Add the sourdough starter and melted butter. Mix everything until just combined. If the dough isn't coiming together or seems too dry, drizzle cold water into the dough until it is completely moistened and sticking together.
Cover the bowl and let the dough ferment at room temperature for 4 to 5 hours.
Divide the dough in half and shape each half into a round disk. Wrap each disk and refrigerate for at least 12 or up to 48 hours. Note that the dough will get more sour the longer it ferments.
The Next Morning
Remove the dough from the refrigerator and let it soften slightly at room temperature, about 30 minutes to 1 hour.
Preheat your oven to 375°F.
Dust your surface with flour and roll each disk out into a 12 by 14-inch diameter. Trim the edges and place the bottom crust in your pie pan.
Fill the bottom pie shell with your filling of choice and either crimp the edges or add the top crust. See my post How To Make the Perfect Covered Fruit Pie, Every Time.
Bake the pie at 375°F for 15 minutes. Turn the oven down to 350°F and continue baking for 45 to 60 more minutes, or follow the instructions based on your pie filling.
Check on your pie after it's been in the oven for 45 minutes. If the crust is getting dark, use narrow strips of foil and gently form them around the outer crust to prevent burning.
Remove the pie from the oven and let it cool on a wire rack before serving.


Notes
This recipe makes two crusts, or, a top and bottom crust. Once the dough has been fermented overnight in the refrigerator it can be frozen for future use.
In cool weather or a cool home it may not be necessary to refrigerate the dough.
Want To Learn Everything About Sourdough?
Start with this free guide:
Demystifying Sourdough – Everything You've Ever Wanted To Know About Sourdough Starter – Why It's Better For You – And How To Start One