I may receive commission if you purchase through links in this post.
Page 5
Tools of the Trade — What You Should Have on Hand Before Beginning Your Sourdough Journey
1. Access to freshly milled organic flour. This will make all the difference in the quality of your baked goods. There are many types of wheat flour, ancient grains, and non-wheat flours that can be used for sourdough. I will list my top five kinds of wheat flour below.
Organic All-Purpose: This is a perfect flour for feeding your starter and baking pies, cakes, muffins, and tortillas.
Organic Bread Flour: Bread flour is slightly higher in protein than all-purpose flour, which creates more gluten and traps more gasses thus giving bread more structure and loft. Bread flour is great for baking soft and lofty loaves of bread with a nice open crumb.
Organic Whole Wheat: Whole wheat flour has the bran and husk of the flour kernel milled in. It has a sweet and earthy flavor with more natural fiber. I like to add up to 50% whole wheat flour in many recipes. The bran of the flour kernel will interfere with gluten production, which is why 100% whole wheat bread is much more dense with a tighter crumb structure. Whole wheat flour is great for adding to any recipe to give it more flavor and texture.
Organic Triple 200 Wheat Flours: Triple 200 flours are still whole wheat but they have been passed through a 200 gauge sieve three times, making the flour extra soft and light. They are fabulous for adding whole wheat flavor with a very delicate texture. Triple 200 is perfect for adding whole wheat flavor to delicate cakes, doughnuts, bread, and cookies.
Organic Heirloom and Ancient Grains: Heirloom and ancient grains are making a huge comeback as people start to reinvest in the traditional food-ways of our ancestors. Einkorn, Emmer, Spelt, and Kamut are just a few of the choices on the market. They all have varying levels of gluten, typically lower than industrialized hybridized wheat. Heirloom grains can have lots of different flavor profiles as well, from sweet to smoky to nutty. Once you are feeling confident with your baking skills it is fun to add these ancient grains into any of your baking projects!
If you don't have access to freshly milled local flour there are several brands that I have personally had great success with.
2. Fresh unchlorinated water. Chlorine can really harm the growth of wild yeast and bacteria, not to mention it's gross. Chlorinated water can be left to off-gas for 24 to 48 hours in an open glass container if needed. But the best thing you can invest in is a high powered portable water filter. I would recommend The Berkey Water Filter to anyone. It's portable, has a great capacity, and the filters last years with proper care. It is also so reassuring to have the Berkey in case of emergency situations. Please do not use bottled water. Plastic water bottles are one of the most unsustainable choices that people make.
3. A baking scale. This is such a crucial tool for baking exceptional sourdough. Can you bake good bread without one? Sure. I did it for years, but my bread was elevated to the next level when I started paying close attention to the hydration and weights of my recipes.
4. A glass storage container. The proper storage container for your starter is really important. The starter needs to breathe but shouldn't be left open to the elements. Fruit flies can be a bothersome pest to sourdough and can contaminate a starter with unwanted bacteria. I choose to use a locking lid jar with the rubber seal removed. This allows the starter to breathe without it drying out or becoming infested with intruders.
5. A set of ceramic or glass mixing bowls. Sometimes the metal alloys found in aluminum or even stainless steel mixing bowls can have a negative effect on fermentation. I suggest a sturdy set of ceramic or glass mixing bowls to keep your starter in prime condition for baking.
6. A proofing basket (Banneton). Traditional proofing baskets made from willow are beautiful and functional. They give sourdough loaves an artisanal shape and texture. The lightweight willow is breathable and the shape of the basket supports the dough and gives the bread optimal conditions to rise to full potential.
7. A Dutch oven. I can't stress enough how much baking in a Dutch oven improved my bread game. The Dutch oven traps steam inside while baking, keeping the crust soft and stretchy and allowing the bread to rise as high as possible. The lid of the Dutch oven is removed halfway through baking to allow the crust to brown nicely.
8. A dough whisk. This handy little tool is perfect for mixing doughs of all kinds. You can even use it to stretch and fold your dough.
9. Parchment paper. Parchment paper is a baking luxury that I highly recommend. It can be used to line cookie sheets when making crackers, in between balls of dough, or as a sling for transporting your delicate loaves to the oven. Make sure to look for an eco-friendly brand and reuse parchment whenever possible!
10. A bread lame. A bread lame is the tool used by bakers to easily hold a sharp razor blade for scoring bread. The lame gives you a nice handle and provides comfort and accuracy during the important scoring process.
And finally here are some fun optional additions to the sourdough baker's tool chest.
A grain mill for grinding fresh flours from wheat, oats, and more, cast iron loaf pans; a baking stone for pizza and rolls; a stand mixer; baguette forms; and measuring cups, scoops and wooden spoons.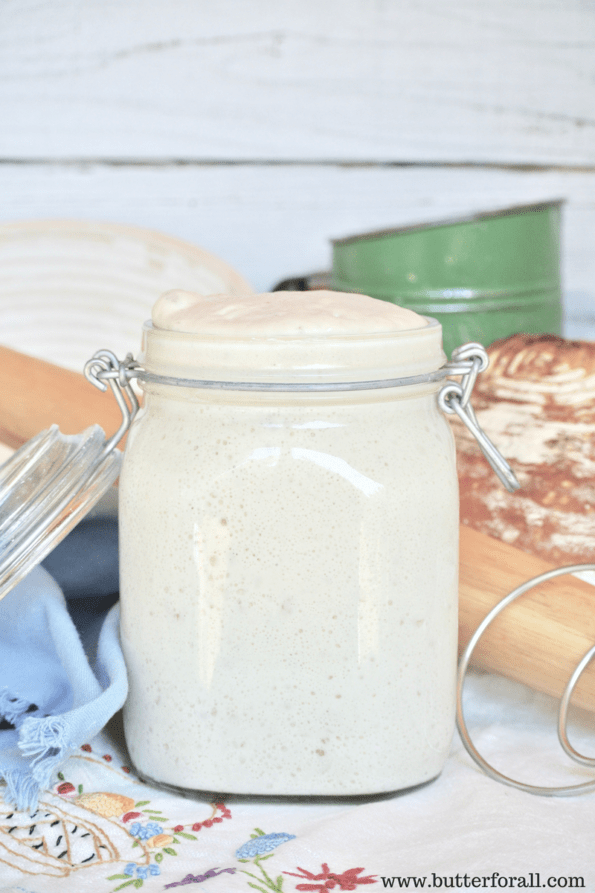 Page Guide