I may receive commission if you purchase through links in this post.
Page 4
Why Should You Eat Sourdough? What's the Difference Between Sourdough and Bread Made With Rapid Rise Yeast?
If you've been following along on my journey to health then you probably know that I soak, sour, or sprout all the grains, nuts, and legumes that I eat, usually with some sort of acid (typically whey from my raw yogurt). This soaking process does several different things, the most important being it neutralizes the naturally occurring phytic acid in these plant foods.
Phytic acid acts as an anti-nutrient, actually blocking nutrients and minerals from being absorbed in your digestive tract. In small quantities it's not a huge problem but for many people the complex carbohydrates that are provided from grains, legumes, and nuts make up a large portion of their diets. That's when reducing phytic acid becomes so important! This is really becoming a health problem when we talk about "plant-based" diets. Most modern people who practice plant-based, vegetarian, or vegan diets are often consuming much higher levels of phytic acid.
When you bake with sourdough the fermentation process is long, giving plenty of time for producing the lactic acid required for phytic acid reduction. It is for this reason that I am committed to baking with sourdough and use alternative flours like almond very sparingly.
On the other hand, rapid rise yeast consumes the sugars in the flour so quickly and without the benefit of lactic acid-producing bacteria that very little reduction in phytic acid occurs. This is a major problem considering the quantity of bread foods that most of the world consumes on a daily basis.
Almost all traditional peoples knew to soak and ferment the grains, nuts, and legumes they were consuming. And all bread was naturally leavened (like sourdough) up until the invention of rapid rise yeast in the 1860s. So for over 14,000 years of bread making, humans were utilizing wild yeast. And over the last two centuries we have almost completely abandoned these traditional ways. If you are starting to wonder if there is a correlation between abandoning our traditional food-ways and our declining health then you are on the right track.
To learn more about traditional peoples, what real traditional foods they ate, and why they had superior health please read Sally Fallon Morell's new book Nourishing Diets: How Paleo, Ancestral and Traditional Peoples Really Ate
The sourdough fermentation process also breaks down gluten protein, making it much easier to digest!
Many people with gluten sensitivities are able to enjoy traditionally fermented sourdough bread! The longer the bread ferments, the more gluten protein is broken down. Real sourdough bread can be fermented for 12, 24, 36, 48, or even up to 72 hours!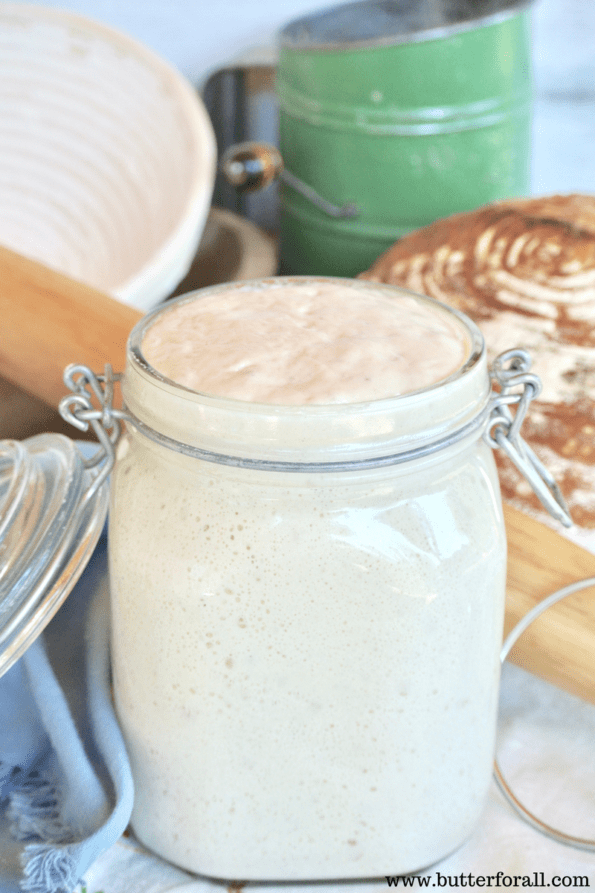 Page Guide