I may receive commission if you purchase through links in this post.
Coconut butter fudge has been my go-to treat for a few years now.
When I get a craving, it's usually for sweets and fats. Coconut butter fudge always delivers the goods! It is such a satisfying snack that I never need more than one or two small pieces to feel content. And it's made with healthy fats and natural sweeteners like raw honey or sugar-free organic monk fruit or stevia.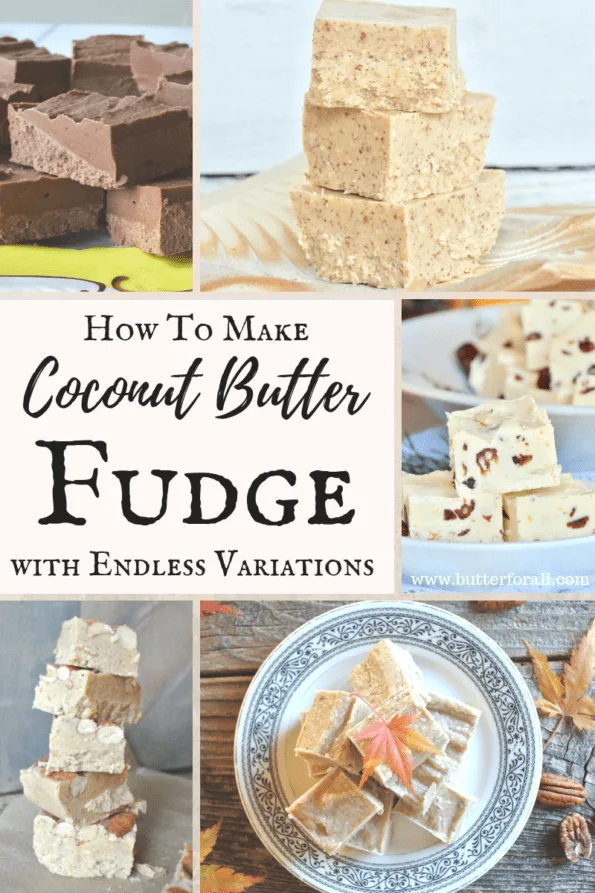 This real-food coconut butter fudge is easy — it only takes four base ingredients and it comes together in minutes. If you've ever wanted to learn how to make coconut butter fudge then this is the post for you!
See all my coconut butter fudge recipes here.
And read on to learn how to make coconut butter fudge with endless flavor combinations!
Our Bodies Need Saturated Fats.
There has been a lot of misinformation on this subject in the last century. Saturated fats have been demonized. But saturated fat from healthy natural sources is very important for our optimal bodily function. Saturated fats play crucial roles in our body, delivering vitamins and minerals, building cell walls, regulating hormones, keeping us full longer, helping deliver calcium to our bones, protecting us from calcification of the joints, keeping our immune system in tip-top shape, and so much more.
All traditional peoples revered saturated fats and ate them with abandon in times of plenty. The key to this statement is that traditional peoples didn't always have access to endless sources of saturated fats. They utilized saturated fats when and if they were able to attain them.
Saturated fats should be consumed in proportion to properly prepared complex carbohydrates, carefully prepared vegetables, and plenty of high-quality pastured protein including nutrient-dense organ meats.
To learn more about what traditional people really ate please see Sally Fallon Morrell's new book:
Nourishing Diets: How Paleo, Ancestral and Traditional Peoples Really Ate
Saturated fats come from animal sources and tropical plants. They are mostly solid in cooler climates and have a rich satisfying taste and texture.
Butter from pastured cows. Raw is ideal!
Lard from pastured pigs.
Tallow from pastured beef.
Duck and chicken fat from free-range pastured birds.
Coconut oil
Palm oil
For further reading on the importance of traditional fats in your diet, please see Sally Fallon Morell's books:
How To Make Coconut Butter Fudge.
It All Starts With the Humble Coconut!
Raw coconut flesh is ground into a butter-like substance that has all its natural saturated fats intact. Coconut butter is solid in cool climates but can easily be softened in a warm water bath. There are several brands on the market that I particularly like. Look for raw coconut butter that smells sweet and tastes fresh.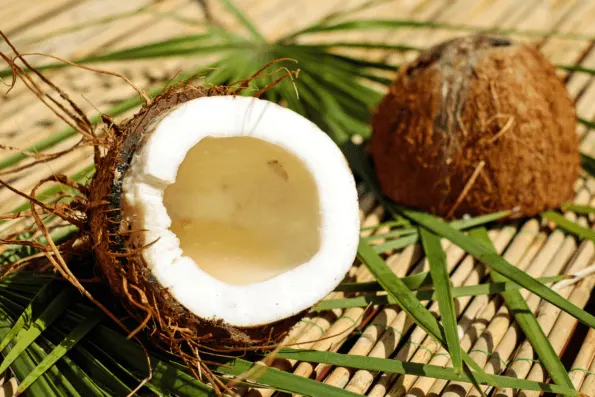 Add Butter or Other Fat.
To get a really creamy, fudge-like texture I like to add pastured butter to my coconut butter fudge. This not only tastes great but it's a great way to add extra healthy fat into your diet. If you prefer, you can add coconut oil in place of the butter.
Sweeten It Up.
Liquid sweeteners like raw honey, stevia or monk fruit (for my sugar-free, LCHF, keto friends), and maple syrup work really well in this fudge because they incorporate without any grittiness. If you plan to use a dry sweetener make sure it's powdered! Any of my coconut butter fudge recipes can be transformed into a low-carb recipe by substituting stevia (or another non-sugar sweetener) for the raw honey.
Pick Your Flavors.
I've made a lot of coconut butter fudge! And each time I like to experiment with different flavor combinations. The sky is the limit when adding flavorings. If you can dream it up, you can have it.
Here are some of the best flavors I've added.
Chocolate – You can use melted or powder. I choose the raw cacao powder that is high in antioxidants and minerals. If you use melted chocolate make sure it's not too hot when you mix it in!
Carob – If you avoid chocolate, carob is a great replacement. This is the brand I use.
Dried fruit – Things like dried cherries, cranberries, blueberries, and raisins all work really well. Chop your dried fruit first so it incorporates well.
Freeze-dried fruit – Use freeze-dried fruit like strawberries, blueberries, or raspberries to add beautiful flavor and color!
Citrus zest – Use oranges, lemons, or limes to add a pop of flavor.
Nut butters – Once in a while I like to make a nutty fudge with properly prepared pecan butter, peanut butter, almond butter, or cashew butter. Pretty much any nut butter will work.
Chopped nuts – I like some crunchy nuts in my fudge, especially with chocolate! Properly prepared crispy nuts made from pecans, walnuts, almonds, or macadamias work really well!
Coconut – Use unsweetened shredded coconut to add texture and more coconut flavor.
Flavoring – Vanilla extract, maple flavor, orange flavor, almond extract, and caramel flavor all give divine results.
Chocolate chips – If I ever use chocolate, which is rare, I will use a fair-trade chocolate like this one. I have also used the sugar-free Lily's Chocolate Chips in low-carb or keto fudge.
Get Creative With Your Flavoring or Use One of My Tested Recipes Below!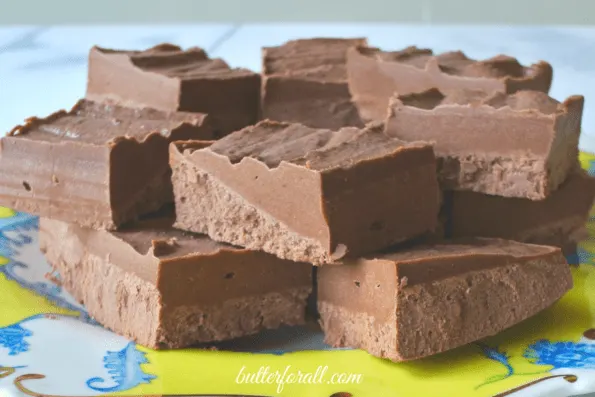 Chocolate Coconut Butter Fudge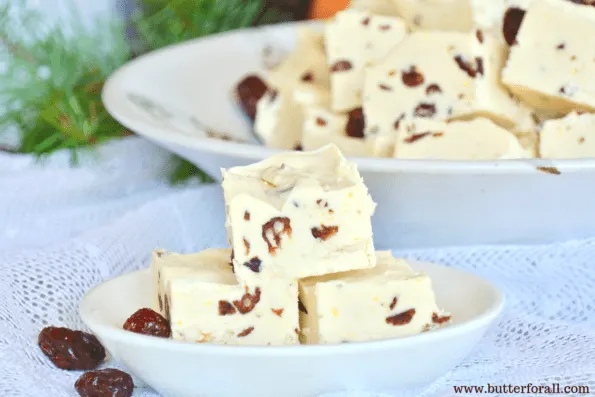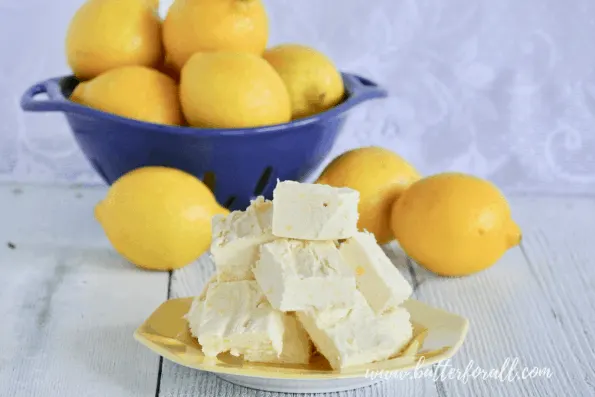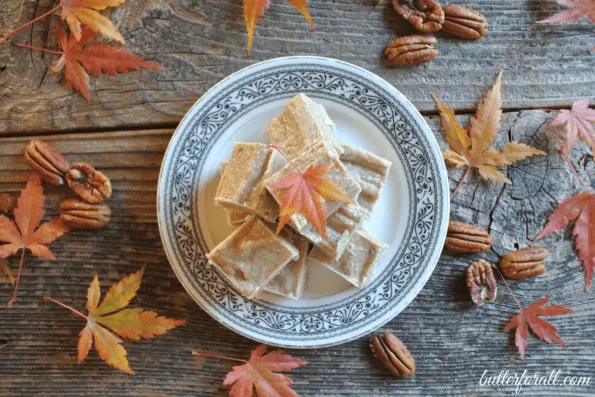 Maple Pecan Coconut Butter Fudge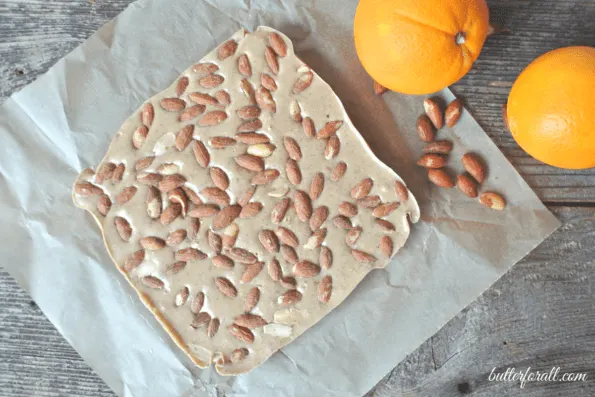 Spiced Orange and Almond Coconut Butter Fudge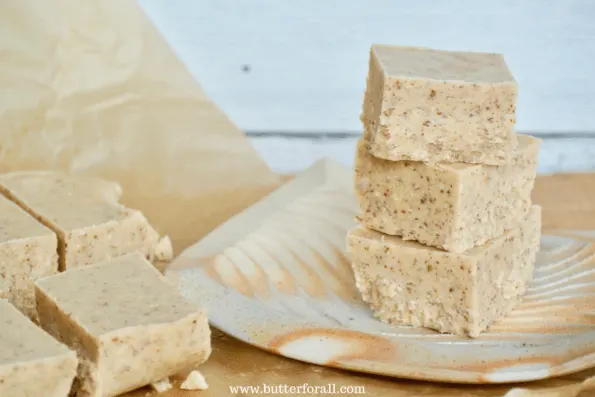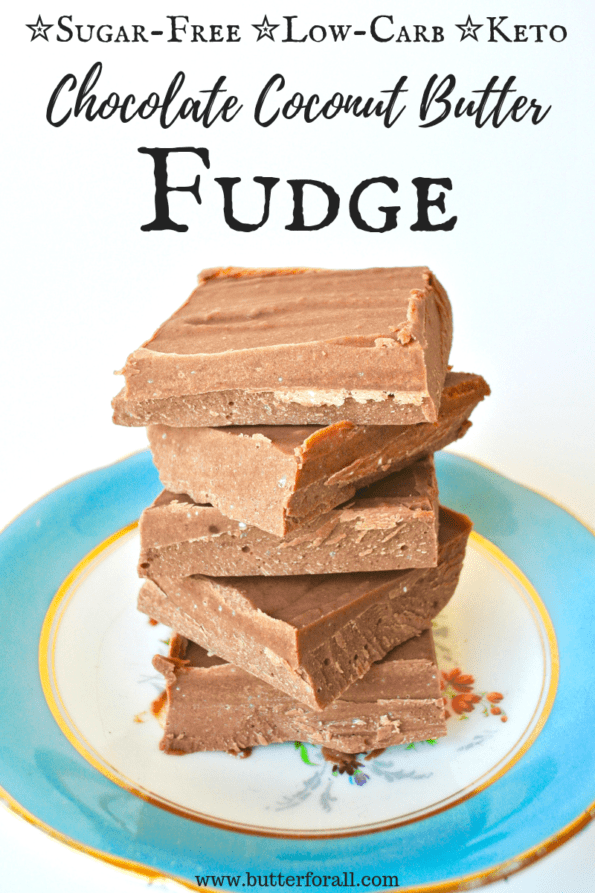 Sugar-Free Chocolate Coconut Butter Fudge
Get My Coconut Butter Fudge Base Recipe Now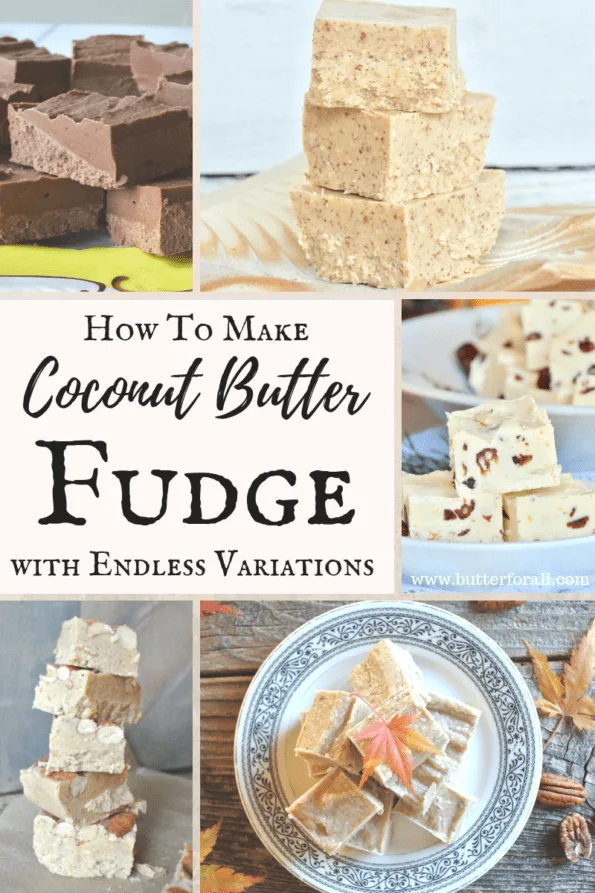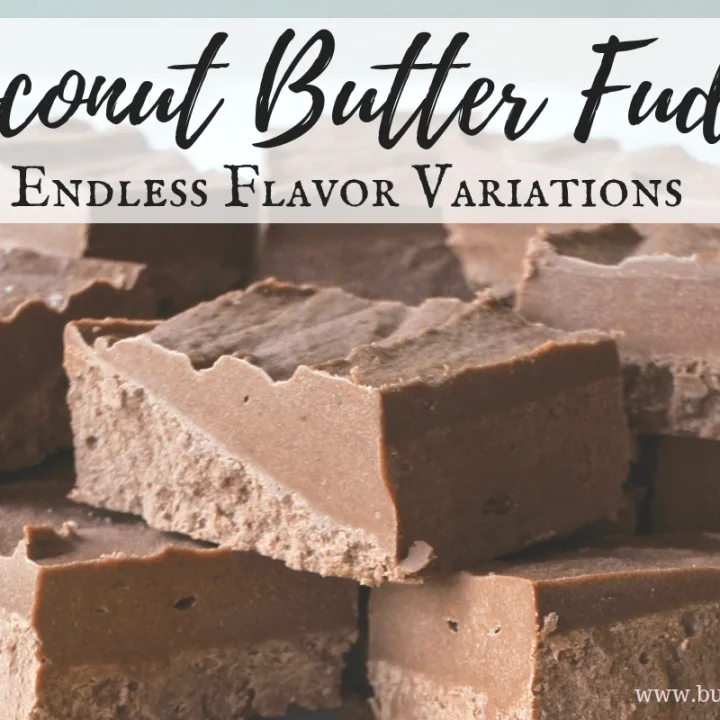 Coconut Butter Fudge Base
Yield: 24

Prep Time: 10 minutes

Chilling Time: 30 minutes

Total Time: 40 minutes

The perfect, sweet, coconut butter treat loaded with healthy fats, made with real-food ingredients, and always refined-sugar free!
Ingredients
Multi-Purpose Coconut Fudge Base
1/2 cup pastured butter or coconut oil
Additional MIX AND MATCH Ingredients To Be Added as Desired
1/4 cup carob powder
1 teaspoon liquid flavoring (maple, almond, orange, etc.)
1 to 3 teaspoons ground spices (cinnamon, cardamom, etc.)
1 tablespoon zest (zest from one citrus is usually enough)
Instructions
Have all the fudge base ingredients at room temperature.
If your coconut butter is still solid at room temp you can soften it in a warm water bath. Place the jar in a pan of hot water until it is easily stirred. You do not want the coconut butter hot or fully melted.
Add all the fudge base ingredients to a large bowl or your stand mixer. If you are using cacao powder or other powdered ingredient you can add it now.
Beat the fudge base with mixers for 1 minute. Scrape down the sides of the bowl with a rubber spatula and continue to beat the mixture until it is light and fluffy.
Add your desired flavorings and beat them in.
Place a sheet of parchment paper in an 8 by 8-inch casserole dish. Pour the fudge into the dish and smooth it down in an even layer.
Cover the fudge and refrigerate it for at least 30 minutes.
Once the fudge has hardened remove it from the pan and cut it into small squares.
Store the fudge in the refrigerator — it melts easily.