I may receive commission if you purchase through links in this post.
I've made a lot of coconut butter fudge over the last few years.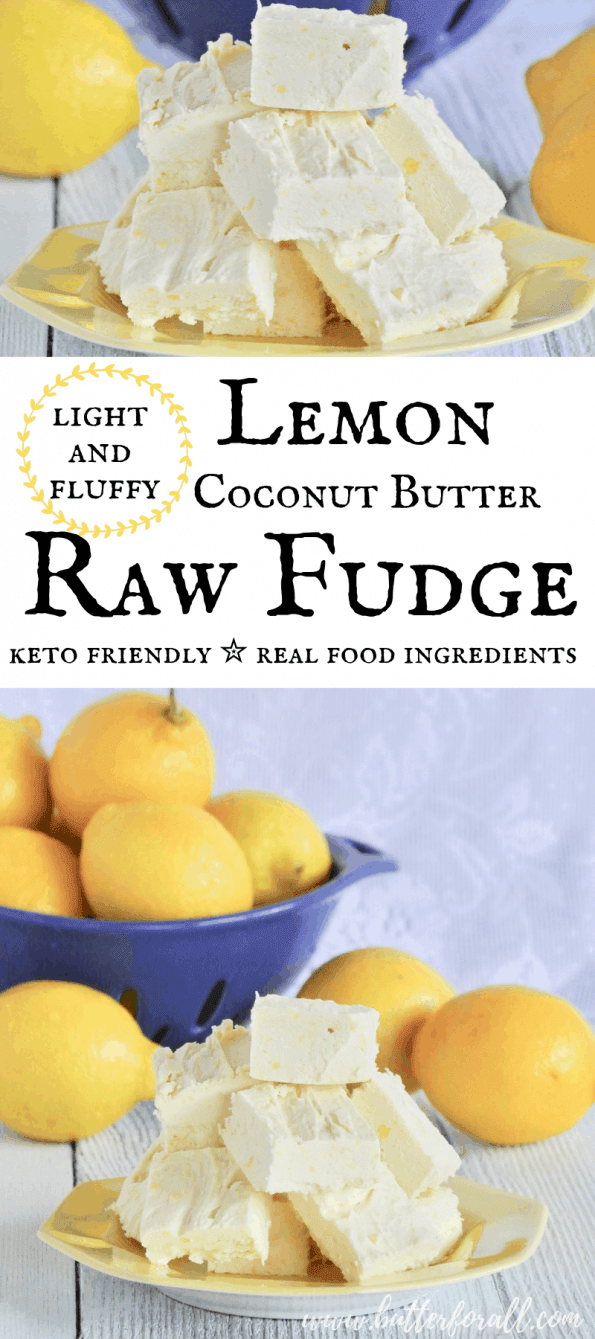 Once I figured out my master three-ingredient recipe I was hooked.
I've since written numerous coconut butter fudge recipes ranging from real raw chocolate to festive cranberry orange to smooth and decadent maple pecan. With that said, this lemon coconut butter fudge might be my favorite.
I'd been contemplating a really tart and tangy coconut butter fudge and lemon fits the bill perfectly. If you love lemon this is the fudge for you!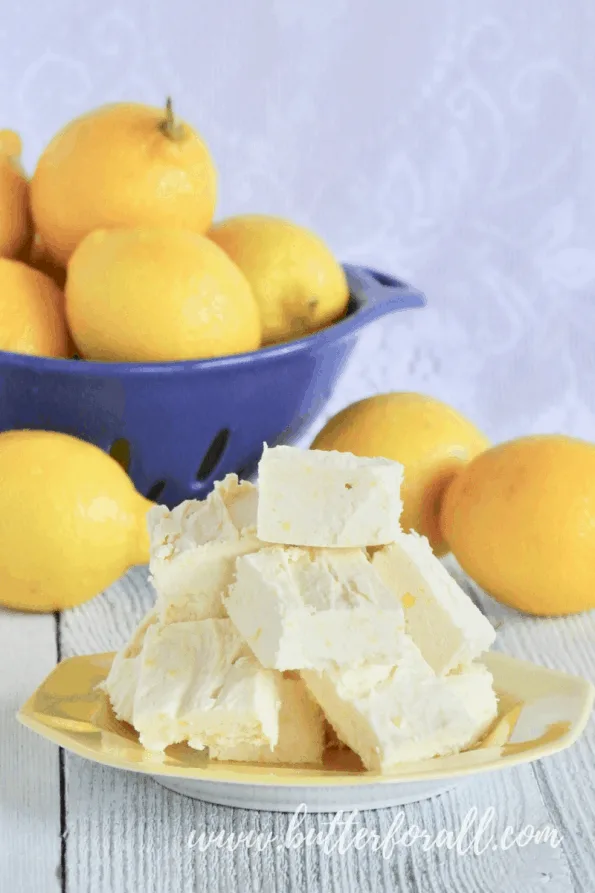 Real-Food Ingredients
This fluffy fudge is made with four raw real-food ingredients. Make it keto friendly by substituting your favorite sweetener for the raw honey. Liquid stevia works well, especially with citrus and berries.
Coconut Butter – the base for this fudge, raw coconut butter is rich and smooth, full of healthy fats, low in carbohydrates, and high in fiber. Coconut also contains lauric acid. Lauric acid is a 12-carbon, saturated, medium-chain fatty acid found only in mother's milk, in small amounts in milk fat and butter, and in high amounts in coconut oil and palm kernel oil. Lauric acid is anti-viral, anti-microbial, anti-fungal, anti-tumor, and hormone and immune system supporting, among other health benefits.
2. Pastured Raw Butter – real butter makes this fudge melty and decadent with all the benefits of pastured raw dairy, like fat-soluble vitamins A, D, and K2. Substitute pasteurized grass-fed butter if access to raw butter is limited.
3. Raw Honey – the enzymes in raw honey make this sweetener perfect for a healthy, easily digested, energy-boosting treat! If you want to make the keto-friendly version, use powdered or liquid sweetener in place of honey.

4. Fresh Lemon – this recipe uses lemon zest and lemon juice for a blast of real lemon flavor!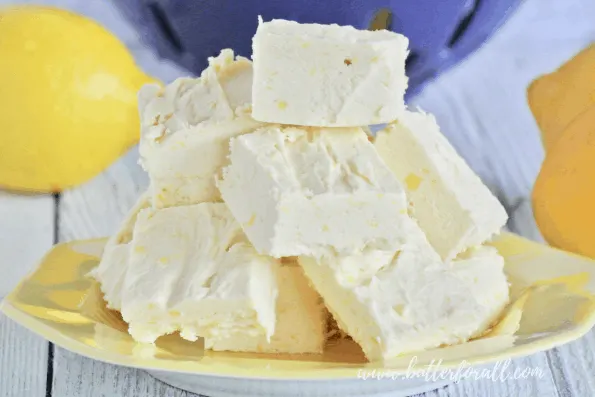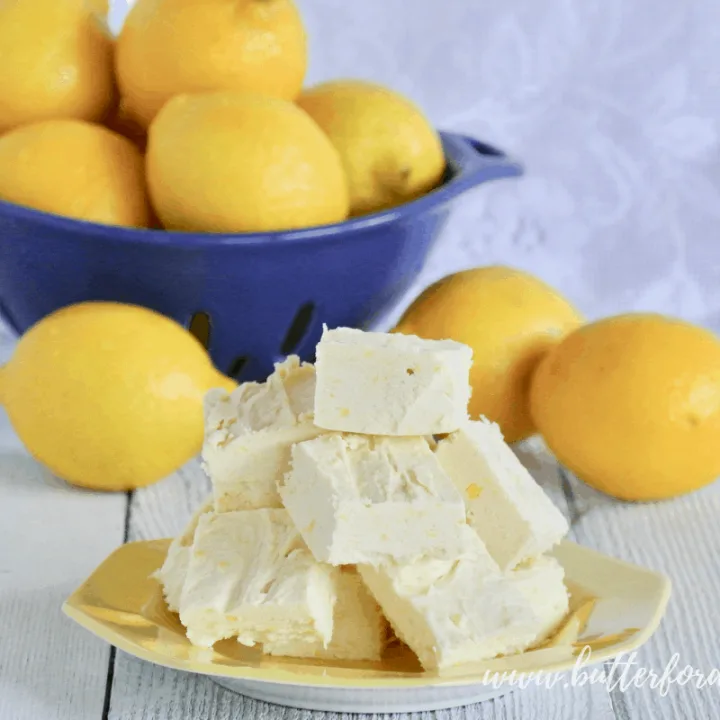 Lemon Coconut Butter Fudge
Yield: 16

Prep Time: 5 minutes

Chilling Time: 30 minutes

Total Time: 35 minutes

This light and fluffy lemon fudge makes a healthy sweet treat.
Ingredients
1/3 cup lemon juice and zest (about 2 lemons zested and juiced)
Instructions
Have all your ingredients at room temperature.
Warm the coconut butter in a hot water bath by filling a pan with hot water and submerging the jar. Let the coconut butter soften slowly for about 30 minutes until it is easily stirred.
Stir the coconut butter until it is smooth. Measure 1 cup into a large mixing bowl or KitchenAid mixer bowl.
Cut the softened butter into 6 to 8 pieces and add it to the coconut butter.
Add the honey or sweetener of choice.
Using handheld beaters or the whisk attachment on the KitchenAid beat the mixture for 1 minute.
Using a spatula scrape down the sides of the bowl. Add the lemon juice and zest and continue beating the mixture until it is light and fluffy (about 1 to 2 more minutes).
Line an 8 by 8-inch baking dish with parchment paper and scoop the fudge mixture into the pan. Spread it out to the sides and make an even layer.
Refrigerate the fudge for at least 30 minutes.
Remove the fudge from the pan by lifting the parchment paper out. Use a sharp knife to cut the fudge into small pieces.
Store the fudge in the refrigerator, it melts easily.
Notes
What to do if your fudge isn't getting light and airy.
If your fudge isn't whipping up nice and fluffy it definitely needs 10 or so minutes of chilling in the refrigerator. Cooling everyting down a bit will allow it to whip up into a soft and airy fudge.