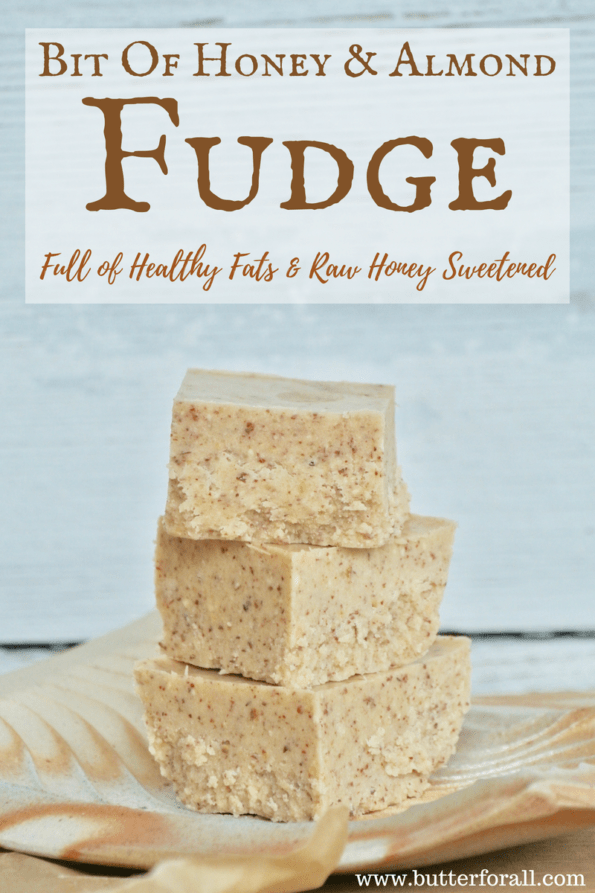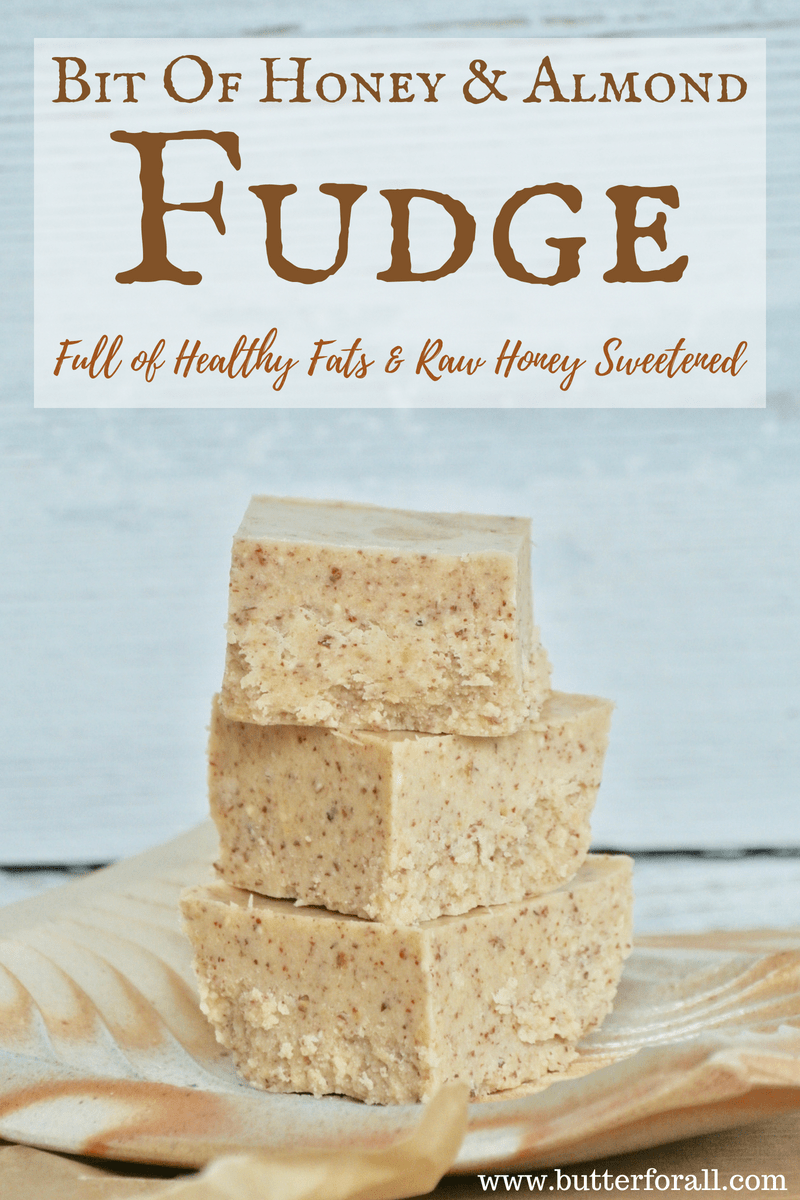 Rejoice in the awesome timelessness of honey and almond! Now whipped up together in a satisfying, healthy fudge!
Saturated fats have been demonized for too long. Adding an appropriate amount of healthy saturated fats back into your diet can and will improve your overall health. I'm giving you the perfect way to do it. This honey almond fudge is reminiscent of a timeless classic candy but without the refined oils and sweeteners.
What makes this fudge so special?
It's real-food without a fake ingredient in sight. It's only 5 simple ingredients. It takes mere minutes to make. And, it satisfies hunger and cravings without caving.
Coconut Butter
The tender meat of the coconut pureed into a silky smooth butter. Coconut butter is high in healthy fats and fairly low in carbohydrates making it a perfect choice to add body to any fudge. I recommend this brand.
Try my other coconut butter based fudge recipes:
Chocolate Coconut Butter Butter Fudge – Sweetened With Raw Honey
Sugar-Free Chocolate Coconut Butter Fudge – Low-Carb And Keto Friendly
Maple Pecan Fudge – Paleo And Keto Friendly With Coconut Butter
Spiced Orange And Almond Fudge – Paleo And Keto
Butter
Remember to use a high-quality raw or pastured butter for maximum health benefits. Butter is one of the best sources for vitamins A, K and D. Grass-Fed and pastured butters are also full Conjugated Linoleic Acid (or CLA for short). CLA helps us build muscle, stay a healthy weight and has anti-cancer properties.
Almond Butter
Regular roasted almond butter can be used in this recipe although it's not something that I would recommend you eat everyday. Nuts, while full of fats and protein, are not super easy for our bodies to digest. If you have experience soaking nuts and making the Nourishing Traditions style crispy nuts (for better digestion) then those could ideally be ground and used. If you have no idea what I'm talking about then I recommend you buy and read this book it will transform the way you eat and live!
Raw Honey
Nature's perfect sweetener! A little raw honey goes a long way and keeps you healthy besides. Raw honey can help with seasonal allergies, digestion, sleep disorders, immunity and more! It's best to buy raw honey from a small family farm or local producer who practices proper hive management. Support your local economy and ecology at the same time!!!
Salt
Make sure to use a unrefined salt that still contains the many beneficial minerals that our bodies crave. Sea salt from Iceland, Himalayan Salt or salt from ancient sea beds are my favorite choices.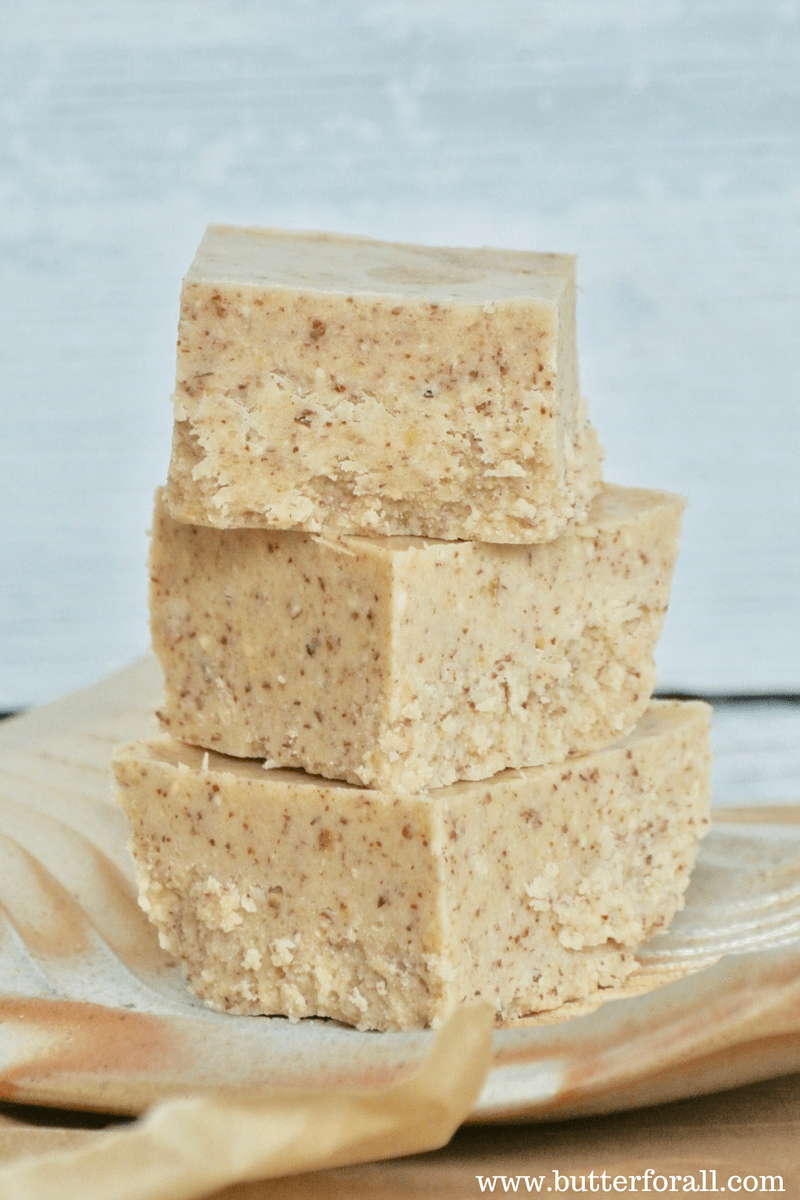 Honey + Almond = Fudge LOVE
A match made in heaven.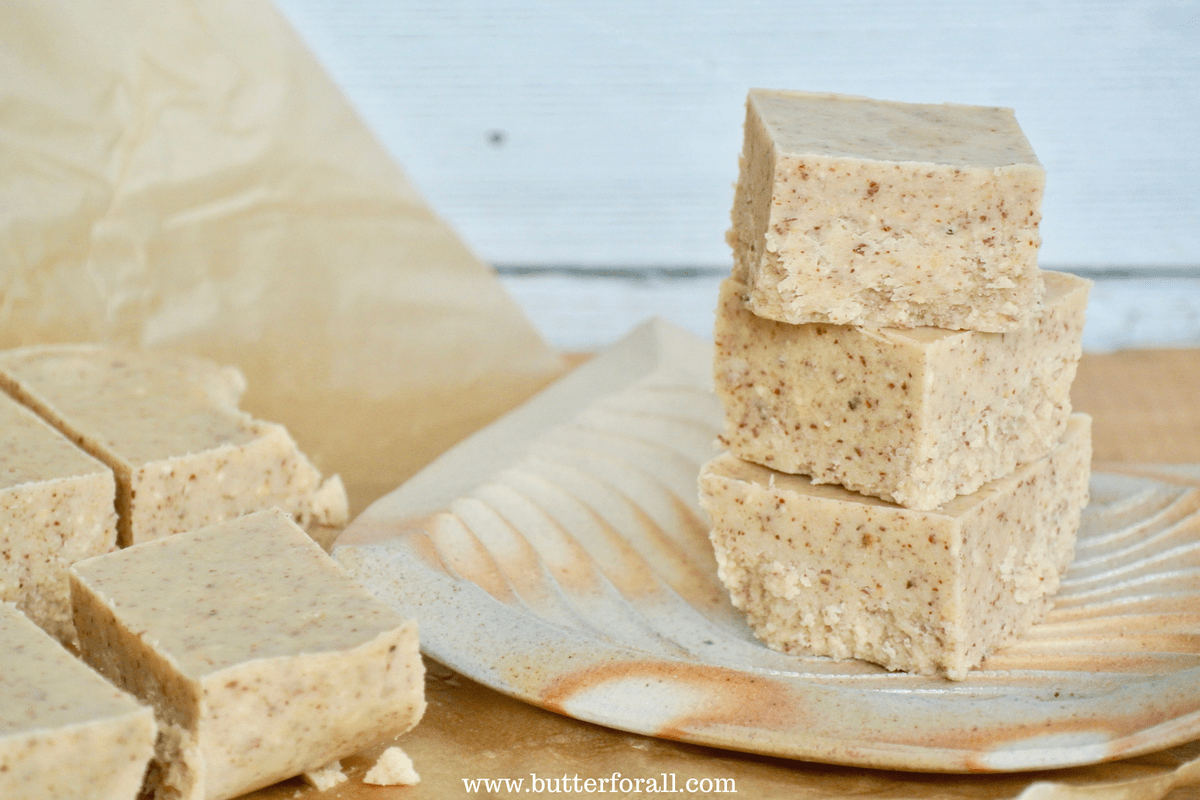 Bit Of Honey And Almond Fudge
The perfect combination of sweet and salty honey and nuts, for a classic timeless taste.
Course:
Dessert, Snack, Treat
Cuisine:
American, Traditional
Keyword:
Grain-Free, Honey, Natural, Real Food
Instructions
Have all the ingredients at room temperature. The Coconut Butter may need to be warmed in a hot water bath to become soft and smooth.

In a large mixing bowl add all the ingredients. I use my KitchenAid mixer for these next steps.

Whip the mixture well either by hand with a whisk, or with beaters.

Line a container with parchment paper and pour the whipped mixture into the container.

Chill the fudge for at least 30 minutes before cutting and serving.

Keep the fudge refrigerated as it softens quickly.