I may receive commission if you purchase through links in this post.
Variety is the spice of life.
Do I love pasta? Yes!
Can I eat pasta every day? No.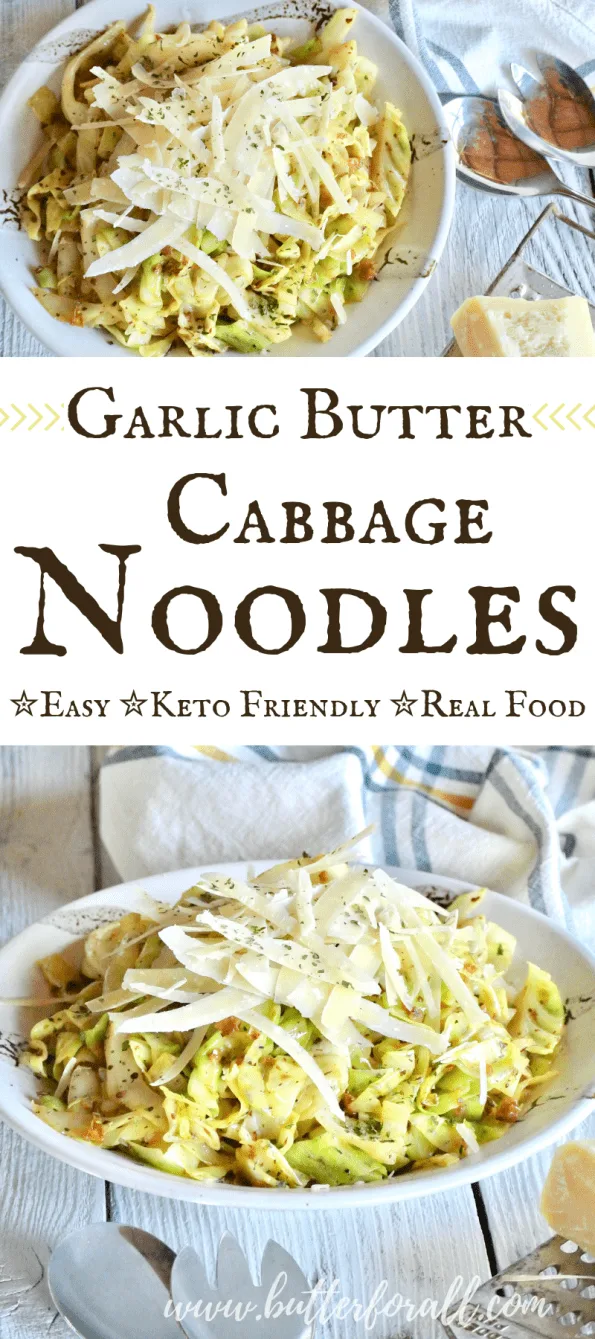 Unfortunately pasta is one of those carbs that really sticks to my hips. Even my properly prepared Sprouted Sourdough Pasta will weigh me down if I eat it all the time.
I developed this easy garlic butter cabbage noodles recipe for those times when I'm watching my carbohydrate intake. Loaded with garlic-buttery goodness, it does a really good job convincing me that I don't need starchy pasta to feel satisfied.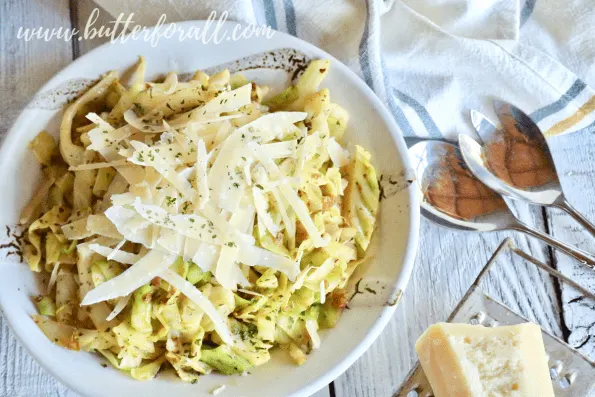 Healthy Fat Is Where It's At!
Butter and garlic are the stars of this carb-free noodle. The butter is packed with fat-soluble vitamins and it keeps me full and satiated. Don't forget an extra generous serving of fresh shaved Parmesan to top these noodles off!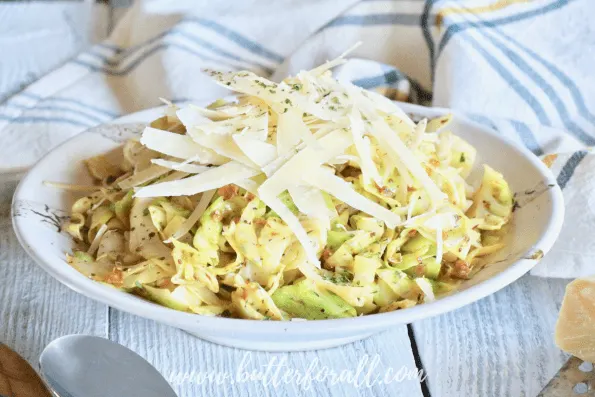 Easy Herbs and Spices
You wouldn't know it, but this recipe has only eight real-food ingredients. Four of them are herbs and spices! The flavors of garlic, basil, oregano, and chili flakes come together to create a sophisticated taste that will please the most discerning palate.
A Cut Above
The next photos demonstrate exactly how to cut a head of cabbage to achieve long noodle-like strands:
Cut the cabbage head in half. Remove the core by cutting out a pyramid-shaped wedge.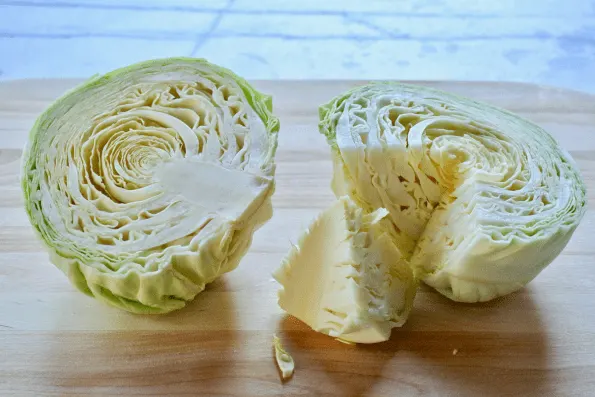 Cut straight down the middle of the halves, creating four equal chunks.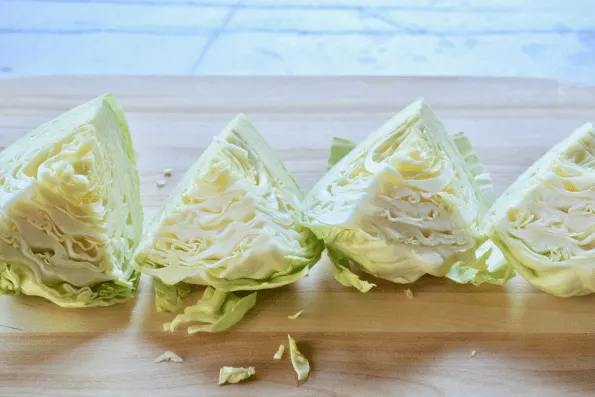 Flip the sections over and slice them vertically (the same direction as the spine of the leaf). Make each slice about 1/2 inch thick.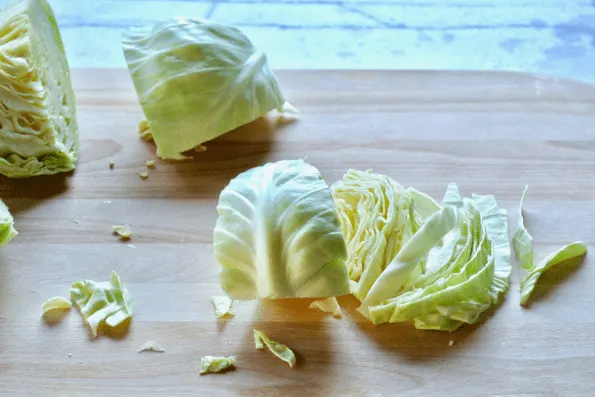 Separate the cut pieces into noodle-like strands ready for cooking.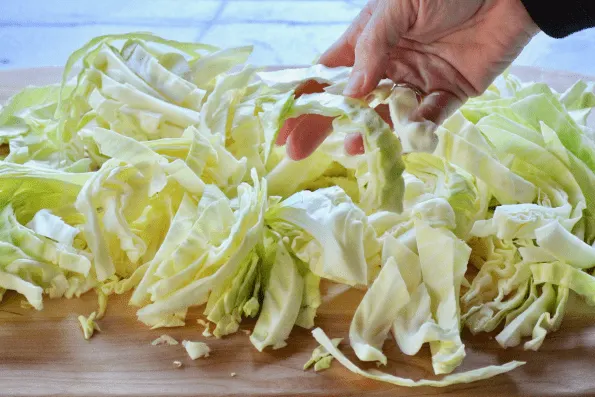 Complete the Dish
Here are a few ideas of interesting ingredients to add to these noodles!
Bacon – Sauté some bacon along with the garlic to add flavor, fat, and protein.
Sausage – Sauté some spicy homemade Italian sausage with the garlic.
Meatballs – Make some homemade meatballs to serve alongside.
Marinara – Prefer red sauce with your noodles? Make the easy, low-carb, homemade version in this recipe and add it in at the end of cooking.
Tell me how you complete the dish below in the comments!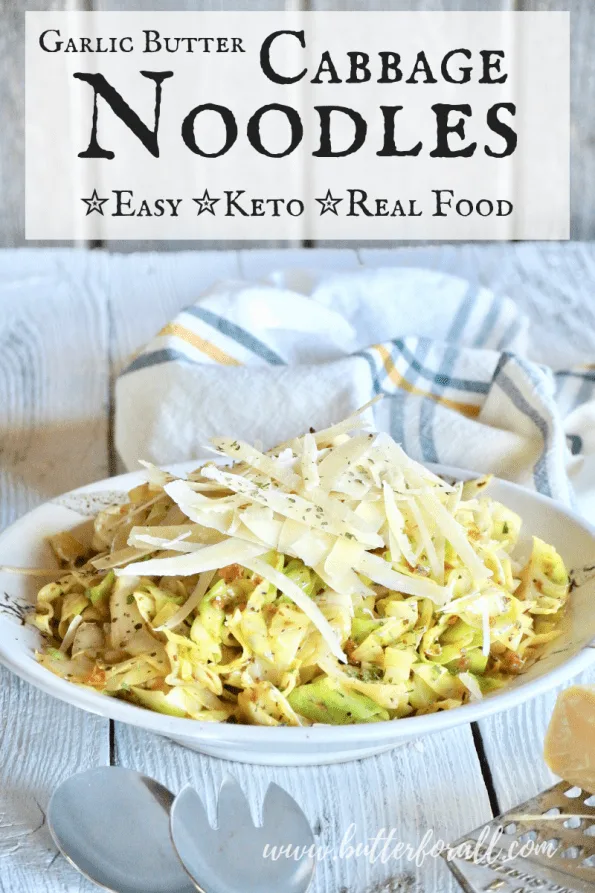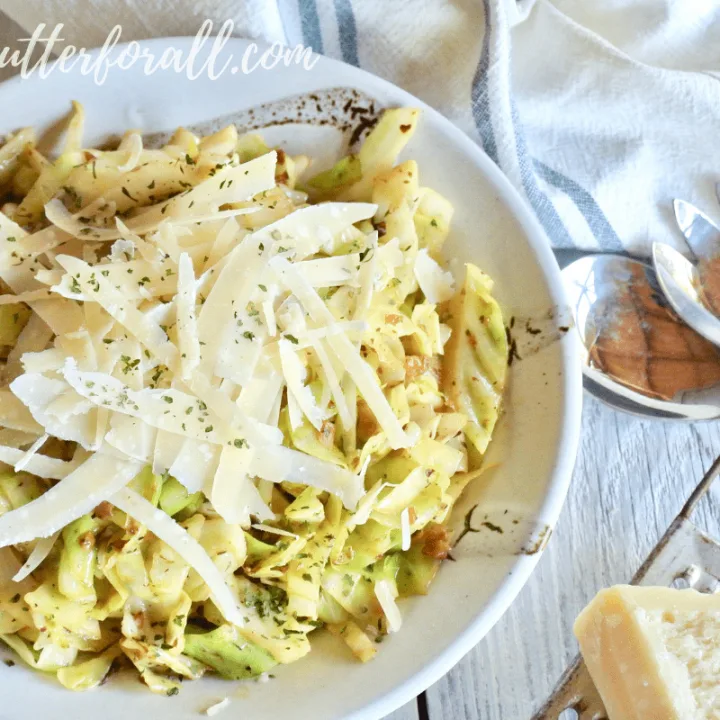 Garlic Butter Cabbage Noodles
These easy, keto-friendly "noodles" are made from the humble cabbage. Humble no more, this dish elevates cabbage and makes it a star.
Ingredients
1 head green cabbage
1 bulb fresh garlic
1 teaspoon dried oregano
1 teaspoon dried basil
1/4 teaspoon red pepper flakes
1/2 cup Parmesan, shaved
Instructions
Cut cabbage into long narrow strips about 1/2 inch thick. Set it aside.
Peel and mince the garlic.
In a large skillet melt the butter over medium-high heat.
Once the butter is melted and bubbly add the garlic. Sauté the garlic just until it starts to brown. Add the herbs, salt, and chili flakes to the garlic and stir them in well.
Add the cabbage and toss gently to coat. Cook the cabbage until it starts to wilt and becomes tender. You want it to be just cooked. If you cook it too long it will release too much juice. A good indicator that it is done is when it just starts to release some juices.
Move the noodles to a serving bowl or plates and top them with shaved Parmesan!
Other Low-Carb Favorites