I may receive commission if you purchase through links in this post.
Who doesn't love a good, spicy meatball?
After harvesting bunches and bunches of spring garlic this year I was excited to incorporate it into every meal I was planning. This recipe happens to be a delicious way to use the spicy, herbaceous, tender spring garlic stalks. It's also simple enough for a weeknight and sure to please the whole family.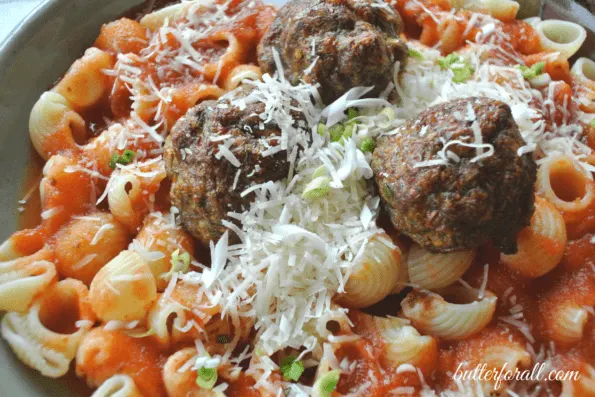 Spring happens to be the time of year when I start really craving tomatoes. Obviously there are no good tomatoes this time of year, so I start eyeing my stash of canned tomato sauce from last summer. And, spring also happens to be the time when one of my favorite delicacies, spring garlic, makes a showing. The two pair beautifully.
To learn more about growing your own spring garlic read this post: Spring Garlic – From Garden to Table
Preparing the Meatballs
Recipe yields 12 to 14 meatballs.
1 pound ground pasture-raised beef
2 eggs
1/2 cup bread crumbs
1 teaspoon salt
1/4 teaspoon pepper
4 tablespoons fresh minced spring garlic (about 4 stalks)
1 tablespoon fresh chopped oregano
Preheat your oven to 400°F.
Add all the ingredients to a mixing bowl and gently mix them with your hands until everything is evenly incorporated.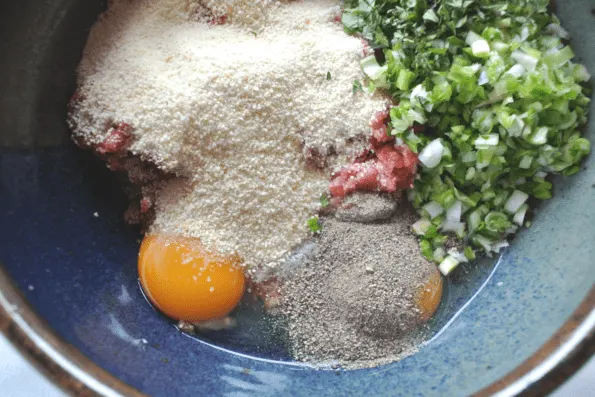 Line a baking sheet with parchment paper and roll out 12 to 14 evenly sized meatballs. Space them evenly on the baking sheet.
Bake the meatballs for 17 to 20 minutes until the tops are toasty brown.
While the meatballs are baking you can boil your favorite pasta and warm your favorite sauce.
Top your pasta dish with grated Parmesan cheese and more minced spring garlic!