I may receive commission if you purchase through links in this post.
In this timeless recipe, my sourdough crepes are filled with honey-sweetened yogurt cheese, rolled into perfect little packages, fried in real butter, and topped with warm berries to make the perfect blintz!
These sourdough blintzes are always a favorite. Blintz filling is soft and warm and the crispy butter-fried sourdough crepes taste like nutty browned butter. Nothing beats a topping of warm berry compote to complete one of history's finest dishes.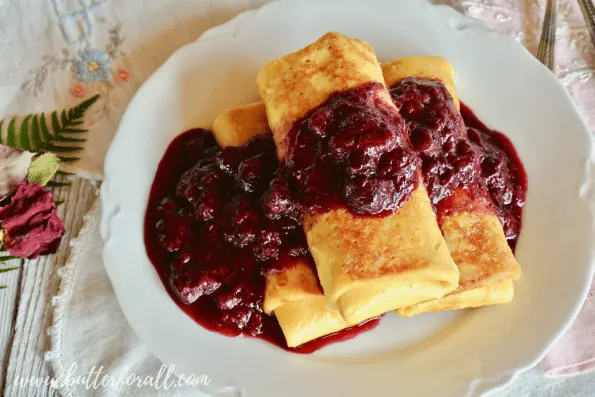 Blintz, Blini, or Stuffed Crepe?
Blintz, blini, and crepe are all closely related and traditionally hail from all across Europe. They are made by mixing a thin batter of grain flour, eggs, milk, and butter. In this case the thin pancake batter is made using sourdough discard. Once cooked, the thin pancakes can be rolled around various sweet or savory fillings and fried in butter or other traditional cooking fat to make a delicious little package of flavor with the common name, blintz.
In this version I use my homemade strained yogurt cheese (labneh). It is lightly sweetened with honey and makes a sweet, creamy, cheesy filling. If you don't have access to or time to make your own yogurt cheese you can substitute plain Greek yogurt (either strained into cheese or not), ricotta, mascarpone, goat cheese, farmer's curd, or even cottage cheese in the filling.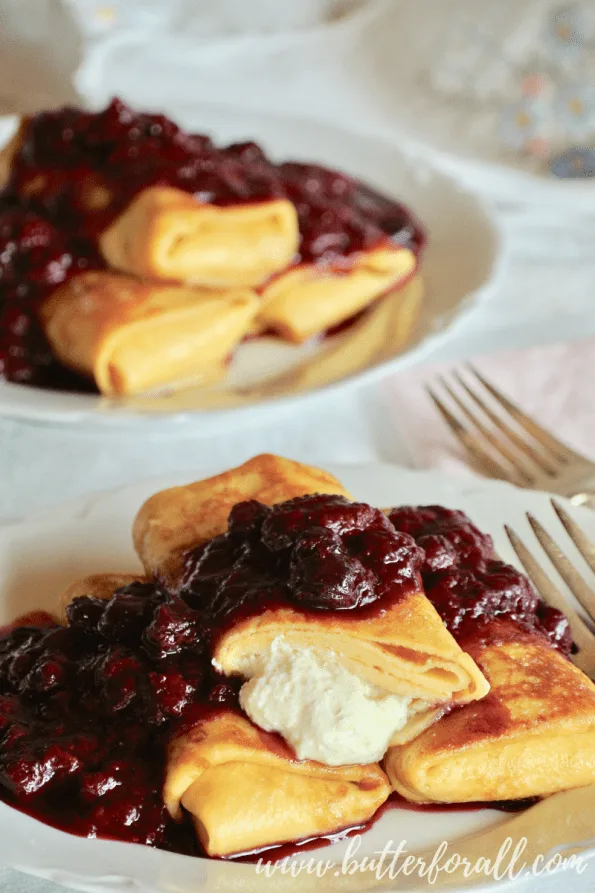 Learn How To Make Labneh, AKA Yogurt Cheese.
Taking plain yogurt and turning it into a soft spreadable cheese is as easy as pouring the yogurt into a cotton bag and letting it drain. You will also be blessed with the probiotic and acidic whey that comes off the yogurt as a byproduct of making labneh. Whey can then be used to soak oats or other grains, make mayonnaise, start a lacto-fermented project, or added to smoothies. Learn how to make yogurt cheese at home with my recipe, Raw Milk Labneh Cheese – Strained Yogurt Cheese.
Once you've mastered making labneh at home you can also make my delicious Probiotic Blackberry Fool – Infused With Lemon Verbena and Lavender.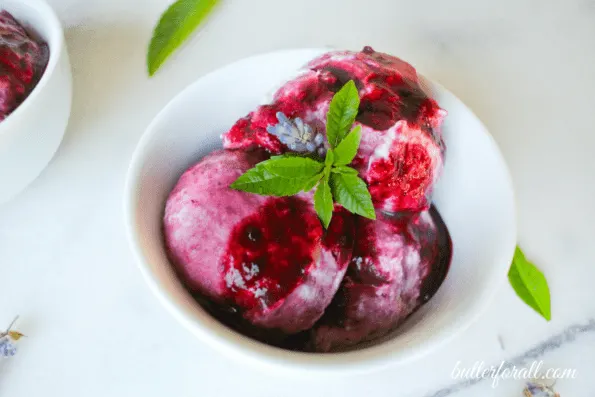 It Doesn't Need To Be Berry Season.
I love fresh berries, don't get me wrong, but I also love the fact that you can use frozen berries in this recipe and still have a lovely warm berry compote any time of year. I used a combination of frozen strawberries and blueberries in my version. Any other fresh or frozen berry would work just as well!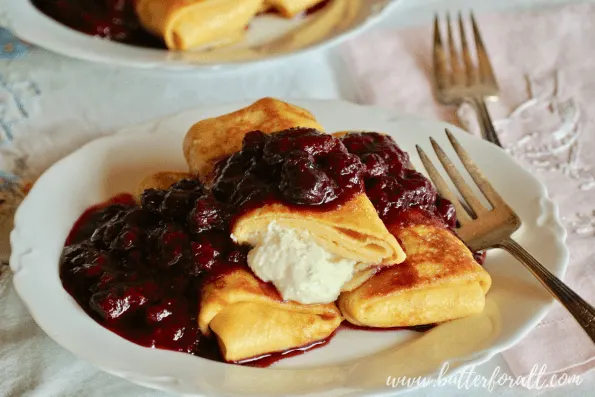 Roll It Up!
Rolling a crepe into a blintz is very easy. Here is a handy guide so you can roll the perfect blintz!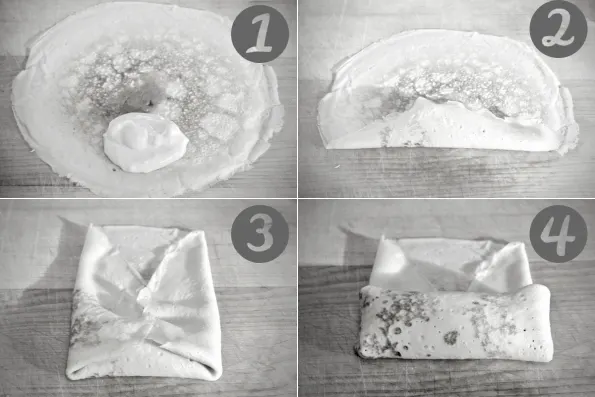 Lay the crepe on a flat surface and add 2 tablespoons of filling to the bottom center.
Fold the bottom edge up over the filling.
Fold the sides in with the flaps at a slight angle toward a point at the top.
Continue to roll the bottom toward the top until the seam is on the bottom of the package.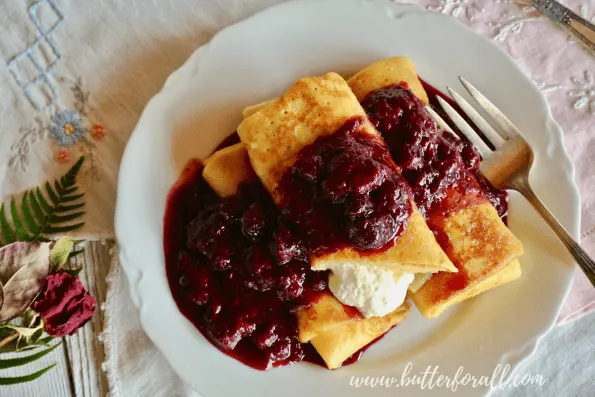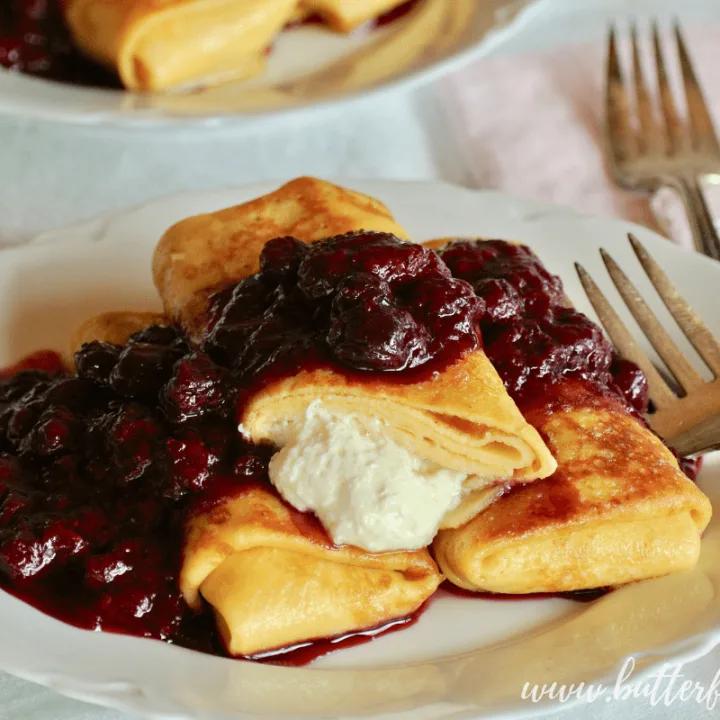 Sourdough Blintzes With Honey-Sweetened Yogurt Cheese and Warm Berry Compote
Yield: 8 servings

Prep Time: 20 minutes

Cook Time: 30 minutes

Total Time: 50 minutes

Delicate sourdough crepes encase a sweet creamy filling and are smothered in warm mixed berry compote. This make a perfect romantic brunch for two!
Ingredients
2 cups fresh or frozen berries (strawberries, blueberries, or other favorites)
3/4 cup apple juice
Instructions
The Night Before
Start the labneh cheese by straining yogurt as outlined in the recipe.
In The Morning
Prepare your sourdough crepe batter by following the recipe above.
Combine the berries and apple juice in a small sauce pan and bring to a boil. Reduce the heat to medium and cook the berries until a thick compote forms, about 30 minutes. Stir the berries often.
While the berries are cooking make the crepes. Set the crepes aside on a large plate.
Measure the labneh and honey into a small bowl and stir to combine. Taste this mixture and add more honey if desired.
Add 1 heaping tablespoon of filling to each crepe and roll them as pictured in the diagram above. Set the rolled crepes aside.
Once the berry compote is thickened remove it from the heat but keep it covered to stay warm.
Melt the butter over medium-high heat in a large cast-iron or stainless skillet. Once the butter is hot add the blintzes. Turn the heat down to medium and fry the blintzes on each side until golden brown.
Serve the blitzes hot with a generous helping of warm berry compote.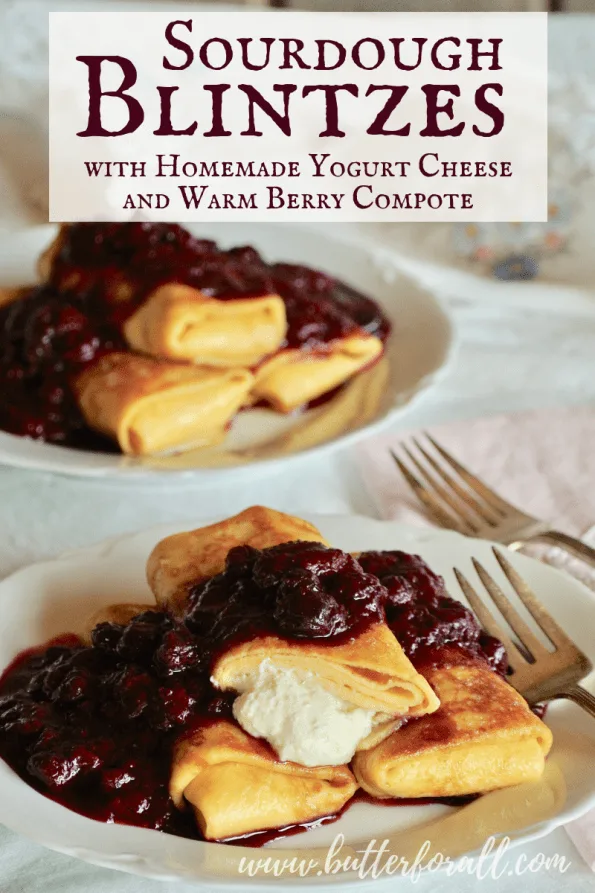 Want To Learn Everything About Sourdough?
Start with this free guide:
Demystifying Sourdough – Everything You've Ever Wanted To Know About Sourdough Starter – Why It's Better For You – And How To Start One