I may receive commission if you purchase through links in this post.
I've been dutifully testing this lemon blueberry frozen cheesecake fat bomb recipe for you to get it just right for summer entertaining and afternoon snacking.
If you love frozen cheesecake you are going to fall for this easy, single-serving treat! First you have a no-bake cookie-like crust that is perfectly sweet, full of healthy fats, and grain free. The spectacular crust is topped with a lightly sweet whipped lemon cheesecake filling. And finally a few naturally low-carb fresh or frozen blueberries.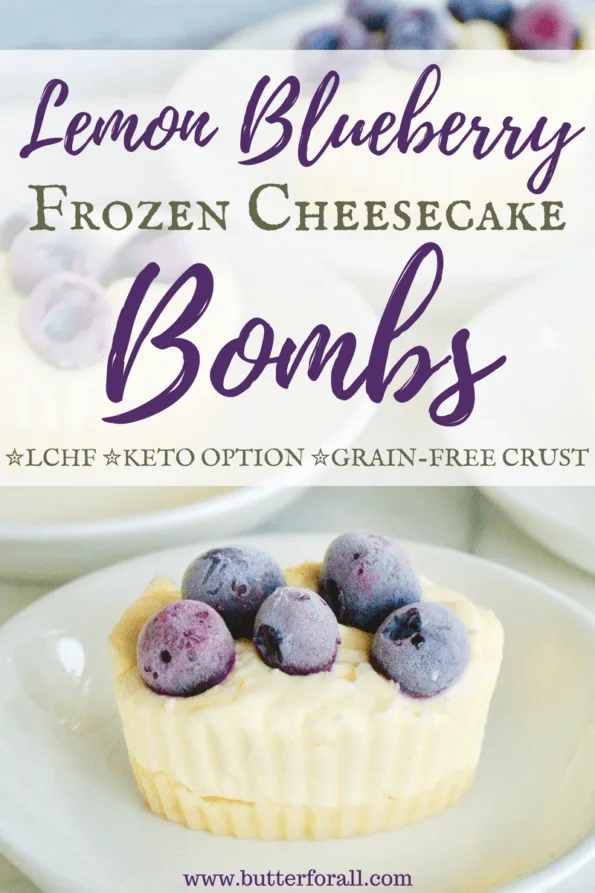 Use Your Sweetener of Choice.
I've been making these frozen cheesecake fat bombs with a variety of sweeteners. I find myself drawn toward raw honey for flavor and health benefits but if you are LCHF or keto you can use your favorite sweetener in place of the honey. When I choose to go for a low-carb sweetener I personally like all of the monk fruit/erythritol sweeteners the best. If using a granulated sweetener it is best to grind it into a powder for easy incorporation. Use a spice grinder to easily make powdered sugar out of any granular sweetener!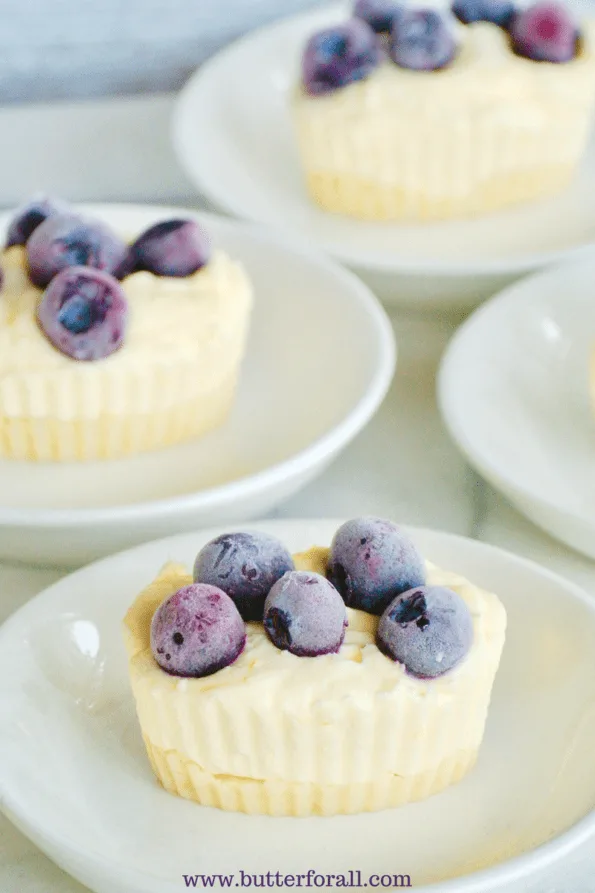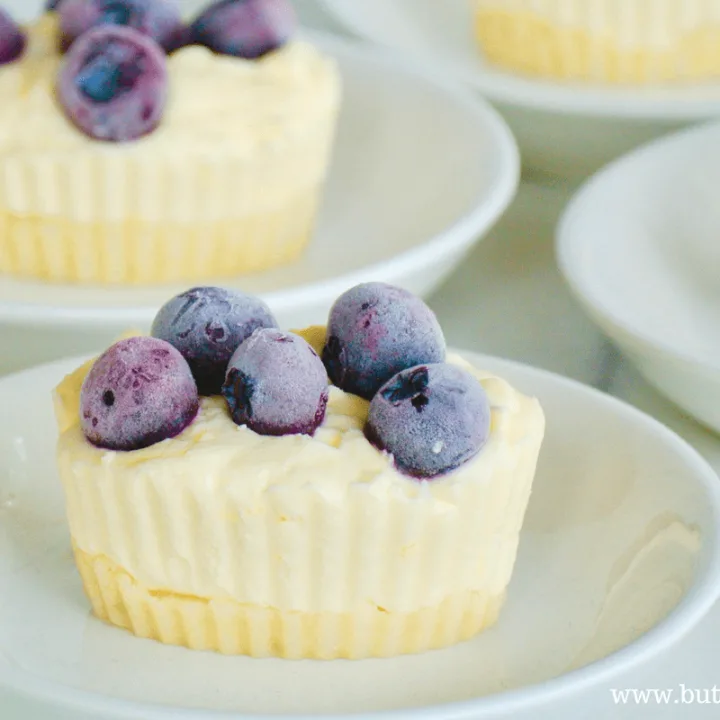 Lemon Blueberry Frozen Cheesecake Bombs
Freezing Time:
45 minutes
Total Time:
1 hour
5 minutes
A perfect frozen cheesecake bite filled with healthy fats and real flavor.
Ingredients
For the Grain-Free Crust
For the Cheesecake Filling
1 cup (8 ounces) cream cheese, softened to room temp
1/2 cup pastured butter, softened
1 tablespoon lemon zest (about one lemon's worth)
2 tablespoons lemon juice, freshly squeezed
1/2 cup blueberries, fresh or frozen
Instructions
Soften the coconut butter in a warm water bath if needed. Mix all the crust ingredients together in a small bowl until a soft dough forms. Set the crust aside.
In a mixing bowl combine the softened cream cheese, butter, lemon zest, lemon juice, and sweetener. Using a beater, a stand mixer, or some elbow grease beat these ingredients together into a fluffy filling. Scrape down the sides of the bowl to make sure everything is incorporated. Set the filling aside.
Set out 12 silicone cupcake size molds on a baking sheet and divide the crust between them. Use your fingers to press the crust into the bottom of each cupcake mold.
Divide the cheesecake filling into the 12 cupcake molds evenly and tap them lightly to get the filling to sink to the bottom and release any bubbles.
Top each mini cheesecake with 3 to 4 blueberries.
Cover the baking sheet with Saran Wrap or Beeswrap and place it in the freezer until the cheesecakes are frozen solid.
Once frozen you can remove the cheesecakes from the silicone cups and place them on a plate for service or in an airtight container in the freezer.
Let the cheesecakes soften for 5 minutes before serving!