I may receive commission if you purchase through links in this post.
That's right I said it, this butter-fried bread cheese is better than any mozzarella stick out there.
And I mean it. It's cheesy chewy bread CHEESE. It's not bread! It's a firm cheese that's been baked so it has even less moisture. It doesn't melt like regular cheese. Instead it holds its shape even while pan frying it to crispy golden brown in butter. You don't need to coat it with egg wash and breadcrumbs, so it's an easy grain-free treat. And you don't need to deep fry it in unhealthy high-heat fryer oil. Therefore it's a lot healthier for you than any mozzarella stick you could ever find in a restaurant. And, it is so easy to make at home!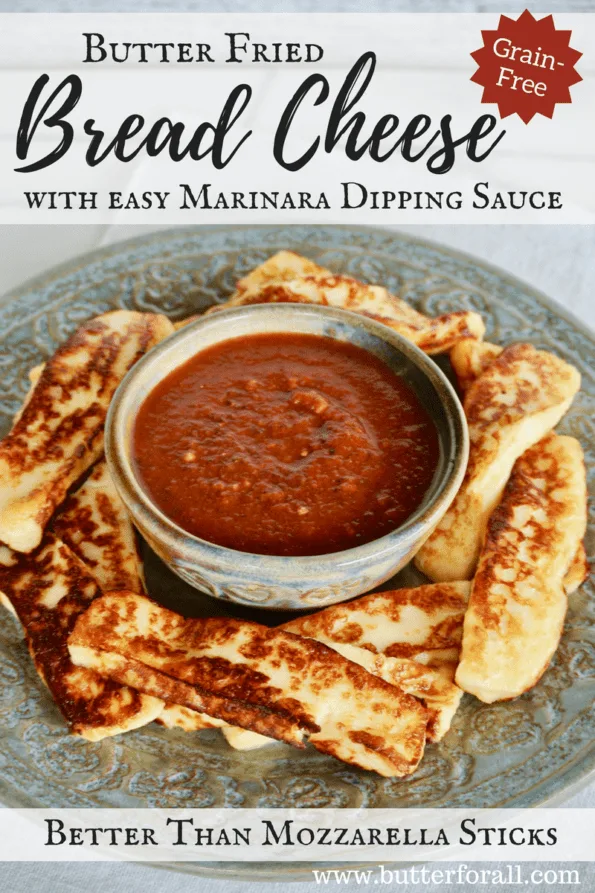 What Exactly Is Bread Cheese?
Bread cheese, or Juustoleipa, originated in Finland and other parts of northern Europe. Juustoleipa is a fresh-milk curd cheese that has been pressed into blocks and dried. Removing the moisture from the cheese allows it to have a very long shelf life, up to several years. Because of the low moisture and the low fat content of the cheese it doesn't melt easily but instead gets soft, chewy, and squeaks against your teeth when biting, hence the name "squeaky cheese." Originally, Juustoleipa was just dried and then re-toasted before serving, giving it a slightly browned crust resembling bread. Today, manufacturers actually toast the cheese during the manufacturing process so it's sold with the brown crust.
Juustoleipa is very similar to the Turkish cheese halloumi or the Indian cheese paneer. All three of these cheeses have a very high melting point and brown nicely in a pan or on the grill. This style of cheese is very easy to make at home and I can recommend a few books and kits to get you started! Both the books below have recipes for both halloumi and paneer.
Finding bread cheese is as easy as visiting Carr Valley Cheese Company, where you can order any of their five flavors of bread cheeses: classic cow's milk, garlic, chipotle, jalapeño, and even goat's milk, along with many other amazing dairy products (like a cow's, goat's, and sheep's cream butter called menage!) that come from America's cheese capital, Wisconsin! Supporting Carr Valley Cheese Company is in turn supporting the local dairy farmers right outside Carr Valley's door in beautiful Wisconsin. Some of these farmers have been supplying Carr Valley with milk for generations. Carr Valley proudly works with small, local farms who keep their cows on pasture and treat their animals with the highest standards. While not certified organic, much of the milk is either organic or non-GMO. Carr Valley offers free shipping when you spend $69 or more, so stock up while you are there!
Butter-Fried Bread Cheese
In this post I'm giving you the instructions to make these super golden-brown, crispy, cheesy, fried bread cheese sticks. Plus, a very easy sugar-free marinara dipping sauce that will blow you away.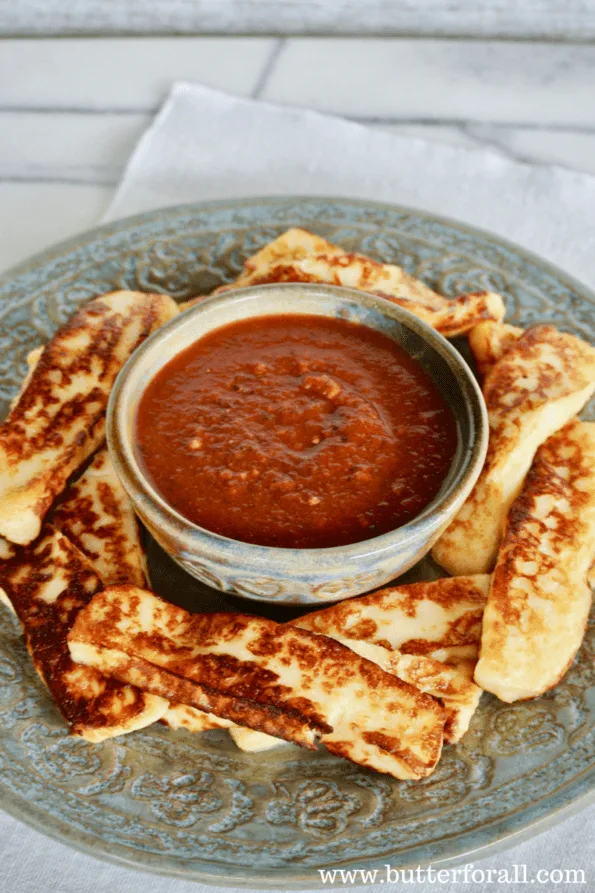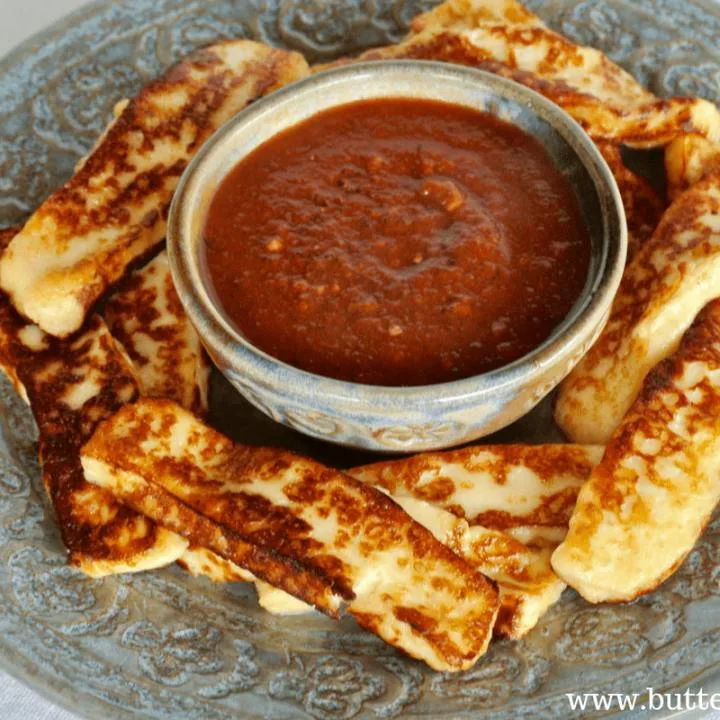 Grain-Free Butter-Fried Bread Cheese
The perfect party snack, appetizer, or after school treat!
Ingredients
For the Fried Bread Cheese
For the Easy Marinara Dipping Sauce
1 cup tomato sauce, unsweetened, no added ingredients
1 clove fresh garlic, chopped
1 tablespoon dried Italian seasoning
Instructions
Combine the marinara ingredients together in a small sauce pan and bring them to a simmer over med-low heat.
Cook the marinara for 10 minutes while stirring frequently.
While the marinara is cooking, remove the bread cheese from its packaging and cut it into 12 equal strips.
Heat a large skillet over medium-high heat and add the butter.
Fry the bread cheese strips in the butter until they are golden brown. Use a fork to gently and easily turn each strip over to fry all sides.
Remove the marinara from the stove and pour it into a heat proof dish for dipping.
Serve the butter-fried bread cheese with the hot marinara dipping sauce.