I may receive commission if you purchase through links in this post.
It had been over a year since I had pasta of any sort.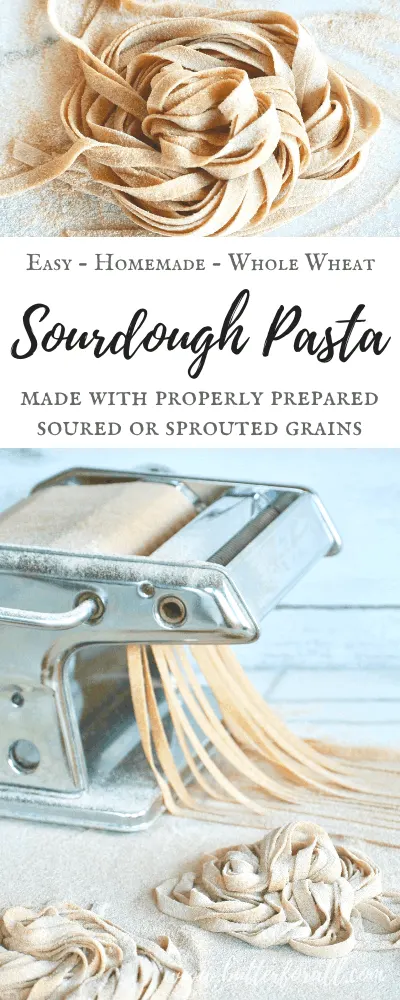 That just wouldn't do. Pasta is such a comfort food, it actually feels unsettling to not have pasta for that long a stretch. So I decided to create a pasta recipe that uses all properly prepared grains.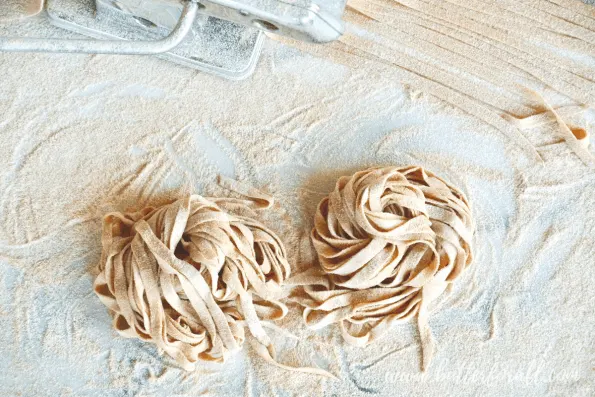 I'm passionate about the proper preparation of all foods, but especially inflammatory grains like wheat. When properly prepared, wheat is actually easy to digest and full of beneficial vitamins and minerals.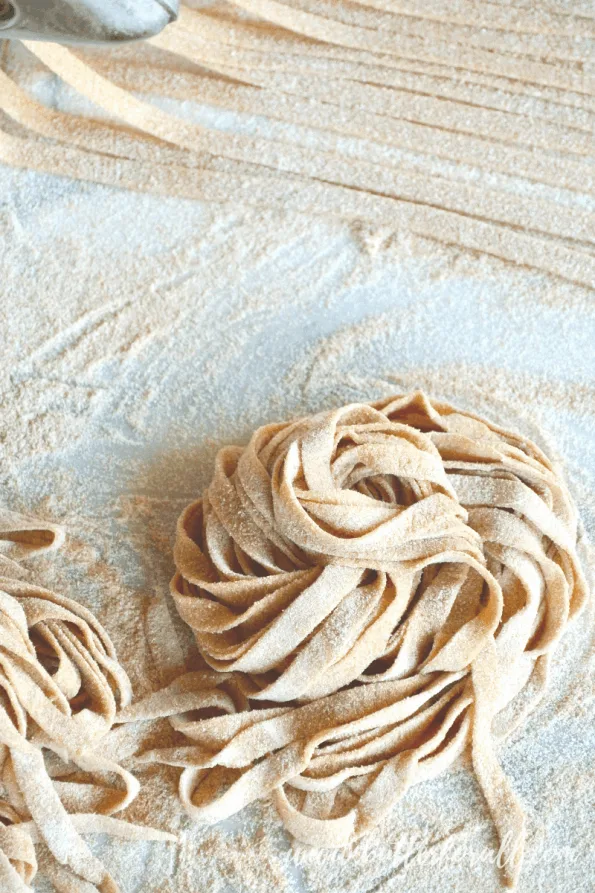 It is my pleasure to now present a recipe for whole wheat sourdough pasta that follows the guidelines for a nourishing diet.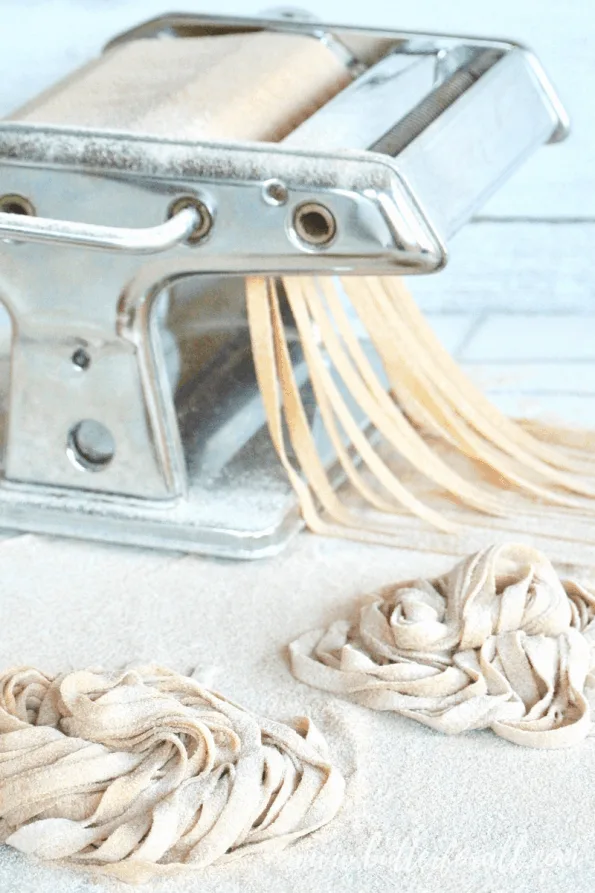 Whole Wheat Sourdough Pasta
The recipe is really very simple and only requires four real-food ingredients. It comes together quickly and can be prepared in the afternoon for dinner later that evening.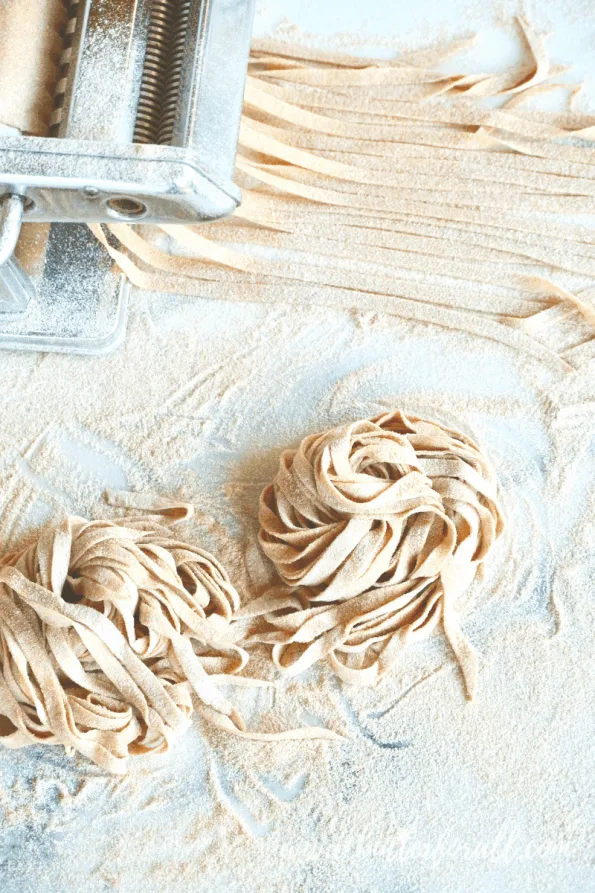 This dough can be made with sourdough starter discard and sprouted whole wheat if you want to eat it right away or it can be made with whole wheat flour and a long fermentation to neutralize phytic acid and unlock the nutrients in the wheat!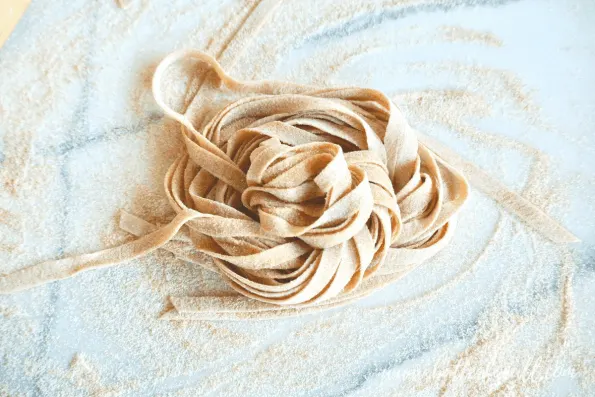 To read more about the health benefits of sourdough please refer to my guide: Demystifying Sourdough – Everything You've Ever Wanted To Know About Sourdough Starter – Why It's Better for You – And How To Start One.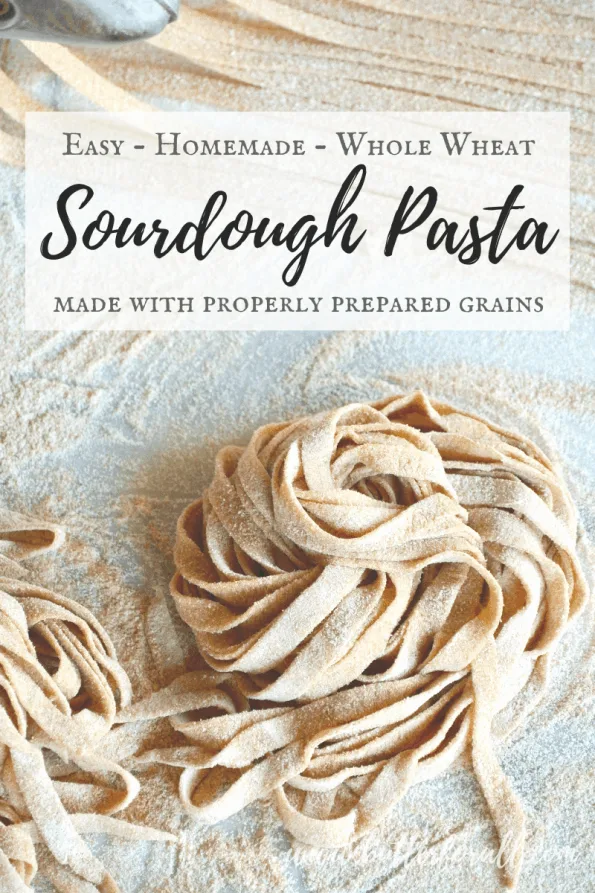 Sprouted Whole Wheat Flour vs Regular Whole Wheat Flour
Sprouted Flour: Like the souring that occurs with sourdough, the sprouting process changes the wheat grain from a hard-to-digest, inflammatory food source into one with boosted nutrition. Sprouting wheat increases vitamins B and C along with increasing carotene and neutralizing phytic acid that acts like an anti-nutrient. Let's just say it's a good thing!
Sprouted wheat can be used in this recipe if you would like to cook the pasta on the same day and don't have time for a long slow fermentation!
Find Sprouted Whole Wheat Flour Now: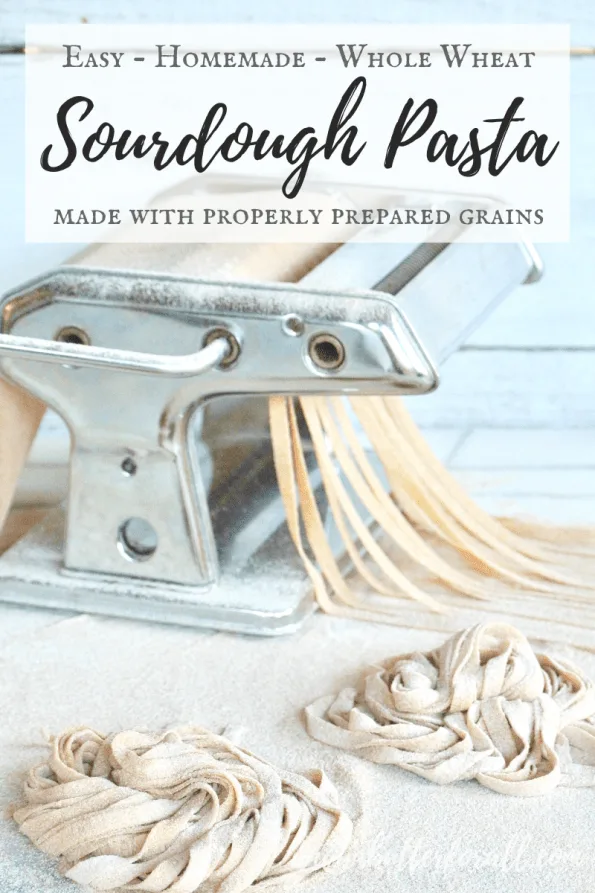 Whole Wheat or Heirloom Wheat Flour: Any wheat flour will work wonderfully in this recipe. Play around with different flours to find the one that you like the best. My personal favorite is a T200 Edison Wheat from Camas Country Mills. It is smooth and soft and has all the flavor of whole wheat!
When using fresh flour I recommend leaving the dough out at room temperature for at least 4 hours before further fermenting the dough overnight in the refrigerator. This will assure proper breakdown of all the hard-to-digest proteins and neutralize the vitamin- and mineral-robbing phytic acid.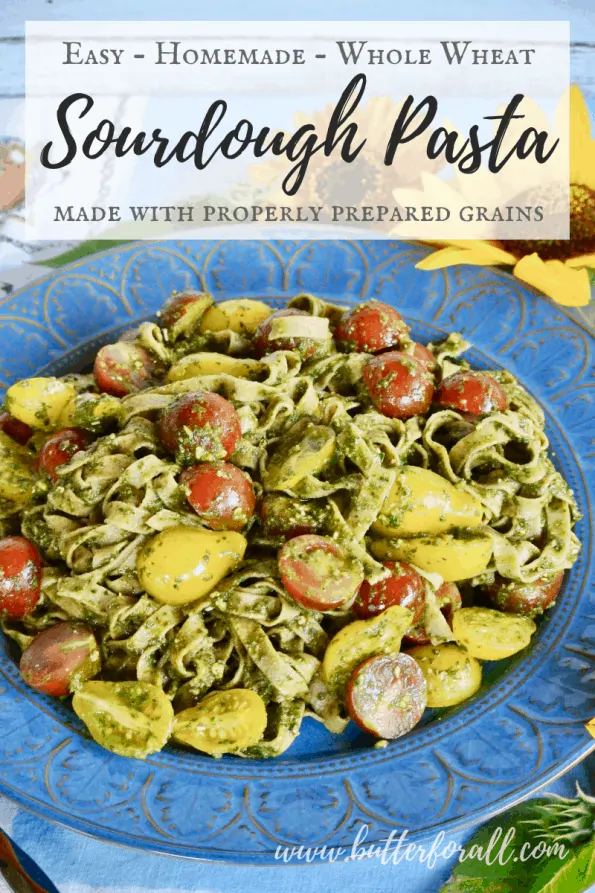 Watch Me Make It!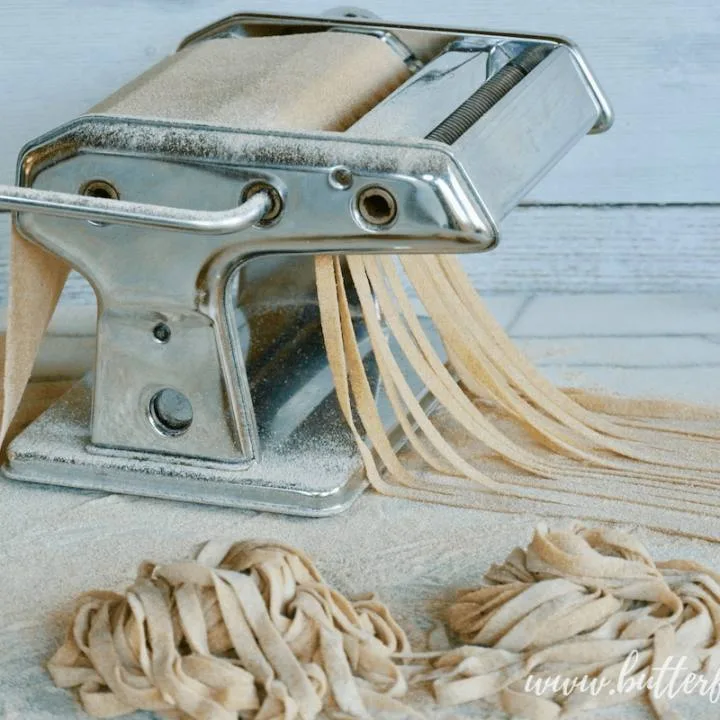 Homemade Whole Wheat Sourdough Pasta
Yield: 8 dinner servings

Prep Time: 40 minutes

Cook Time: 3 minutes

Resting Time: 1 hour

Total Time: 1 hour 43 minutes

This easy sourdough pasta is made with organic sprouted or soured whole wheat for a delicious and quick nourishing meal.
Ingredients
2 eggs
250 grams (1 cup) active sourdough starter at 100% hydration, stirred down
For Your Work Surface
Instructions
In a large mixing bowl beat the eggs and salt with a fork.
Add the sourdough starter and stir it in until well blended.
Add the flour slowly until a stiff dough is achieved, starting with the lower amount and increasing flour as needed. In the bowl, knead the mixture into a smooth dough.
Remove the dough from the bowl and gently knead it on a floured surface, resting it for several minutes in between each kneading. Once the dough is smooth and elastic put it back in the bowl for proofing.
If Using Sprouted Flour
Cover the bowl and refrigerate for 1 hour.
If Using Fresh Flour
Cover the bowl and let the dough proof at room temperature for 4 hours.
Move the dough to the refrigerator for a long slow ferment overnight.
Rolling and Shaping the Pasta
Clear a large work surface and flour it lightly. Remove the dough from the bowl and pat it into a square. Cut the dough into four equal sections.
Working with one section at a time, flour the dough and use a rolling pin to flatten the dough into a long rectangle. Once it is thin enough to fit in your pasta machine continue to roll the pasta that way. If you don't have a pasta machine you can use the rolling pin and roll it by hand.
If using a pasta machine, start the dough on the thickest setting. Put the dough through the roller on each thickness a minimum of two times until you reach your desired thickness. Flour the dough between each setting. Put the long sheets of pasta through the cutting side of the pasta machine or use a sharp knife to cut long noodle-like strips of dough.
Once the dough is cut, flour it lightly and gather the noodles loosely to keep them from tangling.
Set the noodles on a sheet pan to keep them off the work surface.
Bring a large pot (at least 3 quarts) of water to a gentle boil. Working in batches, boil the pasta for 3 minutes. Use a pasta spoon or spider strainer to remove the cooked pasta from the water before adding the next batch. Be careful not to add too much pasta to the pot. Fresh pasta will stick together if it is crowded. For 3 quarts of water you can safely cook one-quarter of this recipe at a time.
Serve your fresh pasta with your favorite sauce and enjoy every bite!
Storing the Pasta
For long-term storage this pasta can be air-dried on a pasta drying rack and stored in an airtight container. It can also be frozen, generously coated with flour, in a shallow covered container for up to 3 months.
For short-term storage this pasta can be generously coated with flour and refrigerated in a shallow covered container for up to 1 week.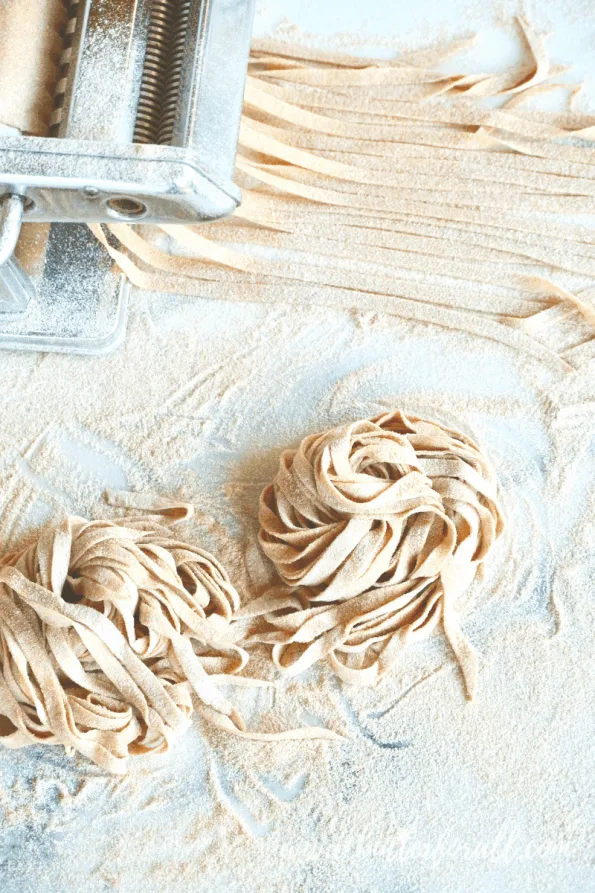 Want To Learn Everything About Sourdough?
Start with this free guide: