I may receive commission if you purchase through links in this post.
When I'm brainstorming ways of cooking duck meat I always associate fruit.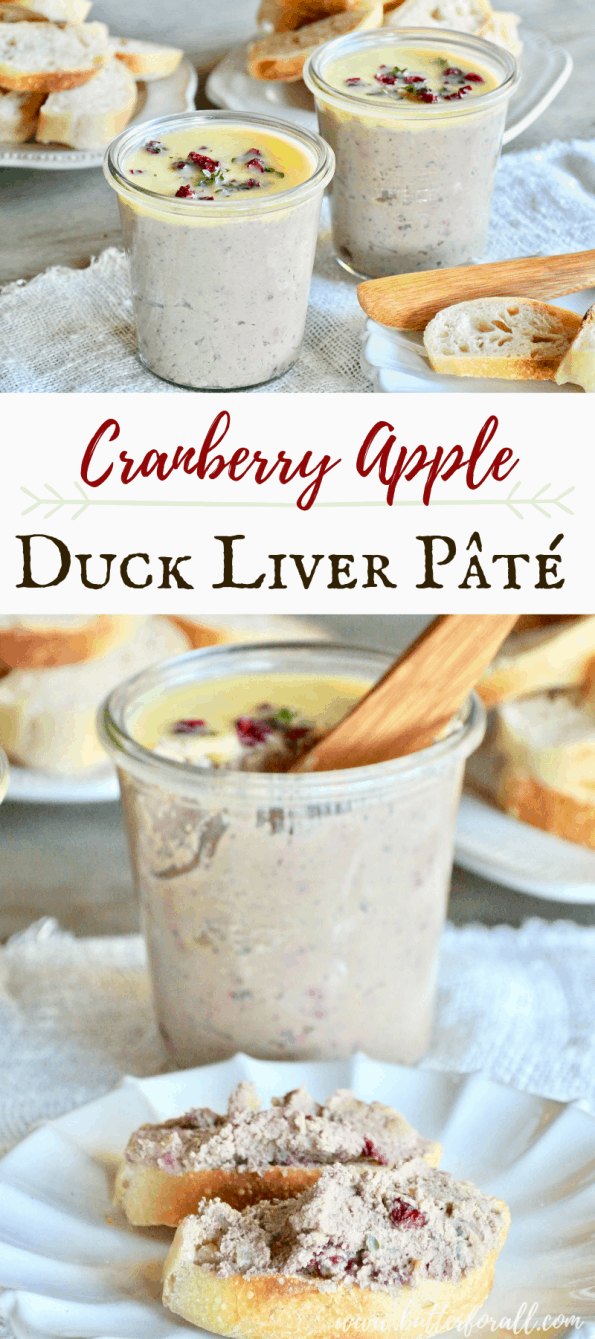 Duck has a strong, rich, earthy flavor that is smoothed and refined by adding a natural sweetener like apples, dried fruit, or dark complex berries.
Duck liver is essentially the same and needs a careful balance of sweetness to bring out that complexity of flavor. This apple cranberry duck liver pâté achieves that balance in the most sophisticated way!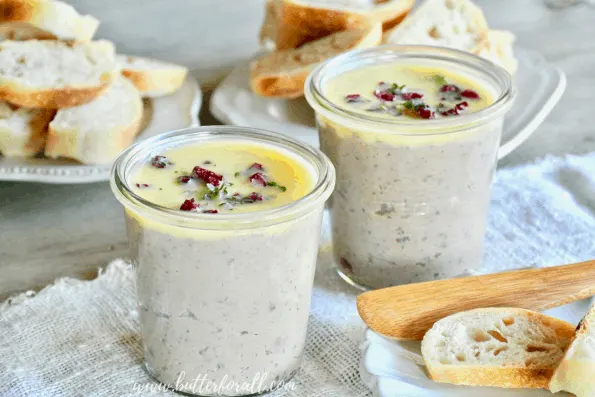 Variety Meats, Offal, and Organ Meats
Adding some of the often overlooked variety meats, offal, and organ meats into your diet is a great way to get an abundance of nutrients. Almost all traditional cultures prized the variety meats of animals as superfoods. Some examples of variety meats are the liver, gizzard, heart, kidneys, sweetbreads, stomach, and brains of animals.
Liver happens to be one of the most nutrient-dense foods available and contains abundant fat-soluble vitamins A, C, D, E, and K, essential fatty and long-chain acids, iron, choline, copper, zinc, folate, and antioxidants!
Remember that truly healthy food must come from healthy animals and that means you need to look not only for organic but for pasture-raised animals that have access to clean grass, fresh air, and sunshine!
For more information about the health benefits of liver and a delicious chicken liver pâté recipe please see Pastured Chicken Liver Pâté – With Shallots, Thyme, and Cognac.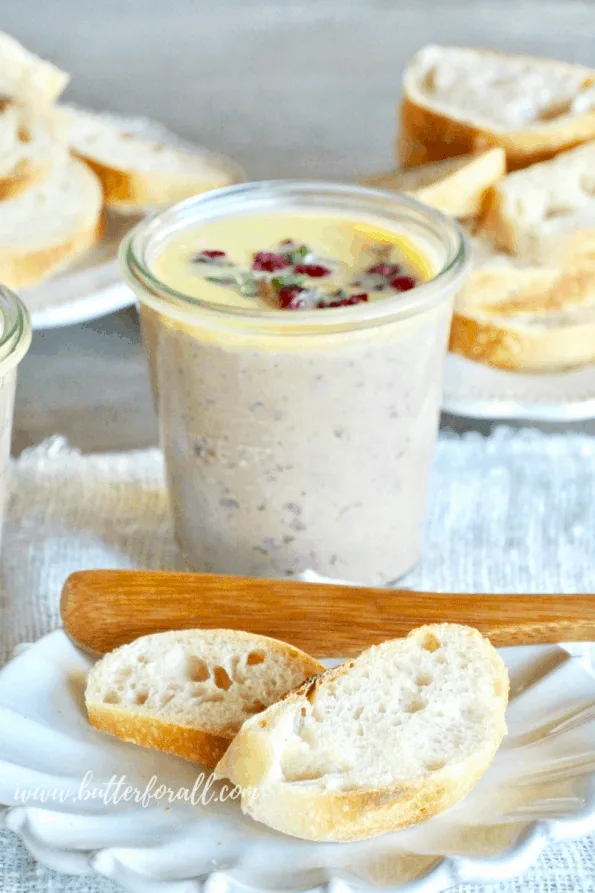 Preserving Pâté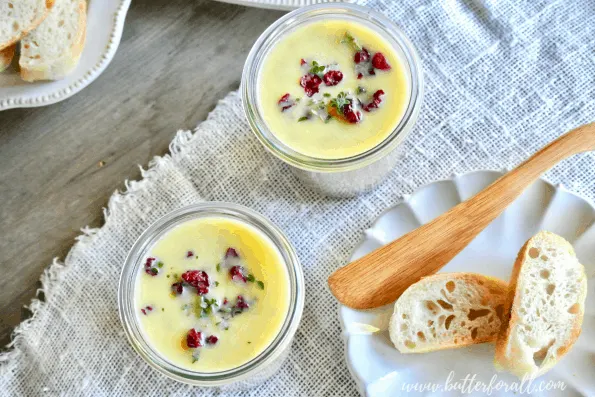 The best way to keep a jar of pâté fresh is to top it with a layer of melted clarified butter. The clarified butter seals the pâté, keeping it from oxidizing or absorbing off-flavors.
A sealed jar of pâté can be kept in the refrigerator for at least 7 days and in the freezer for up to 3 months. Once the seal is broken, it is best to eat the pâté within 5 to 7 days.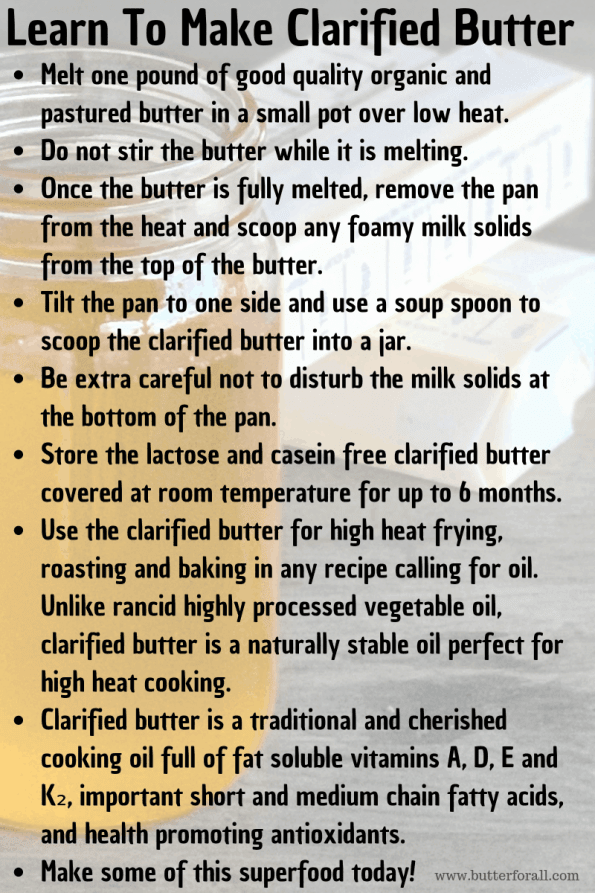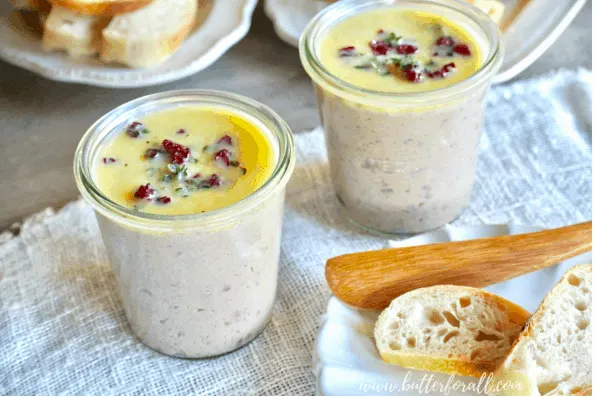 What To Serve With This Beautiful Pâté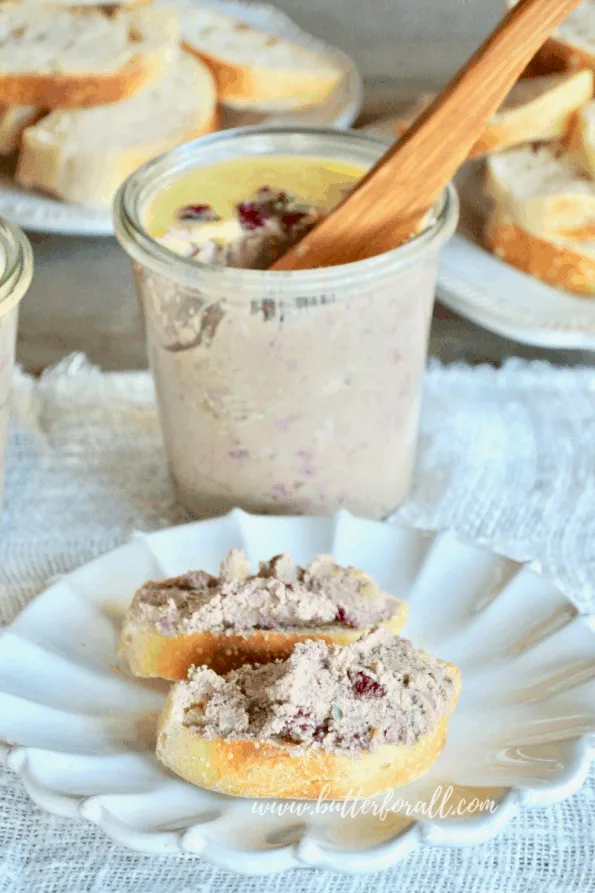 These are a few really great combinations that I personally love!
#1. Sourdough Bread
I'm working on a baguette recipe as pictured with the pâté in these photos, but in the meantime you should try my Perfect Sourdough Boule! Cut slices of boule and butter them. Cut each slice into small squares and then grill them on a hot cast-iron pan over medium heat until crisp. This makes perfect little toast points that can be served with pâté or soft cheese.
#2. Sourdough Crackers
I have several cracker recipes on Butter For All, but my Rustic Sourdough Butter Crackers are by far and away my favorite. This cracker recipe makes a big batch so you will have plenty for pâté and snacking! If you don't feel like rolling out any dough, try my new Sourdough Discard Crackers With Rosemary and Olive Oil.
#3. Crispy Pecans
My low-carb and grain-free peeps are going to love this idea. Sally Fallon Morell, who co-wrote the groundbreaking nutrition cookbook Nourishing Traditions, shares a technique for making raw nuts (like pecans) even more nutritious and digestible. Raw nuts are soaked overnight with a little bit of salt to help neutralize enzyme inhibitors and then slowly dried until crispy! Spread these buttery and crispy pecans with pâté and prepare to fall deeply in love!
#4. Grain-Free Almond Crackers
Not everyone can enjoy grains, even when they are properly prepared. If you are one who has parted ways with grains then you will appreciate my recipes for low-carb almond flour crackers with nutritional yeast or with sesame seeds. These crackers make a great accompaniment to cheese plates, guacamole, yogurt dip, and pâté. Not to mention they are keto friendly!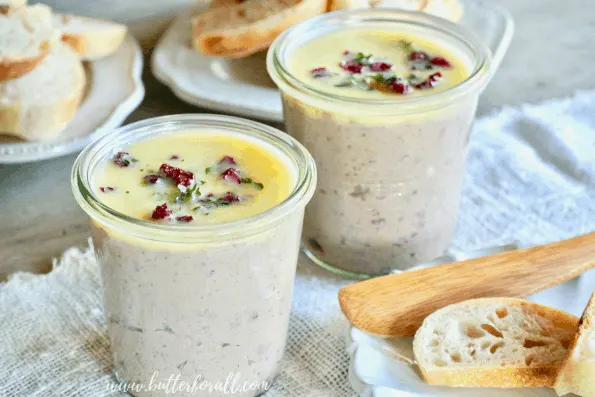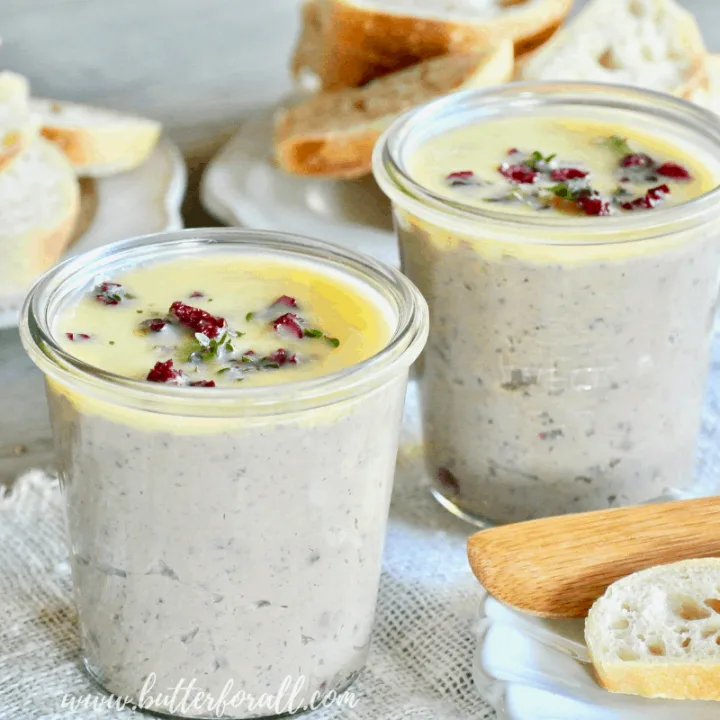 Cranberry Apple Duck Liver Pâté
Total Time:
2 hours
30 minutes
This rich duck liver pâté is perfectly balanced with sweet apples and tart cranberries.
Ingredients
3 cups diced fresh apple, peeled (about 2 apples)
1 cup minced shallot (1 medium)
1 1/2 cup (12 to 14 ounces) cleaned duck liver
1/4 cup cognac
Instructions
Remove all the butter from the refrigerator. Melt 4 tablespoons of butter in a large frying pan over medium heat.
Add the diced apples and shallots and sauté them until tender, stirring occasionally. A little light color is okay but don't let them burn!
Add the cleaned duck liver and spices. Cook the livers just until they start to firm up.
Add the cognac and cranberries. Deglaze (scrape) the bottom of the pan and remove it from the heat. Let the liver mixture cool to room temperature.
Add the cooled liver mixture to your food processor. Set aside about 1/2 cup of cooked apple, shallot, and cranberry.
Purée the mixture until smooth while adding small chunks of the remaining butter.
Add the reserved apple, shallot, and cranberry mixture and pulse it in, leaving a few small chunks of fruit.
Taste the purée and add salt if needed. Remember it will taste less livery when chilled!
Scoop the pâté into small jars for storage. Top with melted clarified butter, cranberries, and thyme if desired.
Refrigerate the pâté for at least 2 hours before serving.
Notes
Pâté tastes best if allowed to soften at room temperature for at least 10 minutes before serving.
Pro Tip – Soak Your Liver
When I get my hands on fresh liver I always immediately soak it in raw milk. I learned this trick from a colleague in San Francisco. He told me that in South America his family always did this and that it was said to remove impurities. I'm not sure of the science of this practice but when I soak my livers in raw milk they are always sweeter, milder, and more tender!
If you don't have access to raw milk you can use pasteurized milk with a spoonful of plain yogurt mixed in.