I may receive commission if you purchase through links in this post.
Sourdough has become the lifeblood of my household, and these crispy, flaky, salty, rustic sourdough butter crackers are no exception.
I feel like I've finally perfected this recipe, combining the smooth golden flavor of pastured butter with a long fermentation time to yield an easily digestible, artisan wheat cracker made with healthy saturated fat.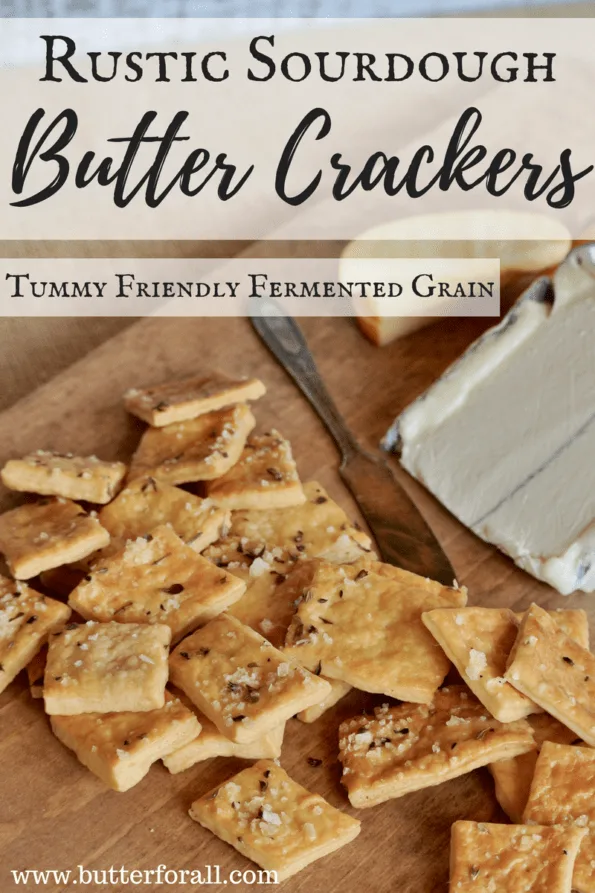 The extra-long fermentation time of these crackers also develops the classic sourdough tang and crunch. Don't expect them to last long!
They make an easy choice for serving with cheese and charcuterie, alongside hummus, with guacamole, or on all their own.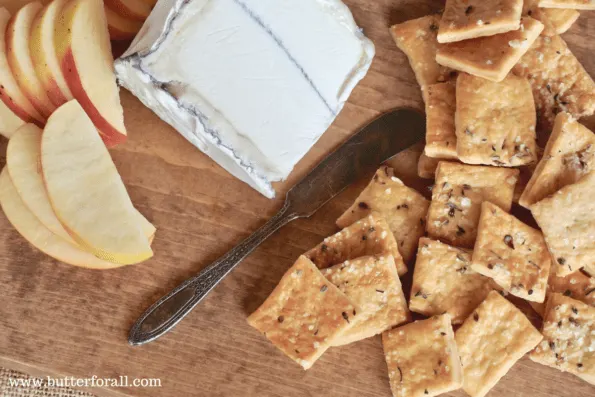 A Quick Note on Why Sourdough Is Better for Your Digestion and in Turn Your Body.
Fermenting, soaking, and sprouting grains removes phytate, otherwise know as phytic acid. Phytate is found in all grains, nuts, seeds, and legumes. While phytates won't necessarily harm you, they do act as an anti-nutrient, binding with vitamins and minerals and decreasing the absorption of those nutrients. A diet relatively high in inadequately prepared grains can lead to malnutrition.
When sourdough undergoes a long fermentation process the enzymes in the culture start to break down starches, sugars, and proteins, thus making them much easier for our tummies to digest!
For more information on how to properly prepare your foods using time-honored traditional techniques, please refer to the book Nourishing Traditions by Sally Fallon and Mary G. Enig, Ph.D. This is the one book that I lovingly call my "Traditional Food Bible."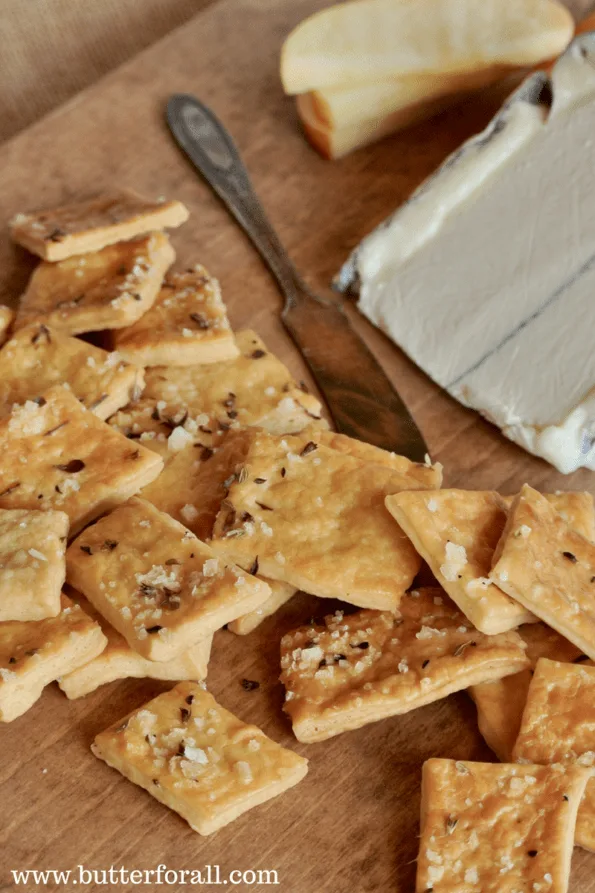 Try My Sourdough Discard Crackers Too!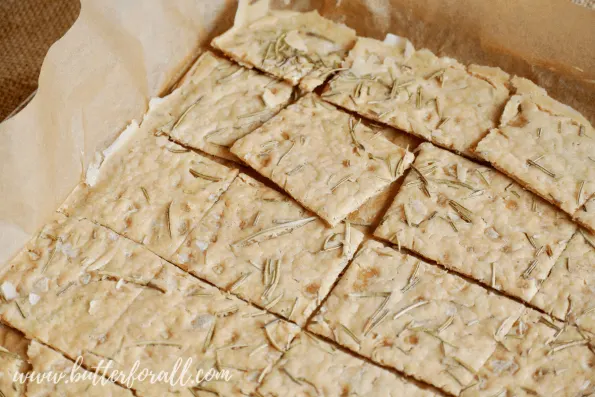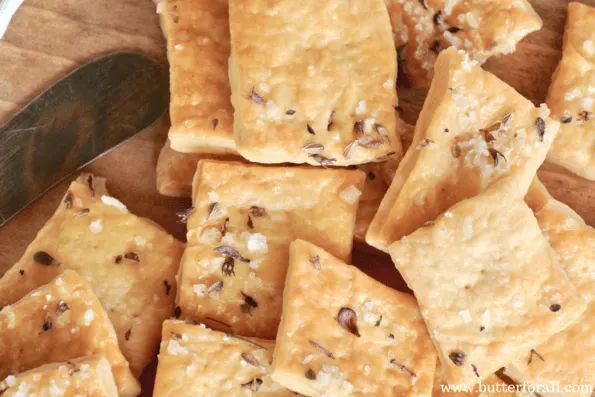 Rustic Sourdough Butter Crackers
Ingredients
For the Dough:
250 grams (1 cup) sourdough starter or discard, at 100% hydration
280 grams (2 cups) organic all-purpose flour
8 grams (3/4 teaspoon) sea salt
113 grams (1/2 cup) melted butter
For the Garnish:
1 egg
5 grams herbs, optional
Instructions
The Night Before Baking:
Weigh or measure all the dough ingredients into a ceramic or glass mixing bowl.
Mix the dough just until it comes together. There will be plenty of structure without developing extra gluten.
Let the dough rest and rise, covered, for 12 to 16 hours.
The Next Day:
Preheat your oven to 350°F.
Transfer the dough to a floured surface and pat it into a rectangle. Cut the rectangle in half.
Cut three sheets of parchment paper that will fit a large baking sheet.
Place one piece of the dough in the center of a piece of parchment and cover with the other sheet.
Use your hand to flatten the dough into a large rectangle. Then use a rolling pin to roll it to a thickness of about 1/8th inch. Remove the top sheet of parchment paper.
In a small bowl beat the egg with 1 tablespoon water. Use a pastry brush to lightly coat the surface of the crackers with the egg wash. Sprinkle the cracker dough with a thick flake artisan salt and herbs if desired.
Using a pizza cutter or knife cut the dough into cracker size squares. Prick (dock) each square twice with a fork to keep the dough from bubbling up in the oven.
Slide the parchment paper onto the baking sheet and set the crackers aside.
Repeat these steps with the remaining dough.
Bake the crackers for 30 minutes at 350°F. Then turn the oven off and jar the door. I use a baking mitt between the door and frame to just barely keep the oven door open. Let the crackers cool completely in the oven.
Once cool, store the crackers in an airtight container.
Recommended Products
As an Amazon Associate and member of other affiliate programs, I earn from qualifying purchases.
Want To Learn Everything About Sourdough?
Start with this free guide:
Demystifying Sourdough – Everything You've Ever Wanted To Know About Sourdough Starter – Why It's Better For You – And How To Start One