I may receive commission if you purchase through links in this post.
Snacking on cheese and crackers is one of life's greatest joys.
In fact we like to make a whole meal out of it!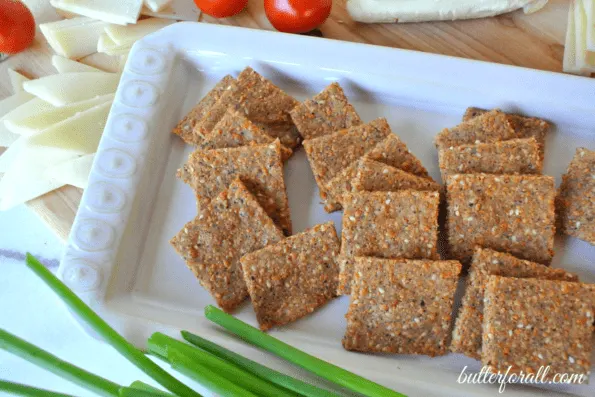 But when you are cutting carbs or avoiding gluten it can be a challenge to find a great cracker!
You want one that stays crunchy and crispy and holds up well to toppings. It also needs to be flavorful but not overpowering. Enter my new sesame, cheese, and nut crackers. This recipe will thrill you with its ease of preparation and you will be snacking on healthy, whole-food crackers in no time.
For this recipe I'm using hazelnut flour (sometimes called hazelnut meal) as the main ingredient. Hazelnut flour is extremely low in carbs, moderate in protein, and high in fat. Perfect for those of you who are practicing a ketogenic diet.
I also use almond flour, a handy low-carb nut flour that is a great replacement for gluten-containing flours.
Sesame seeds add a toasty flavor to these light and crunchy crackers.
Do you have to be gluten free or practicing keto to enjoy these crackers? No way! They are a tasty, healthy cracker no matter your diet.
Ingredients and Nutritional Information
Recipe yields (at least) 56 crackers.
1 cup hazelnut flour (protein 16 grams, fat 68 grams, carbs 20 grams, fiber 12 grams)
1/2 cup almond flour (protein 24 grams, fat 56 grams, carbs 24 grams, fiber 12 grams)
1 teaspoon salt
8 ounces grated cheddar cheese (I use the Organic Valley brand — protein 56 grams, fat 72 grams)
1 egg (protein 13 grams, fat 10 grams, carbs 1 gram)
2 tablespoons sesame seeds (protein 3 grams, fat 9 grams, carbs 4 grams, fiber 2 grams)
Totals:
Protein 112 grams, fat 215 grams, carbs 49 grams, fiber 26 grams.
To calculate net carbs take the total carbs, subtract the fiber, and divide by the number of crackers you make:
49 minus 26 = 23. 23 divided by 56 =0.4.
NET Carbs 23 grams! That's 0.4 grams per cracker!
I use the USDA National Nutrient Database for my nutrient calculations and round up or down to the nearest whole number.
Preparing the Keto-Friendly Crackers
Preheat your oven to 350°F.
In a food processor with the blade attachment add the nut flours, salt, and grated cheese. Pulse the mixture until all the ingredients are a fine flour consistency. Add the egg and sesame seeds and pulse again just until a smooth dough has formed.
Cut a piece of parchment paper big enough for a half sheet pan, or if you are using cookie sheets you may need to use two pans and two sheets of parchment. Remove the dough from the food processor and gently shape it into a rectangle on the parchment paper.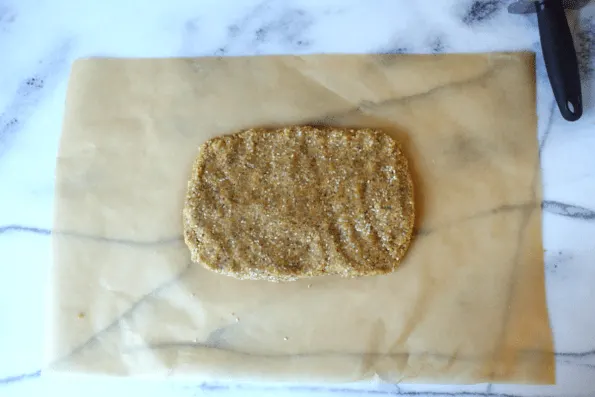 Lay a second piece of parchment paper over the top and gently begin rolling the dough out in an even rectangle size.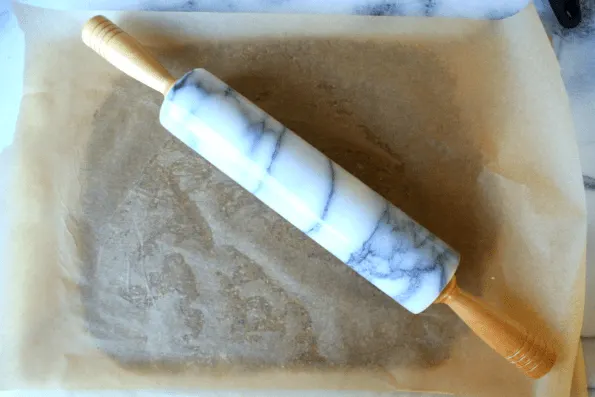 Use the side of your hand to keep the edges as straight as possible.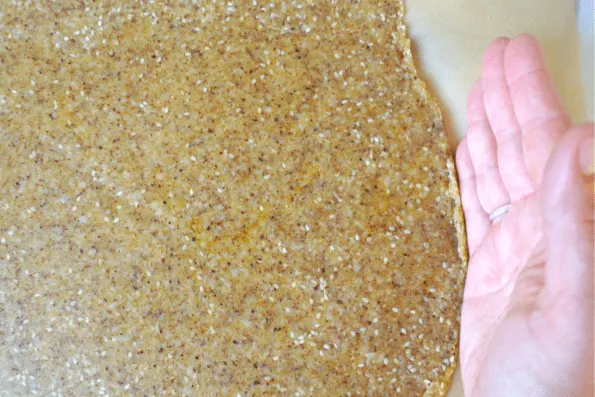 Roll to a thickness of just under 1/4 inch.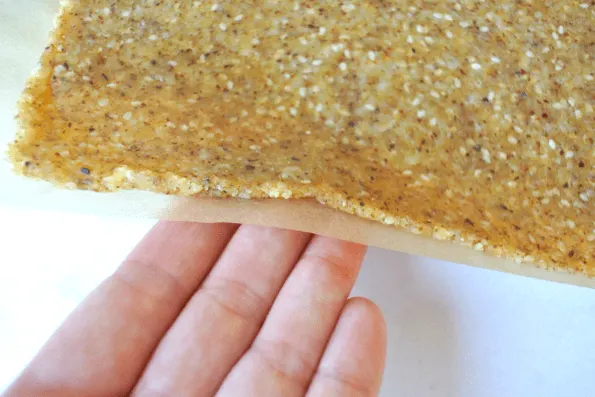 Cut the dough using a pizza cutter or knife. I cut 56 crackers but I think they could be cut even smaller if desired. Slide the parchment paper onto your baking sheet and place them in the center of your preheated oven.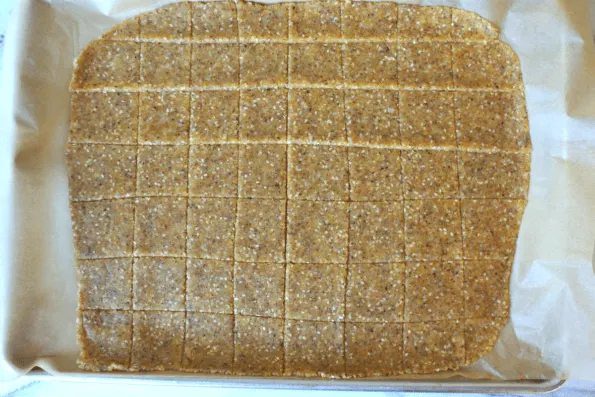 Bake the crackers for 30 minutes. Turn the oven off after 30 minutes but do not take the crackers out. Let the crackers continue to bake and cool slowly in the oven until they are completely crisp, about 30 more minutes.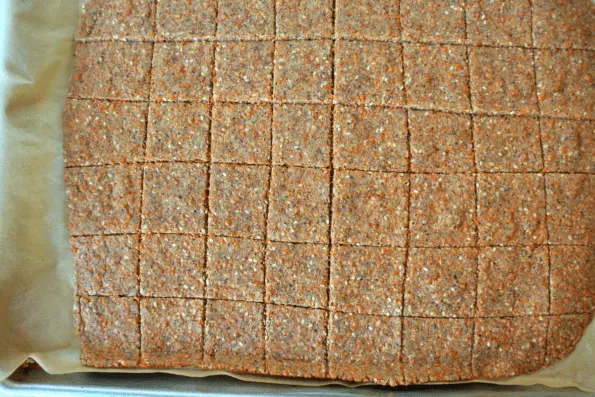 Let the crackers completely cool before separating them and storing them in an airtight container. They will keep and stay crisp for up to 14 days! If they get stale they can be re-crisped in a 300°F oven.
Enjoy these healthy crackers with your favorite cheeses, dips, or spreads! They make a pretty great crouton too!