These are my favorite crackers. I've been "testing" (and gleefully eating) batch after batch to make sure I get them just right for you!
They are similar to my Sesame, Cheese And Nut Crackers except they have the distinct flavor that only nutritional yeast can bring. I love nutritional yeast and butter on popcorn so it seems only natural to add it to other crunchy, crispy, cheesy snacks like these crackers.
As I try to limit the amount of processed and refined grains that are eaten under my roof these crackers are quickly becoming one of the staple snacks that I make at home.
Simple is good, right?
Yes, simple is great! These little beauties are made with just five real food ingredients.
Recipe yields 64+ crackers
1 1/2 Cup Almond Flour
8 Ounces Organic Cheddar Cheese
1 Cup Nutritional Yeast
1 Teaspoon Salt
1 Egg
1-2 Tablespoons Avocado Oil (depending on dough consistency)
Preheat your oven to 325°.
In your food processor with the blade attachment add the grated cheddar, almond flour, nutritional yeast and salt. Process these ingredients into a fine flour. Add the egg (beaten) and pulse the dough just until it comes together in a solid mass. You may need to add a little bit of oil at this point if the dough seems dry.
Cut pieces of parchment to fit your baking sheet. I have half sheet pans so I only need one pan per recipe but if your baking sheets are smaller you may require two. Turn the dough out on the parchment and break it into small pieces while gently shaping it into a rectangle. Cover the dough with a second piece of parchment and use your hand to gently press the dough into a nice even layer. Next use your rolling pin to roll the dough in every direction. Take the parchment off periodically and fix the edges by folding them toward the center.
When the cracker dough is evenly rolled to just under 1/4 inch use a pizza cutter or knife to score the dough into sections. Slide the parchment and dough on to your baking sheet. Bake the crackers in the center of the oven for 30 minutes. Watch them closely after 25 minutes. They will be a golden brown, uniform color when they are finished.
Turn off the oven and let the crackers cool on the pan, in the oven with the door ajar. When they are completely cool you can easily break them apart and store them in an air tight container.
Enjoy these crackers with your favorite dip, spread or cheese. They are pretty great as a snack by themselves as well!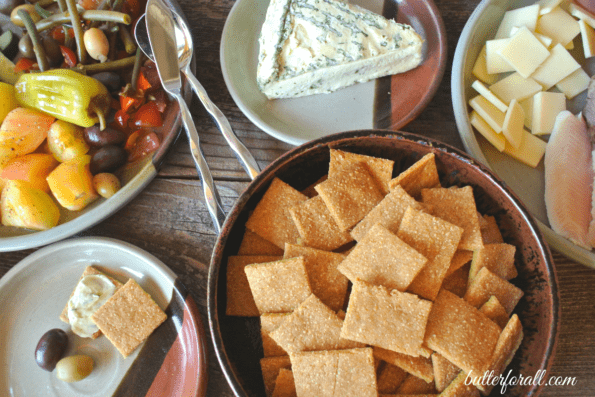 Save and share this recipe!