I may receive commission if you purchase through links in this post.
You can bake amazing, gluten-free, allergen-friendly, potassium-rich banana bread with buckwheat flour!
Buckwheat is not actually wheat at all, it is the potassium-rich inner kernel of a plant in the rhubarb and sorrel family, therefore it is naturally gluten free and a perfect grain substitute for wheat-sensitive populations.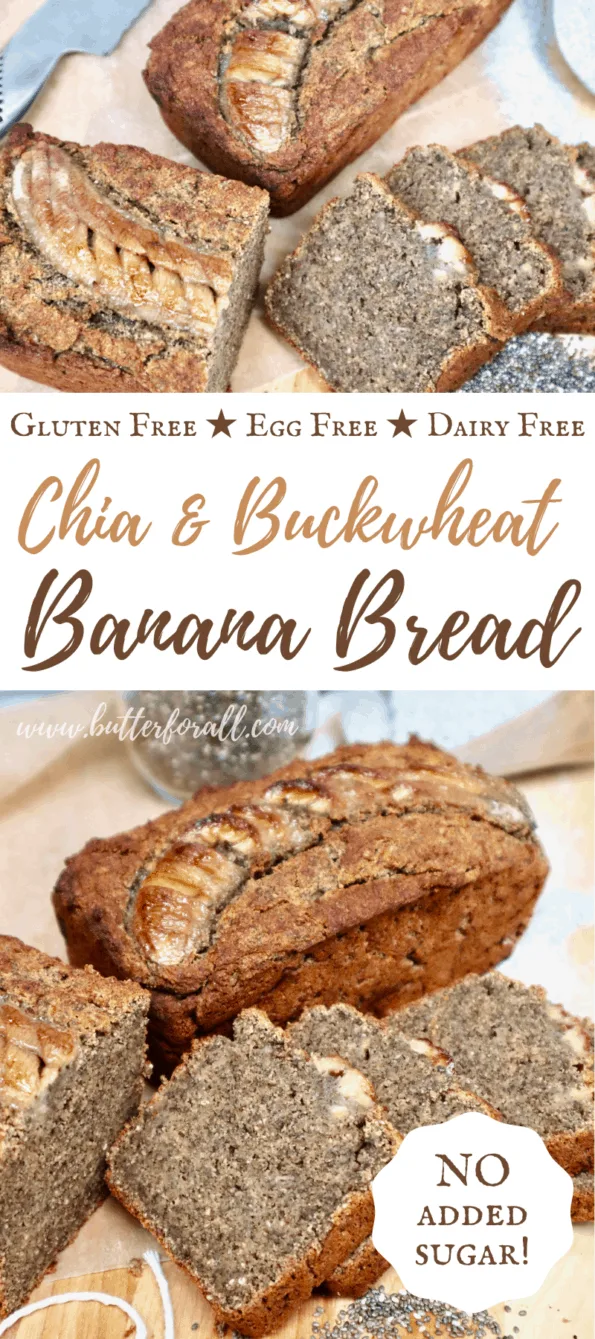 Buckwheat flour has a nice fibrous texture and nutty flavor that complements the sweet, soft, ripe banana in this recipe.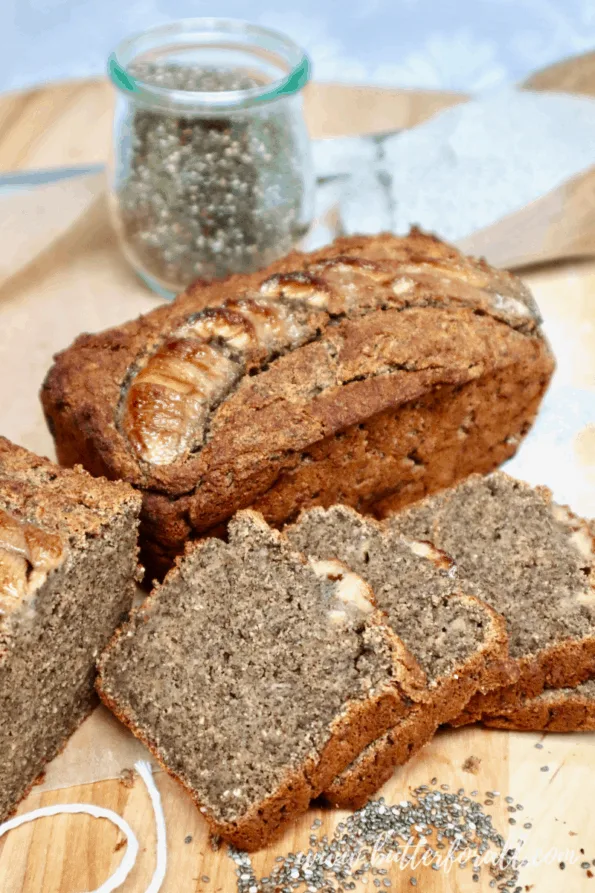 Egg-Free Banana Bread
Because buckwheat has no gluten to hold the bread together it is usually used with a binder like eggs. In this recipe I have replaced the eggs with chia seeds. Chia seeds add structure, nutrition, texture, and even more potassium to this banana bread without the worry of egg sensitivity.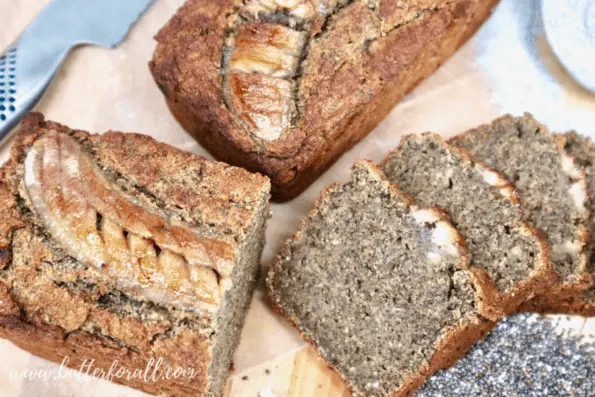 Dairy-Free Banana Bread
I decided to go one step further in making this an allergen-friendly recipe by using coconut water and coconut oil in place of the milk and butter that I would typically use in baked goods.
The coconut oil adds healthy fats and makes this banana bread filling and satisfying. The coconut water adds a natural sweetness that eliminates the need for added sugar. Coconut water also contains a surprising amount of potassium, contributing to the incredible total potassium content of this nourishing real-food banana bread.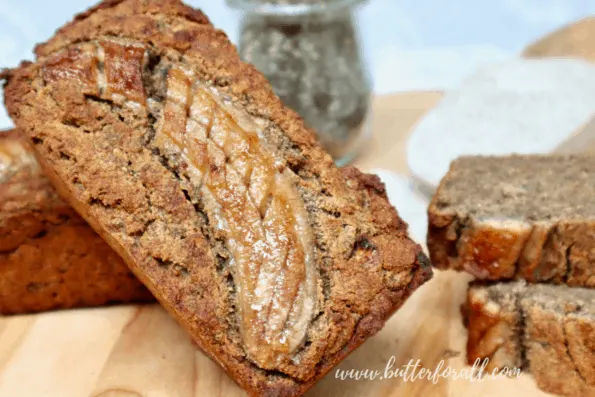 So How Much Potassium Is in This Buckwheat Banana Bread?
A good deal! When you add the buckwheat flour, coconut flour, chia seeds, coconut water, and ripe bananas together you get about 600 mg of potassium per serving!
If you struggle with getting enough potassium in your diet or with electrolyte imbalances like I do, having a few slices of this banana bread every day may help you replenish your body with easy-to-absorb food-based potassium.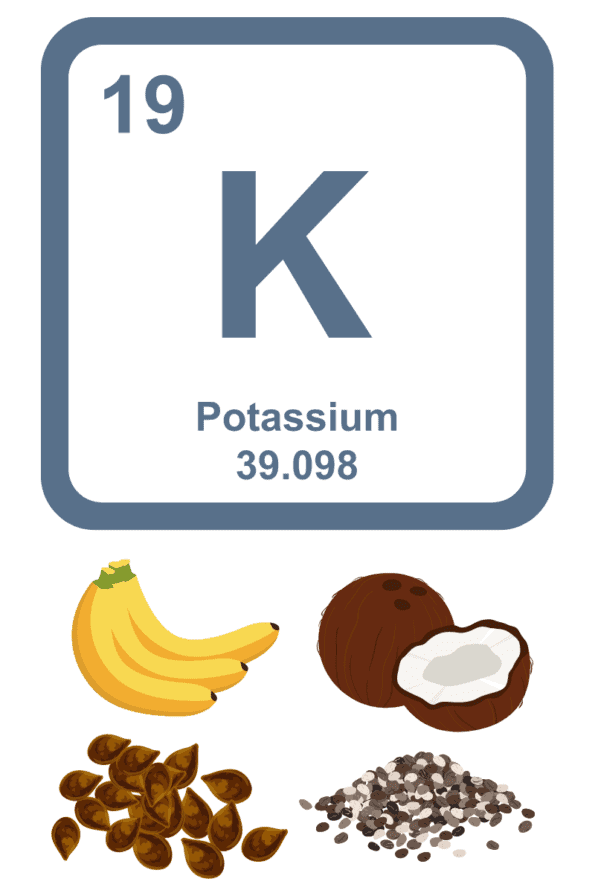 Banana Bread Variations
OMG, I must really like banana bread because now I've written and published a handful of different banana based recipes. Each one is unique in the ingredients it uses. So chances are if you want to make a banana flavored baked good you will find a recipe here to suit your taste and style!
And Now…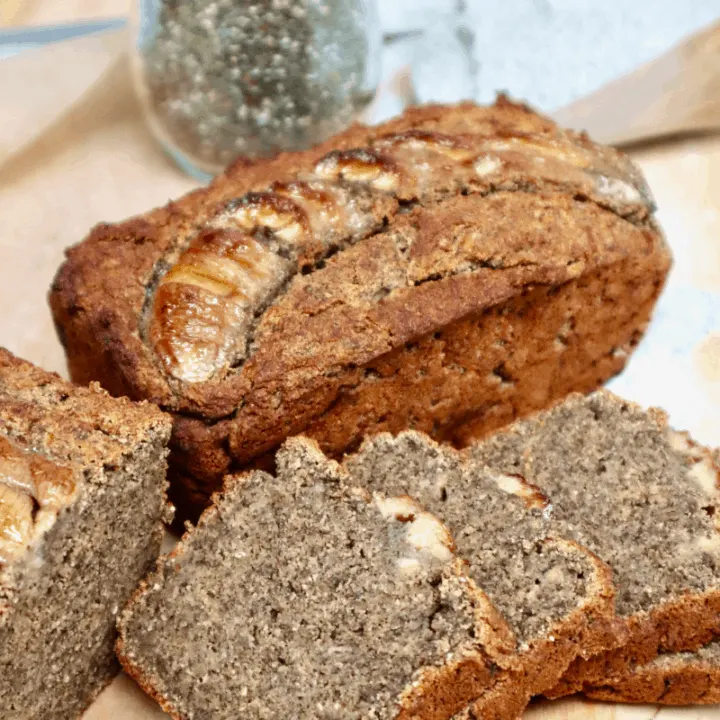 Chia and Buckwheat Banana Bread
Yield: 4 Small Loaves (12 servings)

Prep Time: 10 minutes

Cook Time: 1 hour

Total Time: 1 hour 10 minutes

This allergen-friendly, potassium-rich chia and buckwheat banana bread is made with buckwheat flour, coconut water, coconut flour, chia seeds, and fresh bananas. The recipe is gluten free, egg free, dairy free, and added-sugar free!
Ingredients
2 cups buckwheat flour
1 cup coconut flour
1/2 cup chia seeds
1 1/2 teaspoons baking soda
1/2 teaspoon salt
1/2 cup coconut oil, melted
3 cups coconut water
5 large bananas, mashed
1 large banana, optional, for topping
Instructions
Preheat your oven to 350℉.
Grease four mini (6 by 3-inch) loaf pans or two regular (9 by 5-inch) loaf pans.
In a large bowl mix together all the dry ingredients.
Add the melted coconut oil, coconut water, and mashed banana. Mix until well combined.
Scoop the batter evenly into the greased loaf pans. Add additional sliced banana to the top of the batter if desired.
Bake mini loaves for 60 minutes. Larger loaves may need 10 to 15 more minutes or until a toothpick inserted in the center come away clean.
Remove the loaves from the oven and let them cool in the pans for 5 minutes before removing them to cooling racks to cool completely.
Notes
Which Coconut Water Should I Use?
I like the Vita Coco Pressed Coconut Water that is linked below. The pressed coconut has a little more flavor and a little more fat. And you know I'm all about that healthy fat! With that said, feel free to use your favorite brand, just make sure it's plain coconut water without added sugar or flavoring.
Storing This Banana Bread
This bread can be stored in an airtight container for up to 48 hours at room temperature. But if you aren't planning to eat it all right away, it can be refrigerated for up to a week or frozen for longer storage. The refrigerated bread is great warmed up in the toaster!
Recommended Products
As an Amazon Associate and member of other affiliate programs, I earn from qualifying purchases.