I may receive commission if you purchase through links in this post.
This recipe is a brilliant and easy mashup of some of my favorite rye bread styles.
It is shaped like a classic Danish rye (Rugbrød), but has the sweetness of traditional pumpernickel and the warm spiciness of caraway seed often found in Norwegian, German, and American rye bread variants.

Caraway seeds have a sweet and spicy flavor and an interesting cultural and culinary history. They have been used in bread for centuries and as a flavoring for sweet or savory cuisine. To get the most from your caraway seeds make sure to toast them lightly in a hot dry frying pan. Remove the seeds from the pan when they become fragrant and let them cool before adding them to your recipes.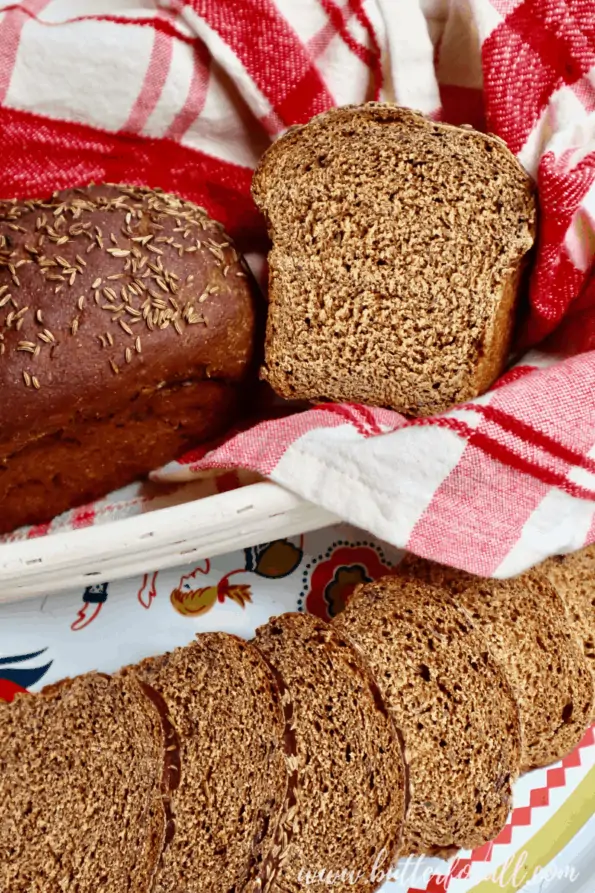 This recipe's predecessor was one I originally wrote for Devon Young of Nitty Gritty Life and it was published in her second book, The Herbalist's Healing Kitchen, Page Street Publishing Co. 2019.
Since then it has undergone a few minor modifications to keep it in accordance with my standardized sourdough conversions.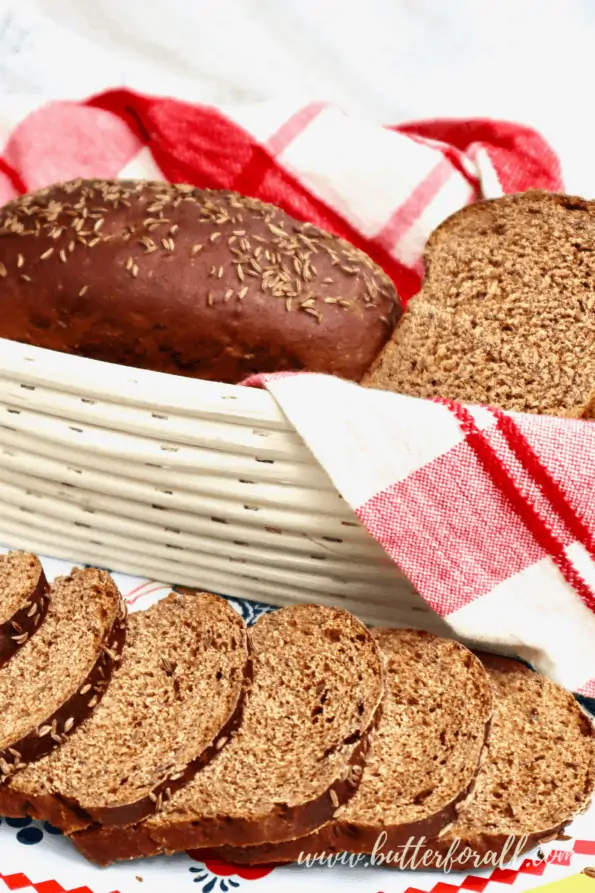 A Quick History of Rye Grain
Wild rye berries have been found in grain stores from Mesopotamia dating as far back as 13,000 years, where it was later cultivated alongside other predominant grains like barley and einkorn.
Rye spread throughout central Europe over the course of the next 10,000 years, migrating with the people who lived there and the changing of climates during that time. It was not a favored grain at the time; its popularity really only resulted from the fact that it was easy to grow and that it readily self-seeded in the field. Rye berries also withstood drought and freezing conditions, making them a strong natural competitor for crop space.
Because of the predominance of the staple rye crops in central Europe, population and infrastructure boomed over the next 2000 years. Rye was also transported to the Nordic regions and prevailed as a main staple there as well.
Rye grain-growing techniques and old-world bread styles came to North America with the early Dutch and British settlers. Along with Native American maize, rye fueled the immigrant expansion across the continent.
The modern selective breeding of wheat grains to produce strains that are hardier and easier to grow has had a huge global impact on rye production. Rye production has decreased in most areas and is now grown primarily as an artisan and specialty flour, with only a few regions of Europe still cultivating it as a staple grain.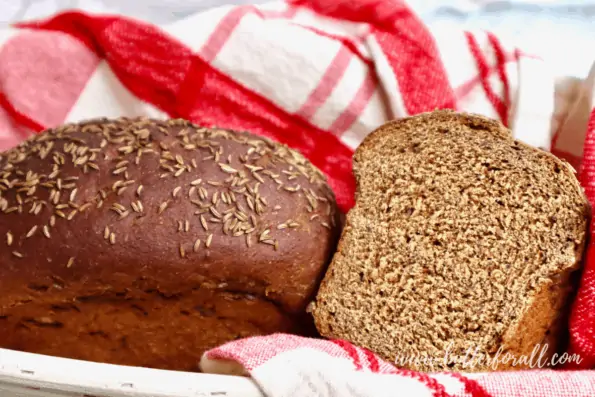 Overnight Fermentation
Like most of my sourdough recipes, this delicious deeply flavored rye sourdough undergoes a long slow fermentation for ease of digestion, nutrition boosting, and flavor development.
The dough is started in the evening and left to proof at room temperature overnight. The next morning it is shaped and left to rise again before baking.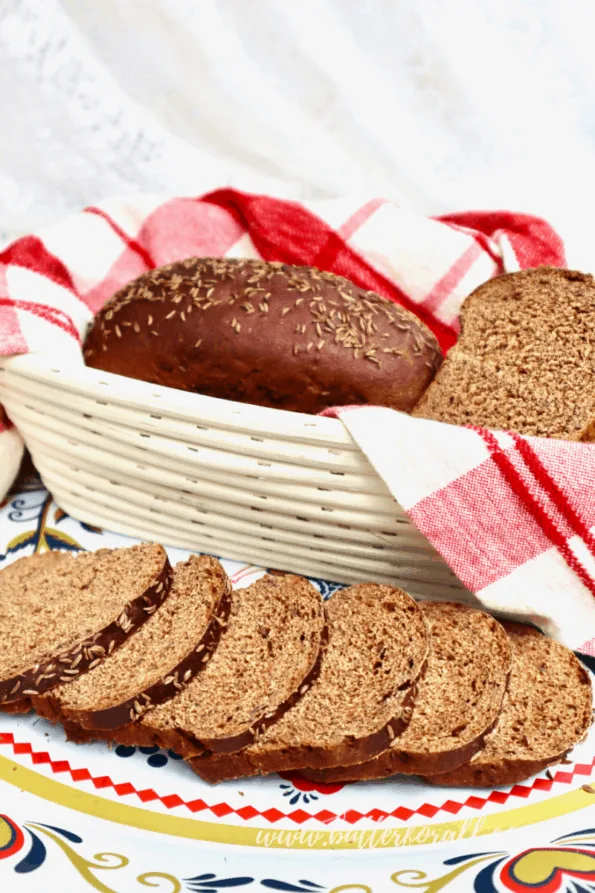 Curing Rye Sourdough Bread
All rye bread recipes benefit from a 24-hour curing process. Curing refers to letting the freshly baked dough rest uncovered for 24 hours at room temperature before slicing. During the curing process the bread deepens in flavor, the steam fully reabsorbs into the crumb, and the texture improves. It isn't necessary to cure your rye bread every time, but I encourage you to try it and see if you can tell the difference!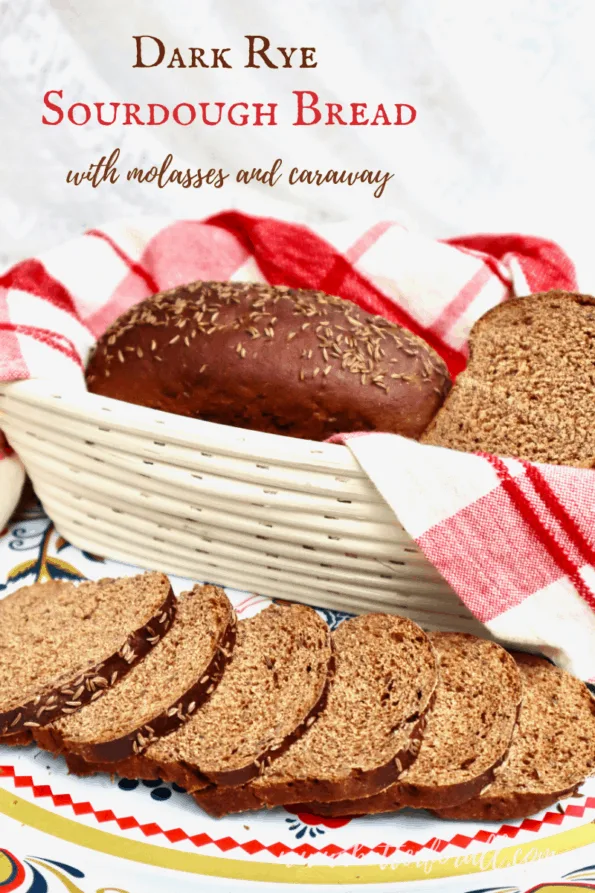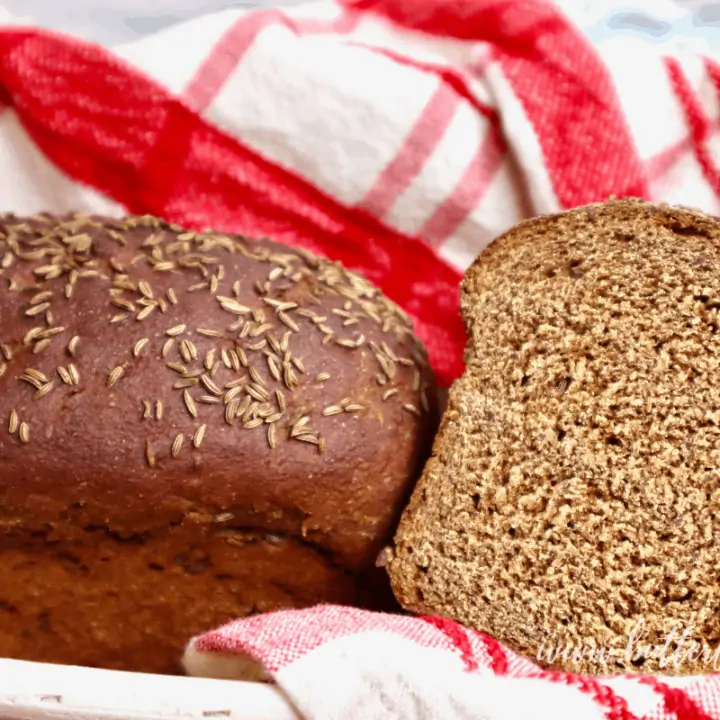 Dark Rye Sourdough Bread With Molasses and Caraway
Additional Time:
16 hours
This dark rye sourdough bread with molasses and caraway is hearty, slightly sweet, and has a rich earthy spiciness. It is the perfect bread to use for authentic Danish open-faced sandwiches or to serve alongside smoked fish, lox, cream cheese spreads, cured meats, sauerkraut, and more.
Ingredients
320 grams (2 1/2 cups) medium or dark rye flour
145 grams (1 cup) bread flour
125 grams (1/2 cup) active sourdough starter, 100% hydration
95 grams (1/4 cup) molasses
12 grams (2 tablespoons) caraway seeds, toasted
10 grams (1 3/4 teaspoons) sea salt
237 grams (1 cup) filtered water
Bread flour for dusting
Instructions
The Night Before
In a large bowl mix all the ingredients into a tacky dough.
On a lightly floured surface knead the dough until smooth.
Loosely shape the dough into a ball and proof it overnight at room temp in a covered bowl.

The Next Morning
Punch the dough down in the bowl and turn it out on a floured surface. Loosely shape the dough into a ball. Cut the dough into two equal portions. Let the dough rest for 5 minutes.
Shape each half into a mini loaf by patting the dough into a rectangle and folding and pressing the top and then the bottom toward the center. Turn the loaf over and let it rest seam side down.
Brush the top of each loaf with water and sprinkle with caraway seeds if desired.
Transfer the mini loaves to mini bread pans to continue fermenting. Let the dough rise to double in size.
Preheat your oven to 400°F.
Bake the mini loaves for 30 minutes.
Remove them from the oven and let them carryover in the pan for 10 minutes.
Remove the loaves to wire racks and let cool completely before slicing.

Notes
Can this recipe be made in one larger loaf size?
Yes! Instead of splitting the dough into two portions, shape the bread as you would for a normal-sized loaf. Let the dough rise to double. Preheat the oven to 375°F (instead of 400°F) and bake the loaf for 40 to 45 minutes.
What are the dimensions of a mini loaf pan?
I use a Pampered Chef Stoneware mini loaf pan that has four wells. Each loaf well is approximately 6 inches long by 3 inches wide by 2 inches deep.
Recommended Products
As an Amazon Associate and member of other affiliate programs, I earn from qualifying purchases.
Want To Learn Everything About Sourdough?
Start with this free guide:
Demystifying Sourdough – Everything You've Ever Wanted To Know About Sourdough Starter – Why It's Better For You – And How To Start One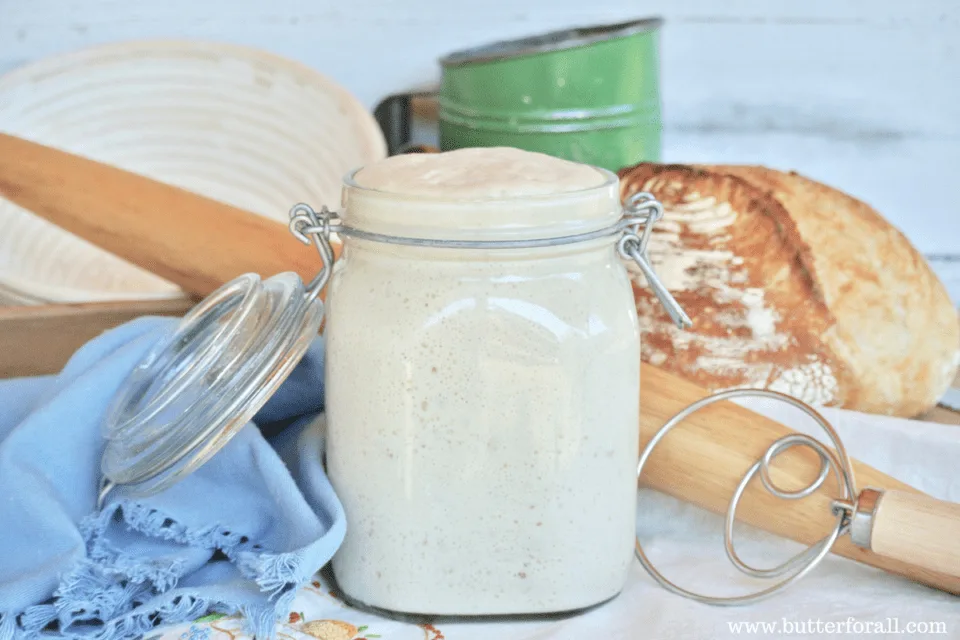 Looking For More Rye Recipes?
Light Rye Sourdough Boule With Caraway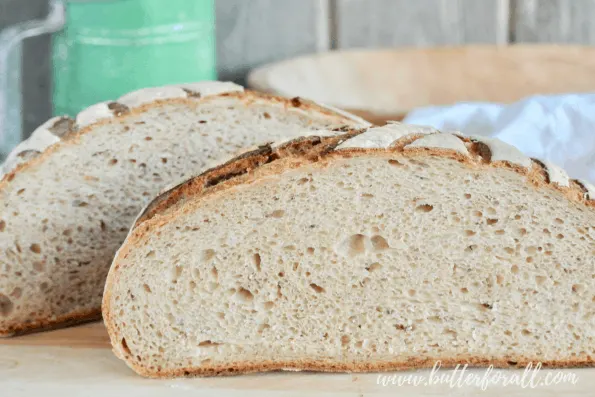 References:
Ginsberg, S. (2016). The Rye Baker, Classic Breads From Europe and America. New York, New York: W.W. Norton & Company, Inc.