I may receive commission if you purchase through links in this post.
Waffles! Crispy, sweet, and loaded with real pastured butter. What could be better?
It just so happens that carrot cake waffles are better!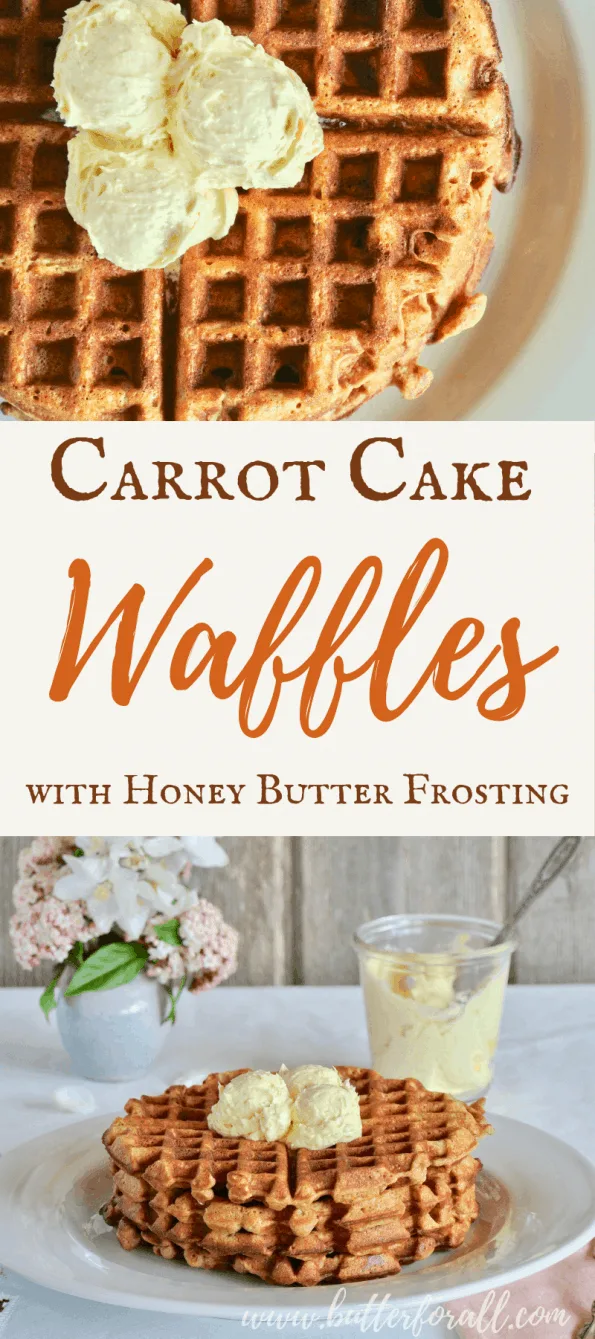 I needed a fun brunch idea for our Spring celebration and I was drawing a blank. I was craving carrot cake but wanted it to be breakfast-y. I thought about making carrot muffins but that just seemed too pedestrian. The morning of the brunch is when it hit me. Carrot cake waffles! Boy, am I glad I had that thought, and in the nick of time too. These spicy carrot cake waffles will be my new go-to brunch favorite!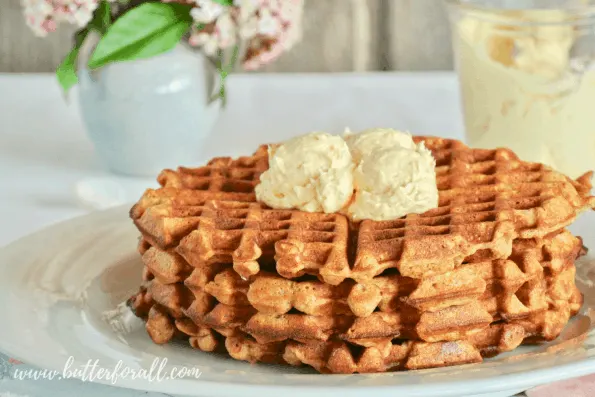 Sprouted Wheat, Organic Carrots, Raw Honey, and Real Butter
These are just a few of the wholesome and nutritious ingredients in these waffles. No need to feel guilty when you are getting nutrient-dense sprouted whole grains, fresh veggies, and raw food enzymes with your breakfast! Don't forget the healthy fats! Both the waffles and frosting are made with real pastured butter, one of the best sources of fat-soluble vitamins, important trace minerals, fatty acids, and CLA (conjugated linoleic acid). We love real butter around here!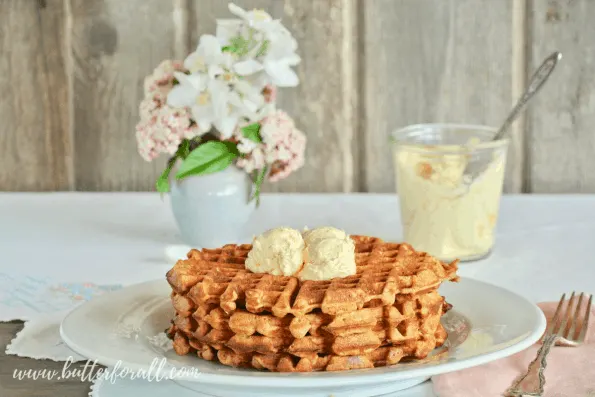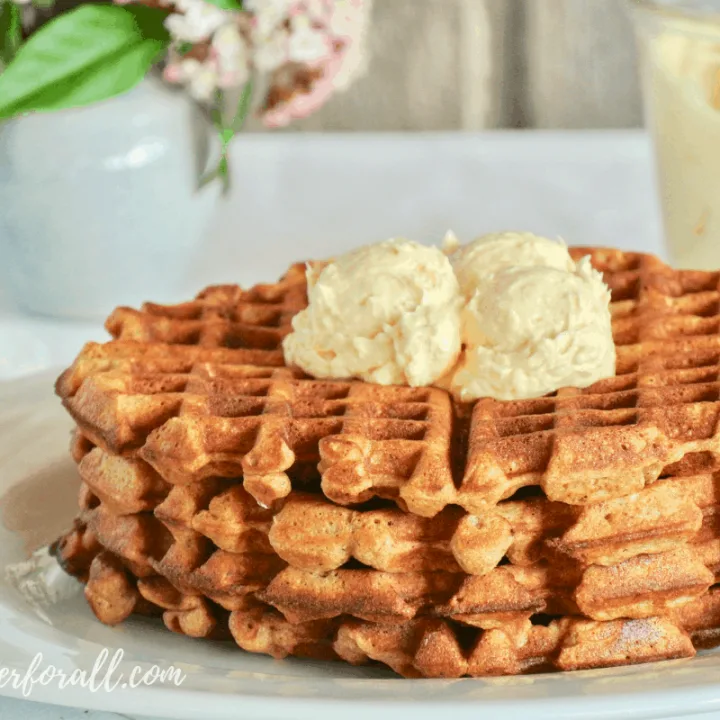 Carrot Cake Waffles With Honey Butter Frosting
These are perfectly spiced carrot cake in waffle form.
Ingredients
Waffles
1 1/2 teaspoon cinnamon
1/2 teaspoon nutmeg
1/2 teaspoon allspice
2 1/4 cup whole milk
3 eggs
1/2 cup pastured butter
2 cups grated carrots
Frosting
1 cup pastured butter (room temperature)
Instructions
For the Waffles
In a large bowl mix the flour, baking powder, salt, sugar, and spices with a whisk.
In a smaller bowl or measuring cup whisk the milk and eggs together.
Slowly whisk the milk and egg mixture into the flour mixture just until incorporated.
Melt the butter and whisk it into the batter until smooth.
Stir in the grated carrot.
For the Frosting
Have the butter and honey softened at room temperature.
Using a stand mixer or hand mixer, whip the butter and honey together until light and fluffy.
Set the frosting aside until needed.
Cooking
Preheat your waffle iron. Scoop the desired amount of batter into the hot iron and let it cook until golden brown.
Serve the waffles one at a time right from the iron.
Top each waffle with a dollop of honey butter "frosting"!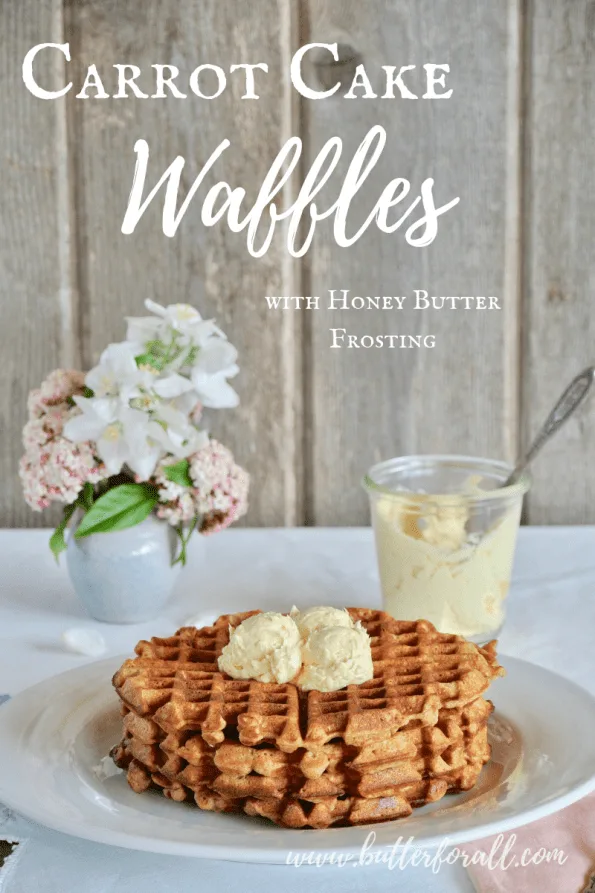 Love waffles but prefer sourdough? I've got you covered!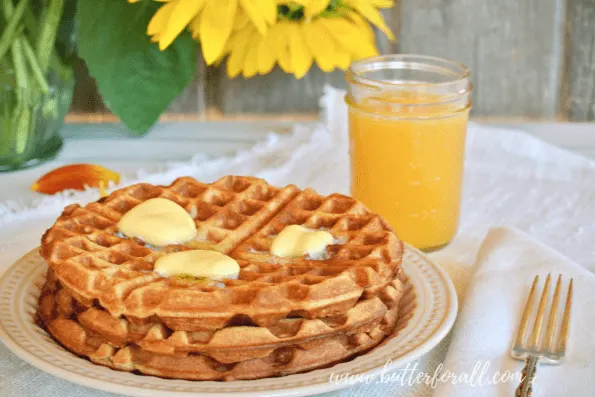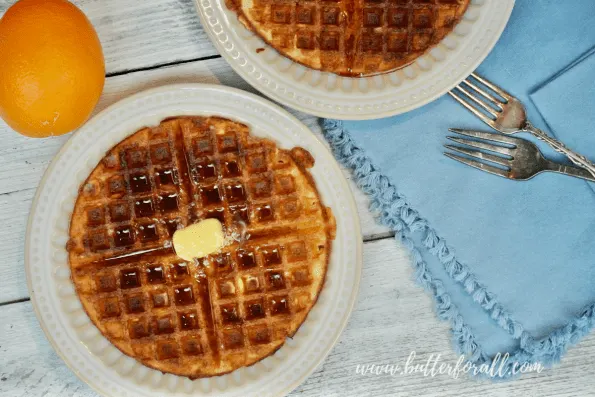 Want To Learn Everything About Sourdough?
Start with this free guide:
Demystifying Sourdough – Everything You've Ever Wanted To Know About Sourdough Starter – Why It's Better For You – And How To Start One