I may receive commission if you purchase through links in this post.
This spicy carrot cake is sweetened with fresh Medjool dates.
The dates add a deep earthy flavor while the cardamom brings an unexpected spicy kick. The whole cake is refined sugar free so it's a lot more wholesome than most recipes out there. It even boasts a maple-sweetened cream cheese frosting that is not cloyingly sweet but subtle and refined. Overall the cake is a showstopper and sure to please any true carrot cake lover.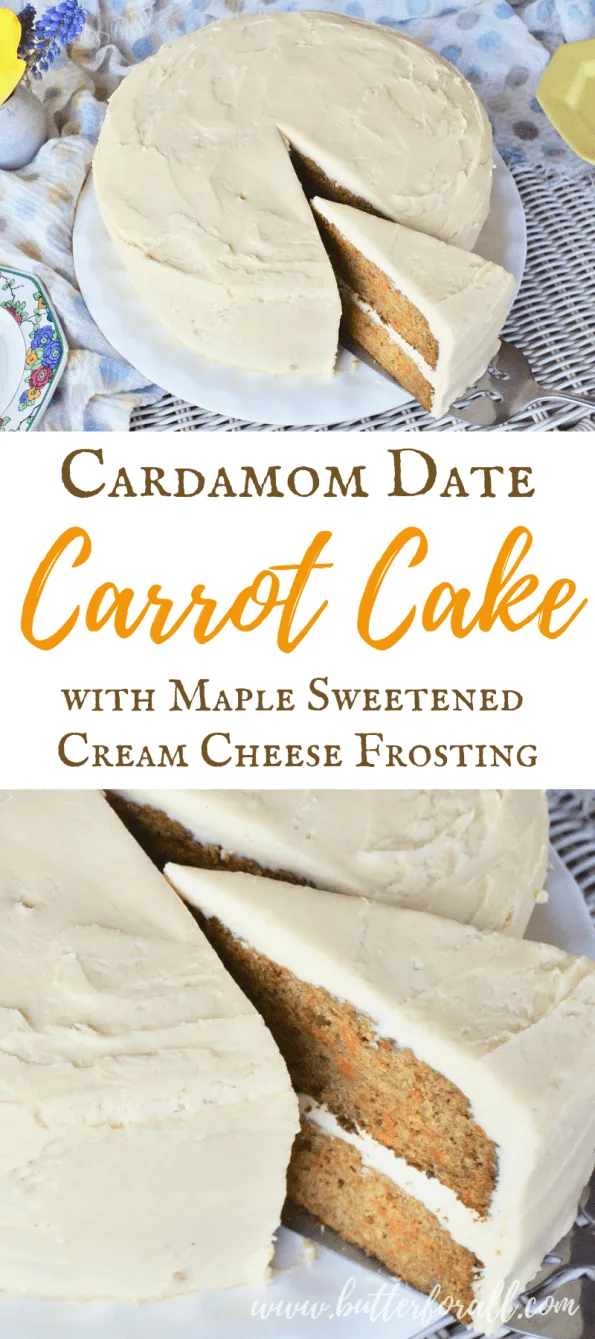 Carrot Cake for Any Occasion
I'm always in the mood for this moist, richly spiced version of traditional carrot cake. It is a wonderful Easter or spring treat, great for birthdays, showers, or even rustic weddings!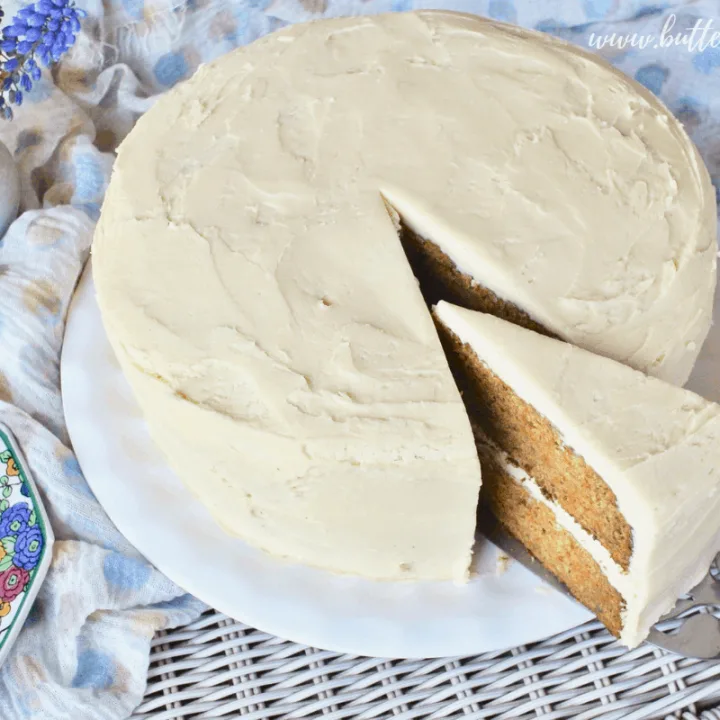 Cardamom Spiced Carrot Cake
Yield: 16 servings

Prep Time: 30 minutes

Cook Time: 50 minutes

Total Time: 1 hour 20 minutes

This is the carrot cake of your dreams! Richly spiced and refined sugar free. Made with real food ingredients that you can feel good about!
Ingredients
Cake Batter
12 ounces (15 large) Medjool dates
3 cups flour, all-purpose or sprouted
2 1/4 teaspoons baking soda
2 1/4 teaspoons cinnamon
1 pinch ground clove
1 1/2 teaspoons ground nutmeg
6 eggs
1 large orange (1/3 cup), zest and juice
5 cups grated carrot
Maple Cream Cheese Frosting
Instructions
Preheat your oven to 350℉.
Pit the dates and add them to the flour in your food processor with the blade attachment. Pulse the mixture until the dates are as fine as sand. Add the rest of the dry ingredients and pulse to combine.
In a separate bowl beat the coconut oil and coconut sugar. Add the eggs slowly and beat thoroughly between each addition. Add the vanilla and the zest and juice of the orange. Beat again to combine. Add the dry mixture in two parts, being careful not to over mix. When all the dry mix has been incorporated, gently stir in the grated carrot.
Pour mixture into two greased 8-inch cake pans. Bake the cakes for 35 to 40 minutes or until a toothpick inserted into the center of the cake comes out clean. Allow the cakes to cool for 15 minutes in the pan before removing them to cooling racks.
When they are completely cool you can frost them.
Let the cream cheese and butter come to room temperature.
With mixers or by hand, beat the cream cheese and butter on medium-high speed. When the frosting is smooth and fluffy start adding the vanilla and maple sugar.
To frost the cake place one of the cakes on a platter and scoop about 1/4 of the frosting on top. Using an offset spatula spread it over the top in an even layer. Place the second cake on top of the first one. Using the spatula add frosting to the top and sides of the entire cake. Don't worry if it's not perfectly smooth — it looks really nice and rustic with some variations.
Notes
Pro Tip: To make maple powdered sugar use a spice grinder or coffee grinder. Add the sugar to the grinder in small batches and pulse and grind until fine and powdery.
Recommended Products
As an Amazon Associate and member of other affiliate programs, I earn from qualifying purchases.