I may receive commission if you purchase through links in this post.
Your nourished morning just got a little easier!
Everybody loves waffles but not everybody does well on conventional waffle recipes. If you are passionate about proper grain preparation you will love this recipe for sourdough and sprouted whole wheat waffles.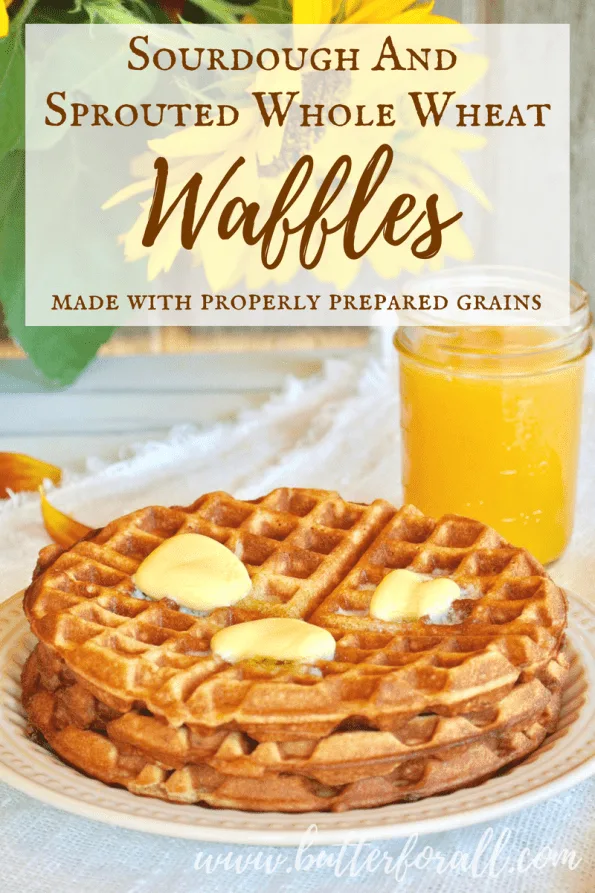 Traditional sourdough waffles are really lovely, but they require a bit of planning as the batter is typically started the night before. I don't know about you, but I'm not always that organized! With this recipe that uses sprouted whole wheat flour, you can use sourdough starter discard straight from the refrigerator moments before cooking your waffles.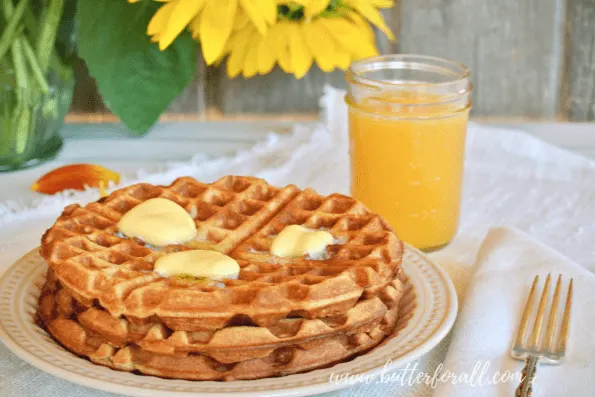 Sourdough and Sprouted Whole Wheat Health Benefits
Souring Grains
Souring grains, as is done in the sourdough process, has many health benefits ranging from improved digestibility to increasing nutrients and decreasing phytic acid. Grains that have been soured are nutritionally far superior to fresh grains.
Sprouted Wheat Flour
Sprouting wheat is another way of transforming the nutrient-blocking phytic acid in grains and creating easily digestible enzymes. Sprouting also increases vitamin C, B vitamins, and carotene. But the really great thing about sprouted wheat flour is it is dry flour and can be used in recipes without further processing!
Find my favorite sprouted wheat flours here.
The following recipe combines fully fermented sourdough starter with sprouted whole wheat for a nourishing and properly prepared meal!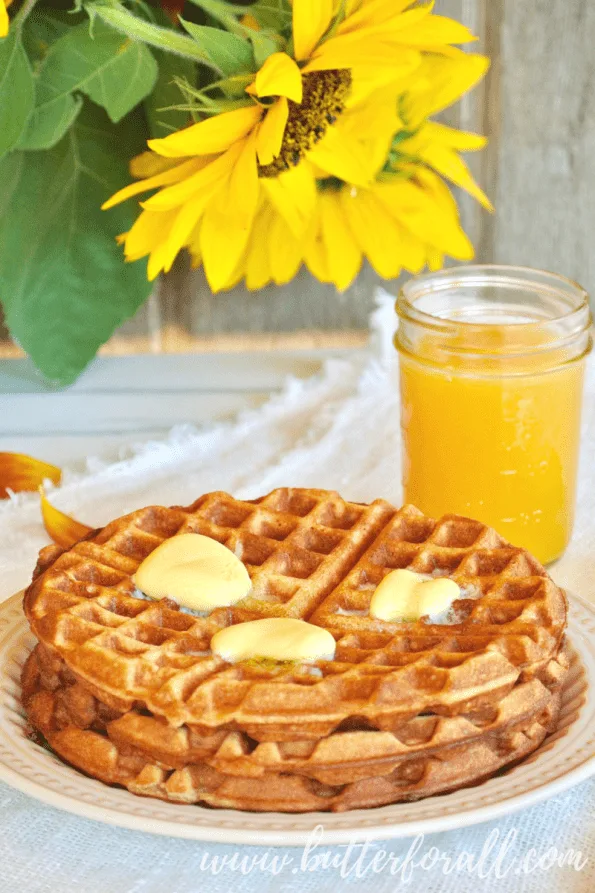 This cast iron waffle iron may be the most beautiful waffle iron ever! I'm swooning over it!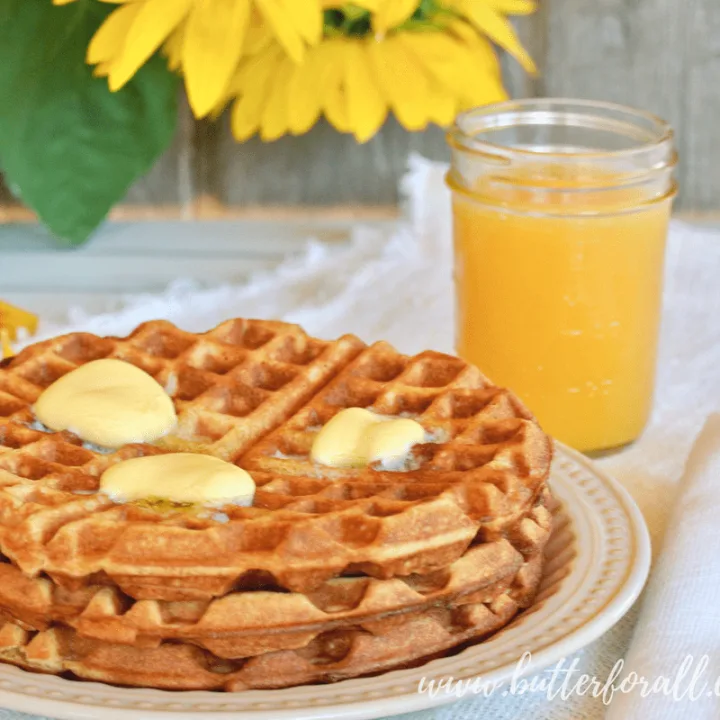 Sourdough and Sprouted Whole Wheat Waffles
Yield: 4

Prep Time: 5 minutes

Cook Time: 15 minutes

Total Time: 20 minutes

These whole wheat waffles are the perfect way to use sourdough starter discard for a quick and easy nourishing breakfast.
Ingredients
250 grams (1 cup) sourdough starter discard at 100% hydration
56 grams (1/4 cup) pastured butter, melted
4 eggs
114 grams (1/2 cup) milk
Instructions
Add all the ingredients to a large mixing bowl and whisk them together until the batter is smooth.
Preheat your waffle iron.
Scoop the batter into your waffle iron and cook the waffles until golden brown and crispy on the edges.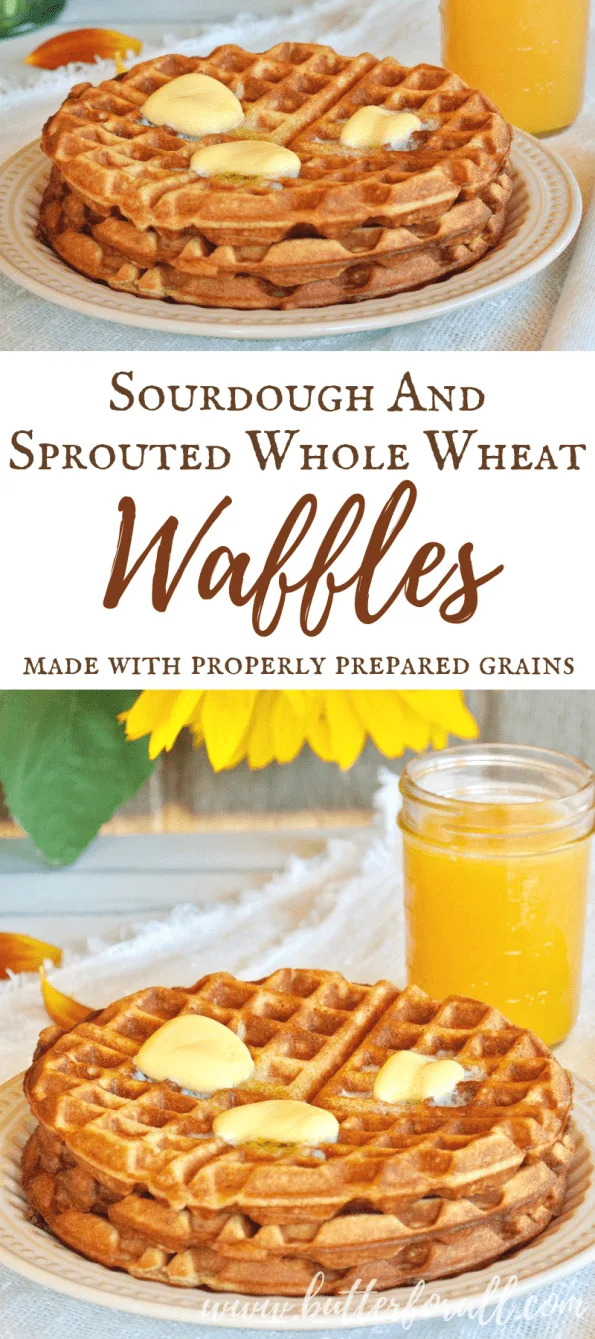 Want To Learn Everything About Sourdough?
Start with this free guide:
Demystifying Sourdough – Everything You've Ever Wanted To Know About Sourdough Starter – Why It's Better For You – And How To Start One