I may receive commission if you purchase through links in this post.
Honey and nuts have always been a perfect combination and these soft and chewy cookies prove it.
I set out to create this new cookie recipe as a thank you for my gluten-free holistic dentist who has been very thoughtful in helping me regain full-body health. What I didn't expect is that the recipe would become one of my family's favorites. Not only that, everyone who has tried these cookies has begged for the recipe!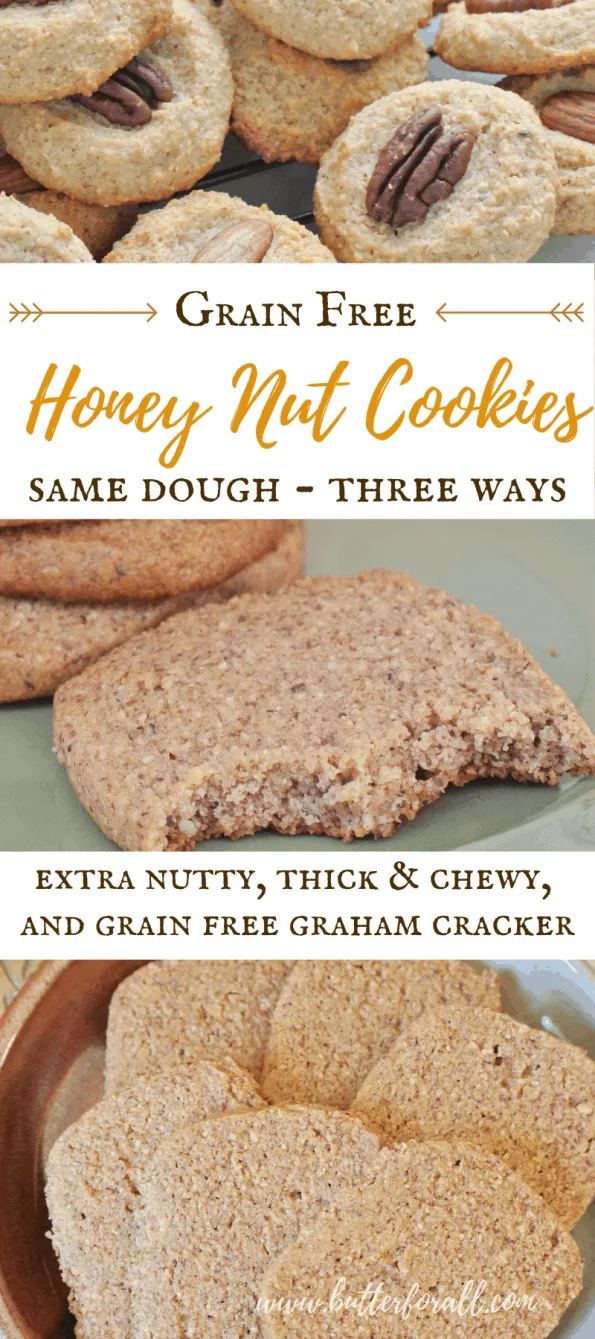 After much experimenting with shape, baking time, and texture, I couldn't figure out which variation I liked the best. So as a bonus I'm going to include the instructions, for all three variations, that not only worked well but made incredible cookies!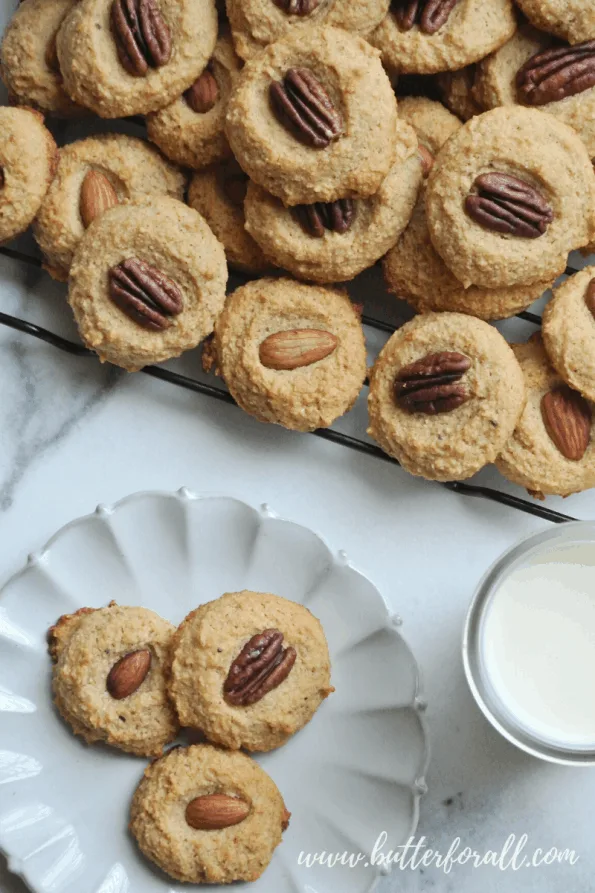 This Simple Grain-Free Honey Nut Cookie Dough Has Many Possibilities!
Here you have one easy cookie dough that can make many different styles of cookies. My three favorites are the following.
#1 Extra Nutty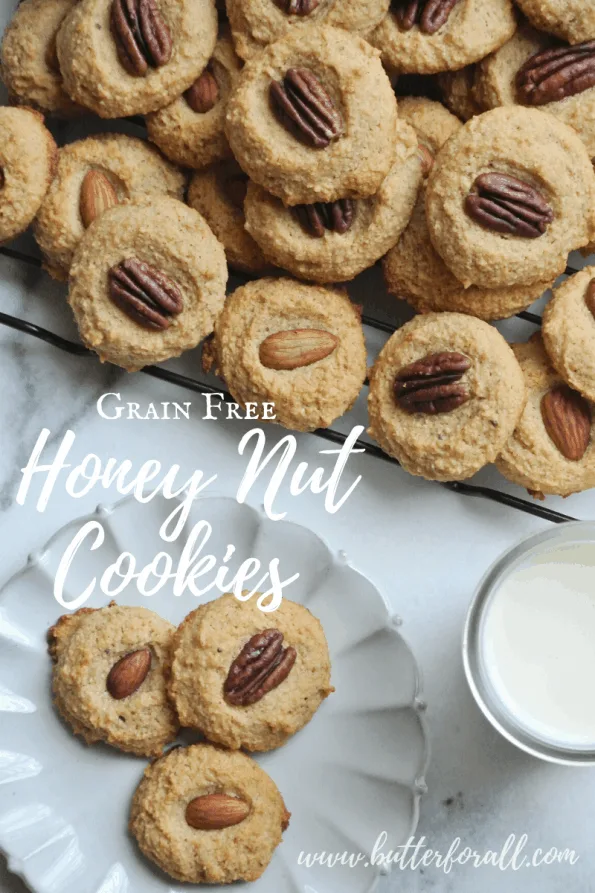 These are the simplest version. Once the batter is prepared scoop it onto a cookie sheet lined with parchment paper, push a whole nut into the soft dough, and bake the cookies at 325ºF for 12 to 14 minutes.
---
#2 Soft and Chewy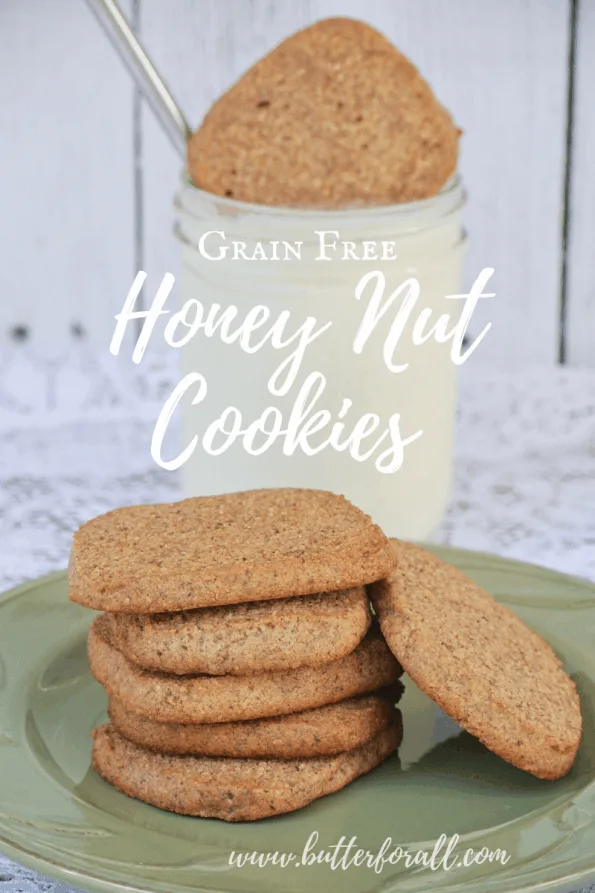 This version is sliced just like an icebox cookie dough. Once the batter is prepared, gather the dough together on a large sheet of parchment. Shape the dough with your hands into a long log or rectangle about 2 1/2 inches in diameter and 12 inches long. Roll the paper around the dough and twist the ends to secure it. Refrigerate the dough until thoroughly chilled. Slice the dough into cookies about 1/3 inch thick. Place them on parchment-lined cookie sheets and bake at 325ºF for 14 minutes.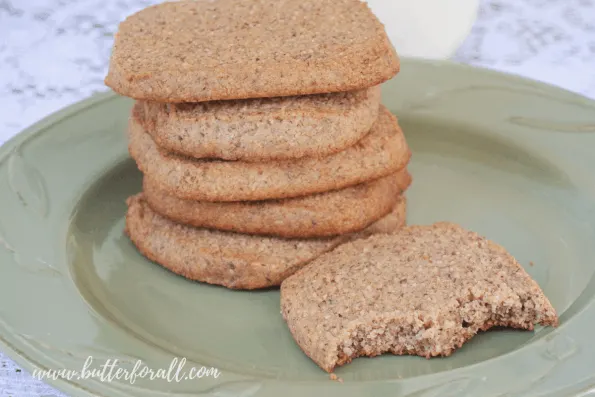 ---
#3 Grain-Free Honey Nut Graham Crackers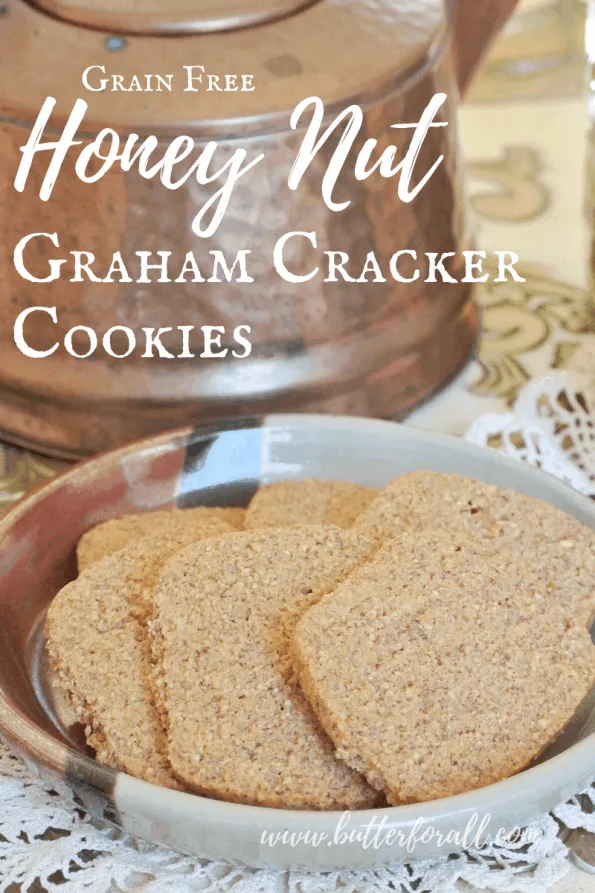 Just like the above version these graham cracker-style cookies are refrigerated before being sliced.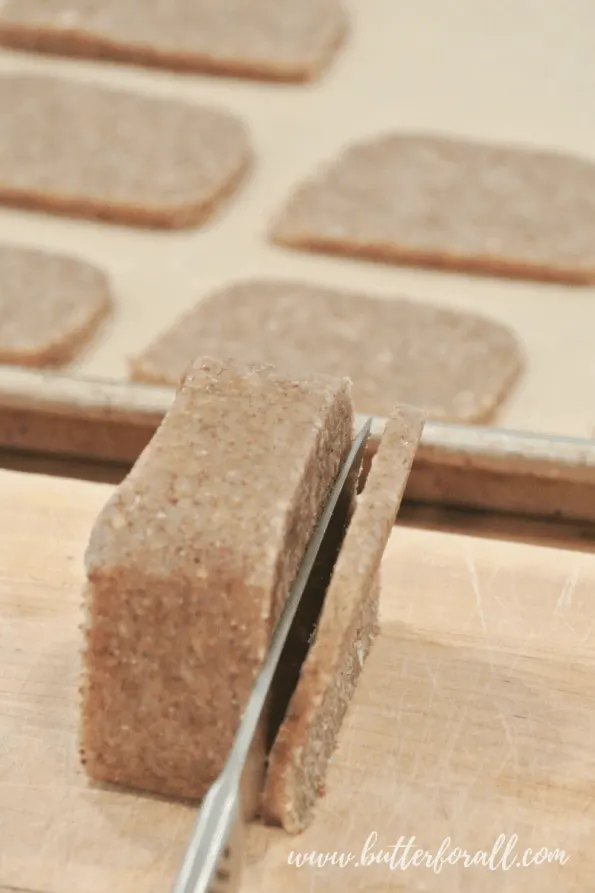 The only difference is they are sliced very thin, about 1/8 inch thick, and baked at a lower temperature, 300ºF for 18 to 20 minutes.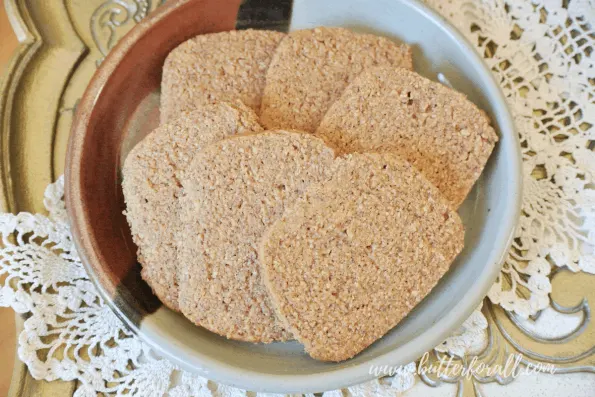 What other styles or shapes will you try?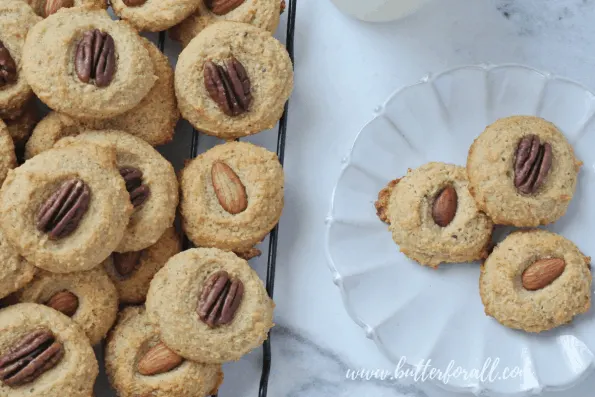 Use the Right Honey and Nuts!
You probably know by now that I have a thing for properly prepared food.
That means food that isn't rushed, food that is prepared according to our ancestral wisdoms, and food that is treated so well that it becomes even more nourishing!
For this recipe I recommend using raw local honey from a farm as close to you as possible. Let's all do our best to support the hardworking farmers who are trying to do right by the bees!
I also suggest using crispy nuts if possible.
Crispy nuts are nuts that have either been activated by sprouting or have been soaked in salt water and then dried. Both of these processes neutralize the enzyme inhibitors and anti-nutrients found in nuts, making them more easily digestible and boosting their nutritional content! Sally Fallon writes about how to make crispy nuts at home in her book Nourishing Traditions.
I buy my sprouted almonds from Hummingbird Wholesale here in Eugene. They also ship anywhere within the continental US!
I make my crispy pecans by soaking raw pecan halves in salt water overnight, draining them well, and then drying them in a very low-temperature oven for 6 to 8 hours. A food dehydrator works well too!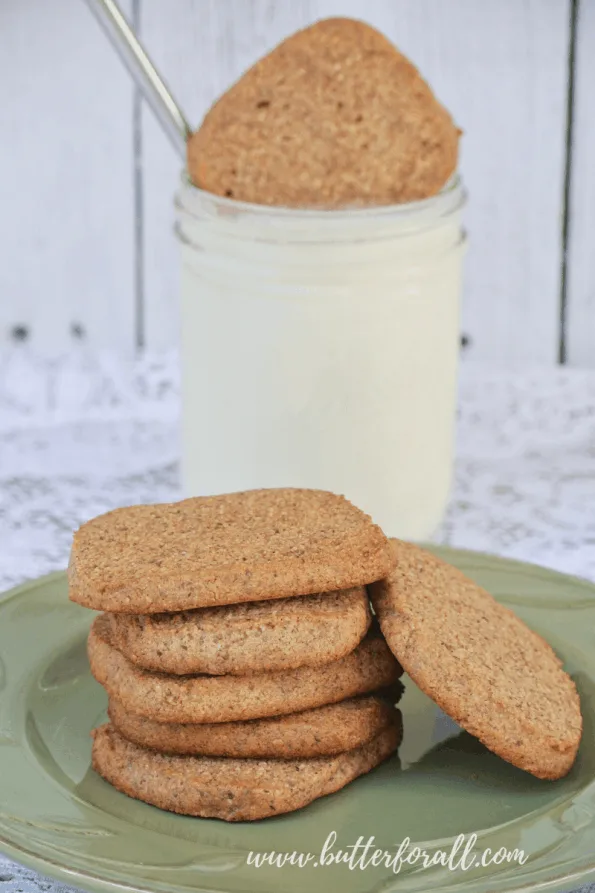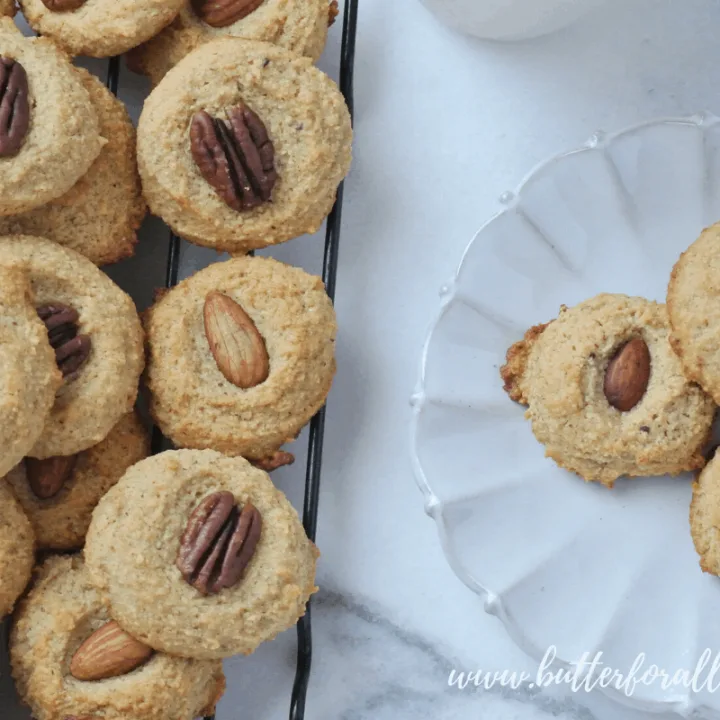 Grain-Free Honey Nut Cookies
Prep Time: 10 minutes

Total Time: 10 minutes

These entirely grain-free cookies are packed with chewy honey nut flavor! These cookies are full of possibilities too: they can be scooped or rolled, cut thin or thick, topped with nuts, and baked soft or firm! Try them all!
Ingredients
1 cup whole almonds
1 cup whole pecans
1 egg
Instructions
Combine the flours, nuts, salt, and baking powder in your food processor and run the processor until everything is a sandy consistency.
Cut the butter into chunks and pulse it into the mixture.
Add the honey, egg, and vanilla and pulse the batter until it comes together in a smooth, soft dough.
Let the batter sit undisturbed for 10 minutes to let the coconut flour thicken the batter into a workable dough.
For Rolled Extra Nutty Cookies
Preheat oven to 325°F. Line a cookie sheet with parchment paper.
Use a scoop or spoon to scoop the batter into tablespoon-size balls. Roll them by hand if desired and place them on the cookie sheet. Add one whole nut to the top of each cookie, using it to flatten the cookie slightly.
Bake the cookies one sheet at a time for 12 to 14 minutes, just until the edges are starting to brown. Cool the cookies completely on wire racks before serving.
This method yields 32 to 48 cookies.
For Soft and Chewy Cookies
Once the batter has rested turn it out onto a large piece of parchment paper and shape it into a 12-inch log or rectangle, rolling up the parchment around it.
Refrigerate the dough until completely chilled (3 to 4 hours) or overnight.
Preheat your oven to 325°F. Line a cookie sheet with parchment paper.
Slice the chilled dough into 1/3-inch-thick cookies and place them on the cookie sheet. Bake them for 14 minutes or just until the edges are starting to brown.
Cool the cookies on the baking sheet for 5 minutes before transferring to a wire rack to cool completely.
This method yields 24 chewy cookies.
For Grain-Free Graham Crackers
Follow the same instructions as for the soft and chewy cookies just making the dough into a defined rectangle shape, not a log. Fold the parchment around the dough and refrigerate it. After 2 hours, reshape the dough in the parchment paper gently by pressing each side to a flat work surface and return it to the refrigerator.
Refrigerate the dough until completely chilled (3 to 4 hours) or overnight.
Preheat your oven to 300°F. Line a cookie sheet with parchment paper.
Slice the dough as thin as possible, 1/8 inch is best. Place the slices on the cookie sheet.
Bake the sheets one at a time for 18 to 20 minutes or just golden brown.
Let these thin delicate cookies cool on the sheet before removing them.
This method yields 48 thin graham cracker-style cookies.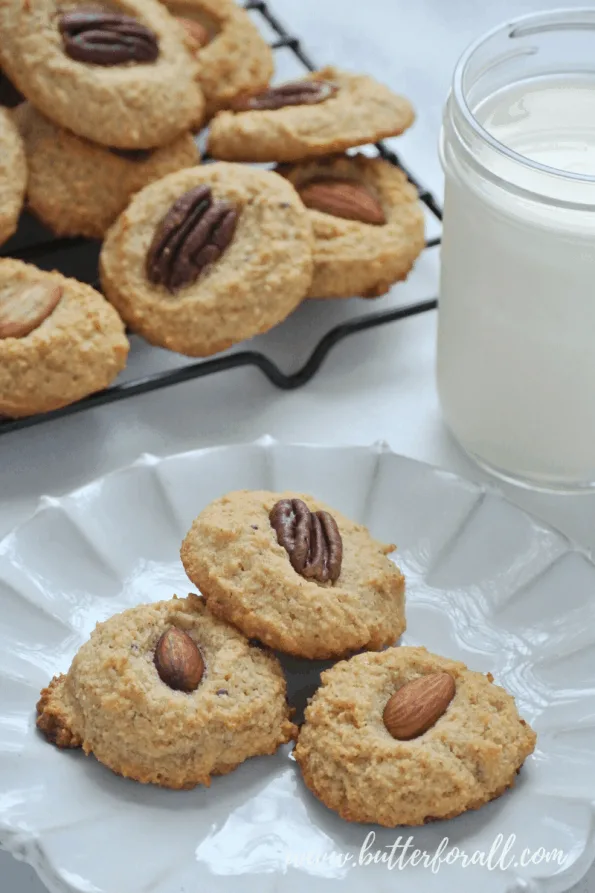 Looking for More Grain-Free cookies?
Try my Grain-Free Orange Cream and Cardamom Cookies!