I may receive commission if you purchase through links in this post.
When I wrote about my Real Sourdough Pita Bread I introduced you to one of my all-time favorite restaurants, Falafel's Drive In.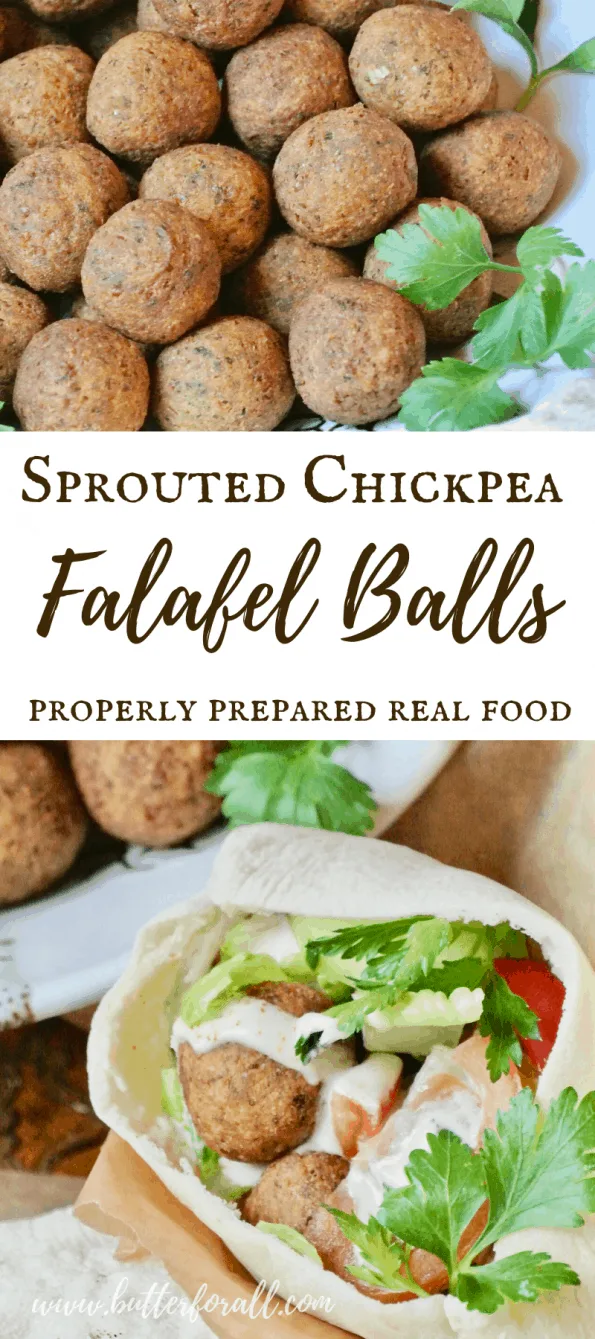 They have that perfect mix of Middle East authenticity and American drive-in. It's a great combination!
Every time I'm in San Jose, California, I stop in for a falafel or two, a banana milkshake, and some good memories!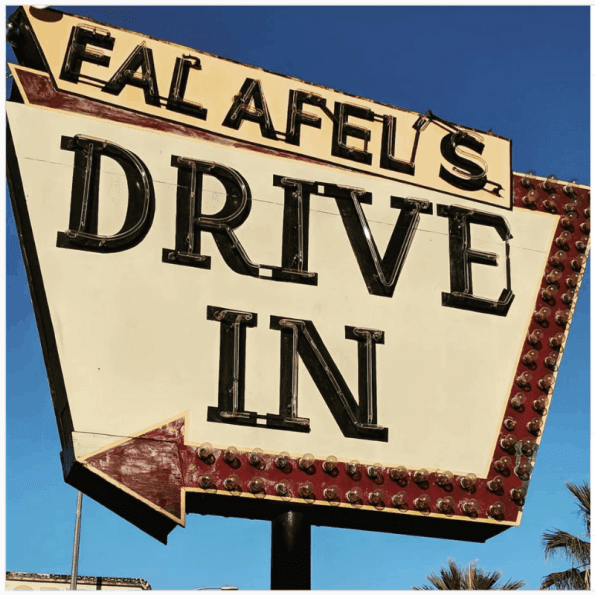 I don't know what they fry their falafels in, I don't know whether or not they use organic chickpeas or organic flour, and to be honest, I don't want to know. That would just ruin the magic of the place.
But, I do take these things very seriously, so when I make falafels at home they are always organic, sprouted, and fried in traditional fats!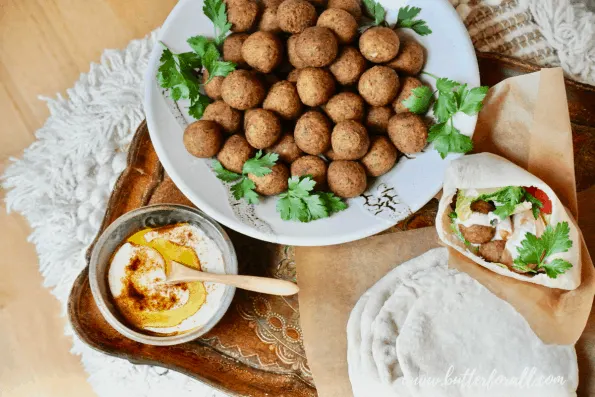 Sprouting Chickpeas
This recipe takes some time — the beans are sprouted for 5 to 6 DAYS.
Sprouting beans is pretty straight forward though, and sprouting adds a lot of nutritional benefits.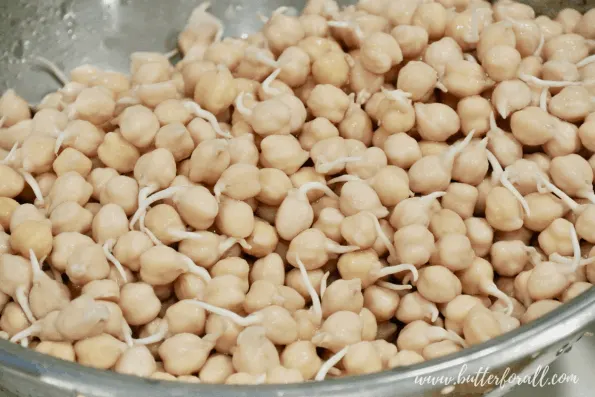 By sprouting the chickpeas completely you get a deeply nourishing falafel that has been properly prepared, making it easier to digest, breaking down enzyme inhibitors, and boosting vitamin and mineral content.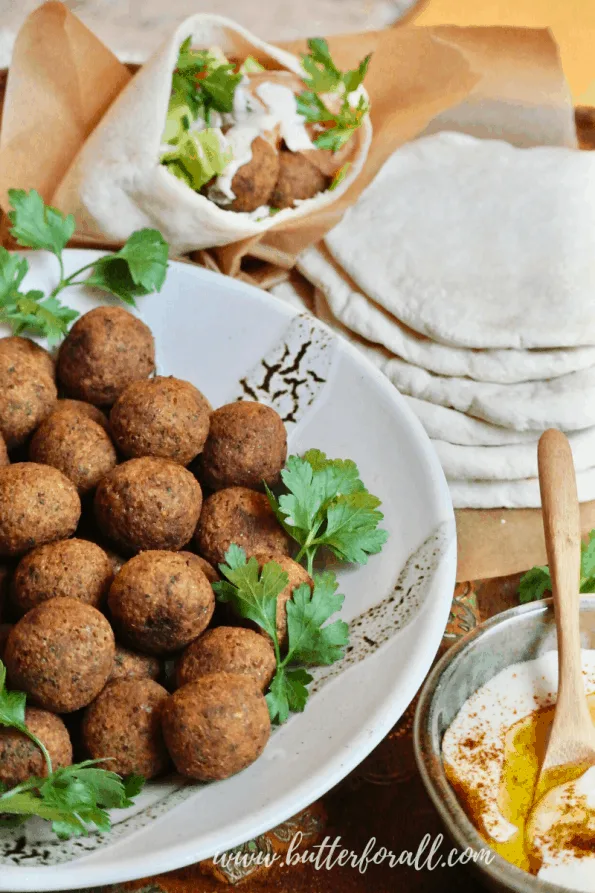 This recipe feeds a crowd, dishing up around 60 falafel balls that are perfect for eating hot or freezing alongside my sourdough pitas for easy re-heatable dinners.
Re-heat frozen falafel balls on a baking sheet in an oven set to 350°F. Cook them just until they are crispy, about 15 to 20 minutes.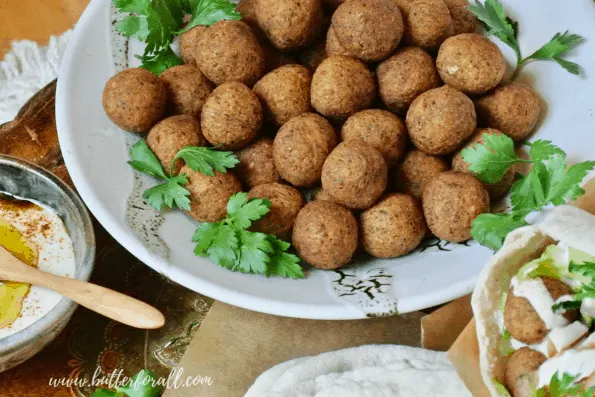 Since I live in Oregon now and only get to indulge in my favorite Bay Area falafel joint once or twice a year, I had to come up with my own nourishing falafel recipe.
I'm really happy with the results and I hope you will be too!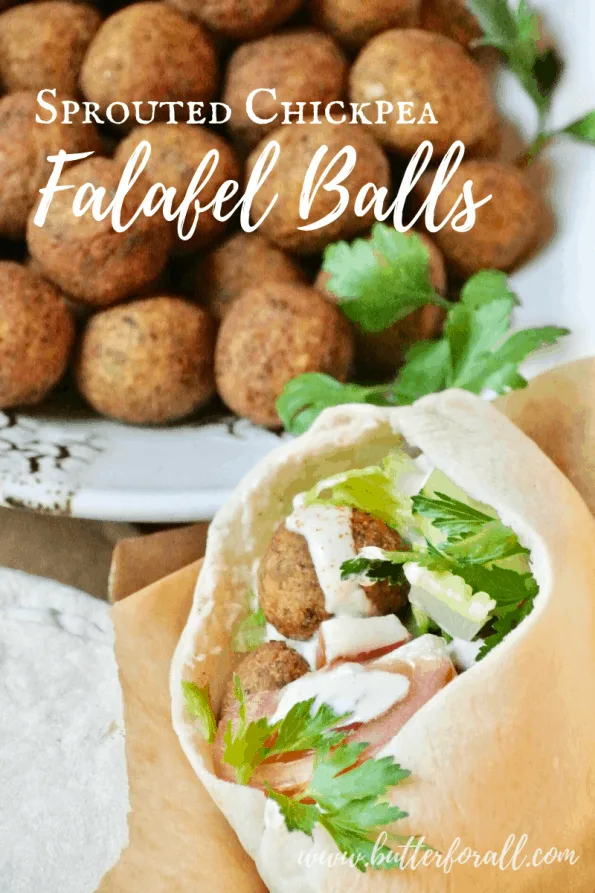 Perfect Accompaniments to Homemade Falafel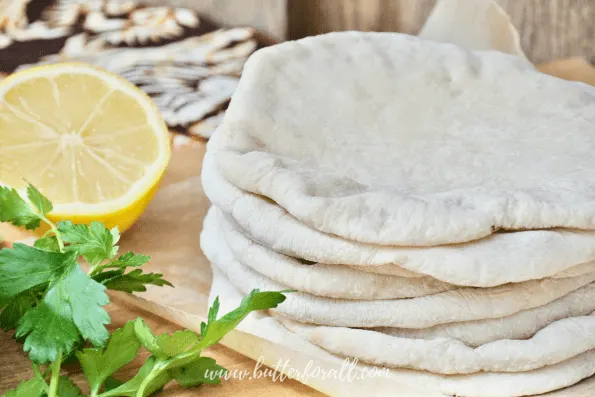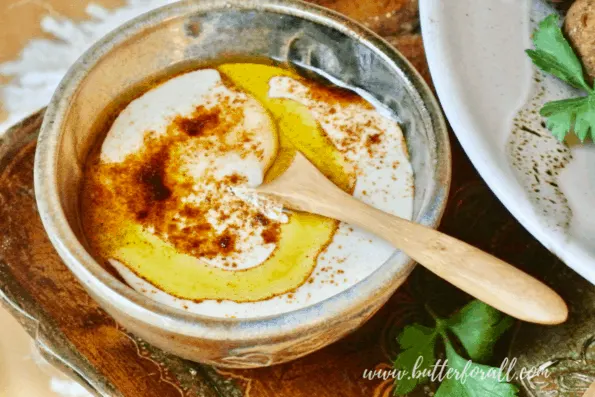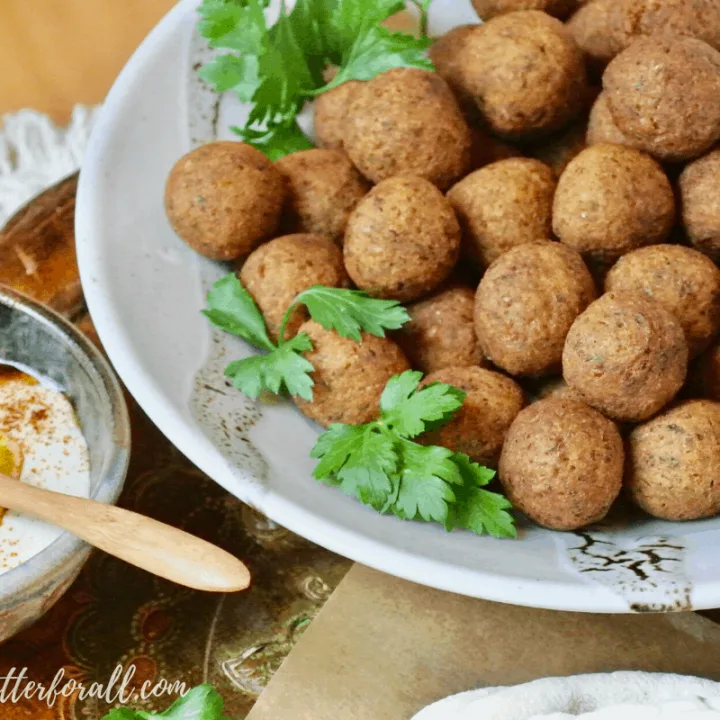 Sprouted Chickpea Falafel Balls
Yield: 50

Prep Time: 6 days 1 hour

Cook Time: 1 hour

Total Time: 6 days 2 hours

Properly prepared chickpeas are mixed with the perfect blend of Middle Eastern spices and fried to perfection.
Ingredients
Spice Blend
2 bunches fresh flat-leaf parsley
1 fresh onion
12 cloves garlic
1 tablespoon ground coriander
1 tablespoon ground cumin
1 to 2 teaspoons cayenne, or chili flakes
1 teaspoon black pepper
1/4 cup fresh lemon juice
Oil for Frying
Instructions
Sprouting the Chickpeas
In a large bowl rinse and soak the chickpeas covered with fresh filtered water for 4 to 6 hours.
Drain the beans and rinse them well. Let them sit covered overnight.
The next day, rinse and drain the beans morning and night. Never leave water in the bowl.
Repeat this for 4 to 5 days until the beans have all sprouted and the roots are about 1/2 inch long.
Making the Falafel Batter
Wash and dry the parsley, removing the tough thick stems. Small tender stems are fine.
Working in batches, puree the sprouted beans and parsley in a food processor or food mill. Depending on preference you can leave them a little chunky or puree them very smooth. I prefer the latter. Add the pureed mixture to a large bowl.
Add all the spices, salt, pepper, and lemon juice to the bowl and combine thoroughly.
Set the falafel batter aside.
Frying the Falafel Balls
Heat the oil over medium heat in a small, deep sauce pan.
Using a scoop or spoon, roll five falafel balls about the size of a small plum.
Add the balls to the hot oil and cook them for 3 to 5 minutes until golden brown. If they are browning too fast turn down the heat. They need at least 3 minutes to cook completely through.
While the first batch cooks, roll the second batch and so on until all the balls have been cooked.
Remove the falafel balls from the oil with a slotted spoon or spider. Drain them on a paper-covered plate.
Serve them warm in pitas for falafel sandwiches, on a hummus platter, or on a large salad with tahini dressing!