I may receive commission if you purchase through links in this post.
Not to toot my own horn, but I'm pretty sure I just took popcorn to a whole new level of amazing!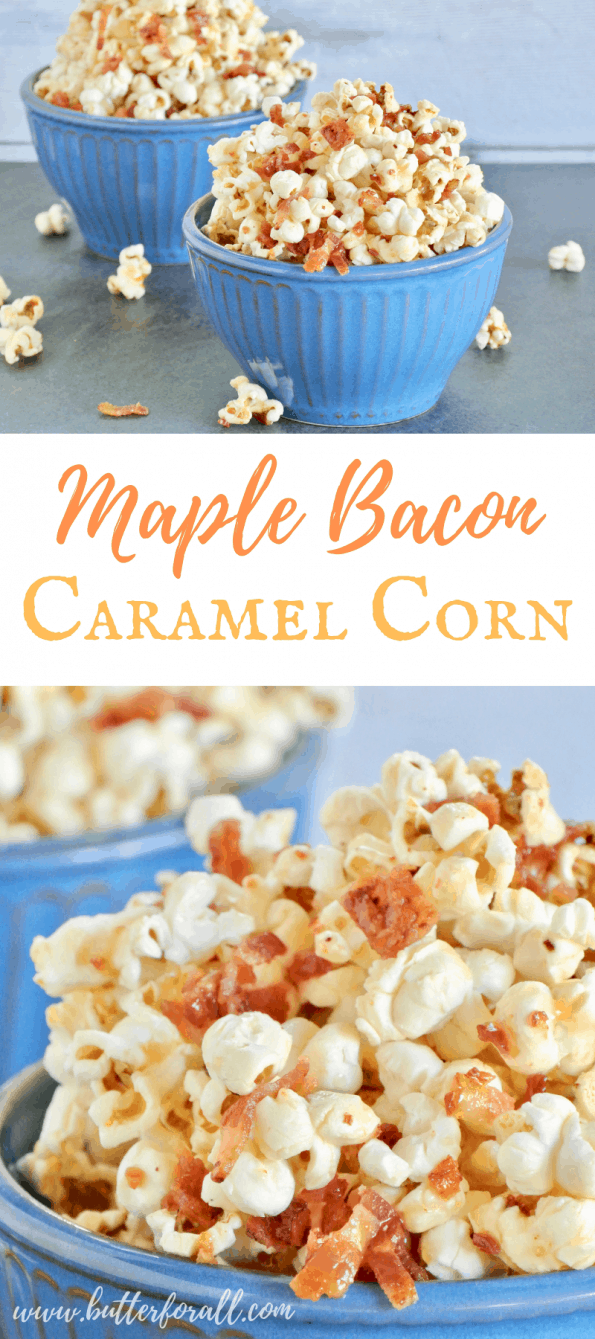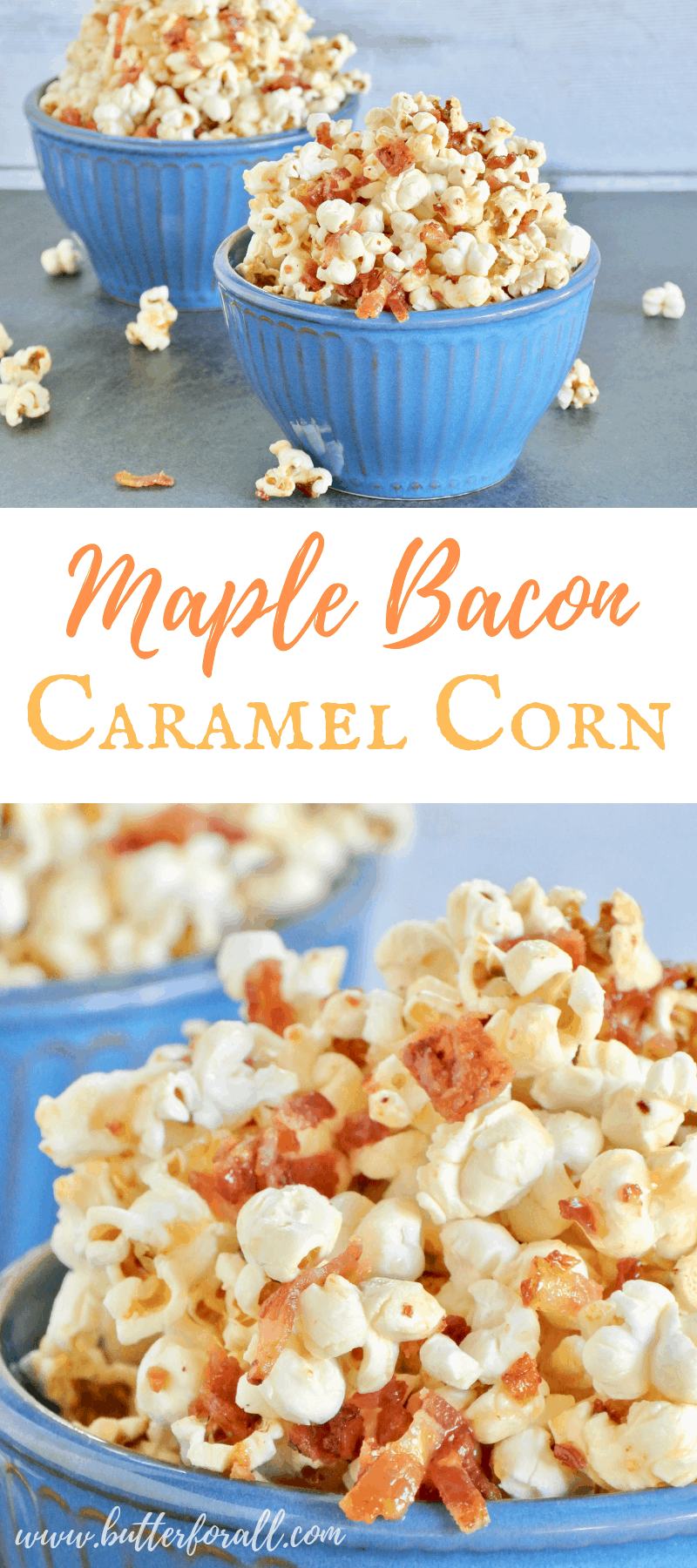 We turn to popcorn to satisfy our snack craving because it's easy to control the ingredients and make from scratch. It's always a great vehicle for healthy fats like butter and coconut oil and it will cure any crunchy craving.
Typically we make a simple bowl of crispy popcorn with butter and nutritional yeast or we change it up with my Honey Nut Popcorn, but from now on this easy, sweet and salty Maple Bacon Caramel Corn will be in the rotation!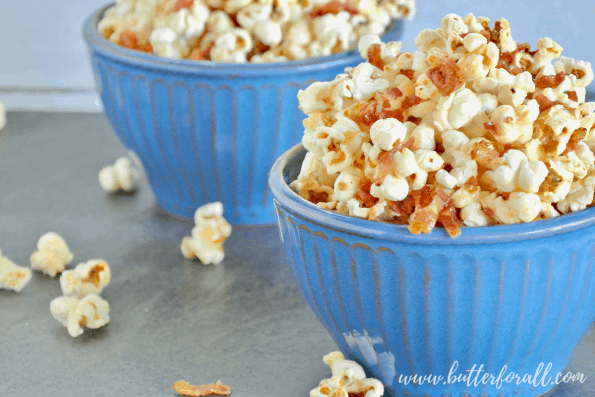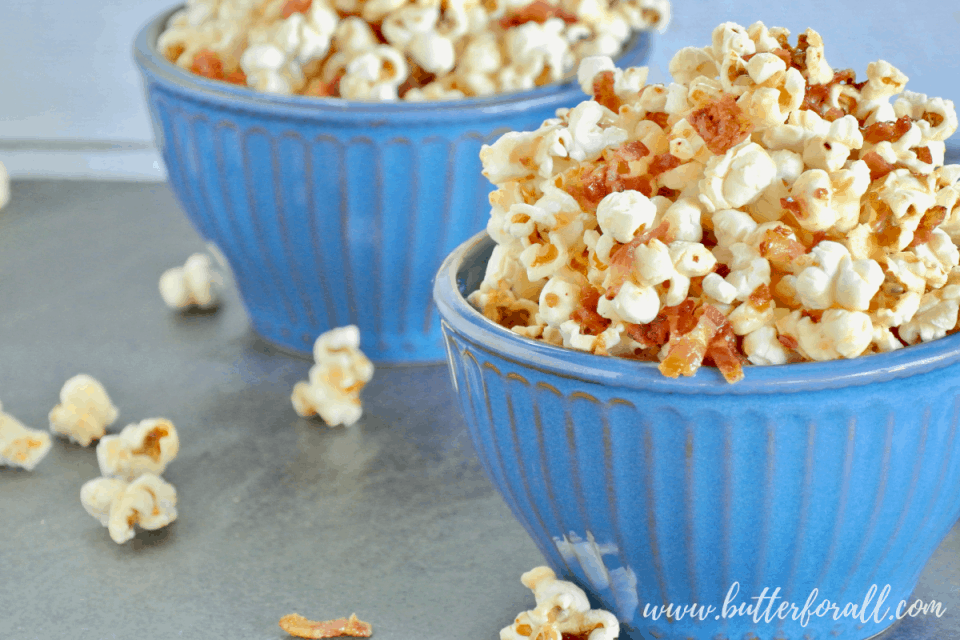 Popcorn + Bacon + Butter + Maple Syrup
That's really all it takes to make this incredible bacon lovers caramel corn. The combination of these simple ingredients creates an explosion of flavor. Everyone knows salty bacon and sweet maple go hand in hand! Add rich butter and crunchy popcorn and you have a winning combination!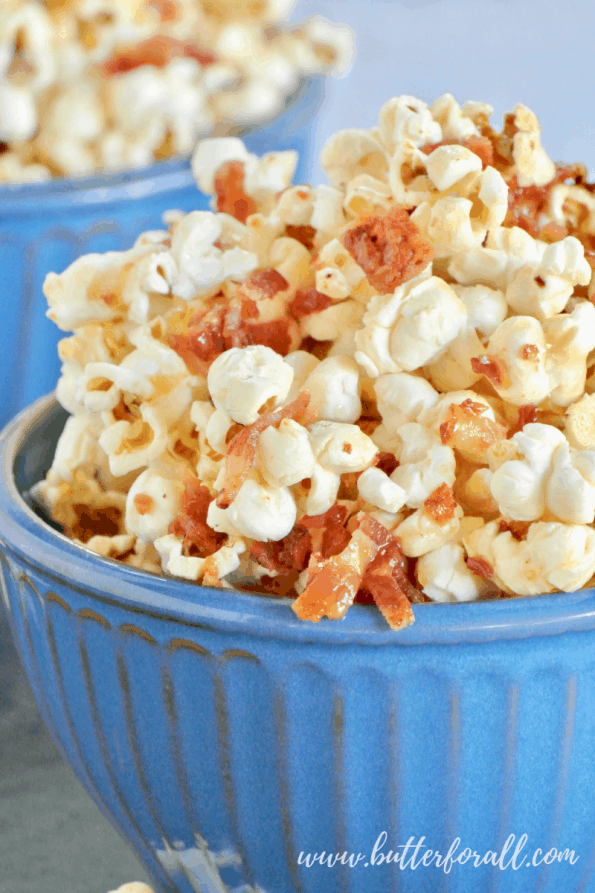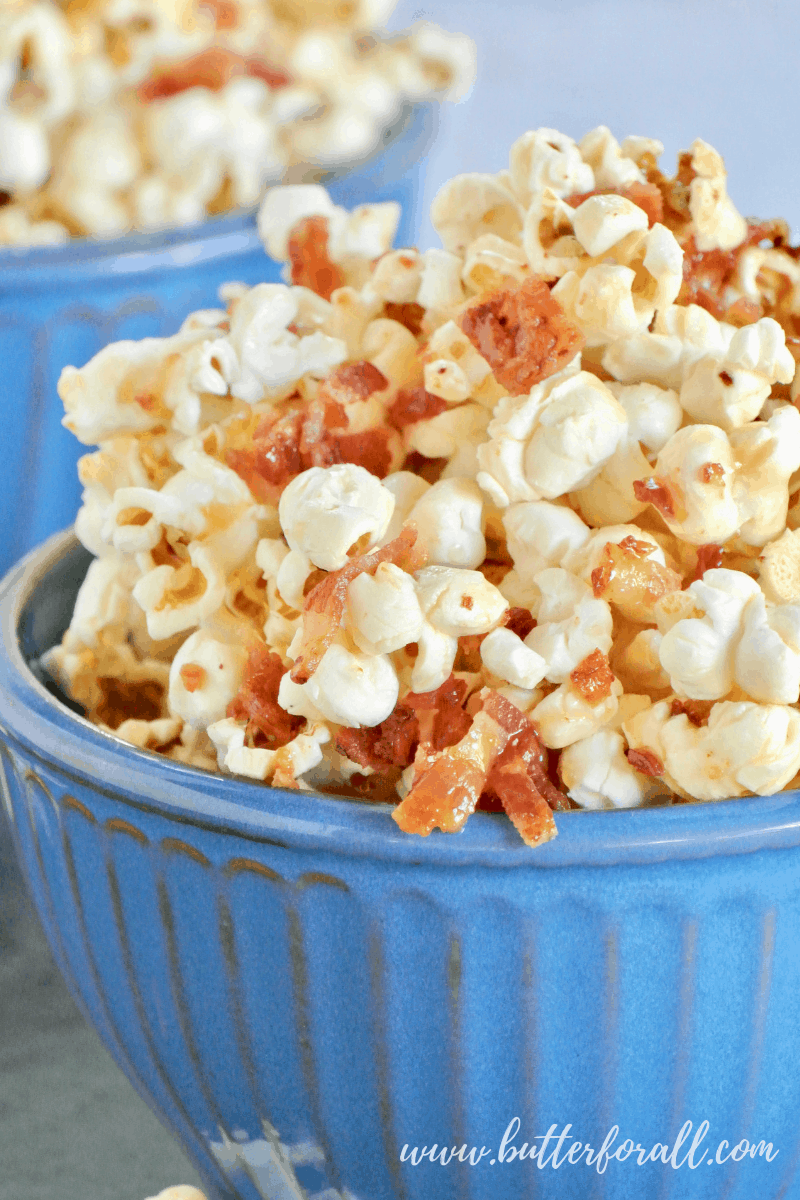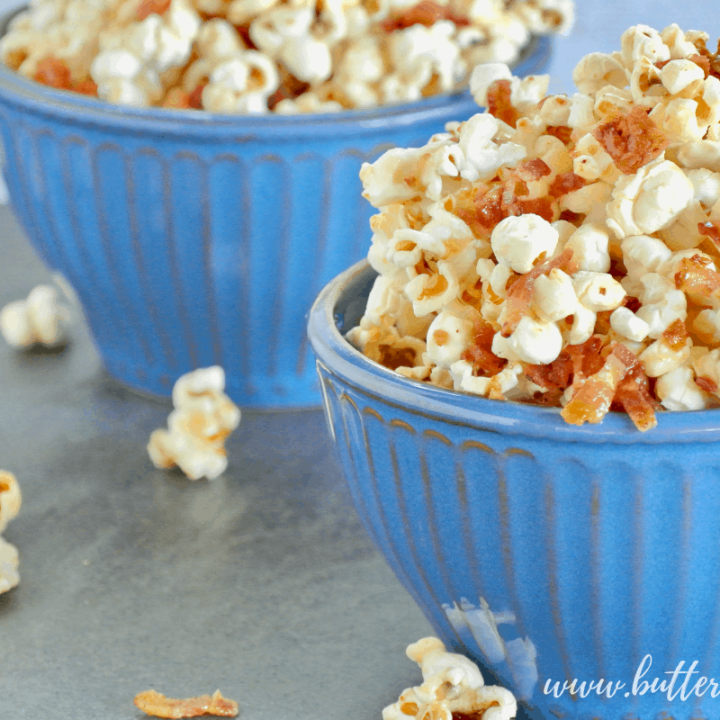 Maple Bacon Caramel Corn
This caramel corn is a perfect balance of sweet and salty and made with real food ingredients
Ingredients
1/2 Cup Popcorn Kernels
5 Pieces Cooked Bacon, (organic and pastured preferred)
Instructions
Chop the cooked bacon into small pieces. Set it aside.
Melt the coconut oil in a large heavy bottomed pot over medium high heat.
Add the popcorn kernels and heat them in the oil swirling the pan occasionally to distribute the heat evenly.
Once the poocorn starts to pop cover the pan with a lid and shake it occasionally until the popping stops.
Remove the popped corn to a large bowl immediately.
Add the butter and maple syrup to the pan and return it to the burner on medium heat.
Cook and swirl the caramel mixture until it looks thickened and syrupy with large shiny bubbles.
Pour half of the hot caramel over the popcorn and add half the bacon and half the salt.
Shake and toss the bowl.
Add the rest of the toppings. Use a rubber spatula to get all the caramel from the pan.
Shake and toss the popcorn again to evenly distriute the toppings.
Let the popcorn cool completely before serving.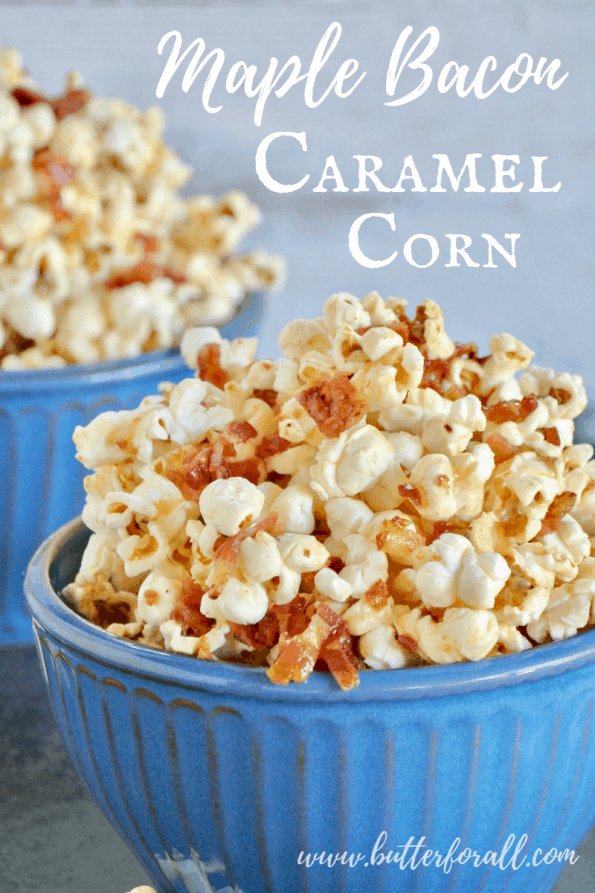 Want to learn everything about sourdough? Well, I have the free guide for you!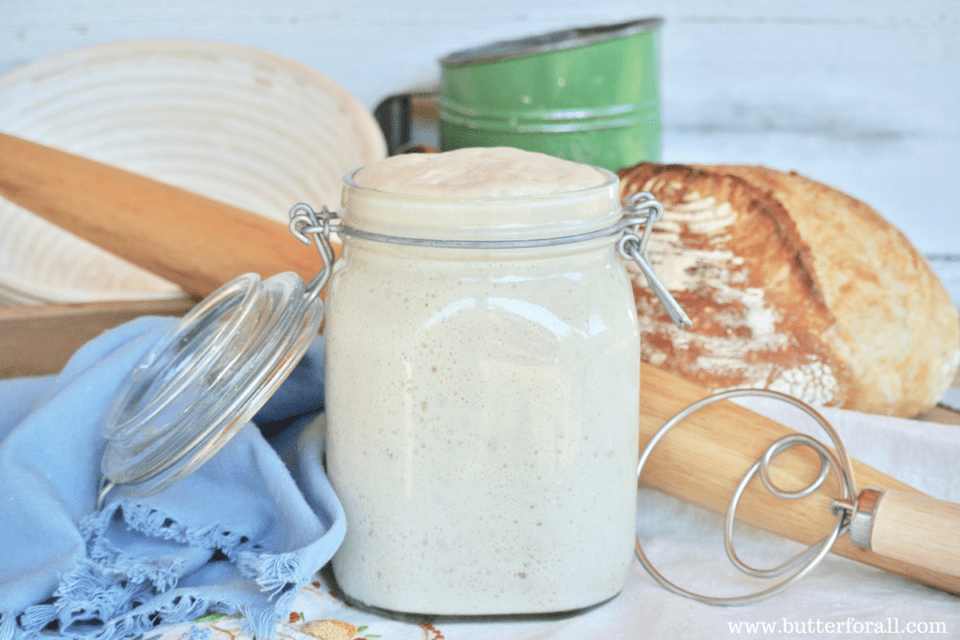 Demystifying Sourdough – Everything You've Ever Wanted To Know About Sourdough Starter – Why It's Better For You – And How To Start One