I may receive commission if you purchase through links in this post.
Bring out your clean Green Goddess.
This detoxifying Green Goddess soup harkens back to my days working as a cook in San Francisco. If you've been following me since my days working at Sweet Jo's then you may remember this soup from the lunch bar.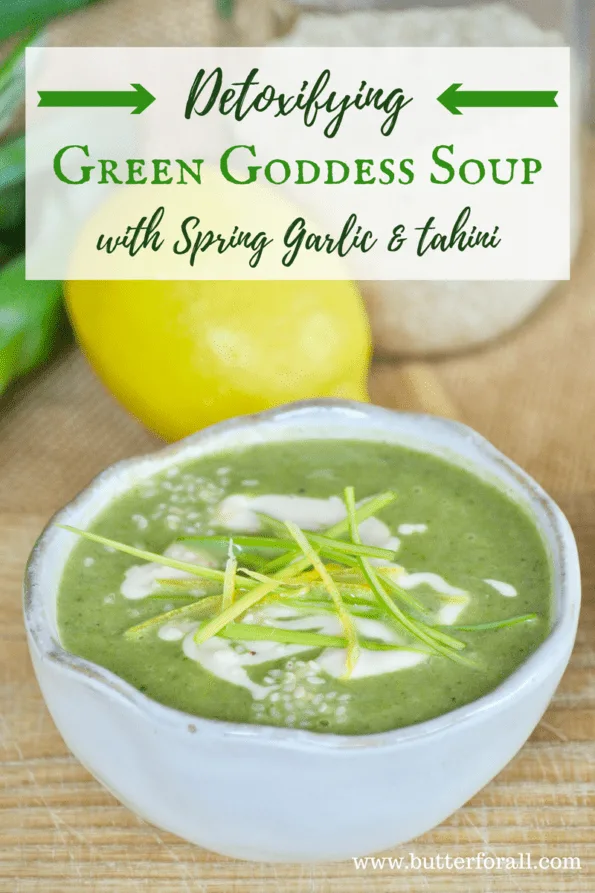 I'm not going to lie and say I've EVER followed a real recipe for this soup. That's because it's such a great way to use up vegetable tops, broccoli stems, celery centers and all those other miscellaneous greens in your refrigerator or the special ones picked straight out of the garden! So think of this recipe as more of a guide. Make this soup your own by adding your favorite greens. Garden favorites like kale, beet tops, carrot tops, radish and turnip greens, chard, asparagus, and spinach are all delicious additions to this nutrient-dense soup.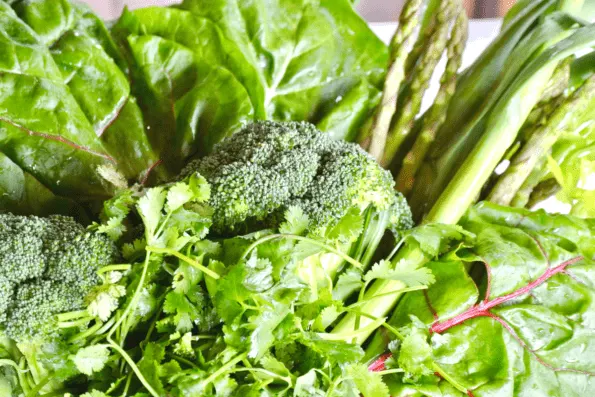 Nutrient Dense and Proud.
While following a traditional diet it is important to add plenty of healthy saturated fats and rich meat stocks. Saturated fats are full of fat-soluble vitamins that will help you utilize the minerals found in dark leafy greens and other plant foods. In other words, don't be shy with the butter when preparing this soup! Rich meat stocks like chicken stock not only give foods a depth of flavor but they supply vitamins, minerals, and electrolytes that help our bodies thrive, and gelatin that aids in the repair of damaged intestinal tissues.
To learn more about how to live a traditional, nourished and nutrient-dense life please use these essential books as resources.
Cilantro, the Great Detoxifier.
One of the really special things about this soup is that it's finished with a lot of fresh cilantro. Cilantro binds to toxic chemicals and heavy metals in your digestive tract, allowing you to eliminate them. It's an everyday easy way to promote better health. If you're one of those people who doesn't care for the taste of cilantro then you can by all means leave it out. You will still have a super healthy soup packed with calcium, vitamins, and minerals from all those delicious dark leafy greens.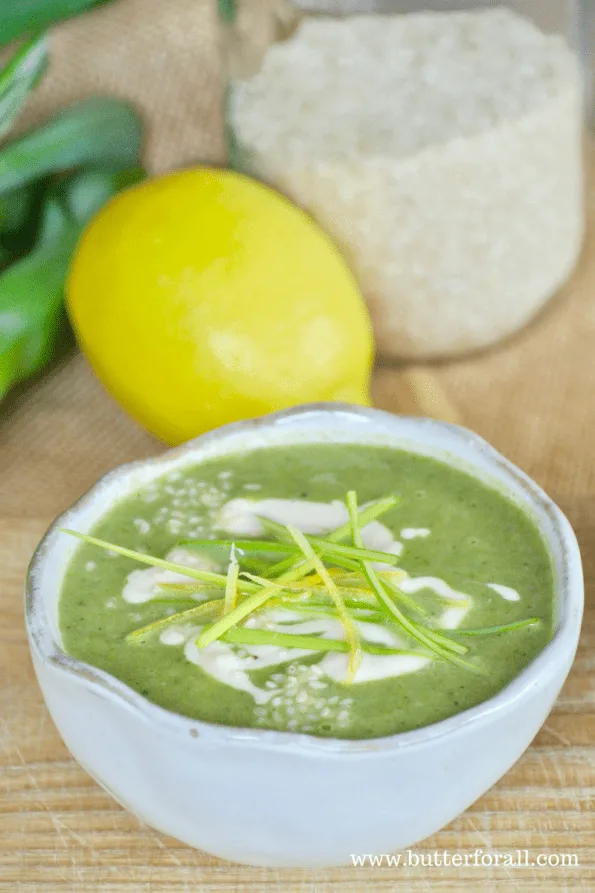 Raise Your Hand if You Love Spring Garlic!
Me: (raises both hands and waves frantically)! So now you know I absolutely love spring garlic. I look forward to its tender arrival along with the other bounties of the spring garden. If you are also a freak about spring garlic you may like my other recipes featuring one of spring's most inspiring culinary gifts:
Spring Garlic and Lemon Caesar Dressing
Easy Spring Garlic and Oregano Meatballs
And if you want more information on how to cultivate your own spring garlic you can get the facts here:
I use a handheld immersion blender for all my puréed soups, sauces, dressings, and smoothies. It is one tool that I absolutely recommend for every kitchen!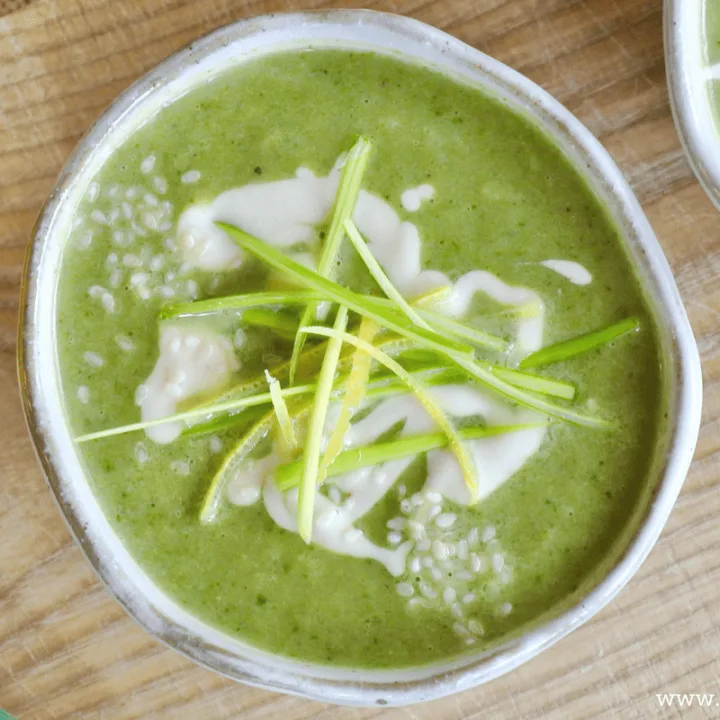 Detoxifying Green Goddess Soup – With Spring Garlic and Tahini
Get all your greens in with this easy soup!
Ingredients
2 cups chopped spring garlic (about 5 to 6 large stalks)
4 cups chopped spring onion (about 1 to 2 large onions)
4 cups chopped celery (about one bunch)
8 cups chopped chard or other dark leafy greens
6 cups chopped broccoli (about 2 crowns)
1 cup chopped cilantro (about 1 bunch)
For the Tahini Sauce
2 tablespoons lemon juice
Instructions
Melt the butter in a large soup pot over medium high heat. Chop the spring garlic and spring onions and add them to the butter. Sauté this mixture for a minute or two.
Add the coriander, cumin, salt, and pepper and stir well. Let this mixture cook for a minute or two.
Add the chicken stock and bring the pot to a low boil.
Chop and add the celery, chard, broccoli, and any other greens you wish. Bring the pot to a low boil. Turn down the heat to low and cover the pot for 10 minutes.
After the soup is cooked for 10 minutes check to see how tender the vegetables are. If they're tender use a handheld blender or standing blender to purée the entire soup.
Chop and add the cilantro to the soup and purée again until everything is smooth. Taste the soup and season it accordingly with salt and pepper if needed.
Tahini Sauce
In a small bowl combine the tahini, lemon juice, and salt. Stir this mixture well. Slowly add the water while stirring continuously until a smooth sauce forms.
Serving
Ladle hot soup into bowls and top with a drizzle of tahini sauce. Enjoy!
Notes
When using spinach as a leafy green in this soup wait until the very end to add it because it's already so tender. Once the spinach is wilted purée the soup as normal. Adding spinach at the end of cooking will give you a bright green, stunning soup.