I may receive commission if you purchase through links in this post.
Traditional Golden Milk Made Into a Creamy Custard.
This rich, honey-sweetened, egg yolk custard is spiced with anti-inflammatory turmeric, spicy ginger, warming cinnamon, floral cardamom, a pinch of exciting cloves, and my all-time favorite spice, nutmeg.
The color of this custard is vibrant and fresh, the flavor is earthy, spicy, and not too sweet. It's a great way to add healthy fats into your diet with the added benefit of anti-inflammatory turmeric.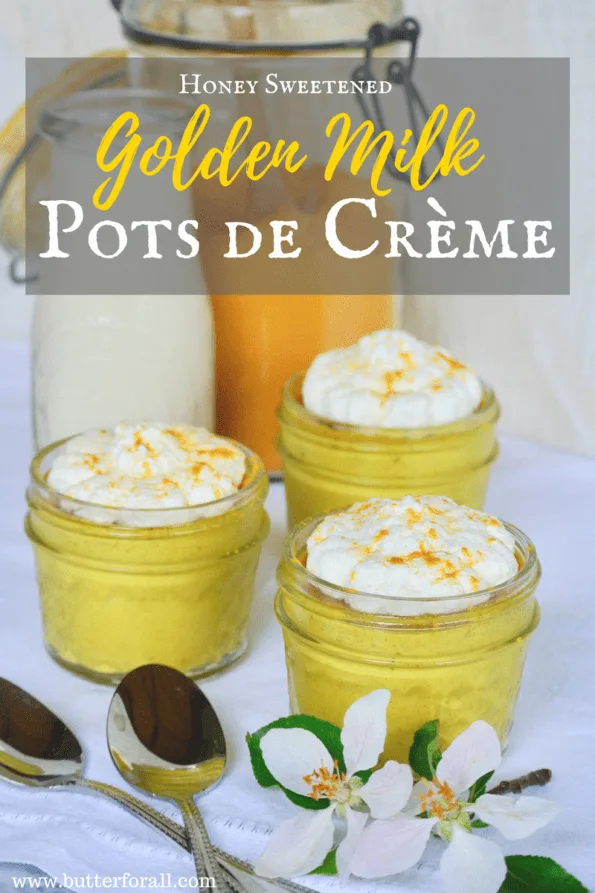 Pretty Golden Milk Pots de Crème
They sure do make a stunning dessert. The sunny color speaks of celebration. The size is perfect for entertaining. And there are no fillers or fluff in this desert. It's a simple classic taken to a spicy new level and made with the most wholesome organic ingredients.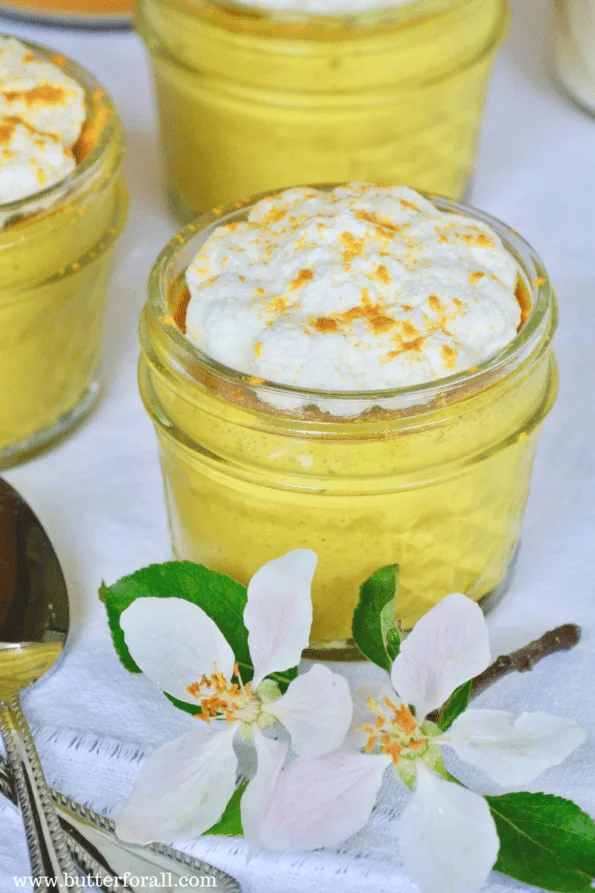 Individual Golden Milk Desserts
Bake this custard in small clear glass jars to really enjoy the color.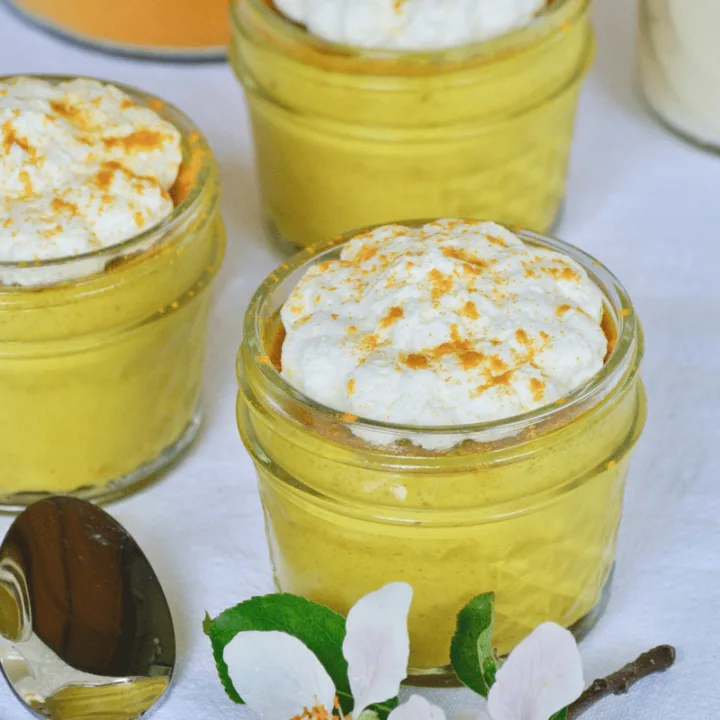 Golden Milk Pots de Crème
A rich, honey-sweetened, golden milk custard made with nourishing and organic ingredients.
Ingredients
2 cups cream
6 egg yolks
2 tablespoons ground turmeric
1 teaspoon ground ginger
1 teaspoon ground cardamom
1/2 teaspoon ground cinnamon
1/4 teaspoon ground cloves
1/4 teaspoon ground nutmeg
1/2 teaspoon vanilla extract
Instructions
Preheat your oven to 300°F. Bring a medium size pan of water to a low boil.
Whisk all the ingredients together in a large stainless steel bowl. Be careful not to create froth but make sure all the ingredients are fully incorporated.
Place the bowl over the pot of boiling water and continue to gently whisk the mixture for about 12 minutes. This gentle heating of the mixture will allow the custard to start to set, suspending the spices throughout. Be careful not to heat it too quickly or without whisking as this will cause the eggs to cook and the custard will get grainy and lumpy. This step of cooking will be done when the custard has thickened and reached a temperature of around 165 to 170°F. If you don't have a thermometer, look for these two clues: The custard is thickened and coats a spoon and the custard has just slightly started to steam.
Remove the custard from the heat and pour it into a large measuring cup or pitcher. Set it aside.
Prepare six small 4- to 6-ounce pots, ramekins, or jars for baking by setting them inside a high-sided baking dish. I use a pyrex casserole pan.
Fill each pot with the golden milk custard mixture. Place the baking dish with the filled pots into the oven on the center rack. Pour hot water into the baking dish filling it up the sides of the pots as far as possible.
If your pots have lids you can cover each one but I baked mine uncovered. Bake the custard for 30 to 35 minutes or just until set. They should jiggle a bit in the middle but not be liquid.
Remove the baking dish from the oven. If the pots have lids, remove them to release steam. Let the pots cool for 10 minutes before removing them to the counter to cool completely.
Store the pots covered in the refrigerator. Serve the pots de crème chilled with whipped cream and a dusting of turmeric if desired.
Recommended Products
As an Amazon Associate and member of other affiliate programs, I earn from qualifying purchases.