I may receive commission if you purchase through links in this post.
I am a complete fanatic about Caesar salad. I. Just. Can't. Get. Enough.
I love this creamy, decadent Caesar dressing with its spicy garlic kick and briny anchovy flavor. And then to top it all off I add lots and lots of Parmesan! I guess I'm an umami girl.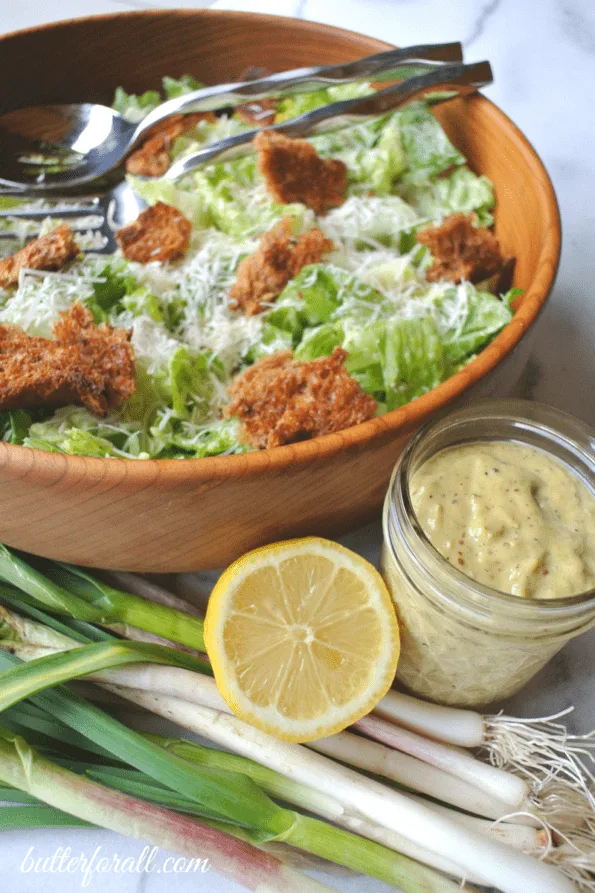 For this recipe I'm using one of my favorite spring ingredients, spring garlic. Spring garlic shows up in your garden or local farmer's market in April and May. It's the tender immature stalk and bulb of the garlic plant. It has a delicate, spicy, herbaceous flavor and brings a new layer of interest to many dishes that call for garlic.
To learn more about using or growing your own spring garlic read this post: Spring Garlic – From Garden to Table
Preparing the Spring Garlic and Lemon Caesar Dressing
Recipe yields 1 cup of Caesar dressing, enough for 2 to 3 LARGE salads. Serves 6 to 12 people.
1 egg yolk
1 tablespoon whole grain mustard
1 tablespoon fresh lemon juice
1 1/2 ounces anchovy fillets
5 tablespoons minced spring garlic
1/2 teaspoon salt
1/4 teaspoon pepper
3/4 to 1 cup organic extra-virgin olive oil
Combine everything but the oil in a blender or jar fitting your handheld stick blender. I use the KitchenAid 2-Speed Hand Blender. It comes with a really useful measuring jar for blending in. Blend on low speed until a thick, even paste has formed. Slowly drizzle in the oil while continuing to blend. This dressing will start to thicken right away so be sure to add the oil slowly and make sure it's all becoming incorporated. If you are using a handheld blender this can be easily achieved by stirring while blending.
The dressing can be used immediately or refrigerated.
Do you love Caesar salad as much as I do?! Check out my Easy Classic Caesar Dressing With Simple Salad Instructions!