I may receive commission if you purchase through links in this post.
The summertime heat can't touch you when you have a bowlful of this uplifting and invigorating lemon ice cream!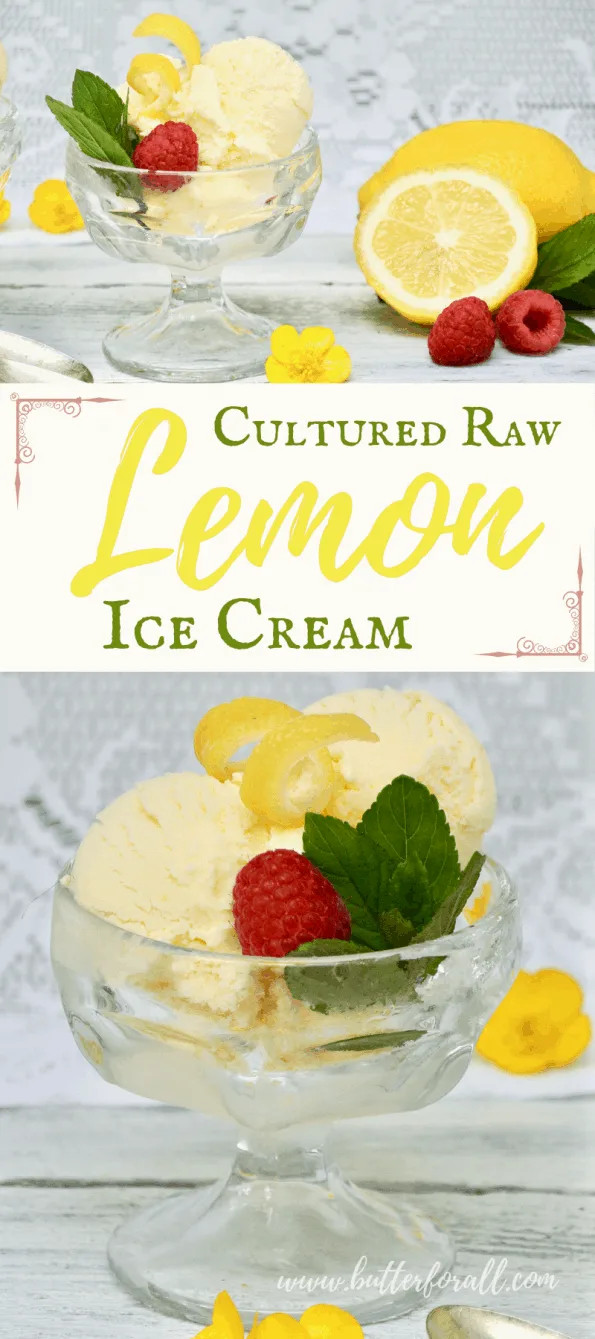 This recipe deserves a shoutout to Megan Stevens of Eat Beautiful. She used to run a cute little ice cream cafe in Eugene, Oregon, called Vanilla Jill's. They served some awesome treats made with unrefined, real-food ingredients.
I was blessed to have this wholesome shop nearby to take my daughter to for her first ice cream parlor experience. Megan had a cane sugar-sweetened lemon kefir ice cream on the menu. It was my absolute favorite ice cream to get for the tangy and creamy lemon flavor.
This recipe is inspired by the unique combination of cultured dairy and lemon, first introduced to me by Megan Stevens!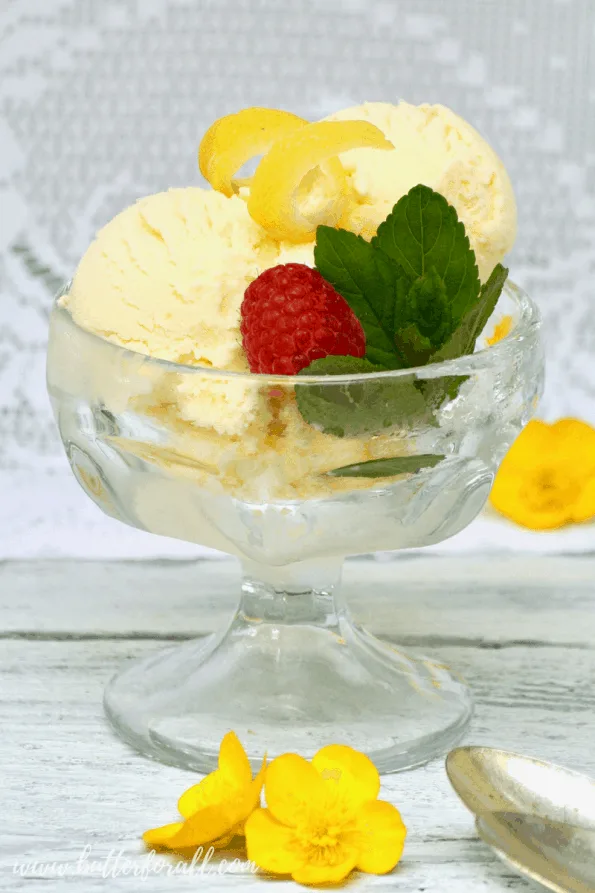 Raw Cultured Lemon Ice Cream
I've taken fresh creamy raw milk and cultured it with my raw yogurt, then added raw, local honey and the zest and juice of one fresh lemon. The result is a three-ingredient ice cream worthy of the very best company!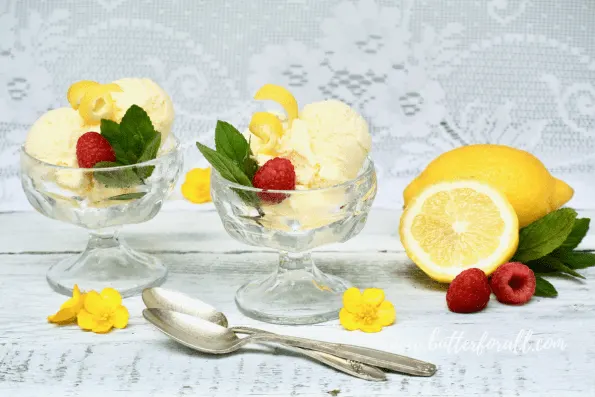 Need an Ice Cream Maker?
I use the freezable attachment for my KitchenAid Stand Mixer. It has served me well.

Don't Have Time To Culture?
You can substitute store-bought, plain, whole milk yogurt and sour cream for the raw dairy in this recipe!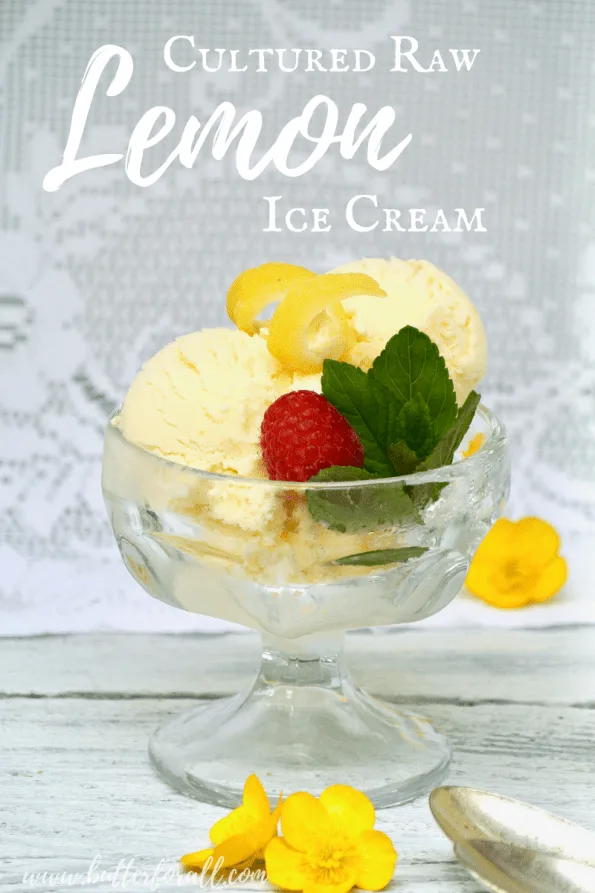 Cultured Raw Lemon Ice Cream
A raw probiotic treat with a wonderful tangy flavor!
Ingredients
1 quart raw half-and-half
1 lemon (juice and zest)
Instructions
Freeze your ice cream bowl if necessary, or follow your ice cream maker's instructions for preparing to make ice cream.
If using raw dairy you will need to culture the milk and cream. This should be done at least 1 day prior to making the ice cream to give plenty of time for the culture to develop. In the morning take a quart jar and fill it halfway with raw whole milk and the other half with raw cream. Place the jar in a warm water bath until the temperature reaches 100°F. Add 2 tablespoons raw yogurt culture and whisk well. Turn off the heat, cover the jar, and leave it in the water bath until it cools to room temperature. Let the milk culture overnight on the counter. Once set, refrigerate the raw cultured dairy until completely chilled.
Zest and juice the lemon into a small bowl.
In a larger bowl combine the chilled cultured dairy, honey, and lemon zest and juice and whisk well. Taste this mixture and adjust the honey as needed. I like mine right in the middle at about 3/4 cups.
Follow the ice cream maker's instructions to freeze the ice cream.
Place a 6-cup glass container into the freezer.
Once the ice cream is frozen and fluffy, scoop it into the pre-frozen container. Cover the ice cream and return the container to the freezer. The ice cream should set up firm but will still be scoopable once completely frozen!
Try My Other Healthy Raw Ice Cream Recipes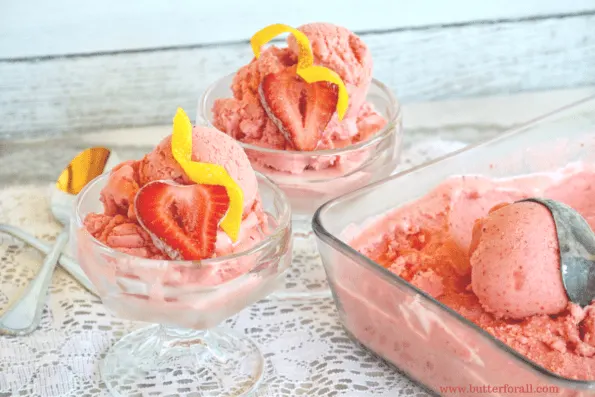 Nutrient-Dense Strawberry Sherbert